COBEY PAK-TAINER (TILT-DUMP)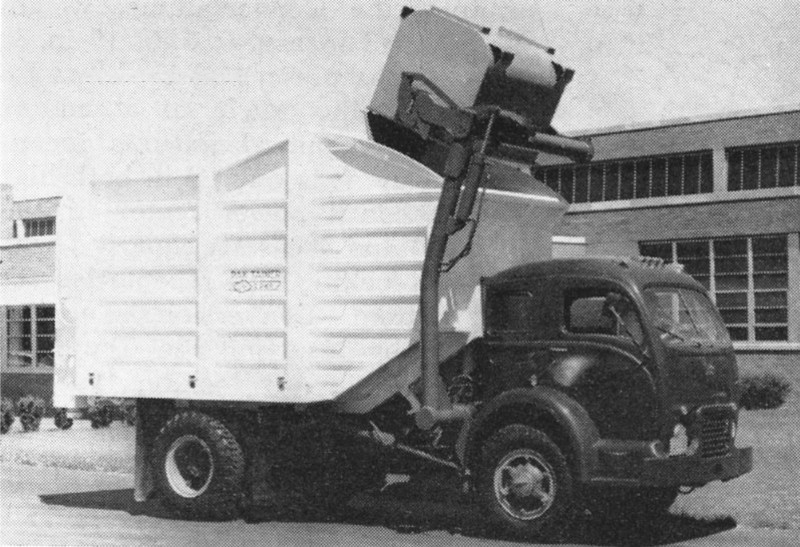 1960 Cobey Pak-Tainer one-armed front loader
&nbsp&nbsp&nbsp Hot on the heels of the Liftainer, Cobey introduced the Pak-Tainer front loader system in 1960. The Cobey front loader was the creation of Robert Lee Aldredge and Howard D. Aldredge of Dayton, Ohio. The Aldredge brothers began building front-loaders for detachable refuse containers back in 1953. However, the inventors were unable to line up a major manufacturer for their design, but did file a patent (US 2885101) in January of 1955. This was one of the world's first front loaders, and utilized a four cylinder folding lift arm based on the Holmes-Owen design.

&nbsp&nbsp&nbsp Several improvements were added along the way, culminating in the truck shown above, a fantastic one-armed front loader (US 3217913) available in 27 or 30-cubic yards capacity. The Pak-Tainer could handle 1-6 cubic yard containers, using open-jawed self-catching hooks on that engaged lifting ears of the container.



&nbsp&nbsp&nbsp The 1961 model Pak-Tainer reverted to twin lift arms, with 4,500 pound capacity and Level-Matic stabilizing. Both of these early models utilized a unique enclosed packer body (US Patent 3064835) with a bottom-hinged, 'Jaw-Crusher' packing panel, which was also designed by Howard Aldredge. A single telescopic cylinder operated the packer panel and raised the body to a full 50-degree dump angle. A top-hinged tailgate was opened hydraulically.




JAW-CRUSHER PACKING PANEL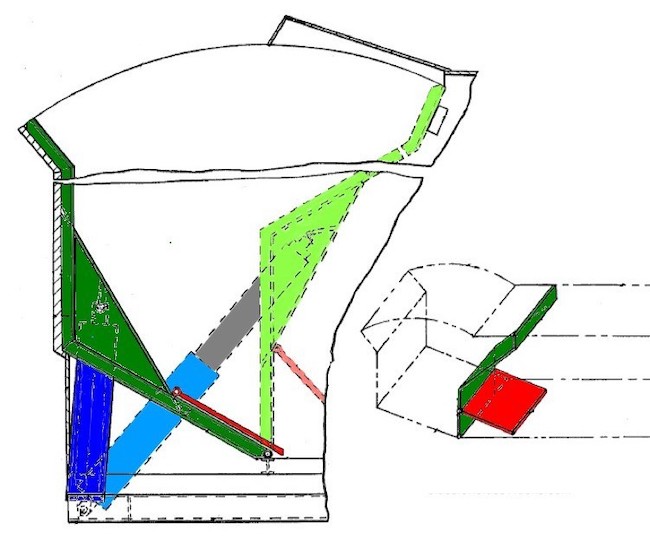 Above Left: Cut-away view of hopper showing Jaw-Crusher panel (green highlights) and combination packing/hoist cylinder (blue highlights). Dotted-line position shows cylinder partially extended to pack refuse charge from hopper into body. Note the protrusion in the panel to accommodate the upper mounting of the cylinder. For dumping the body, the Jaw-Crusher panel was latched to the body sides (to immobilize it), and the cylinder fully extended, which raised the body. Above right: A hinged kick plate (red highlights) at the bottom of the panel helped roll refuse upwards during the packing cycle.





1/8/12
---

© 2012 Eric Voytko
All Rights Reserved
Photos from factory brochures/advertisements except as noted
Logos shown are the trademarks of respective manufacturers