COBEY ROUTE-MASTER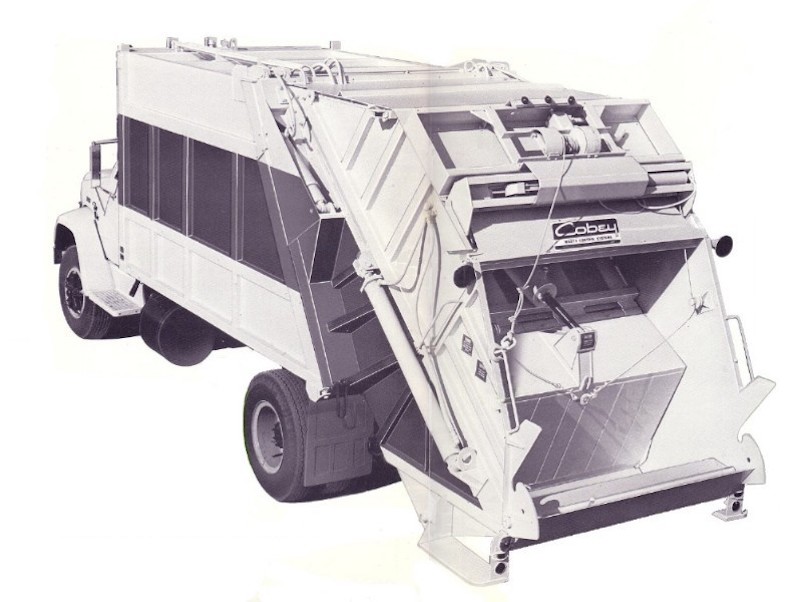 &nbsp&nbsp&nbsp Cobey's first rear loader was announced in late 1967 at the American Public Works Association (APWA) equipment show. Available in 16, 20 and 25-cubic yard capacities, the Route-Master was a near-identical copy of the Load-Master LM-100 series packers which were first produced by City Tank Corporationin 1963. Among the few outwardly noticeable differences were the use of a single ram for the sweep cylinder, and a more angular construction of the tailgate assembly on the Cobey version.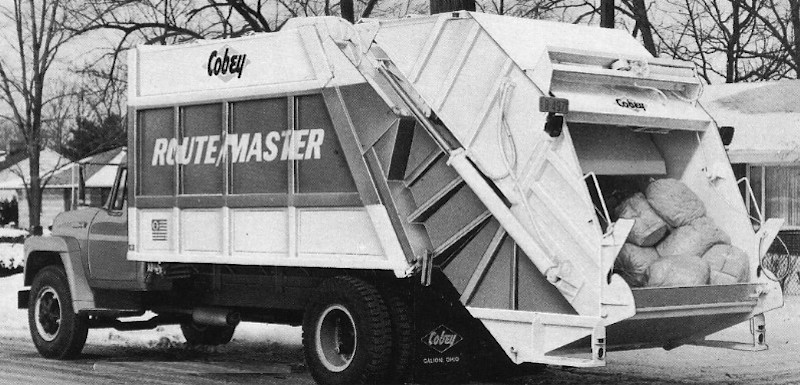 &nbsp&nbsp&nbsp Like the Load-Master, Cobey's Route-Master had a generous 2.5-cubic yard hopper, which could be expanded to three yards with an optional extension kit. Unlike Load-Master, Cobey secured multiple patents covering the Route-Master, including their own hydraulic system and packer controls.



So how did the Cobey Route-Master stack-up against the Load-Master LM100? CRT contributor Dana Gregory had first-hand experience with Cobey during 1972. Riding with the City of Everett, Massachusetts, he had a chance to try out the Route-Master on-the-job. He found the Cobey unit more than lived up to its hype: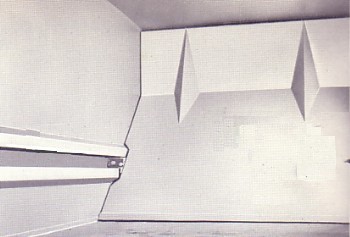 "I was very impressed. The Cobey devoured everything fed to it. The cycle was smooth and simple, and never jammed. The ejector was superior to the LM100, with no 'doghouse' and the tailgate lift pistons were located outside the tailgate. (The LM-100 lift pistons were located inside the body, and ejection was at times difficult). I've operated the LM-100 and had to fight just to squeeze-on six tons of household rubbish on a twenty yard. The Cobey would easily pack seven tons plus, without having to fight it. The mechanics loved the Cobey as it was easier to maintain and repair compared to the LM-100. "

"The two bodies are very close. Cobey took the LM-100 design and made it better. I think that if Cobey had a good aggressive dealer in Boston, there is a good chance that the Route-Master would have beaten the pants off the LM-100. Don't get me wrong, I liked the Load-Master, especially the 400 which, to this day I would take over a 2-R. Here is an unusual instance where the copy is superior to the original."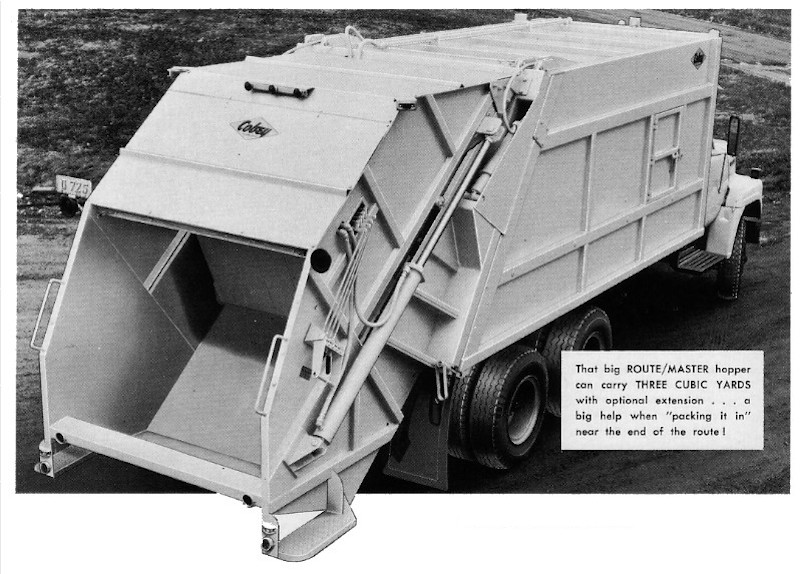 &nbsp&nbsp&nbsp Route-Master's generous hopper could handle all manner of bulk goods typically encountered on residential routes. Several container attachments could be ordered to handle cans up to ten cubic yards capacity. A semi-trailer version was also offered with optional auxiliary engines to run the hydraulic pump for stationary or mobile use. In 1972, an option called Transa-Pak allowed users to "Pack-on-the-Go" by means of a crankshaft-driven power take-off.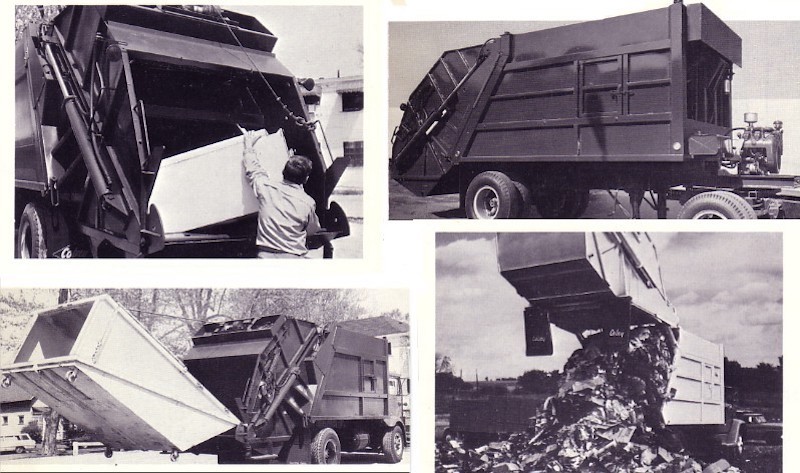 1/8/12
---

© 2012 Eric Voytko
All Rights Reserved
Photos from factory brochures/advertisements except as noted
Logos shown are the trademarks of respective manufacturers