COBEY FORK-TAINER
&nbsp&nbsp&nbsp By the end of the 1960s, Cobey's commitment to the locking jaw and lift-ear method of container coupling used on their Pak-Tainer front loader had left them with a dilemma. The side-fork method of container coupling was by now becoming universal within the industry, and customers who already owned Dempster or E-Z Pack bodies would be very unlikely to consider buying Cobey, since their existing stock of containers were incompatible with the Pak-Tainer. Staying competitive would require such "conquest" sales, thus a fork compatible-system was probably inevitable.

&nbsp&nbsp&nbsp Cobey's Fork-Tainer arrived for 1968 to meet the need, and also introduced a modern over-the-cab lift arm to their arsenal. Of course, discontinuing the Pak-Tainer would alienate loyal customers, and most likely drive them to the waiting arms their rivals. The solution was to sell both systems, using a common packer body and lift arms to save costs.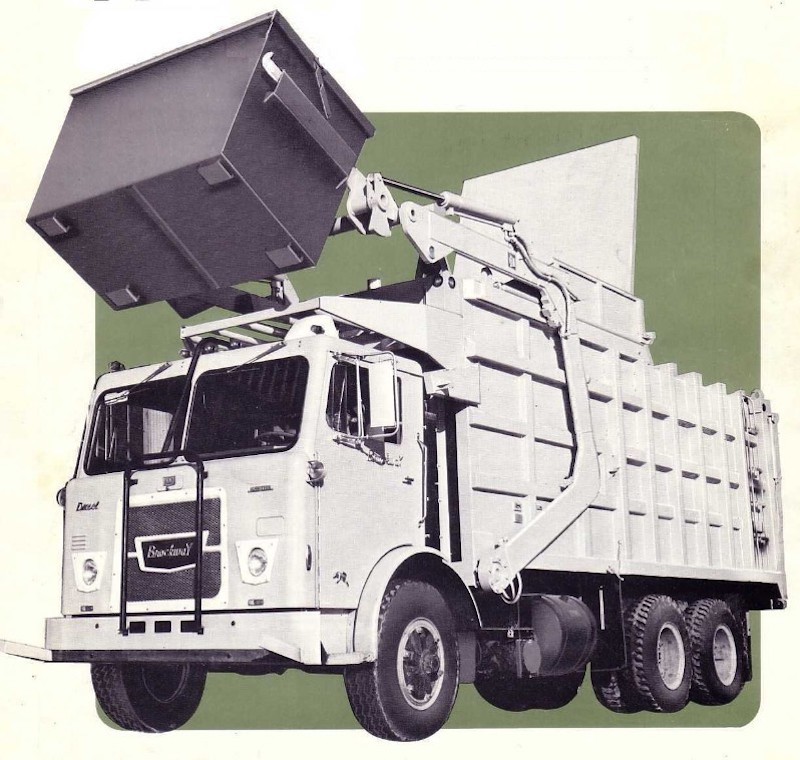 &nbsp&nbsp&nbsp Fork-Tainer and Pak-Tainer lift arms were rated at 6,000 pounds capacity, with available container sizes ranging from 2-8 yards, and a 6-yard stationary compactor container. Pak-Tainer cans were now limited to 3, 5 or 6-yards. The Train-Tainer tow-behind satellite cans were now exclusive to the Fork-Tainer in a single 5-yard capacity.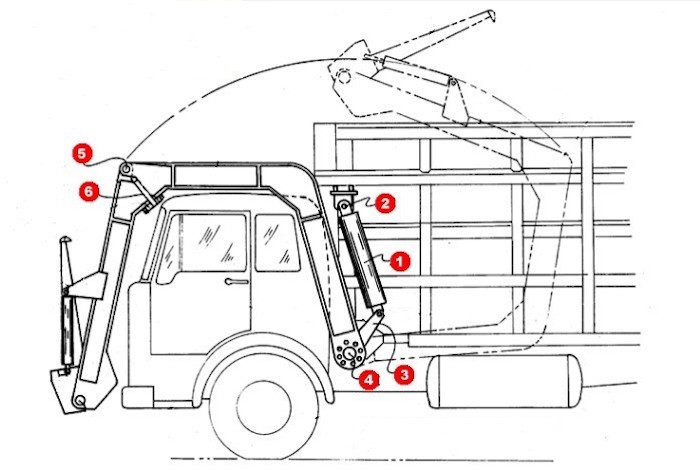 &nbsp&nbsp&nbsp Cobey's new lift arm featured a new inside-the body lift cylinder arrangement, whereby twin lift cylinders (1) were stacked vertically in the dead space behind the packer blade. Their upper ends were attached to gussets welded to the packer body (2), while the lower ends were affixed to cranks (3) connected to the torque tube (4). The lower ends and cranks passed through slots in the floor of the packer body.

&nbsp&nbsp&nbsp The rigid over-the-cab lift arm was constructed on jointed sections, pivotally connected (5) with shock-absorbing rubber pads (5) to protect against stress and strain. Arms were now only configured only for cab-over-engine trucks; conventional-cab arms were no longer available.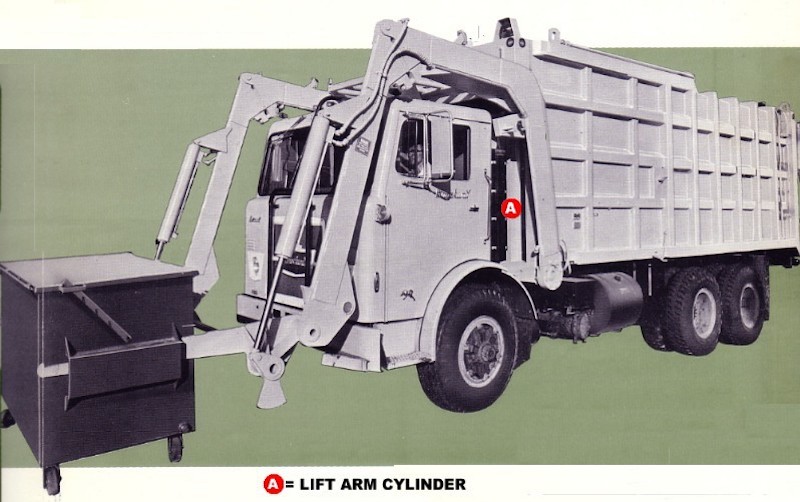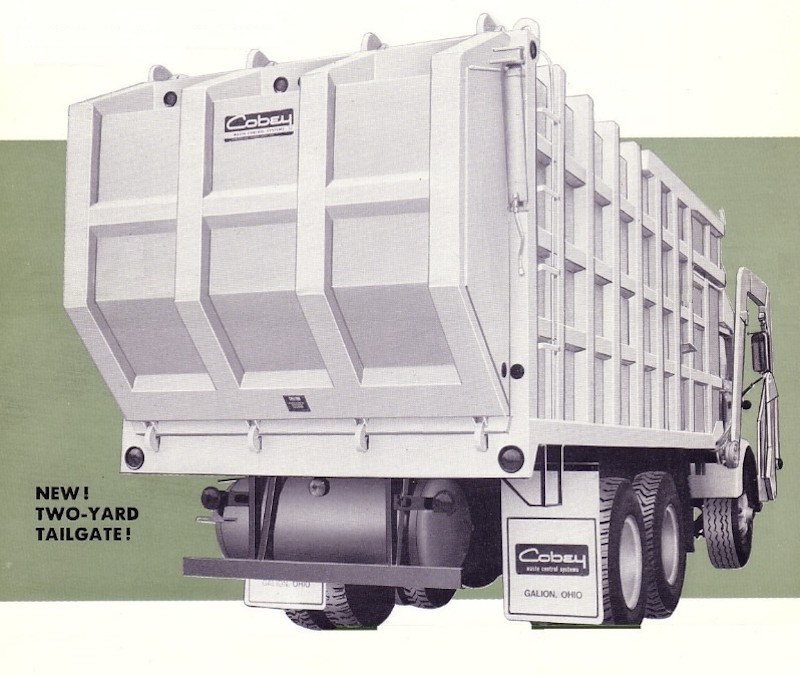 &nbsp&nbsp&nbsp In addition to the new lift arms, Pak-Tainer and Fork-Tainers shared a common packer body in 25 or 31-cubic yard capacities. A single telescopic ram performed all packing and ejection functions. The two-yard bubble tailgate was hydraulically powered, and helped to drive refuse upward to reduce voids in the compacted load. Four hooks, controlled by a single lever at the rear of the body, locked and unlocked the tailgate. At the hopper opening, a hinged cover was standard with mechanical action, with a hydraulic opener optional. Litter screens could be ordered fixed to the sides, or hydraulically actuated at extra cost. A rear-mounted 80-gallon wash-out tank was also on the option list for the new Cobey.




FORK-TAINERS IN THE U.K.


&nbsp&nbsp&nbsp A British version of the Cobey front loader was produced under license by Boughton and sold as the Anchorpac front loader, borrowing its name from Cobey's roll-off/stationary packer product line. These appear identical to their American counterparts. Later models (in both countries) added a small cylinder between the left-hand lift arm and the body, the purpose of which is not clear. It may have been a shock absorber, or possibly part of an automatic leveling circuit.

&nbsp&nbsp&nbsp The Boughton Anchorpac survived in England longer than Cobey did in America. For more Boughton pictures, see the Boughton Page here at Classic Refuse Trucks. The set includes pictures of a curved-shell version made during the 1990s.





1/8/12
---

© 2012 Eric Voytko
All Rights Reserved
Photos from factory brochures/advertisements except as noted
Logos shown are the trademarks of respective manufacturers