ANCHORPAC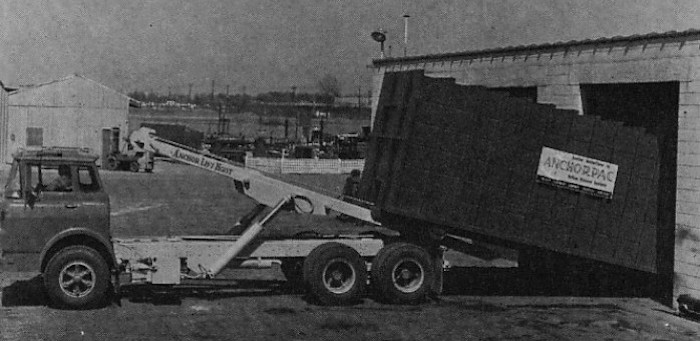 &nbsp&nbsp&nbsp Harry Kletter established the Tri-City Baling Company after moving to Louisville in the early 1950s, as a scrap metal hauling and processing concern, then expanded to include refuse removal by 1956. In 1961, his company purchased Anchorpac, a manufacturer of stationary compactors. The Tri-City Equipment Company began to market the Anchorpac system nationally. This included on-site stationary compactor units which fed enclosed containers of 32 to 80-cubic yards capacity. Full containers were hauled away on trucks fitted with Anchorlift roll-off hoists.

&nbsp&nbsp&nbsp Stationary packers served the needs of customers whose waste generation surpassed the capabilities of standard collection trucks. New York's John F. Kennedy International Airport is a typical example, where open refuse containers were being reloaded as fast as they were emptied, resulting in unsanitary conditions. A refuse contractor installed the first Anchorpac unit at the TWA commissary in 1969. The unit was in operation 24 hours a day, seven days a week for seven years with only two repairs required in that time (a ram packing and solenoid coil). Multiple installations followed to include all manner of waste from passenger and cargo terminals. The commissary units, which handled restaurant/food waste, were eventually fitted with high-rate compactors that could devour 128-cubic yards of refuse per hour! Drain lines were fitted to carry liquids to the sanitary sewer, reducing weight.

&nbsp&nbsp&nbsp By the end of the decade, the history becomes somewhat muddled. Kletter acquired publicly-owned Alson Corporation in 1969, and merged it with his companies to become Industrial Services of America Inc. By 1970, the Anchorpac and Anchorlift trademarks were appearing on roll-offs and stationary packers made by Anchor Machine Company of Jackson, Michigan. In 1974, the Michigan company (by then trading as Anchorpac division of Kysor International) was itself purchased by Harsco Corporation. Harsco owned Cobey Waste Control, and at this time began advertising Anchorpac roll-offs/packers with other Cobey-branded refuse handling equipment.

&nbsp&nbsp&nbsp In 1978, Cobey sold the Anchorpac division to the Kletro Corporation of Louisville, presumably an entity controlled by Anchorpac founder Harry Kletter or his family. Anchorpac became known as Tri-Pak Systems, with production returning once again to Louisville, although the Michigan location was kept open as a sales office. Cobey continued to build their their own roll-off, but the entire Cobey brand of refuse equipment would cease the following year, with production moving to Athey before being mostly discontinued in the mid-1980s. Tri-Pak also experienced financial difficulties during the early 1980s which ultimately ended in bankruptcy.


The Anchorpac name was used on Cobey-designed front loaders sold in England by Boughton.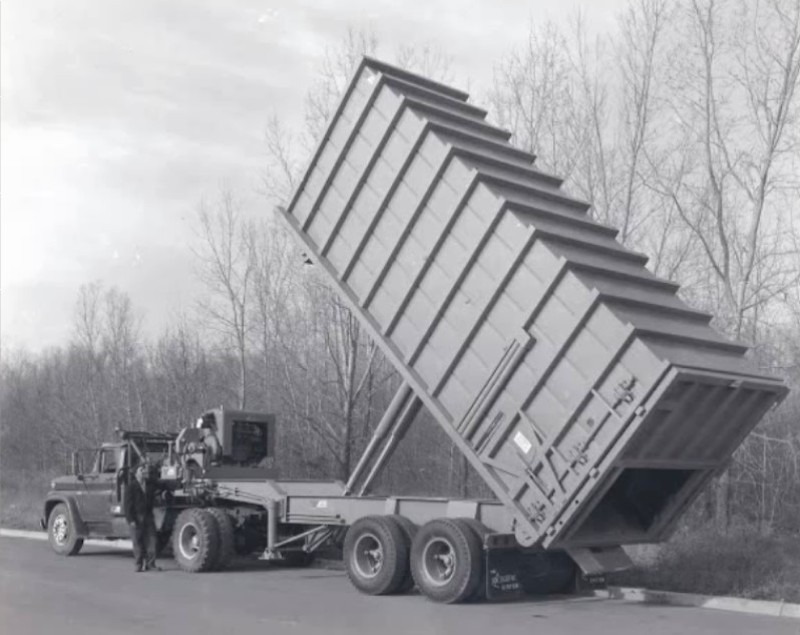 Anchor Lift semi-trailer roll-off with Anchorpac container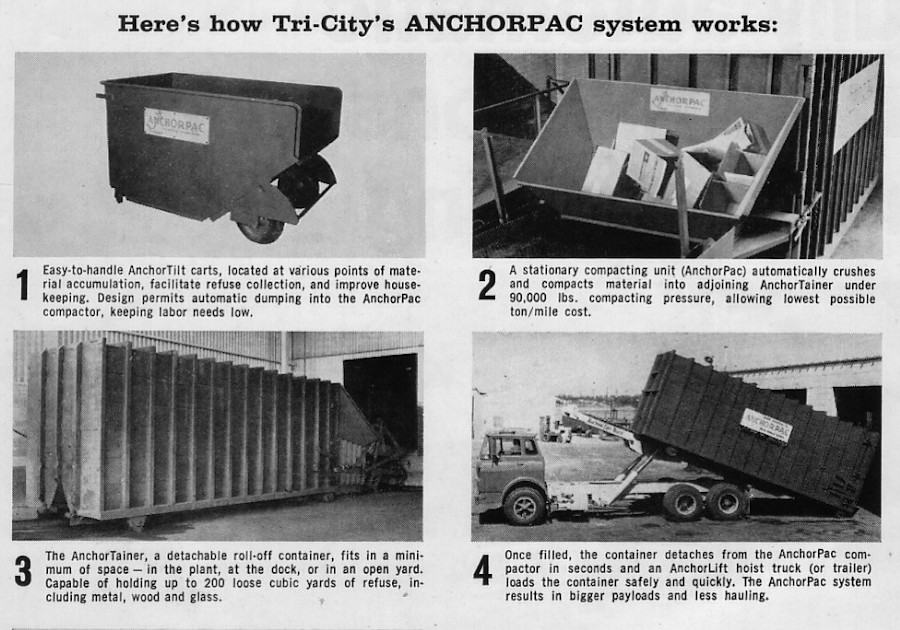 Anchorpac system in the early 1960s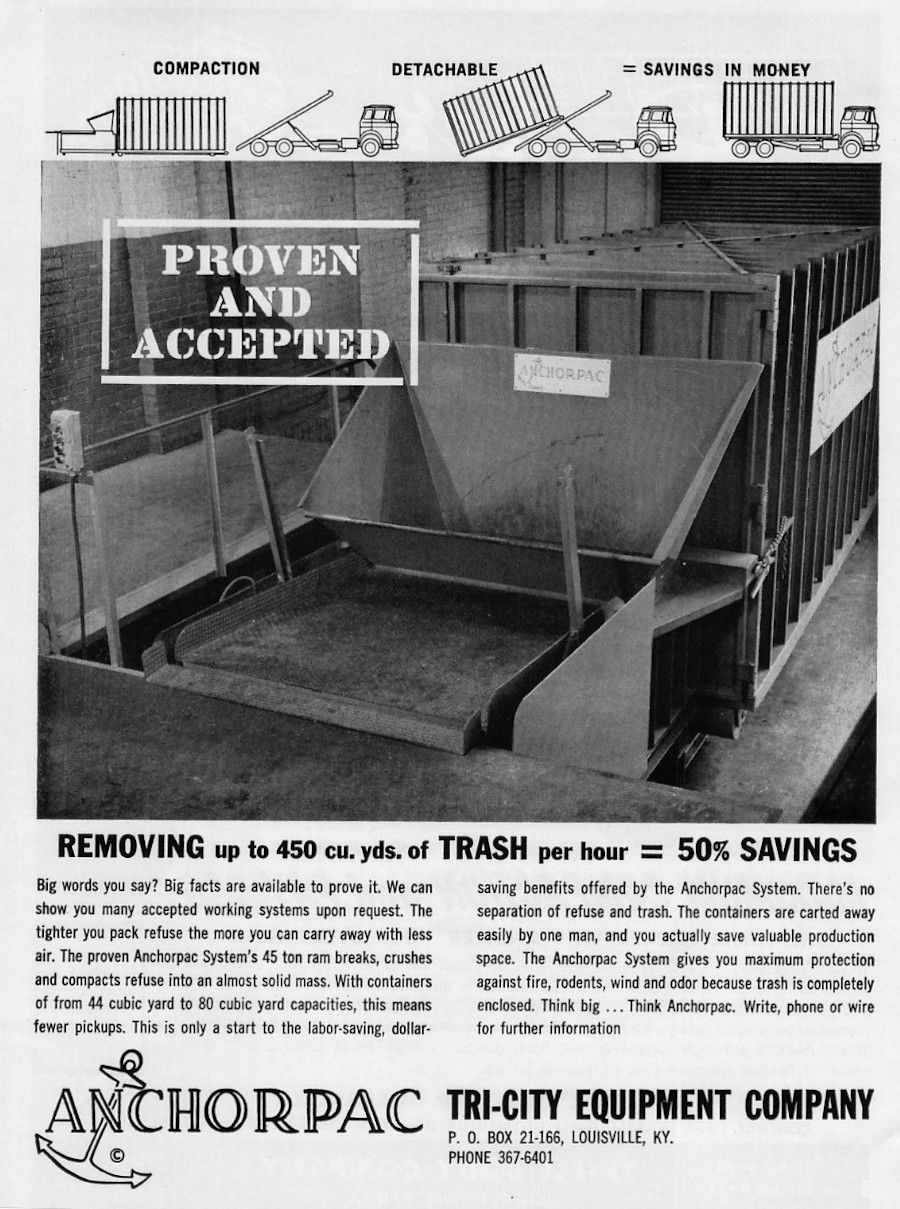 Anchorpac stationary packer in a typical installation, early 1960s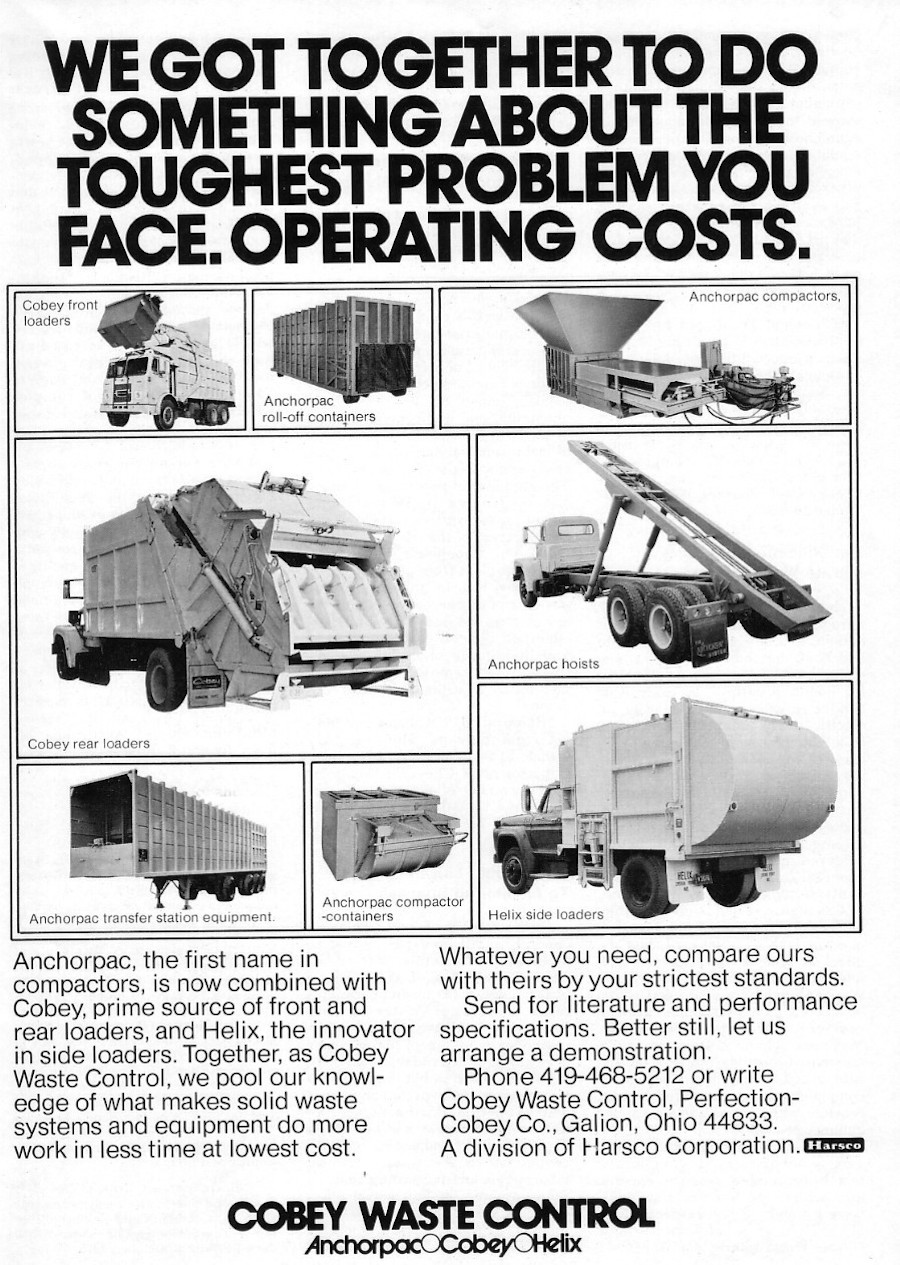 Anchorpac was sold within the Cobey line in the mid-1970s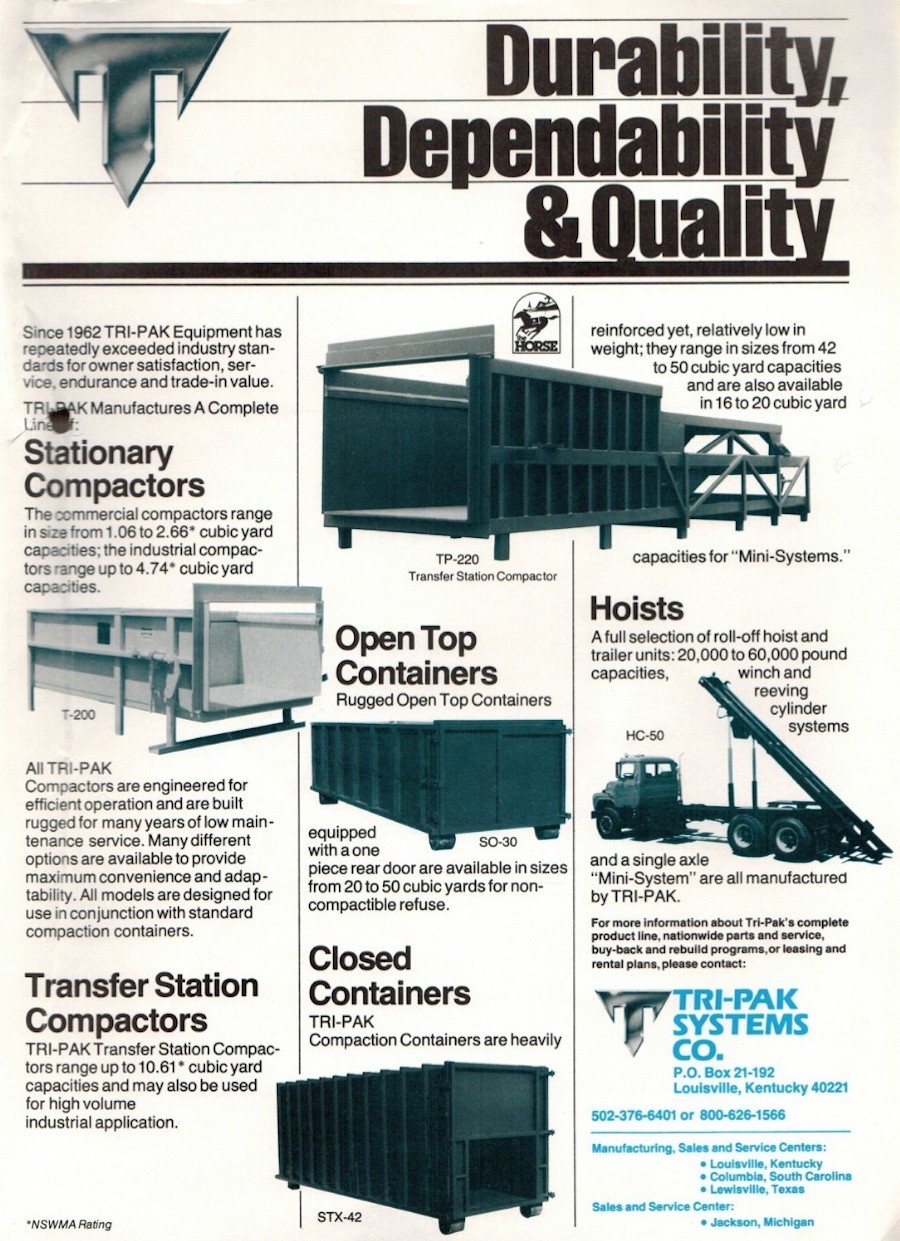 Anchorpac/Tri-Pak re-emerged independent of Cobey, but went bankrupt in the 1980s








1/8/12 (revised 6/21/15)
---

© 2012, 2015 Eric Voytko
All Rights Reserved
Photos from factory brochures/advertisements except as noted
Logos shown are the trademarks of respective manufacturers