Cook Brothers Equipment Company
Los Angeles, California

By Eric Voytko

With Photos from the S. Vincen Bowles Archive, Courtesy of Bill Tetreault and Zachary Geroux


Early-model Cook Brothers non-compacting front loader on REO chassis collecting residential refuse circa 1959. It is believed to be a 1955 or earlier model, and has the "broken" type lift arms, being hinged at about 2/3 of the way along each span, a design commonly used on early front loaders. This particular truck features bottom forks and a detachable loading bucket, making it suitable for commercial container routes as well has household collections.
&nbsp&nbsp&nbsp Oklahoma natives Charles and Howard Cook came to southern California in 1920, and would be partners in many business endeavors together. The Cook brothers formed City Ford, one of the first auto dealerships in Los Angeles, and then Cook Brothers Equipment Company, which sold and serviced construction equipment. Unable to find banks willing to finance their equipment customers, the brothers formed what would become Community Bank in Los Angeles in 1945. It was the first new bank formed in the state of California since the stock market crash of 1929. Younger brother Howard had long been fascinated with earth moving machinery, and it was likely he who led Cook Brothers Equipment Co. to delve into manufacturing. One of the first known projects was an all-terrain vehicle prototype built for the U.S. Army in 1942, which was tested but ultimately rejected. In the post-war years, the company built transit mixers and dump truck bodies, as well as their own model chain-drive motor trucks in limited quantities. With their finger on the pulse of the Los Angeles equipment market, refuse truck bodies were a natural progression.

&nbsp&nbsp&nbsp When the first Cook Brothers front loader debuted is unknown, but presumably it was during the early 1950s, alongside competitive models by Western Body & Hoist and the S. Vincen Bowles Company. The early trucks produced by these three companies were all fairly similar, being high-sided steel bodies with hydraulically-operated loading arms which raised and dumped a fixed refuse loading trough. The bulky refuse was compacted by gravity, with the operator periodically tilting the body with a separate underbody hoist to consolidate the load to the rear. Soon, "detachable" type troughs were developed, coupled to the loading arms with forks, spawning a new era of commercial container collection.

&nbsp&nbsp&nbsp Cook Brothers foray into refuse bodies culminated with their lone patent filed in late 1956 for an improved front loader. Designed by Henry Harbers, the new model used only two double-acting cylinders to both raise the lift arms and tilt the body. In Harbers' design, one end of each underbody hoist cylinder was connected to a crank on each lift arm. During the loading cycle, the body was locked down, thus the actuation of the cylinders imparted motion only to the lift arms with a short stroke. To dump the load, the body was unlocked, and the full stroke of the cylinders tipped it in the usual manner. The system cut down on weight, cost and the complexity of the hydraulic system of typical models of the day.

&nbsp&nbsp&nbsp In the same patent, Harbers described two different styles of lift arms; the early "broken arm", which was commonly used in the early 1950s, and had a hinge joint about two-thirds of the way down its length for upending containers over the body. A second type of arm was described, a new rigid type with forks connected to a cross shaft at its ends, and actuated by two small cylinders. Although it may not have been the first in service, Harber's design was the first known patent of the arm and cross-shaft arrangement now commonly used on all front loaders. However, other industry developments, particularly the addition of compaction plates, were rendering the older, non-compacting front loader designs obsolete.

&nbsp&nbsp&nbsp By 1960, Cook Brothers Equipment Co. merged with Challenge Manufacturing of Bryan, Ohio. The two firms had collaborated for many years in manufacturing of concrete mixers, and the new Challenge-Cook Brothers (C-CB) devoted more of their efforts to mixer production. Refuse bodies and motor truck chassis were eventually discontinued, and C-CB went on to become the largest American manufacturer of mixers by the 1970s. The Cook Brothers factory in Los Angeles moved to City of Industry, California before closing sometime in the 1980s. Henry Harbers continued to design equipment for C-CB and holds numerous patents. In addition to their successful business ventures, Charlie and Howard Cook were early supporters and friends of President Ronald Reagan, and original members of his "kitchen cabinet". Howard Cook passed away at his home on April 10, 1971, at the age of 67. Charles Cook died in 1986 after a prolonged illness.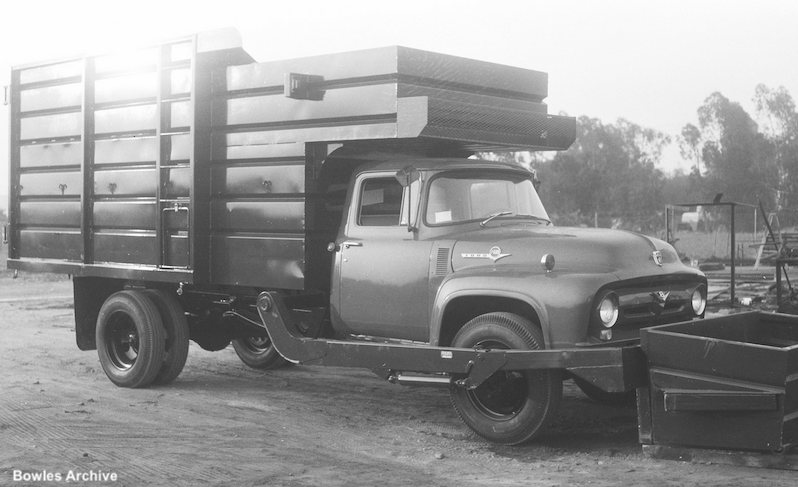 Early-type Cook Brothers front loader with a fixed (non-detachable) loading bucket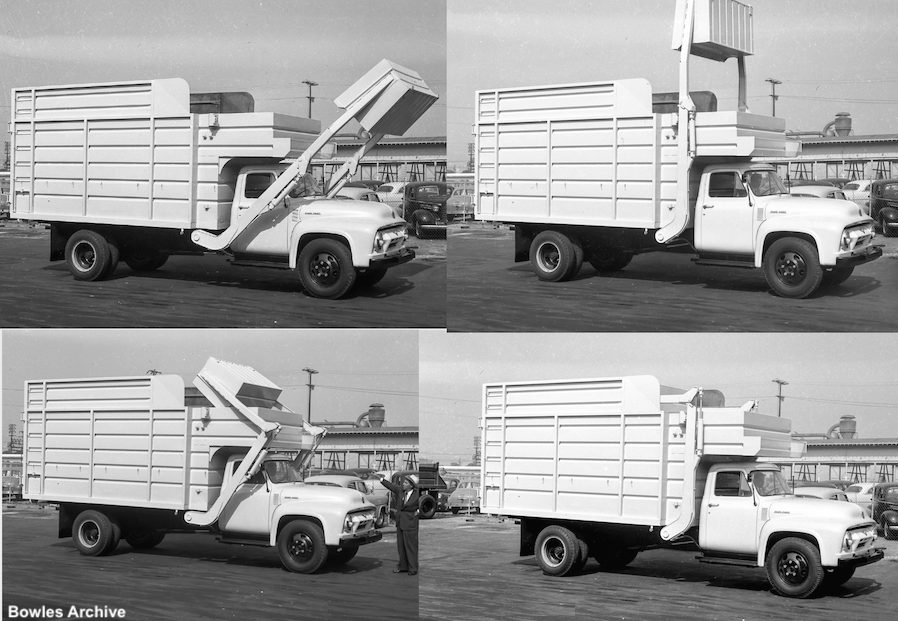 Lift and dump cycle of a Cook Brothers front loader with the "broken arm" loader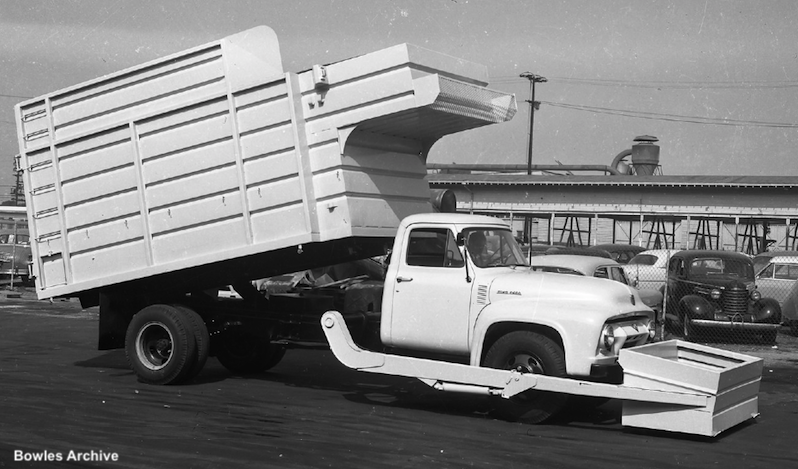 Body is tilted to consolidate load to rear, and to dump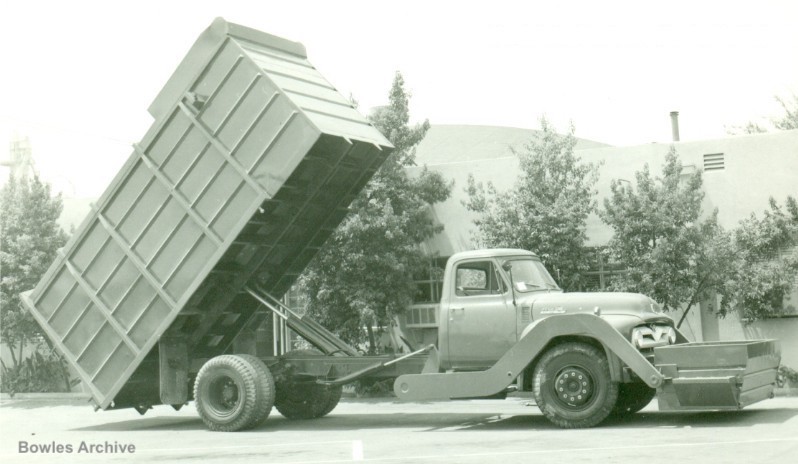 This model featured lift arms which curved over the front wheels to aid in steering
The fixed bucked pivots on axis at extreme ends of lift arms...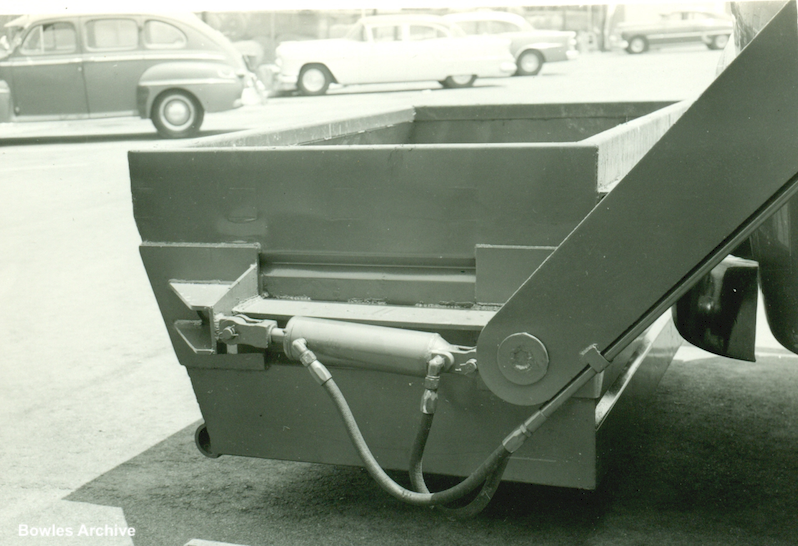 ...right side view shows single cylinder used to pivot the bucket over the body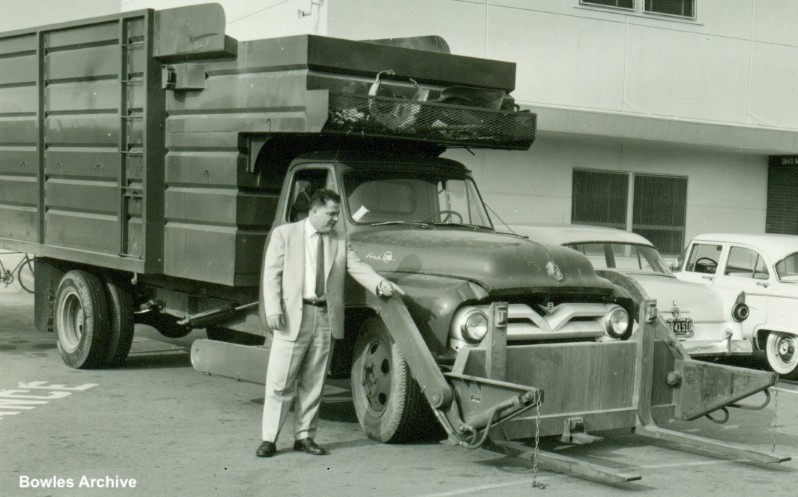 This unusual CB design could handle flat-bottom containers that lacked fork pockets....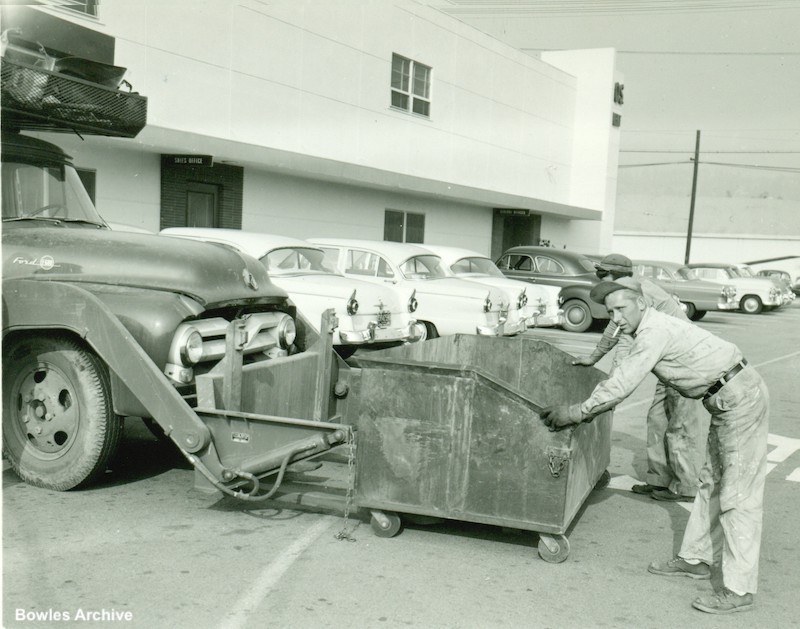 ....note the mounting of the tilt cylinders to 'side wings' that restricted lateral movement of the container....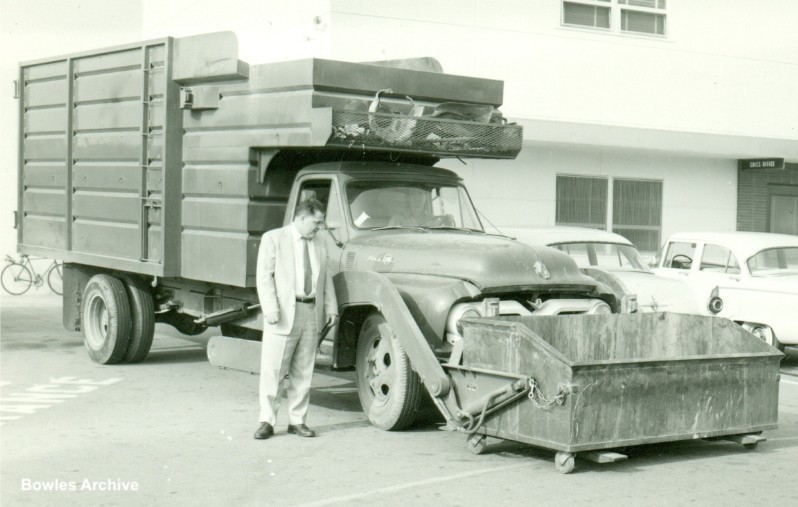 ....then retainer chains hooked to the container to keep it from falling into the truck body when inverted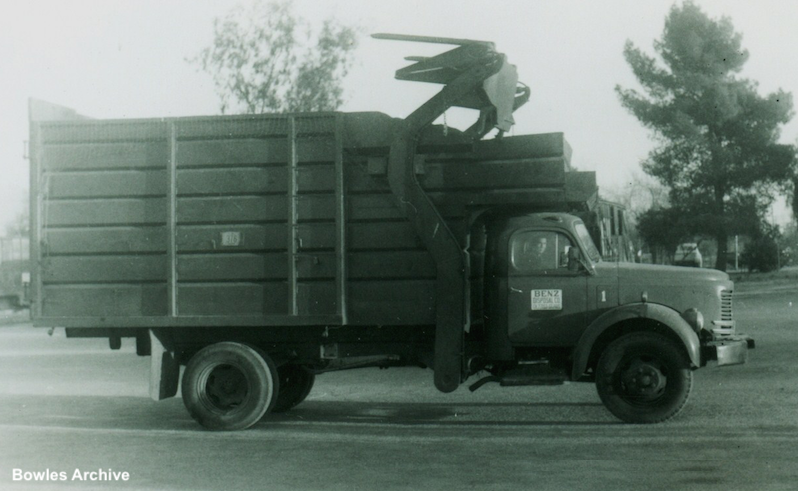 Benz Disposal REO with the Cook Brothers flat-bottom container attachment





10/29/17
© 2017 Eric Voytko
All Rights Reserved

Logos shown are the trademarks of respective manufacturers
Photos from factory brochures/trade advertisements except as noted