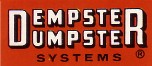 Dempster Dinosaur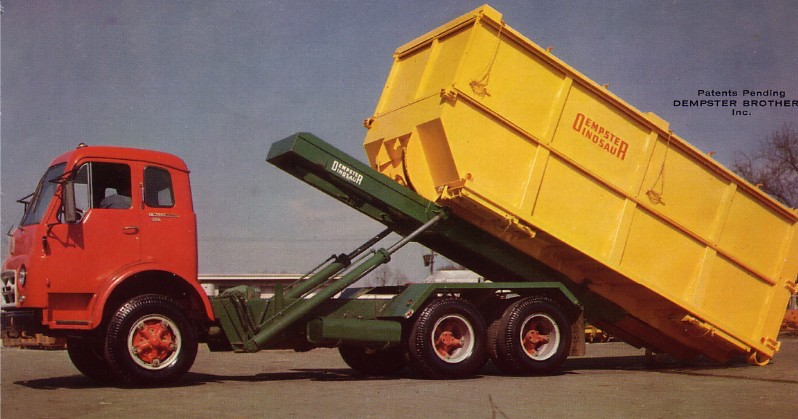 &nbsp&nbsp&nbsp Following on the heels of the revised Dumpmaster, the Dinosaur was introduced in the Fall of 1958. For all practical purposes, the Dinosaur may be categorized as a "roll-off", but in reality was a type of sliding hook-lift hoist. Like a standard roll-off, the Dinosaur featured a tilting frame, but whereas roll-offs use a hoist and cable to load their cargo, the Dinosaur's hoist coupled directly on the container through a spring-loaded bail. A series of recessed, ratcheting hooks in the container frame were engaged in sequence through successive cycles of the hoist cylinder. The advantage to the Dempster system is that it was truly double acting, capable of "pushing" a container on to a dock at frame level without the aid of gravity. Cable type roll-offs rely in large part on the weight of the container, disposed at a steep angle, to pull itself off the hoist frame.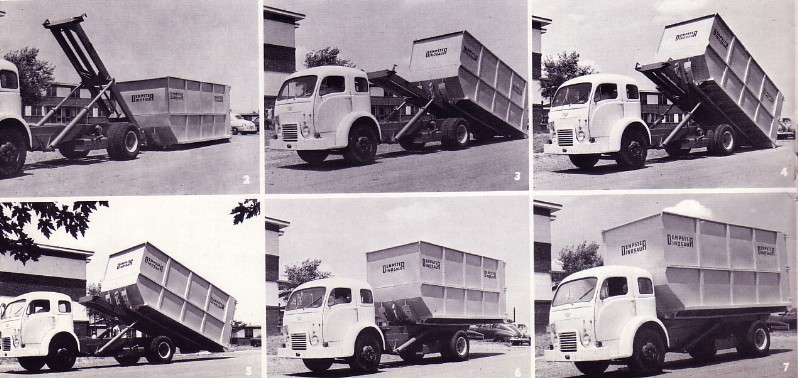 Loading a Dinosaur box at from ground level...





...and placing a box at dock level with ease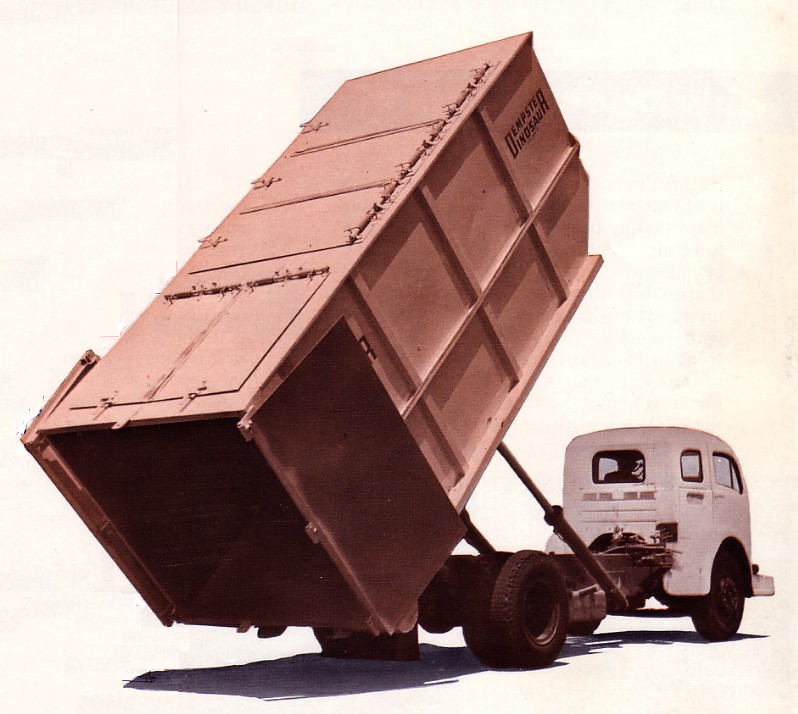 Dumping an enclosed refuse collection box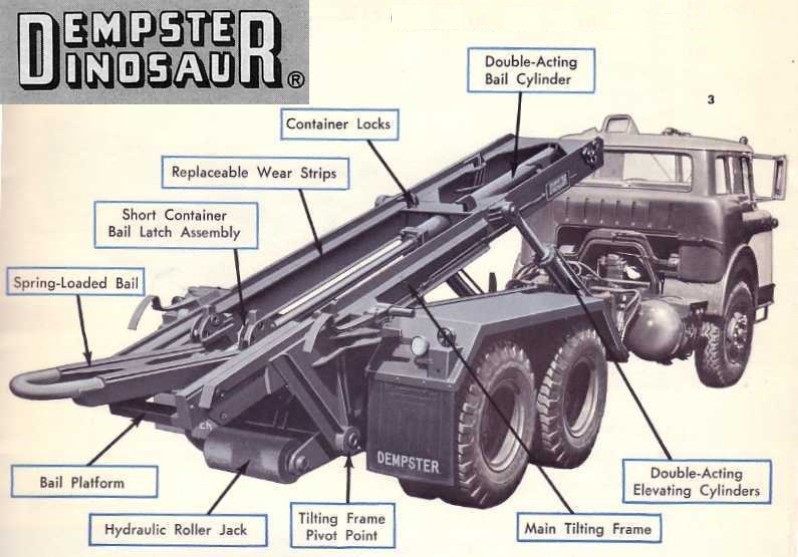 Dinosaur nomenclature


&nbsp&nbsp&nbsp The Dinosaur was a material handling system with uses beyond refuse removal. Pulpwood, scrap metal, factory machinery, coal and liquid container vessels were among the non-refuse applications in which the system was capable of being used. With a flat bed attachment it became a heavy duty equipment hauler. Virtually anything that had to be moved could be handled by the Dinosaur. Stacked, tandem and split-compartment containers could be specified and a semi-trailer version, the Dinotrailer was also offered. Off-highway models rated at 80,000 pounds gross were available, though Dempster would specially engineer models to any size, limited only by the capacity of the motor truck. By 1963, Dempster was even making side loading systems to handle 40 foot rail cars.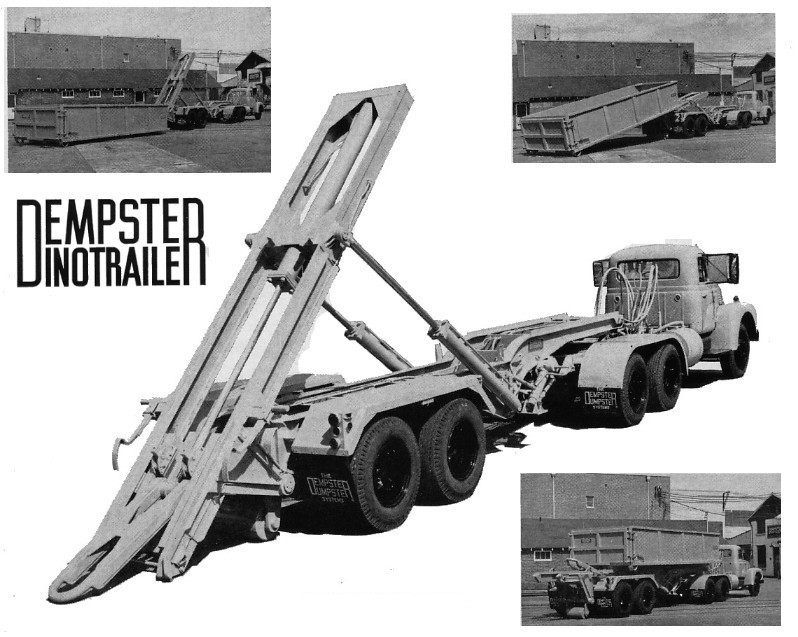 The Dempster Dinotrailer
&nbsp&nbsp&nbsp The standard open-top box, in capacities of up to 40 cubic yards was to eventually become a staple of demolition and construction industry. For refuse handling, Dempster offered similar closed boxes as well as the Dinopacker, a stationary packer with a short stroke "half pack" blade. Initially built in sizes up to 28 cubic yards, it featured an independent power supply, allowing it to be left on site indefinitely. A Dinosaur hoist truck would haul it away when full, leaving an empty unit to replace it if necessary. These units were to find favor with businesses with large quantities of lightweight refuse, and Dempster would go on to design even more elaborate on-site refuse handling systems.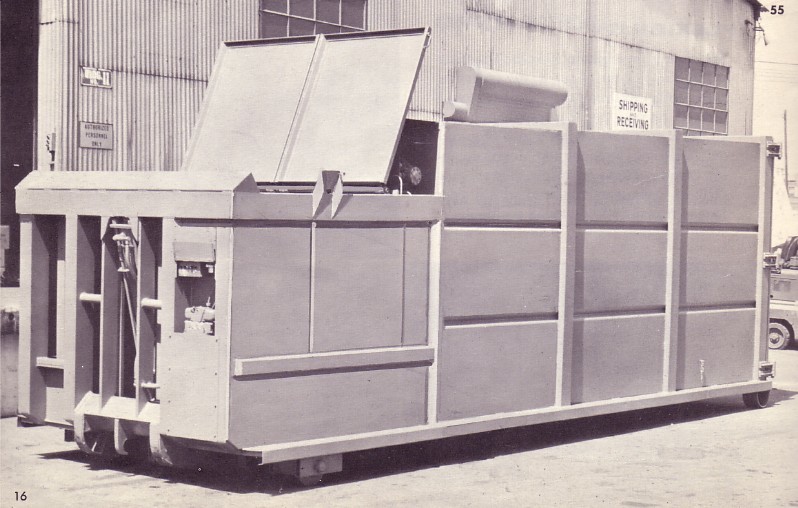 Dinopacker stationary packer unit.
&nbsp&nbsp&nbsp Rounding out the lineup was the Dinomaster, a detachable version of the Dumpmaster front loader. With this option, one truck could now service large roll-off containers, stationary packer containers and front loader routes with a single motor truck! It is the Dinomaster that probably inspired Dempster's new lift cylinder arrangement on their front loaders, since the underbody hoist cylinders of the prior Dumpmaster models would have interfered with the tilt cylinders of the Dinosaur. Unlike the Dinopacker, The Dinomaster attachment derived its power from the hydraulic system of the carrying Dinosaur vehicle through quick-coupling hydraulic hoses.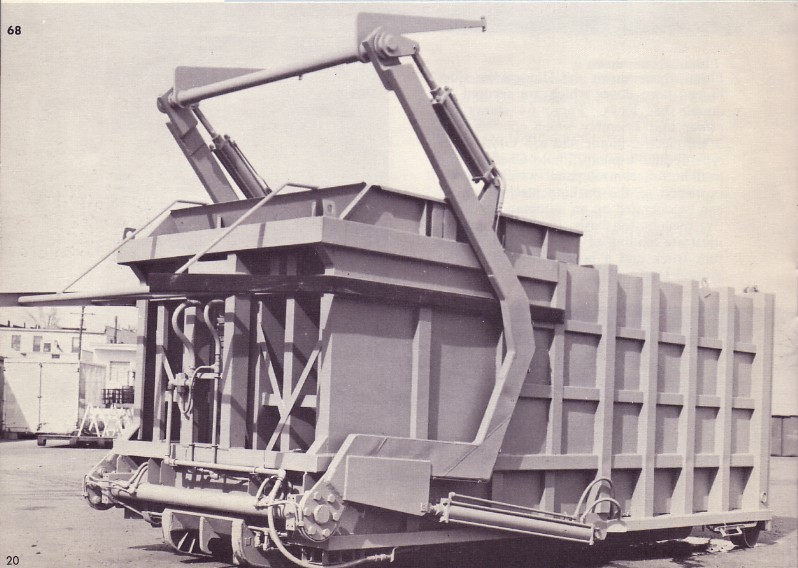 Dinomaster detachable front loader body
&nbsp&nbsp&nbsp The Dinosaur was a well chosen name. Detachable bodies and containers were not new technology, but few manufacturers had ever offered them in the sizes Dempster was building, not to mention the wide variety of styles. The firm was becoming the "one stop shop" for bulk and material handling needs, even offering consulting and site engineering services. In 1962, a Los Angeles branch office was opened in Compton, California. This lucrative west coast market was dominated by local builders like S. Vincen Bowles (who had pioneered the front loader) and Western Body & Hoist, so it was logical for Dempster to establish a stronger presence there. Not content with being limited to domestic sales, the company began aggressive overseas marketing. That same year, Powell Duffryn Enginerring Ltd., brought the entire product line to the United Kingdom, building Dempster equipment under license in Wales.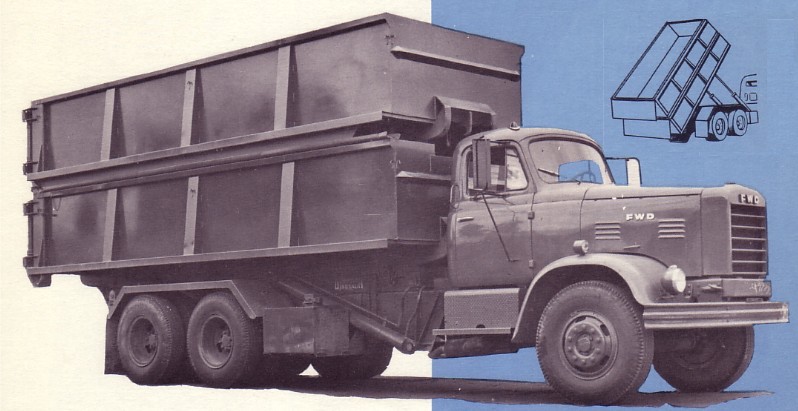 Double-stacked containers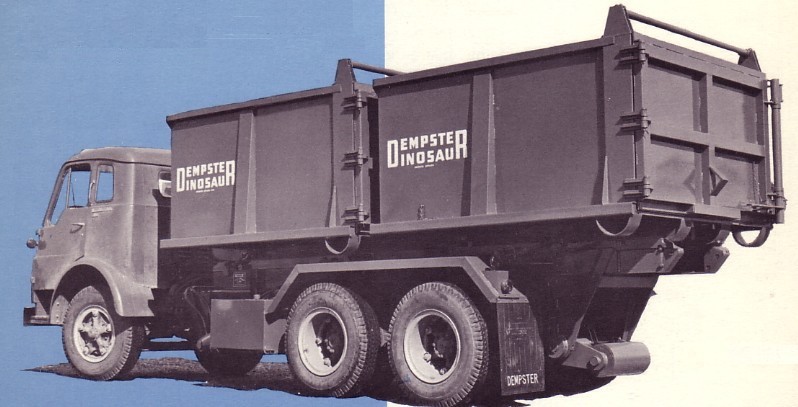 Tandem containers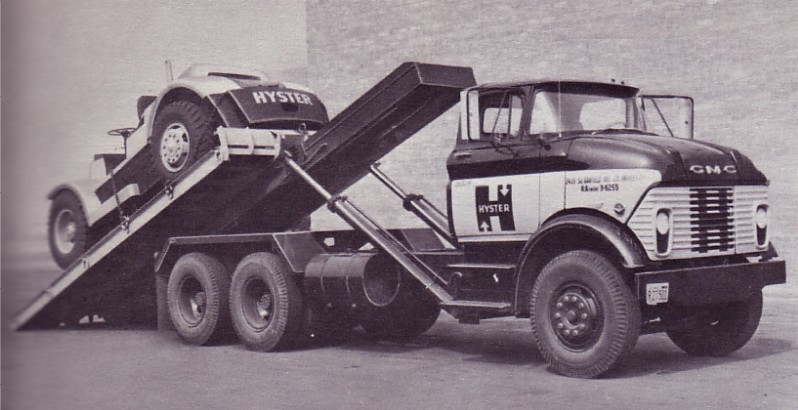 Equipment transport deck used by Hyster of Los Angeles





1/7/06
---

© 2006, 2013 Eric Voytko
All Rights Reserved
Photos from factory brochures/advertisements except as noted
Logos shown are the trademarks of respective manufacturers