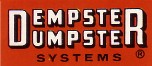 Dempster in the 1960s
&nbsp&nbsp&nbsp Many cities had adopted the Dumpster system in the forties and fifties, a time when landfill and dump space was often a short distance from the collection point. But short runs to the disposal site soon became a thing of the past for many communities, as dumps filled up, land prices soared and public opposition to even sanitary landfill methods became acute. The "short haul" Dumpster system could be costly and time consuming when longer runs to rural landfills became necessary. The combination of transfer trailers and the GRD hoist helped solve this problem, but the new front loading container system was even more versatile. In 1961, Dempster offered conversion kits for their old containers, allowing cities who had already invested in Dumpster System equipment to convert to front loader service. The kit required removal of the top of the box, over which a top dumping door assembly was welded, as well as a pair of side fork pockets. The fork pocket assemblies were actually slideable; in one position locking the bottom dump door for Dumpmaster front loader service, and in the other unlocking the bottom door for hauling with a standard LFW or GRD hoist.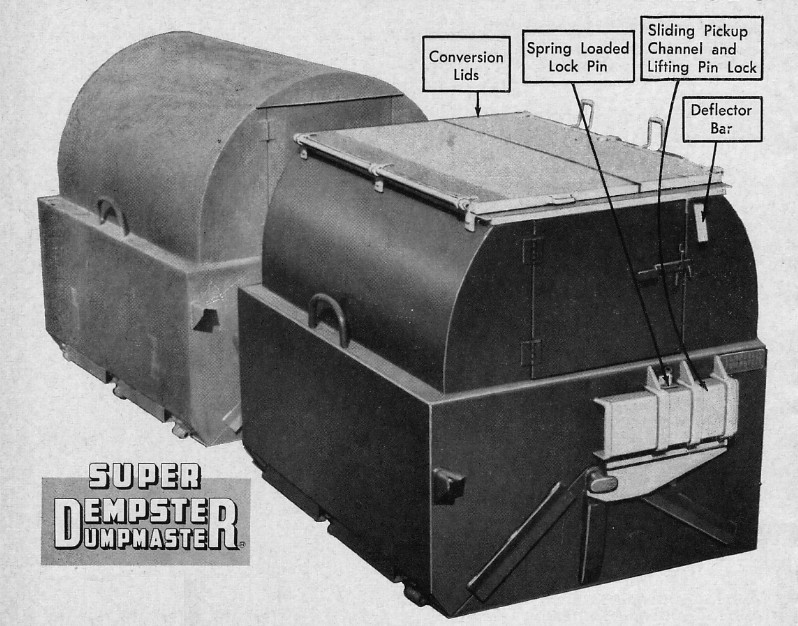 New conversion kits adapted older containers for use with either top dumping Dumpmaster front loader, or traditional Dumpster LFW
or GRD bottom dump method. Note sliding fork pockets, which also lock bottom door of container when lifted by a front loader.
Permanent conversion kit was available where only front loaders would be used.
&nbsp&nbsp&nbsp To service the converted containers, some up to twelve cubic yards capacity, a new heavy duty CA 60 Super Dumpmaster was available with a 30-cubic yard body and a packer blade delivering a force of 85,000 pounds against the load. With this new model, cities could now build a Dumpmaster container system, while still servicing their existing converted Dumpster containers with a single unit. A ten cubic yard container may not seem unusual in commercial collections today, but consider that some fleets once consisted of open body or packer trucks of the same capacity. In this sense, a high-capacity Super Dumpmaster and one operator could possibly replace a small fleet of older trucks and several crew members.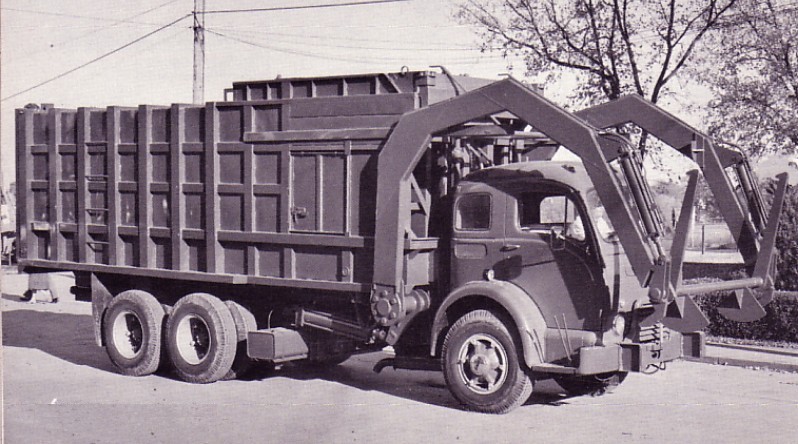 Model CA60 30DB Super Dumpmaster had 6000 pound lift arms and a 30-cubic yard body. Packer force was increased to 85,000 pounds.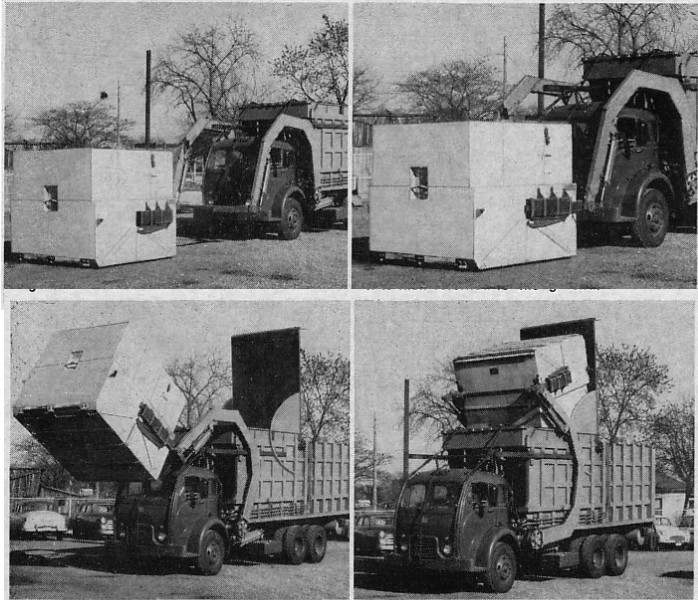 The "Super 60" handled standard or converted containers and featured optional sliding hopper cover door.
Here it is shown emptying a 12-cubic yard Universal Container with front loader conversion kit.
&nbsp&nbsp&nbsp Dempster refuse systems became increasingly popular during the 1960s, as both contractors and municipalities realized the benefits on containerized refuse systems. Dempster's long association with container systems, coupled with brilliant engineering and aggressive marketing easily made them the most recognizable name in the field. The new decade brought new additions to the Dinosaur roll off family, most notably the DinoPacker stationary compaction unit. The face of refuse collection, particularly commercial and bulk handling, had changed forever, and Dempster now sat squarely at the top of the heap.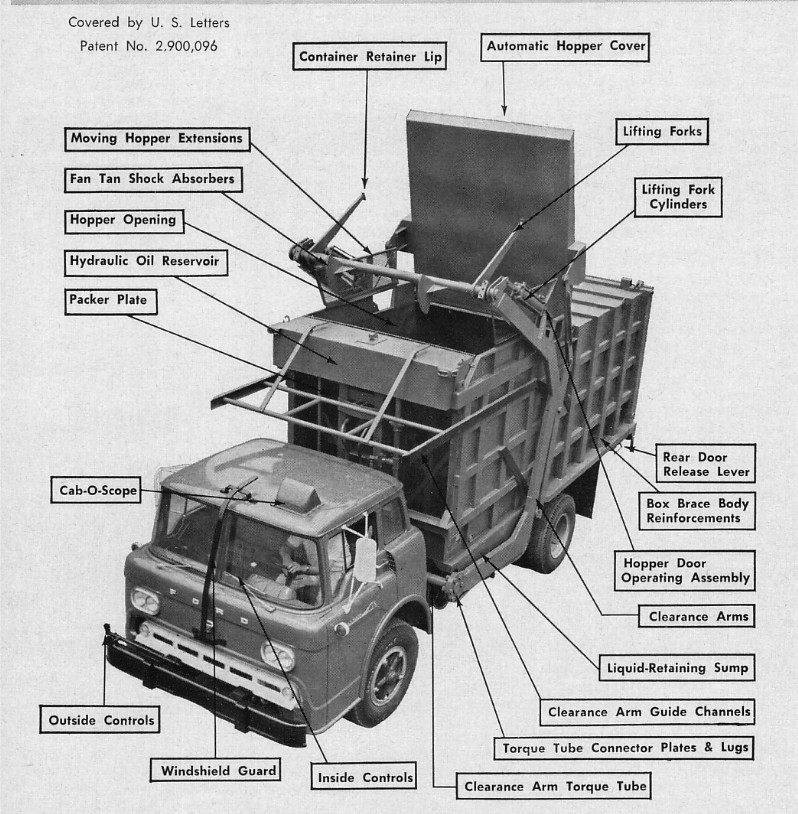 Standard CA series Dumpmaster carried over mostly unchanged into the early 1960s.
Newer accessories included hopper covers, hopper extensions and Cab-o-Scope.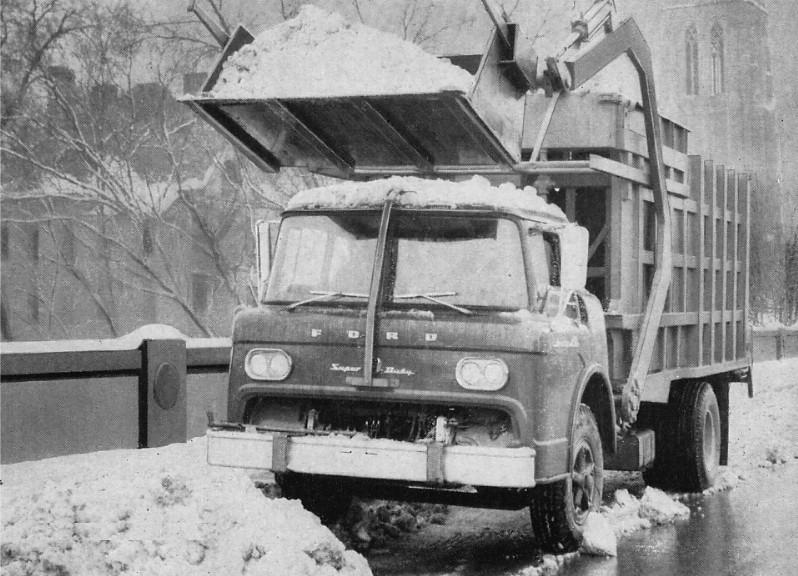 For 1961, the "Snow Scoop" bucket was also added to the accessory list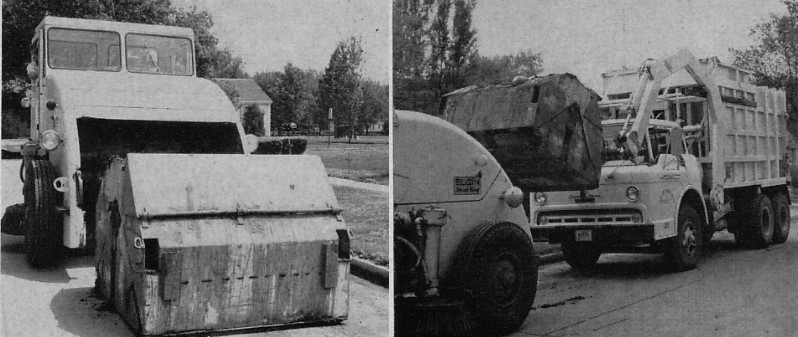 As with the LFW, Elgin Sweeper began making optional buckets compatible with the new front-loading Dumpmaster
Dumpmaster Series DP (Direct Pull)
&nbsp&nbsp&nbsp In early 1961, another major engineering change to the Dumpmaster loading arm arrived. It first appeared on the Dinomaster roll-off front loader, and soon after on the standard Dumpmaster series. Since the first hydraulic truck loaders had appeared nearly two decades prior, the common practice was to actuate the lift arms with set of hydraulic cylinders mounted under the front of the truck body, and roughly parallel with the chassis. These cylinders were connected on their rod ends to bell cranks affixed to cross shaft, which carried a loader arm on each outboard end. The cylinders were relatively short, but gained mechanical advantage through the bell cranks, though this placed a significant torsional load on the cross shaft carrying the arms.

&nbsp&nbsp&nbsp Dempster's new design featured long stroke cylinders, with the piston end mounted to the outside of the truck body and the rod end coupled directly to each lift arm. By acting directly on each lift arm, working pressures could be lowered resulting in less damaging heat within the hydraulic system. The load on the cross shaft was greatly reduced, now serving as a bearing support for each lift arm. The lift cylinders were out of the way of potential damage from landfill hazards, and 6,000 pound lift capacities were maintained.

&nbsp&nbsp&nbsp All Dumpmasters equipped with the new direct-pull arms became series "DP", with lifting capacities up to 6,000 pounds. Only the CA 60 Super Dumpmaster retained the underbody cylinders, but was eventually phased out. It was another triumph for the Dempster team, and best of all it was and idea that was adaptable only to OTC lift arms, for which they also held (at that time) exclusive patent rights! These two features would be Dempster's lasting legacy to front loader design, as the company gained an ever-larger share of the front loader market.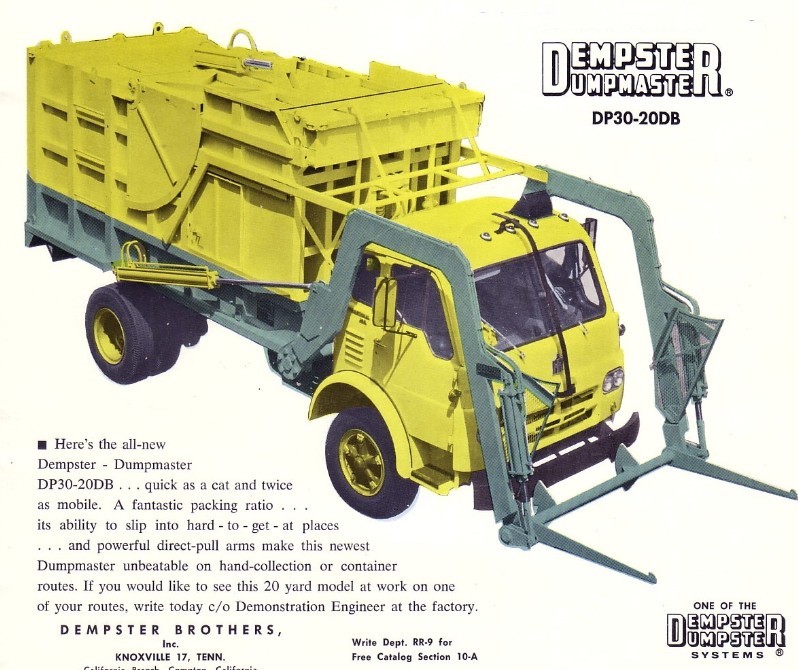 Dempster pioneered the "direct pull" lift arm cylinder, which would eventually become an industry standard.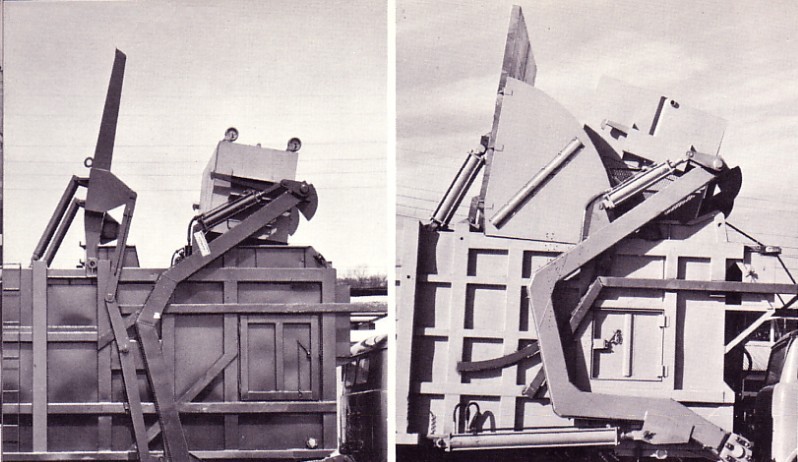 Left: Series CA Dumpmaster with mechanical hopper door.
Right: Series DP Dumpmaster with hydraulically actuated door , which had built-in hopper extensions.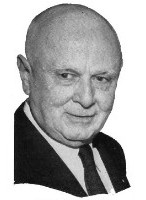 &nbsp&nbsp&nbsp George R. Dempster died of a heart attack on September 19, 1964 in Knoxville at the age of 77. He was succeeded as president by his nephew James Dempster, who had been with the company since 1937. During his remarkable life, he had been both a hobo and locomotive engineer, operated heavy equipment during the construction of the Panama Canal and survived Thyphoid. Along with his brothers, he later established a successful construction company and like so many others, was nearly wiped out during the Great Depression. At a time when many established manufacturers were closing up shop for good, he established a truck equipment business and eventually created an entirely new market for his product that the competition had mostly overlooked. Dempster equipment was built in his home town of Knoxville (where he had also served on the City Council and as Mayor) during a time when heavy manufacturing facilities were somewhat uncommon in the American south.

&nbsp&nbsp&nbsp So common is the "dumpster" in modern times, that it is difficult for many of us to imagine what life was like before Dempster made it a household word. Few other inventions had a more sweeping and positive impact on public health and sanitation practices than his original Dumpster container system, which introduced many communities to a new concept in bulk refuse storage. By the time of his death, countless municipalities and contractors were using it, with over fifty U.S. cities also using his latest Dumpmaster front loader system. While Dempster hadn't invented the front loader, his critical improvements to it have become industry standards, further adding to his legacy. For these reasons, George Dempster was, and remains, one of the all-time greatest individual figures in refuse truck history.



Dempster's legacy is best summed up by the before and after photos above.
His contribution to the betterment of public health can not be overstated


&nbsp&nbsp&nbsp During the remainder of the 1960s, Dempster remained a family-owned concern and further solidified its hold on the bulk refuse handling business. Though there would be increased competition for front loaders and container haulers, their long-established distributor network and unmatched name recognition would insure status as the industry leader. During the mid 1960s, the "trash train" was in vogue as a cost cutting refuse collection method. It entailed a series of 4-6 yard front load containers fitted with axles and hitched together. A light truck towed the train along residential collection routes, periodically stopping to have the boxes emptied by "mother truck" front loader. The system was designed to consolidate hauls, and minimize crew downtime by keeping the trains rolling while the mother truck made the trip to the disposal point. Virtually every front load manufacturer advertised this system, Dempster being among them. However, Dempster could rightfully lay claim to having pioneered the idea in 1945 with their Dumpster Kolector system, which was perhaps just slightly ahead of its time.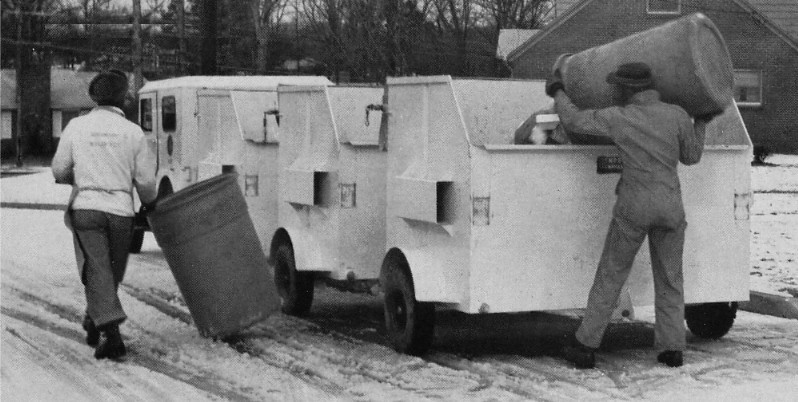 A three car Dumpmaster train used at Winston-Salem, North Carolina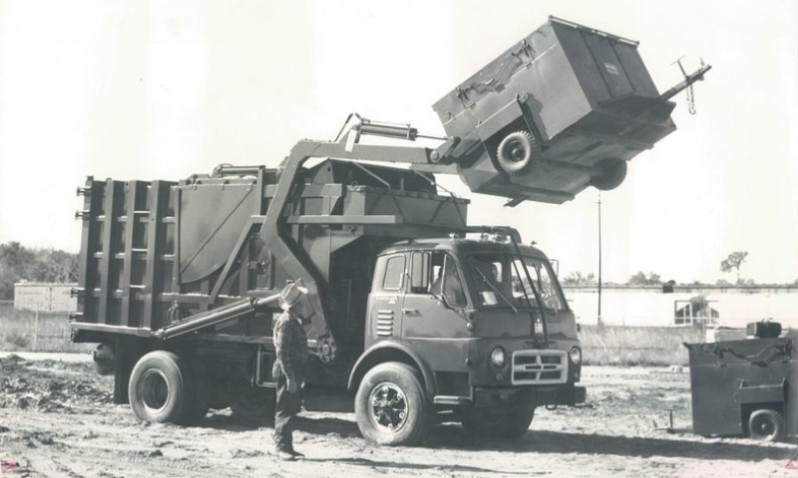 Dumpmaster "mother truck" empties train car in Arcadia, Florida
&nbsp&nbsp&nbsp Dempster was more than just a trash truck builder; the firm offered a complete line of bulk refuse collection solutions, and in the late 1960s through the early 1970s they expanded this broad lineup to include ever larger transfer trailers, as well as complete municipal transfer stations. Built-in compaction and storage systems, custom-fitted for use in large apartment and office buildings were soon offered as well. In 1970, Dempster Brothers was purchased by Carrier Corporation, ending 35 years of family ownership.



By mid-decade, Dempster was building transfer station equipment as well as providing site engineering services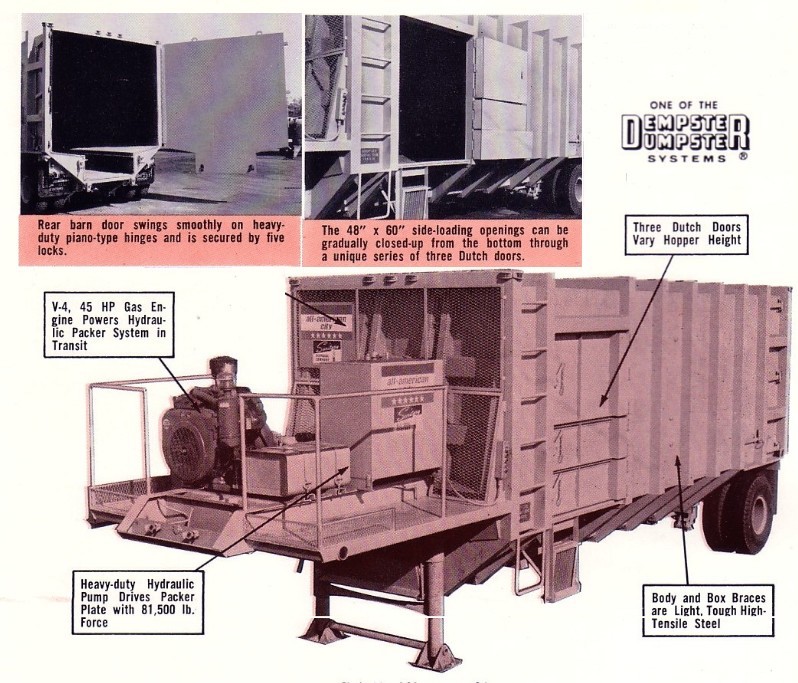 Lightweight 32-yard compaction trailer was introduced in 1964 for hand-loaded routes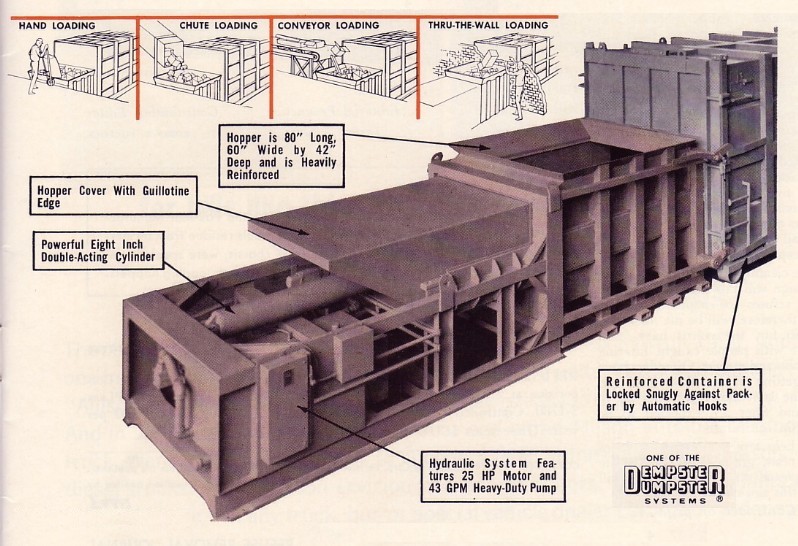 The 4-yard Power-Pack stationary unit fed refuse into a standard Dinosaur container.
With a deep-thrust packer and "guillotine" hopper cover, it was capable of 5:1 compaction and could digest virtually anything





1/7/06 (revised 2/22/13)
---

© 2006, 2013 Eric Voytko
All Rights Reserved
Photos from factory brochures/advertisements except as noted
Logos shown are the trademarks of respective manufacturers