Dempster Rear Loaders:
Route King and Economite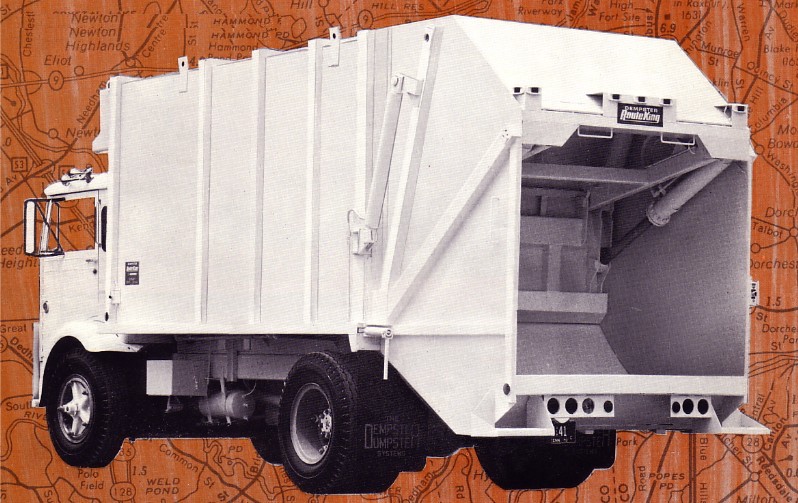 &nbsp&nbsp&nbsp For all of Dempster's achievements since the late 1950s, the company had still never fielded a rear loader model. This was an understandable oversight considering their fantastic success with bulk/commercial refuse handling systems, but would nevertheless be rectified by 1970 in the form of the all-new Route King series. George Dempster would have been proud of the Route King, since it was not only a competitively designed machine, but was also a unique and original concept, free of any hint of infringement upon Leach Company's patented 2-R Packmaster, then the industry standard in rear loaders. The Route King, initially sold in 16, 20 and 25 cubic yard capacities, allowed Dempster to crack into the rear loader market, rounding out what was perhaps the most complete refuse product line in the industry at that time.

&nbsp&nbsp&nbsp Like the 2-R Packmaster, it had a split-hinged panel and four packing cylinders, but that is where the similarity ended. The Route King took the "swing-link" concept of the Gar Wood LP-800, and modified it so that the links where welded to the upper panel instead of pivoting. Both upper and lower links converged at the lone pivot point just above the hopper opening, which resulted in a pendulum-like arc. Hinged to this assembly was a fairly typical sweep panel, but even it departed from convention in that its cylinders were positioned to push against its face, rather than operating through bell cranks as had been the practice throughout most of the industry. This placement of the sweep cylinders was not unintentional, since one of the novel features of the sweep panel was that it was intended to pre-crush refuse in the hopper prior to packing it into the body. Pre-crushing had been used in the both the Sicard Sanivan and Daybrook Power Packer, but the Route King was a far more powerful truck and a potential "big eater" that could seriously compete with any bulk rear loader. Most striking is the utter simplicity of the design, with far fewer parts than Gar Wood's 800. Since it had no tracks, slides or rollers, service was also easy, and critical lubrication points were easily accessible from the outside.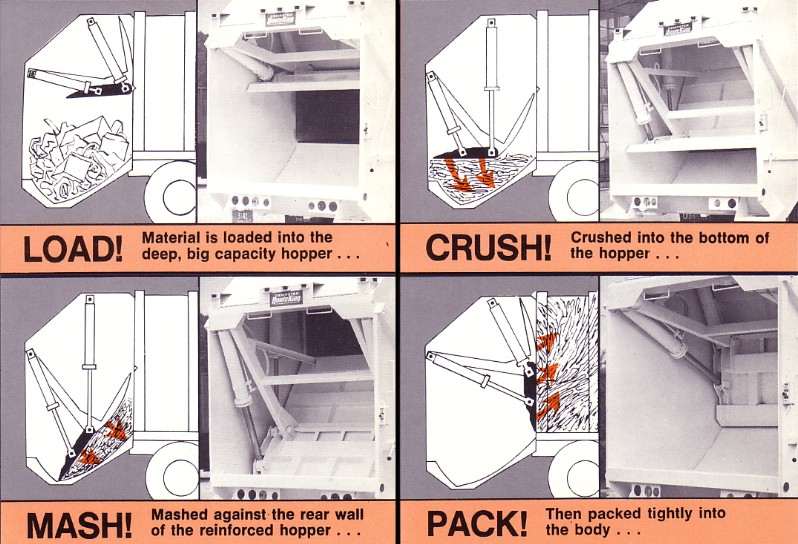 Packing sequence shows pre-crushing feature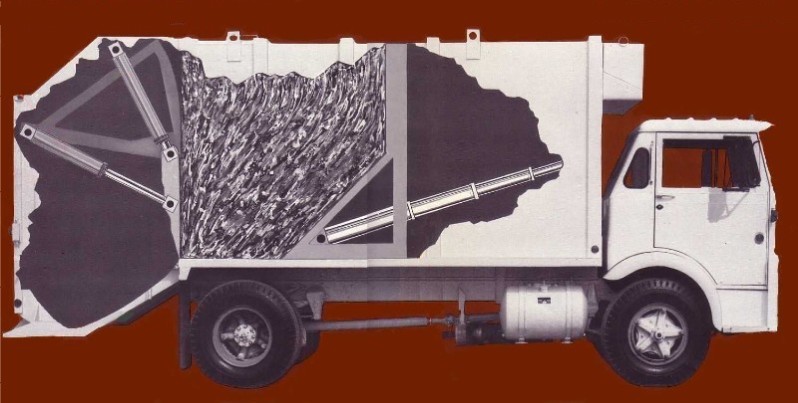 Anatomy of the King: The Route King was Dempster's first rear loader, a modified swing-link design with a single pivot point.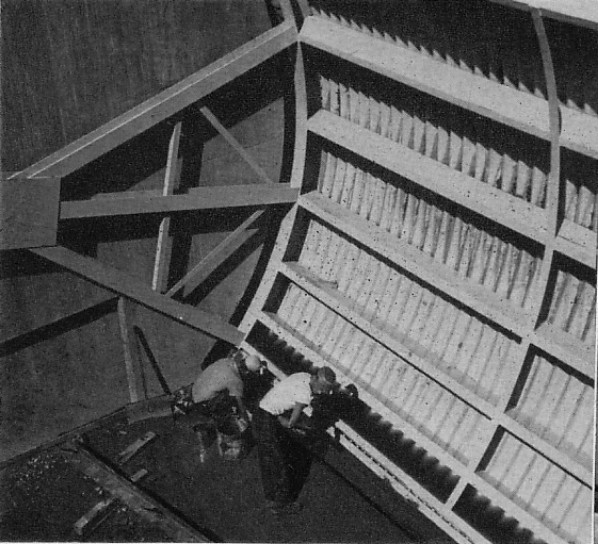 Packer geometry of the Route King may have been inspired by Tainter Gates used in dams and canal locks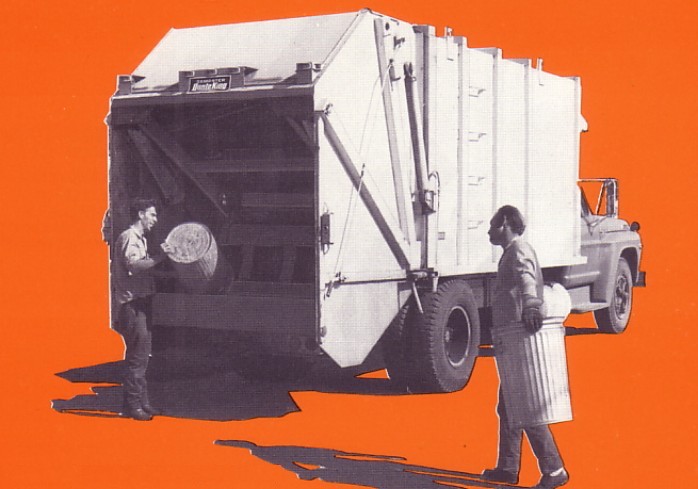 Route King featured spacious, full-width hopper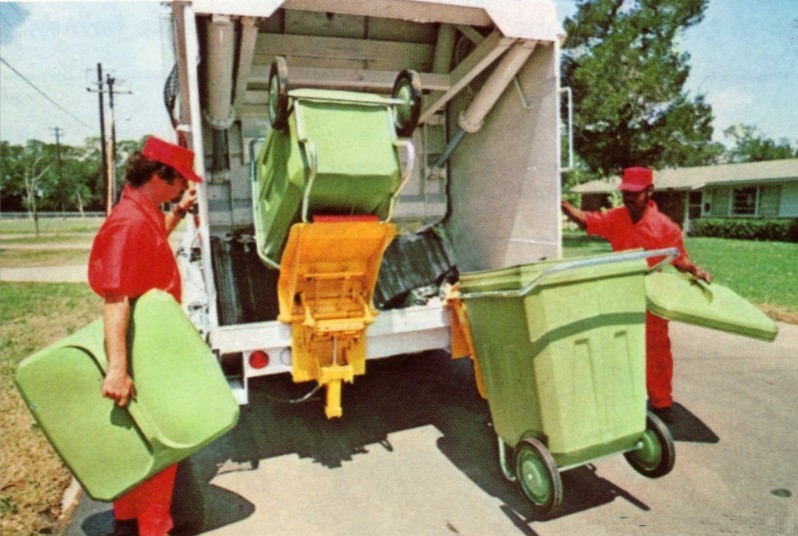 City of Fernandina Beach, Florida used Route King with USS Rollawaste semi-automated cart system in 1974.
Cleburne Ranger and Dempster Economite
&nbsp&nbsp&nbsp In 1973, Texas manufacturer Cleburne Truck and Body Sales was absorbed, becoming a division of Dempster. Among Cleburne's products was the Ranger, a small rear loader of slide-sweep design available in 10 and 13-yard capacities. The Cleburne rear loader continued as a separate division of Dempster until 1975, by which time it was completely absorbed into the corporate family. New body sizes of 17 and 20-cubic yards were added, and the small rear loader was renamed Economite. That same year, Dempster changed its name from Dempster Brothers Inc. to Dempster Dumpster Systems.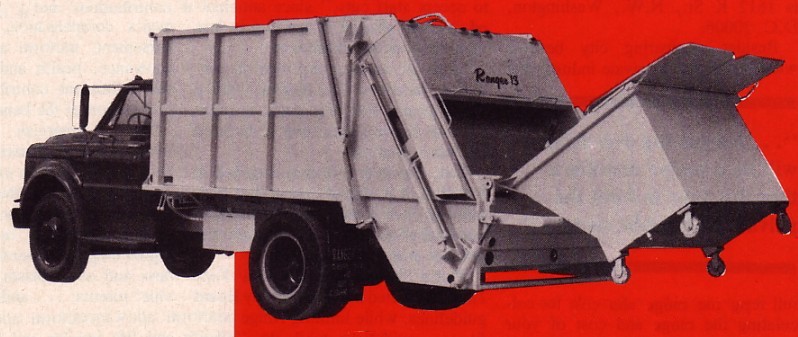 Cleburne Ranger 13-yard rear loader




1975 Dempster Economite 20-yard





1/7/06
---

© 2006, 2013 Eric Voytko
All Rights Reserved
Photos from factory brochures/advertisements except as noted
Logos shown are the trademarks of respective manufacturers