1970s Dempster Bulk Refuse Handling Equipment
and West Coast Division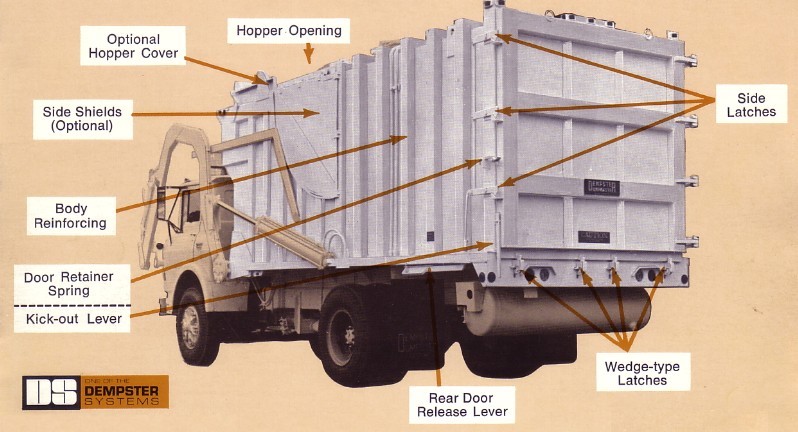 Dumpmaster front loaders received new vertical-rib bracing pattern in the early 1970s. Body sizes were expanded to 25, 31 and 38 cubic yards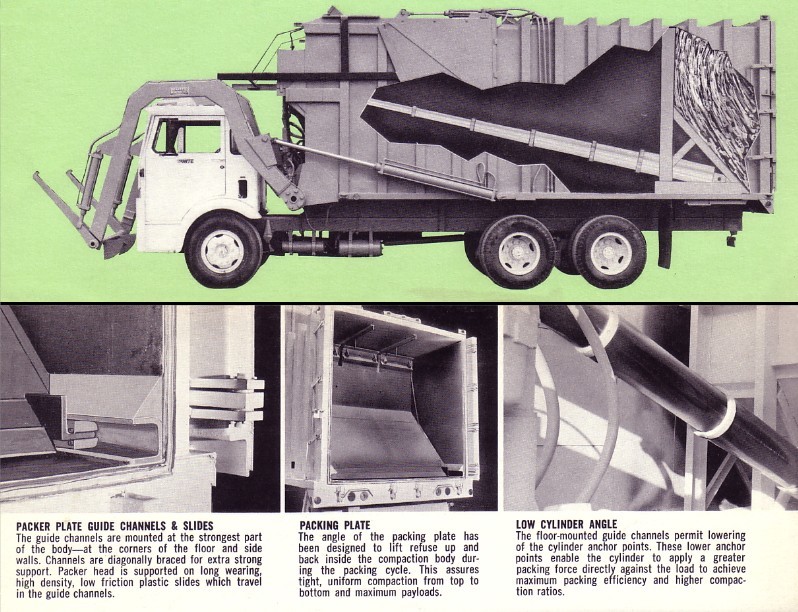 Interior features of the Dumpmaster



DEMPSTER WEST COAST DIVISIONS: AN INSIDE VIEW
Compton and Sunnyvale, California



Dempster opened a branch sales office in Compton, California in the late 1950s to serve the burgeoning western markets. Later, the office was relocated to Sunnyvale in the San Francisco Bay area. The following are the recollections of Brent Farlie, who worked in the western division offices during the 1970s.

---

&nbsp&nbsp&nbsp I worked for Dempster Dumpster in Compton, California at the factory branch, then when it closed moved to the northern California sales office (I was employed 1972-1979). I was the only employee to survive the closing of the west coast plant. I was the parts manager and supplied parts to eleven western states and all over the Pacific. A lot of my work was keeping the inventory in place for manufacturing/production, and servicing the needs of the older units in service (particularly the old Dumpster, LFW, GRD etc with the military). I moved to the northern California office and worked with Roy Barbatti, sales dude extraordinaire.

&nbsp&nbsp&nbsp We had Dumpmaster bodies manufactured by a subcontractor in El Centro (Douthitt Steel) along with containers. They were shipped to our Compton plant to be plumbed, painted and mounted. Route Kings were shipped in complete via rail car from Knoxville. Stationary compactors were also shipped in, though I seem to remember perhaps some being built in El Centro too.

&nbsp&nbsp&nbsp It was our input about the market in California and the local manufacturers that forced Dempster in to the lightweight market [the eventual purchase of C & O Manufacturing]. We were getting our brains beat in trying to sell a Dumpmaster against pretty much anything available (Bowles, Bemars, AMREP etc). The main office just couldn't believe that we were that far off in price and weight, so stalled far too long in doing anything about it. Same with the change to crank driven pumps.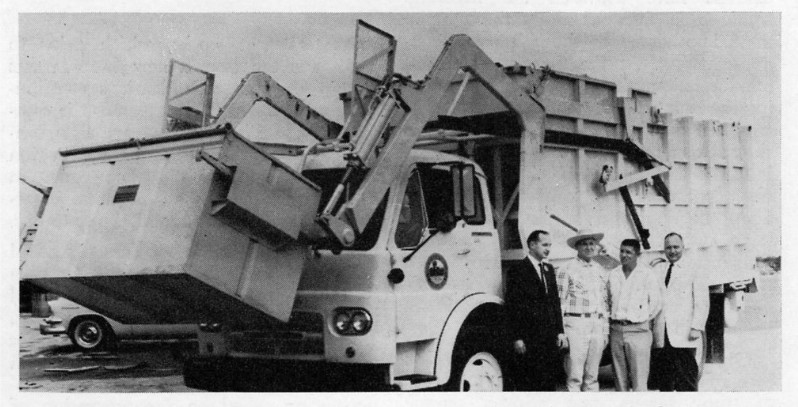 Rare west coast customer: Palm Springs ordered this Dumpmaster in the 1960s
&nbsp&nbsp&nbsp Most of the guys from that time are pretty old or gone, I happened to be very young when I went to work there. It was a very primitive time, and we did a heck of a lot of work and produced a lot of equipment with not much in the way of resources at our location.

&nbsp&nbsp&nbsp I came aboard as a parts man. Two weeks later, the parts manager quit and I was now the parts manager. I was charged with supplying the production line and replacement parts. Some parts came out of the factory in Knoxville, some were local purchase. Our lead times back then were quite long. You have to remember this was pre-UPS with 50-state service or Fed Ex and so on. Everything came by truck lines or rail, we did much with REX (Railway Express Agency). Most of our communications with the factory were via Telex machine as there was a 3-hour time difference, so our window of opportunity to talk with one another was short.

&nbsp&nbsp&nbsp Our branch manager was a guy named Charley Jones. He returned to the home office after a few years. His replacement, Ray Sisk, came to us (like Charley) from Knoxville. When Cleburne Equipment was acquired, he went there to run that facility, then eventually returned to Knoxville. When he went to Cleburne is when we shut down the Compton location (December 1974). I helped close up the location, then relocated to Sunnyvale, California to be the assistant to Roy Barbatti, the western regional sales manager. Roy stayed with Dempster through the later years of the lightweight west coast units, then he went on to work for Crane Carrier for a long time.

&nbsp&nbsp&nbsp While the Compton branch was not real big, we did have some very high profile customers including Sunset Scavenger (now Recology San Francisco), the Los Angeles Unified School District (LAUSD) and various municipalities thoroughout the west. It was nearly impossible to break in to the southern California market, as we had nothing to offer against the local builders....we were too heavy and too pricey.

&nbsp&nbsp&nbsp Unfortunately the factory just would not believe us most of the time, as they were so successful elsewhere. As an example, we wanted a Route King demonstrator. Typical for the west coast would be a cab-over with an air-operated PTO, disc wheels and auto trans. We got a standard cab IHC with 15-speed manual trans (5 with a 3), Budd wheels and a cable operated PTO. Impossible to demo it! Such was the fight we had on our hands most of the time.

&nbsp&nbsp&nbsp Somehow, we got our stuff spec'd in to LAUSD. I know for sure the first order was for ten. They used pony engines for power, and it was so hilarious. One day, this one driver had been complaining how slow the unit worked. He brings it in, I hop up in the cab, flip the switch to start the pony, then flip the switch to speed it up [throttle advance]....he says "whats that noise?" He had been operating it at idle!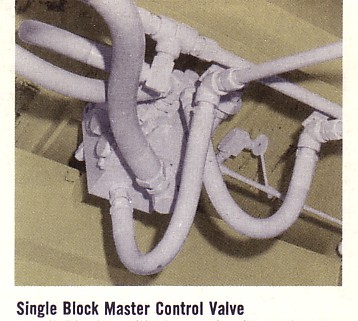 &nbsp&nbsp&nbsp We sold Route Kings to Golden Gate and Oakland Scavenger too. Roy Barbatti was the ace of aces selling to them all. It didn't hurt that he is Italian and speaks it. The Route King early on was a hell of a problem. The key component was the main valve hidden up top above the sweep packer head. It had tons of cartridges in it, and they had to operate in the exact right sequence or the units would not operate correctly. Roy kept cartridges in his car and would swap them out for companies on the fly.

&nbsp&nbsp&nbsp They eventually got that worked out, but it was a very big problem for quite awhile. Later they had problems with the hopper blowing out and had to do a fix on the hat sections under it.





---
DEMPSTER WEST COAST DIVISIONS: A USER'S VIEW
Though it never came close to conquering southern California, the Dempster Dumpmaster front loader did have some adherents. Anecdotal evidence, and Brent Farlie's comments above would indicate that municipal/government users were their most frequent customers. However, one of the larger contractors in greater Los Angeles was Western Waste Industries, and they are known to have used Dumpmasters in their fleet during the 1960s.

Scott Blake purchased one of these Western Waste Dempsters second-hand (pictured below), to replaced another fire-damaged truck in the 1970s. Carried on a 1963 International Harvester CO, he has described it as the "ugliest truck in the San Fernando valley" at that time. Scott also recalls what it was like to use a ten-year old, well worn Dumpmaster: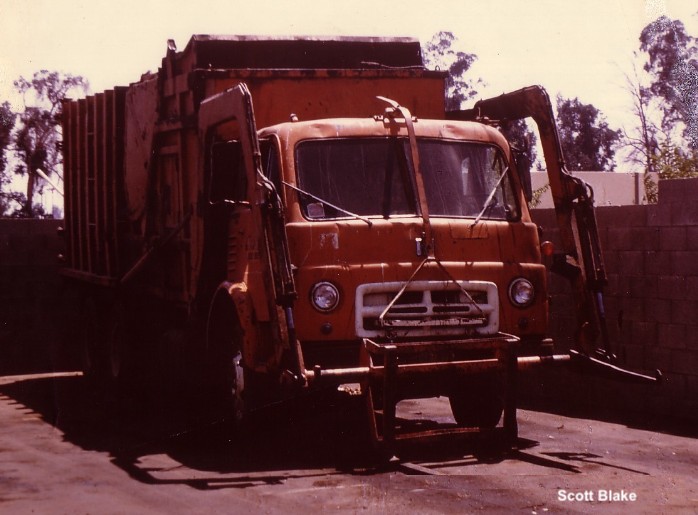 Scott Blake's 1963 IHC/Dempster, and ex-Western Waste fleet vehicle
&nbsp&nbsp&nbsp Looking at the Dempster album reminds me of some things I thought of back in '73, when that ex-Western Waste unit was the first truck I drove. I never understood why a west coast outfit ever bought a fleet of those. You can see why Bowles/Bemars had a lock on at least the L.A. market. That DP [Dempster] makes a 2R look lightweight! They were overweight when empty on the steer axle, and frame V breaks happened as even a 50,000 lb. GVW chassis was too light.


&nbsp&nbsp&nbsp The hydraulic circuit was full of valves, tubing and hose connections, bypasses etc. to operate the "trap door" while the arms raised and so forth. The old girl we had only got maybe five tons, on account of the wood packer shoes being long-gone, so most of the cylinder power was wasted by friction. If you think Leach cycle time was slow, you should have seen one of these things go through dumping a can or pushing out a load. It took five minutes it seemed!

&nbsp&nbsp&nbsp They were absolutely built like a battleship. I don't mean to criticize a groundbreaking design, it's just that we can see from these why the local hauler out here went to a very basic, simple, locally-produced unit. I saw Dempsters in the late 60s working with Dempster cans in Palm Springs, and they ran them in Las Vegas as well (Silver State).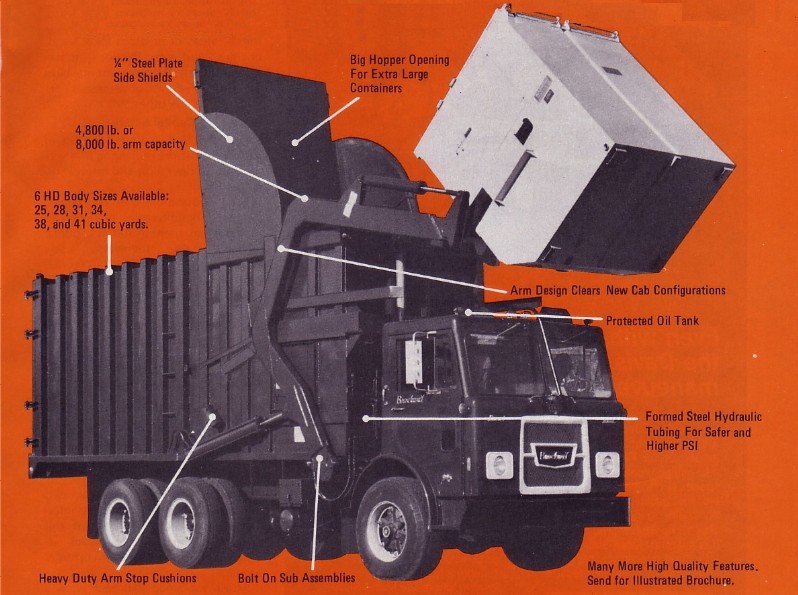 New Dumpmaster HD Series was introduced in he mid-1970s, with lift arm capacities up to 8,000 pounds, and wider range of body sizes up to 41 cubic yards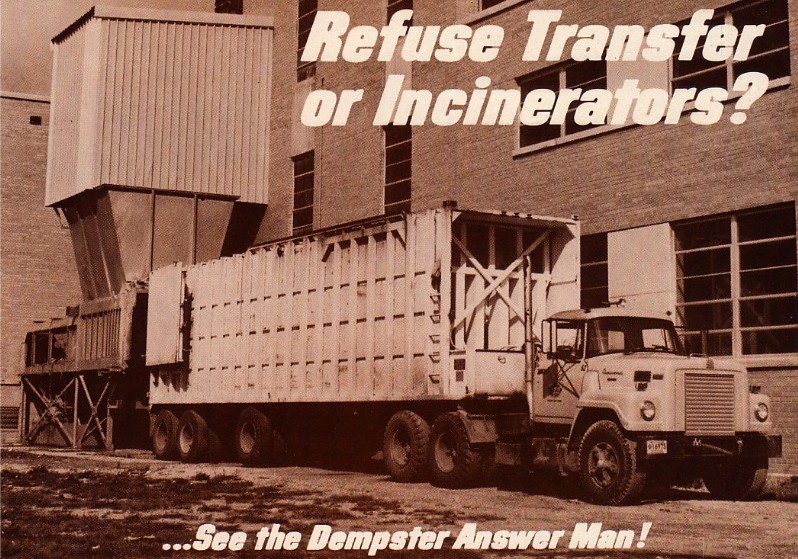 Transfer station equipment remained a Dempster specialty in the 1970s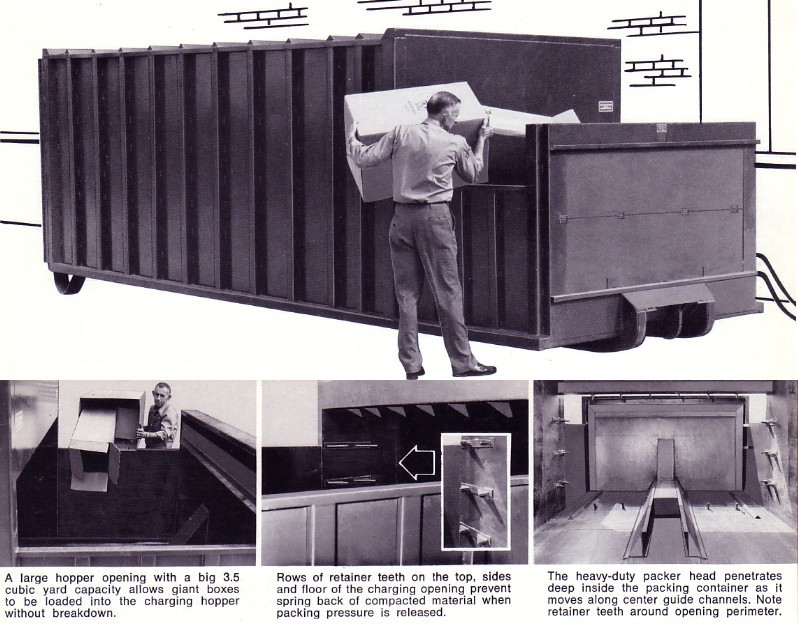 On-site stationary packers were continued, such as this Dinopacker which was transported by the Dinosaur or Dinotrailer roll-off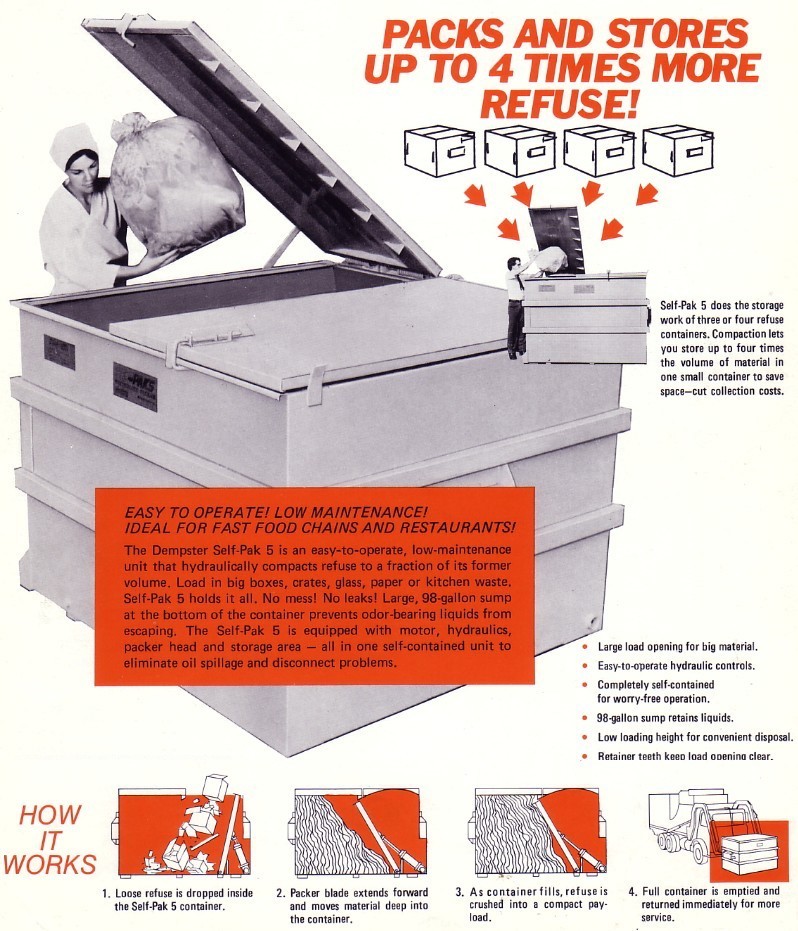 The Self-Pak 5 was a Dumpster with built-in packer plate, powered by a 1.5 HP electric motor and pump





Super Mite was one of the smallest Dempster stationary packers for institutional use and fed any type of container.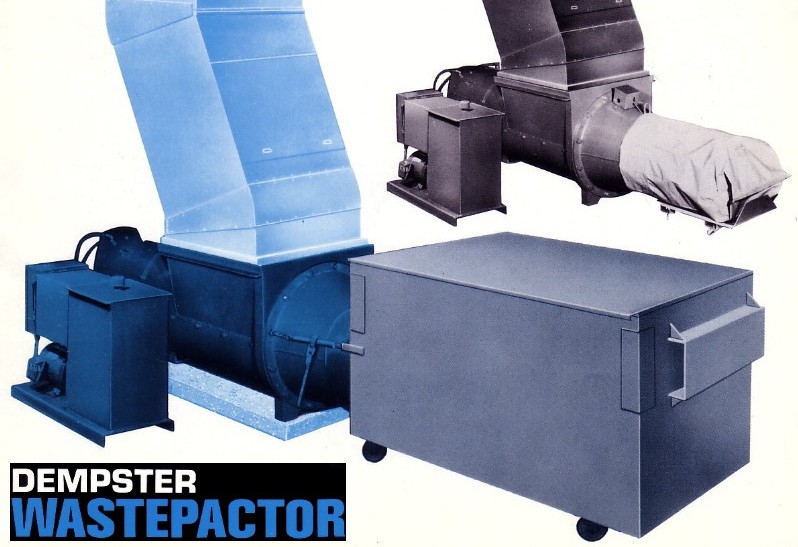 Wastepactor was a subsidiary of Carrier Corporation which was merged into the Dempster line in 1971. Designed for large apartment buildings,
it could compact into any type of enclosed container or into bales automatically encased on plastic bags.





2/22/13 (revised 7/4/13)
---

© 2006, 2013 Eric Voytko
All Rights Reserved
Photos from factory brochures/advertisements except as noted
Logos shown are the trademarks of respective manufacturers