The Ever Expanding History of the Front Load Refuse Truck
By Zachary Geroux
and Eric Voytko



INTRODUCTION



&nbsp&nbsp&nbsp The American industrial machine went into overdrive during World War II, with the entire country dedicated to producing new technologies and weapons for the war effort. When the conflict ended, that same tenacity continued, and the economy saw a strong growth that was not expected by many skeptics, who had feared another Depression. Many industries grew by leaps and bounds, experiencing a technological boom, which resulted in many of the products we still use to this day. Refuse haulers and body manufacturers saw the need for a better way to contain and streamline collection methods, especially in bigger cities where populations were ever-expanding, and where public health was a growing concern. Pre-war technology had already brought forth the bucket-type rear loaders, and even the first primitive packer-type bodies. These offered a cleaner solution than open-type dump bodies, and had started to gain favor with haulers, but still required a multi-man crew to hand-load the refuse. Even though Dempster Brothers had developed a revolutionary containerized method of refuse collection in 1937, it was a short-haul system; the 'Dumpster' refuse containers could only be carried one at a time to the disposal point. In this regard, the early Dempster system may actually be seen as the forerunner to the contemporary Roll-Off truck.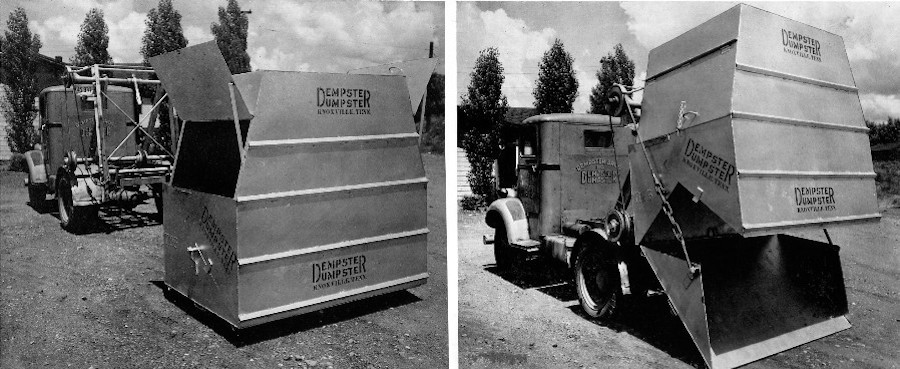 Though not a self-loading refuse truck, the Dempster Dumpster pioneered the principle of detachable containers, which could be used
to store refuse on site for later collection. When containers were later combined with the efficiency of a self-loading compactor truck,
the modern front loader was born. Shown here is a Dempster hoist truck and six-yard refuse container from the early 1940s
&nbsp&nbsp&nbsp By the 1950s, the refuse industry had finally arrived at a solution to their problem in the form of the Front End Load truck, which offered the first true automated collection method in America. Though it is sometimes associated almost exclusively with commercial container operations, the front loader has deep roots in residential collection, which have never been abandoned in California, and are now being rediscovered in other parts of North America. It is this adaptability to various types of collection work that makes it the most versatile refuse vehicle on the market. With an almost simultaneous inception on both sides of the country, the philosophy behind the front load design saw two schools of thought emerge: East Coast and West Coast. The stricter weight laws of the West Coast forced builders to find creative ways to maximize the legal load which could be carried over the road. The East Coast designs tended to focus on a higher compaction rate, due to the bigger populations served, and less stringent weight restrictions.


---
Before 1952: Forerunners of the Front Loader

Self-loading garbage bodies like the ATIA (left) and Colecto (right) introduced basic features that would lead to
front loaders of the future: the loading trough and power-operated lift arms
&nbsp&nbsp&nbsp Self-loading truck bodies, purpose-built to collect refuse, garbage and ash had been in service since the late 1920s. New York-based ATIA and Colecto fielded the first mass-marketed self-loaders, which had enclosed bodies, and either rear or side-mounted buckets. The rear loading Leach Refuse Getter followed closely, introduced in 1932. A more important development was the fitting of power-operated loading buckets to the front end of open-type dump trucks. This could be done by virtually anyone with welding skill, either in city garages or at local truck equipment shops. By the mid 1940s, some of these dump truck accessories were being mass-produced and marketed to municipalities and contractors for handling dirt, gravel, leaves and even rubbish.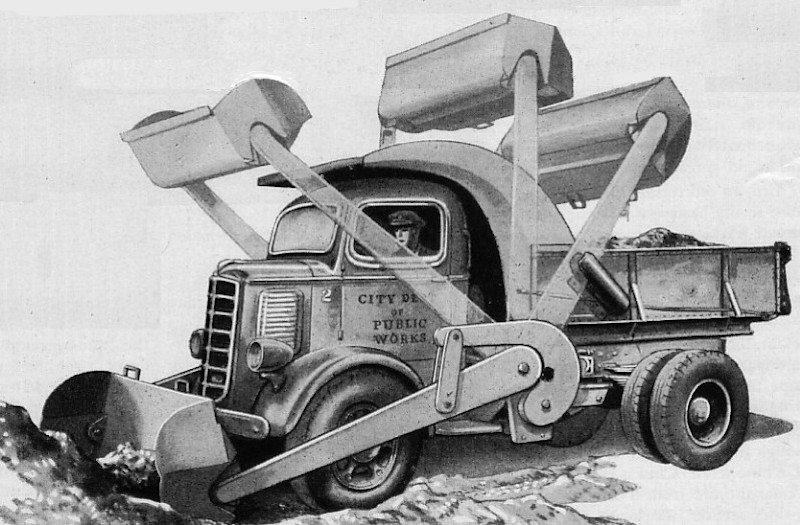 1945 truck loader attachment made by Western Industrial Products of Los Angeles was attached to a standard dump truck
Hoist cylinders mounted under the body actuated rigid lift arms
&nbsp&nbsp&nbsp Two nationally advertised bucket loader attachments would later figure prominently in the development of the front load refuse truck. North Carolina inventor James R. Owen patented a fully hydraulic articulated arm system, marketed by the Ernest Holmes Co. of Chattanooga, Tennessee. The Holmes-Owen Loader first appeared around 1951, but their advertising of the period indicates that their target customer was not specifically the refuse hauler. Owen's arm was unique in that is was not rigid, but hinged at the mid-point where a second set of hydraulic cylinders pivoted the bucket, giving the operator more control of the dumping action. By 1952, Brisson Brothers Machine Works had introduced a rigid-arm truck loader called the Lodal. The Norway, Michigan based company was perhaps the first to advertise the potential of their loader arm as a refuse collection unit, supplying the lift arms with body side extensions to increase the carrying capacity of shallow dump truck beds. Its suitability to perform multiple chores was aimed squarely at cash-poor municipal operators, looking to get the most out of every taxpayer dollar.

&nbsp&nbsp&nbsp Holmes would soon lend their loader-arm technology to Dempster, and continued production of their attachment through the end of the decade. During the 1960s, Holmes concentrated on their well-known line of vocational equipment for vehicle towing and recovery, and seems to have discontinued their loaders altogether. Brisson Brothers Machine eventually adopted the "Lodal" name as its corporate identity, and would go on to become a full-time builder of refuse equipment, still operating out of Michigan to this day.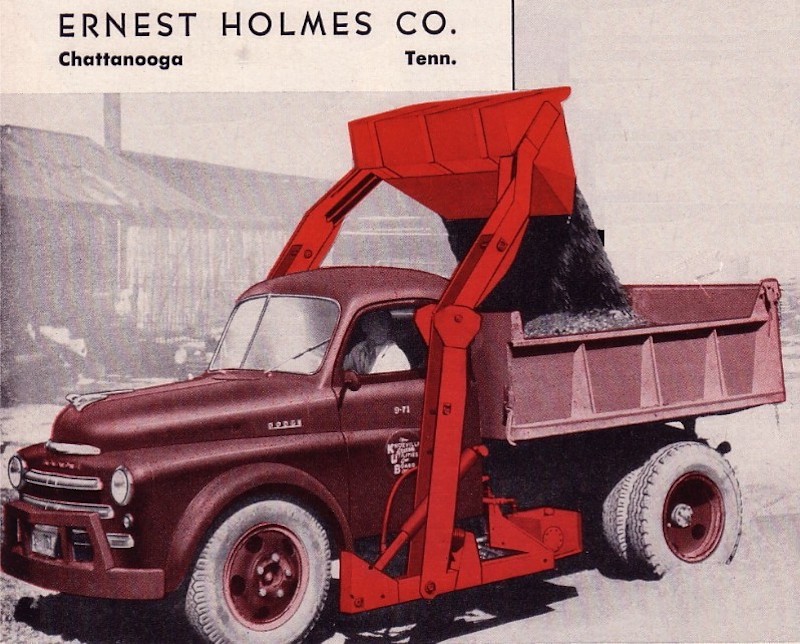 The Holmes-Owen Loader was introduced in 1951 as a general-purpose municipal workhorse,
with its unique articulated arm (hinged at the mid-point) that was operated by two sets of hydraulic rams.
It undoubtedly inspired the first generation of dedicated front load refuse trucks built between 1952-1956





Brisson Brothers Machine Works supplied this Lodal loader to Marysville, Michigan in 1952.
This was a technically an attachment, using rigid lift arms powered by parallel-mounted hydraulic cylinders
Its primary duty was garbage collection, but the versatile unit could load virtually anything, including snow.






5/12/12
---

© 2012 Zachary Geroux and Eric Voytko
All Rights Reserved
Photos from factory brochures/advertisements except as noted
Logos shown are the trademarks of respective manufacturers