The Ever Expanding History of the Front Load Refuse Truck



1970-1979: End of the Golden Era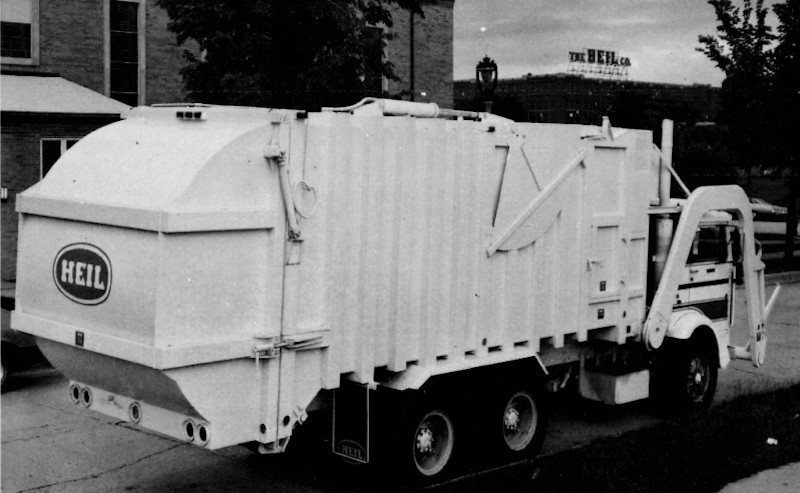 Early model Heil front loader had bubble tailgate, which increased capacity and helped roll refuse, aiding compaction


&nbsp&nbsp&nbsp The 1970s saw few major changes to front loader technology, but as manufacturing methods evolved and improved, stronger bodies with higher compaction ratios came on the market. Yet for the most part, little change was seen from East Coast companies who had established their front load design in the previous decade. The post-war "golden age" was over, and the American economy had entered into a period of 'stagflation' with formerly prosperous companies now struggling to survive. After the death of George Dempster in 1964, the Dempster Company strived to continue as a family run business. This would end in 1970 when Dempster was purchased by Carrier Corporation. E-Z Pack and Cobey were also bought out by Peabody International and Harsco Corporation respectively during this period. Cobey had converted to OTC lift arms, but the operating cylinders were located inside the body rather than underneath it. Lodal likewise abandoned their rigid lift arm for a more modern OTC style during the 1970s, using "direct push" outboard-mounted rams which pushed the arms from below. This new T-Series Load-a-Matic arm was rated at 10,000 pounds lift capacity for use with their EVO satellite compactor system.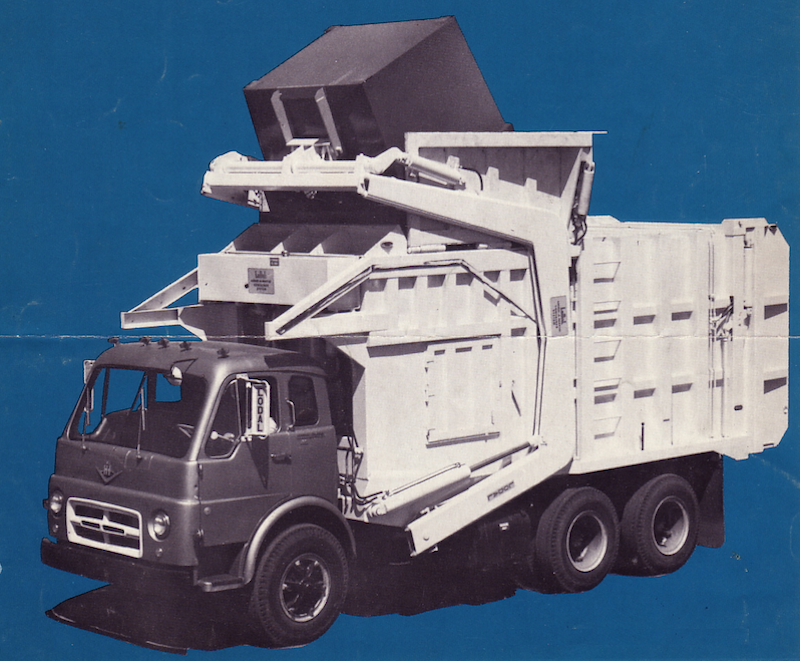 T-Series Load-a-Matic from Lodal had direct-push lift arm cylinders rated at 10,000 lb capacity
&nbsp&nbsp&nbsp This decade also saw the last three major refuse body companies, Leach and Heil, and Gar Wood join the front load market in an effort to increase their customer base. Heil Company had initiated talks with Vincen Bowles to collaborate on a front loader, since they were already distributing the Bowles transfer trailer under the Heil name. The idea ultimately fell through, and by mid-decade they started production their own front loader. The Heil front loader was a full-pack design with a hydraulically actuated top door, of the type already common in the east. In 1976 Leach debuted their 2-F front loader, a creation of Cyril Gollnick who had designed the extremely successful Packmaster rear loader. Quite conventional in many ways, the full-eject packer body had a three-stage telescopic cylinder with hydraulic hopper doors and a bustle tailgate for increased capacity. Then they added an automatic 'parallelogram' self-leveling fork system very similar to Milton Clar's 1962 E-Z Pack. It used a pair of bell cranks to which the fork cylinders were mounted. The cranks were actuated by twin links on each lift arm, the rearmost on each side being pivotally attached to the packer body, to impart mechanical movement of the forks as the lift arms were raised.

&nbsp&nbsp&nbsp Perhaps the biggest surprise in the field came from Gar Wood. In the wake of their disastrous T-Series line, the one-time industry leader had fallen into bankruptcy by 1970. Rescue came from a west coast agglomerate named Sargent Industries, which shed the unprofitable divisions, and much of the ailing refuse truck line. Aerospace engineer Fred Smith pumped new life into Gar Wood with an advanced new rear loader (the LP-900) in 1972, and followed with a modern front loader in 1975. The new FL-3000 was a far cry from the old T-series, with standard over-the-cab lift arms with 8,000 pound lift capacity. A lone 30-yard body was offered, based on the LP-900 with angular bracing and a curved roof. The FL-3000 also featured an "augmented" packing panel, with two smaller thrusters (made into the face of the blade) that activated after the panel was extended. Suddenly, Gar Wood was at the forefront of weight-saving technology among East Coast builders, an astonishing feat considering that is was a front loader that had helped torpedo the firm in the not-so-distant past. The turnaround is directly attributable to the engineering genius of Mr. Smith.



Left: Gar Wood front loader returned in '75 as the FL-3000 with unique bracing array and "augmented" packer panel
Right: Leach 2-F was the "Spirit of '76" with self-leveling parallelogram linkage
&nbsp&nbsp&nbsp In December of 1970, Maxon Industries of Huntington Park, California joined the refuse body industry with their purchase of Western Body and Hoist. Two years later, they also bought Bemars and continued both product lines, re-branding them as Western-Maxon and Bemars-Maxon to capitalize on the solid reputations established by these brands. Many engineers from both companies continued to work for Maxon. However, a few struck out on their own and started small body building businesses in the SoCal area. They often sub-contracted a lot of the bodywork to local metal shops, calling for basic bodies that were close copies of Bowles, Bemars and Western trucks. A lot of these small "micro-builders" are still relatively unknown, owing to the fact that their customers were usually smaller haulers who were subsequently absorbed by larger concerns. New owners often sold off the purchased assets as scrap. As a result, the products of some micro-builders have today completely vanished, with no pictorial evidence known to exist.

&nbsp&nbsp&nbsp But some were more than a little successful, including brothers Jose and Eduardo Ghibaudo, who started out as Bemars engineers and stayed on for a while after the buyout by Maxon. In 1976, they founded Amrep Inc. in Ontario, California. Their first front loader was similar to those they had built at Bemars, but used two horizontally mounted cross-rams, and industry first in a front load packer. Though unable to patent the scissor-style cylinder arrangement, this groundbreaking design has since become universal throughout the industry.

&nbsp&nbsp&nbsp After selling his interest in Bemars, Ed Kouri moved up to the San Francisco Bay area with his son Matt and started the Able Body Company (ABC), focusing on the Northern California and Oregon markets. Their new lightweight front loader featured "broad-radius" ribbed sidewall construction, boasting a more streamlined approach to body building. In an industry where the square body style had dominated since 1952, it offered a glimpse into the future of body design, namely strength-to-weight ratio. Able Body has since relocated to Texas, now trading as Bridgeport Manufacturing.



Left: Early Amrep model looks ordinary enough, but inside are industry-first "cross-ram" pack cylinders
Right: Broad-radius bodywork of this Able Body Co. (ABC) top-pack was ahead of its time and beautiful to behold






5/12/12
---

© 2012 Zachary Geroux and Eric Voytko
All Rights Reserved
Photos from factory brochures/advertisements except as noted
Logos shown are the trademarks of respective manufacturers