Chapter 11
T-Series Unitized Refuse Collection Truck

&nbsp&nbsp&nbsp At the end of the 1950s, Gar Wood Industries was the world leader in truck equipment, with sales offices spanning the globe. The Wayne Division, which built refuse bodies for North America, could look back with pride upon great achievements, going back to first Load-Packer in 1937. They had kept pace with the changing market with the introduction of the Cyclomatic series LP-500/LP-600, advanced models that were just right for the times. Gar Wood Load-Packers were the fastest packing rear loaders with the widest hopper in the industry, and the best selling refuse body in America.

&nbsp&nbsp&nbsp But as the 1960s dawned, Gar Wood was in a precarious position. In virtually every year since the debut of the LP-500, one of their competitors had made some major engineering advance, threatening their market dominance. In 1959, Leach had unveiled their mammoth 2-R Packmaster, which would outperform and out-pack anything made. Late in 1960, Heil introduced the all-new Mark II Colectomatic, with the Duo-Press compaction-ejection system. By 1963, Pak-Mor had practically copied the LP-600 with the RL-15, their first-ever rear loader. And then there was the upstart Load-Master, an entirely new packer from City Tank Corporation. Introduced in early 1964, Load-Master borrowed the best features of the Leach 2-R to make a rugged and economical bulk packer. Add to this, a whole array of front loaders coming on the market, which were suitable for either commercial container or hand-loaded use.

&nbsp&nbsp&nbsp By 1962, all of the major rear loaders on the market had some form of ejection unloading as standard equipment, while Gar Wood was still using tilt-dump bodies. It was imperative that the LP-600 follow suit. However, adding ejection unloading would not be enough. The LP-600 was in danger of becoming obsolete, as the new slide-sweep packing method used on the Leach 2-R and Load-Master was proving to be the best all-around system for rear loaders. These powerful packers could demolish virtually anything that could possibly be left at the curb for pickup, and then some. Gar Wood clearly needed a more powerful 'bulk packer' in the product line, a role that the LP-600 was not designed for, and could never perform.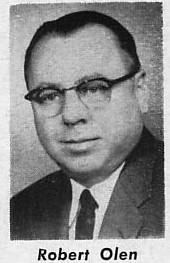 &nbsp&nbsp&nbsp The winds of change at Gar Wood were blowing by 1961, when Robert A. Olen was named vice president. Olen had previously been president of Four Wheel Drive Auto Company (FWD) of Clintonville, Wisconsin. FWD was a small manufacturer that specialized in building heavy-duty trucks with all-wheel drive. By 1962, he was appointed director and executive vice president. With thirty-five years experience in motor truck manufacturing and sales, Olen's rapid rise within Gar Wood management foreshadowed a new direction for the Wayne Division, one that could hardly have been predicted by anyone. Gar Wood would build complete refuse trucks, with a packer body, chassis and cab all engineered and sold as a complete unit. It is unclear if Robert Olen was brought into Gar Wood to lend his engineering expertise to the project, or whether he actually spearheaded it. His presence would seem to indicate a three to four year lead time from design to finished product. Gar Wood's hopes to retain the mantle of industry leadership would rely on this new truck, an entirely new concept in refuse collection vehicles and a complete break from their past models. But the size and scope of the project also brought with it significant risks, since a great deal of capital would be needed to engineer and produce the new truck. If it failed, the future of the company would be in grave doubt.

&nbsp&nbsp&nbsp The new truck appears to have been largely designed by Gar Wood engineers Angus J. O'Brien and Robert McCarthy. O'Brien had been part of the LP-500 team in the mid-1950s, and McCarthy had created Gar Wood's Load-Lift container dumper and the telescopic hoist used on the LP-600. A prototype thirty yard rear loader was first shown to the public in October of 1964. It appeared at the APWA Equipment Show in Atlantic City, New Jersey, as experimental model TX-30. It was far from conventional in design, and must have astonished those in attendance who first saw it. The "T" model prefix clearly stood for "truck", since this was a complete vehicle. The TX-30 was powered by an offset-mounted GM Toro-Flo V-6 diesel engine and Allison automatic gearbox. This was coupled to a steerable front driving axle, which was made by FWD. A narrow cab occupied the side opposite the engine bay, with driver's seat forward, and additional seating or the crewmen located behind the driver.


The Gar Wood T-Series front-wheel drive powertrain
&nbsp&nbsp&nbsp By itself, front-wheel drive in heavy-duty truck was a radical departure, considering that American passenger cars were still a decade away from adopting the concept. However, the driveline was not where Gar Wood engineering really went wild. Borrowing from a practice used for building passenger cars, the front drive power train was coupled to a unitized or "frameless" packer body of immense proportions. In unitized construction, the assembly is designed to support its own weight by distributing stresses throughout the entire body structure, eliminating conventional frame rails used on most trucks. The body essentially becomes integral with the frame. In 1964, the largest unit-construction automobile in the world was the Lincoln Continental, which itself was considered a major engineering achievement at around 5,300 pounds. Gar Wood was attempting to employ unit construction to a heavy-duty truck weighing in excess of 20,000 pounds! Because there was no rear driveline equipment, the refuse body could be built much lower, only 18 inches from the ground, with more of the space behind the cab utilized for load carrying. The T-series would deliver a greater load capacity in any given length than conventional body-on-frame packers.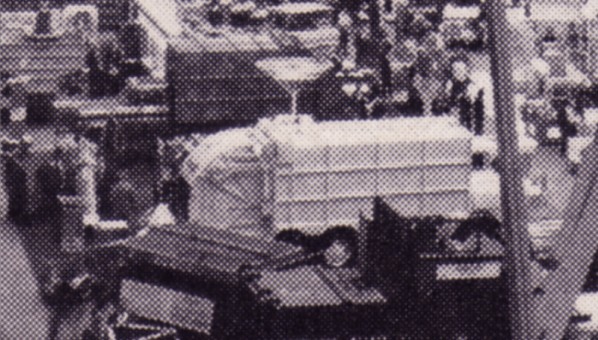 The TX-30 at Atlantic City in October, 1964. Behind it is the prototype for what would become the LP-700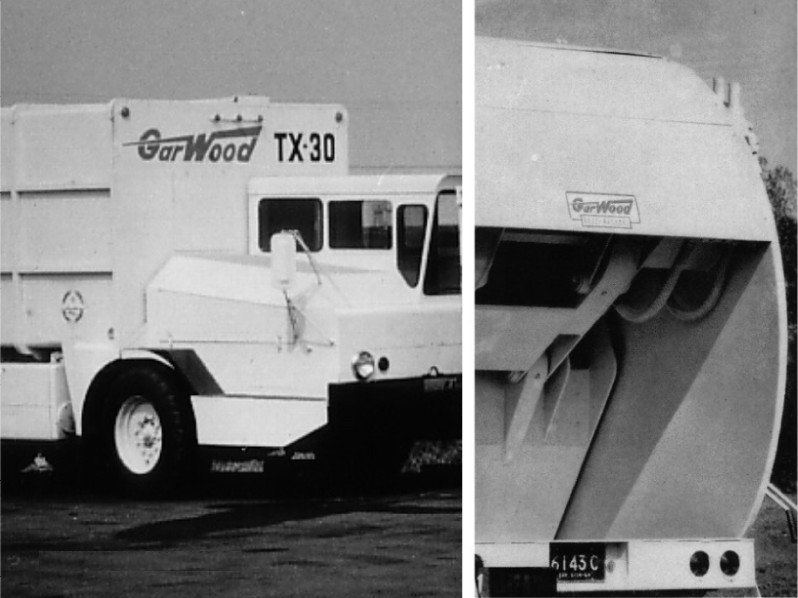 Experimental model TX-30. Packer mechanism was changed significantly on production models
&nbsp&nbsp&nbsp To take advantage of all of this new-found space, the packer body was different than anything ever seen in the industry. The low height of the body floor meant that a rear packer would not have to first lift refuse from the hopper before packing. Refuse would instead enter the body at floor level. To achieve this, Gar Wood developed a swing-link packer blade that first lifted up and over the hopper load and then gave a direct thrust into the body. A final short, upward push, at the end of the cycle, reduced "column-pile-up", which is the tendency for the load to form a compacted column, with a dead space above it. The heavily-braced body was equipped with an ejector panel, spanning the amazing 102" internal body height. The operating cylinder for the ejector was mounted horizontally, outside of the body, between the cab and engine. This eliminated more dead space inside the body, which was typically needed to house the retracted cylinder.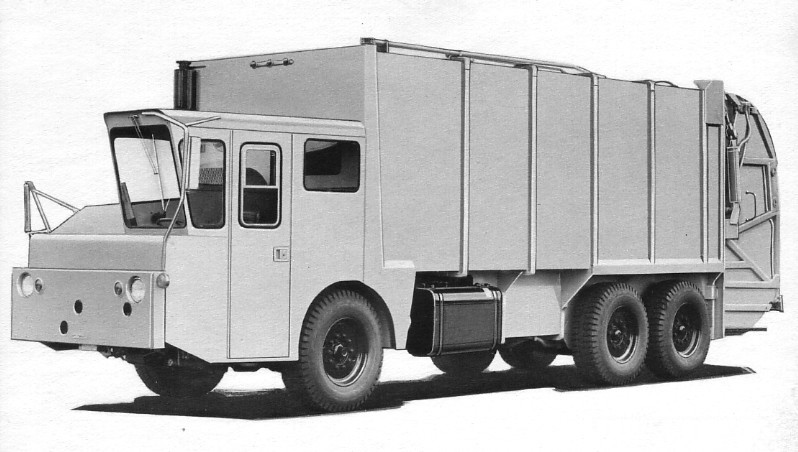 Regular-production model T-140 rear loader
&nbsp&nbsp&nbsp Production models went on sale in 1965, with experimental model prefix dropped, and simply badged as the T-series. Two models of rear-packers, 30 and 40 yards capacity were offered. Early versions were badged as T-30 and T-40, but were later changed to T-130 and T-140, in keeping with the three-digit Gar Wood model series system in place since 1952. The production model was mostly the same in overall concept as the TX-30, but with some rather significant changes to the packer. The horizontal body side braces were eliminated, leaving only the vertical ribs for reinforcement. The two packing cylinders, 8" in diameter, were relocated behind the packer blade to push directly against it. The prototype TX-30 had used a more conventional but weaker crank-arm arrangement that was probably unable to withstand the packing pressures of the new body.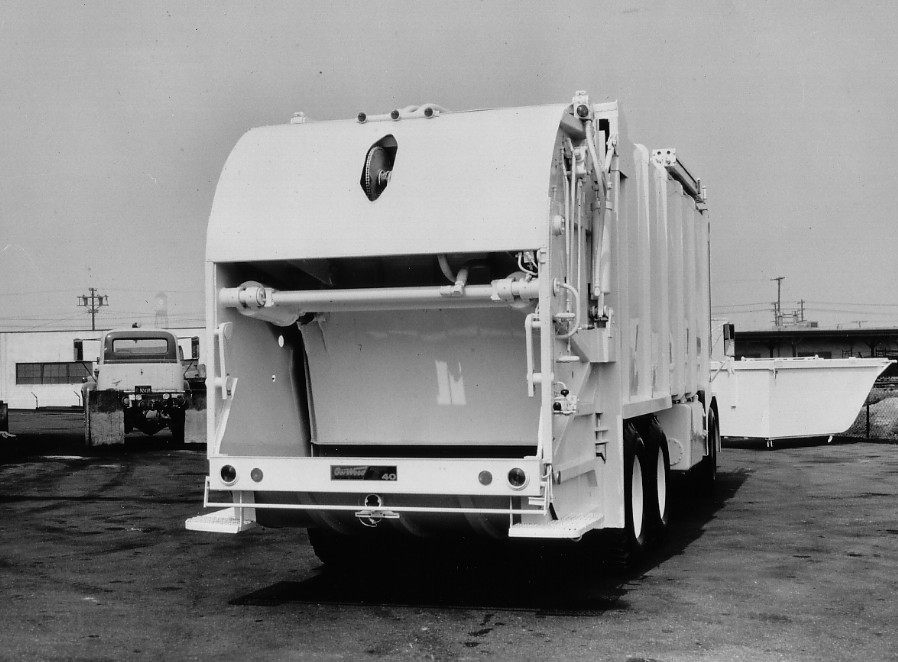 On production T-series rear loaders, massive 8" cylinders pushed directly against the packer blade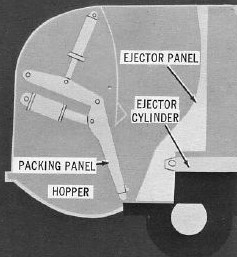 Loading of the big 3-cubic yard hopper takes place with the packer in the lowered position, retaining any previously loaded material.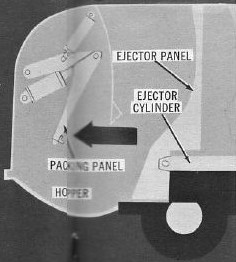 Cycle is initiated by operator turning a single control knob. The operating valves are controlled by a hydraulic pilot circuit rather than electric servos. An air-operated solenoid accelerates the engine as 5" upper cylinders retract, drawing swing links and packer blade upward.

Packing panel cylinders retract and panel swings back over refuse in hopper below.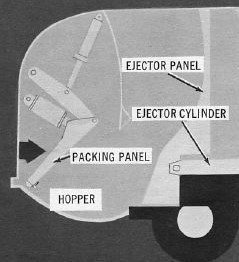 Next, upper cylinders extend, forcing swing links and packing panel downward behind the load. Elapsed time to this point in the cycle is 13 seconds.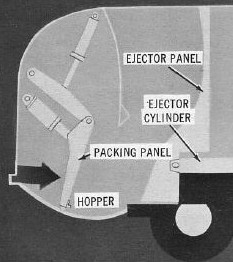 Powerful 8" packing panel cylinders extend, sweeping hopper clear and pushing refuse into the body. Reloading of the hopper may resume as panel starts inward thrust, almost directly in line with the body floor level.

At the end of the packing stroke, the panel moves upward slightly, and in conjunction with a 3" ledge welded to the inside tip of the panel, lifts the load within the body, eliminating "column pile-up" and voids within the body. Total cycle time is 20 seconds.

Both sets of cylinders could be independently controlled for crushing bulky objects.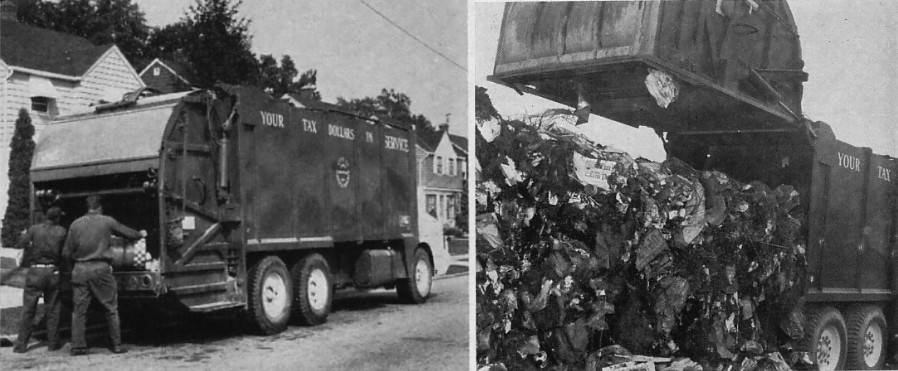 Crewmen loading a T-140, and the same truck ejecting a 14-ton load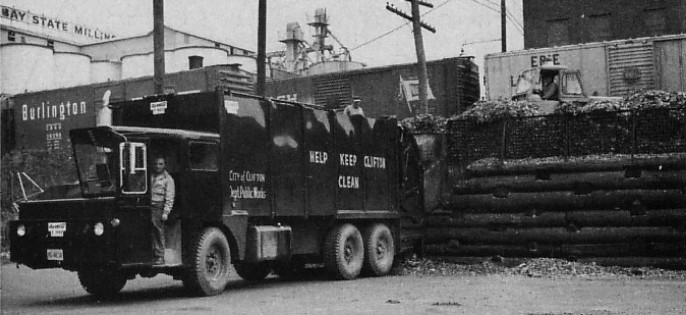 City of Clifton, New Jersey using a T-140 for bulk transfer of collected yard waste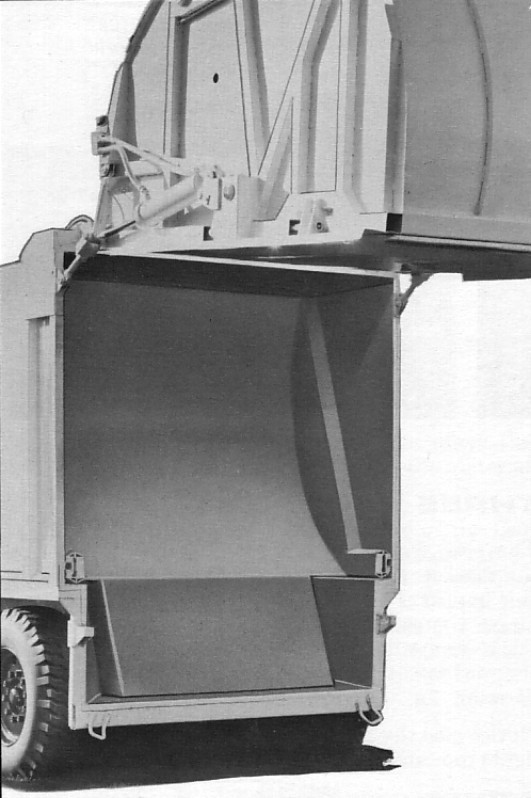 Massive 102" tall ejector plate. Unit-construction body was only 18" off the ground.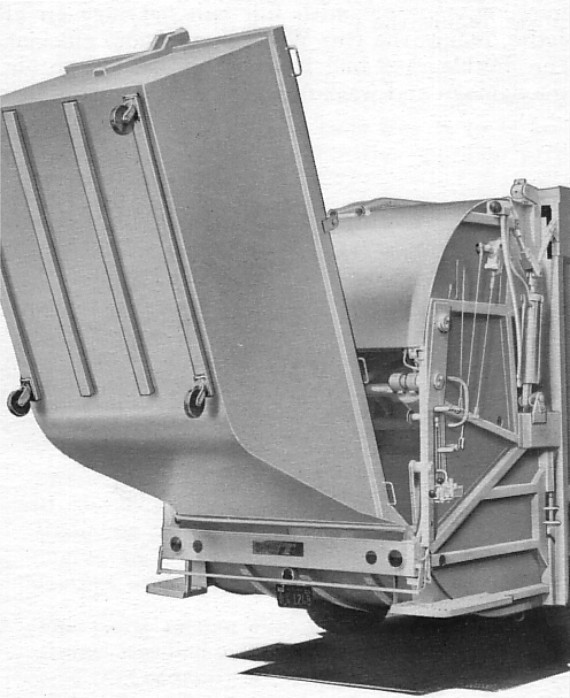 Overhead winch could now handle containers of up to ten cubic yards.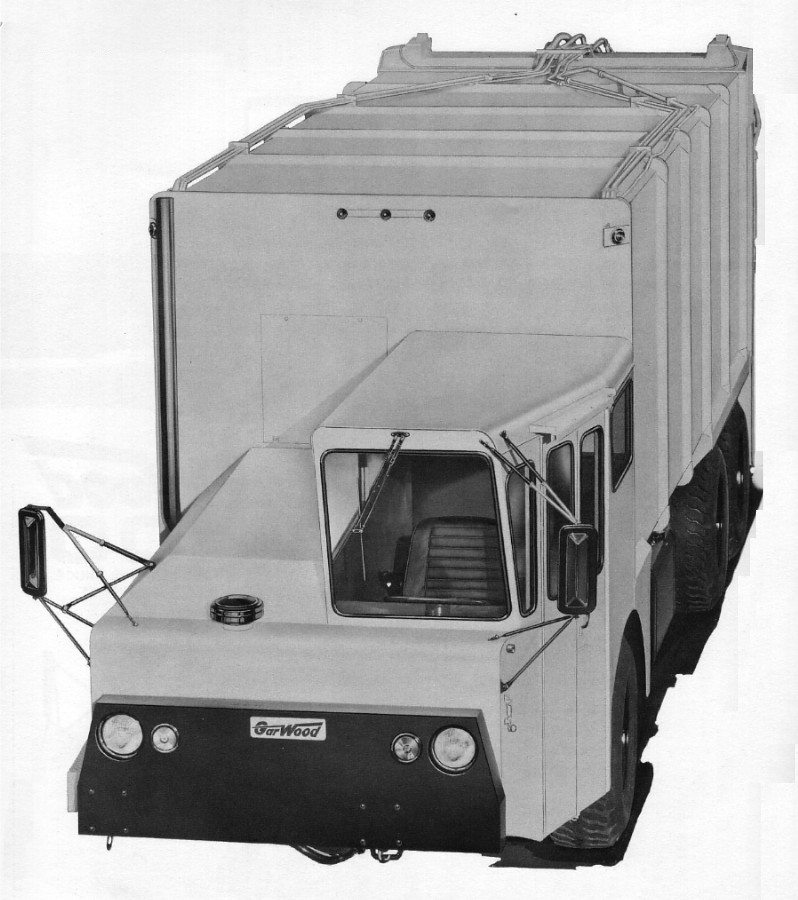 T-series cab was offset, with driver seated up front and 2 crewmen behind.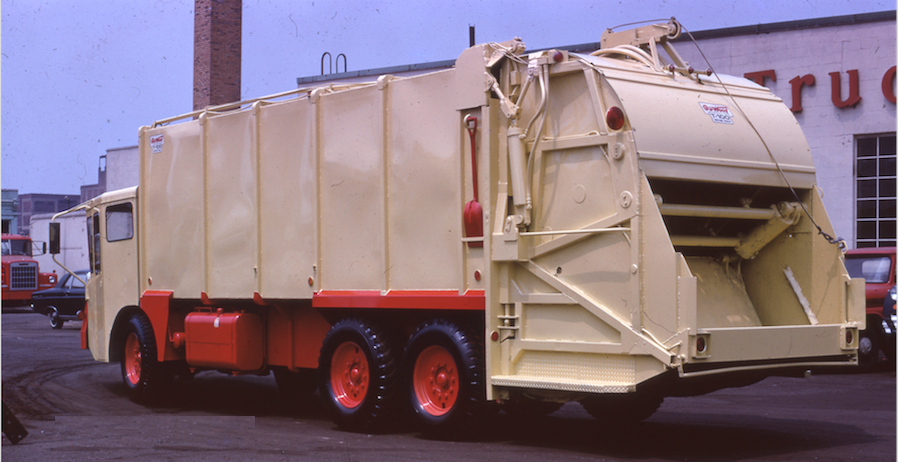 Later-production 1968 T140RL showing extended tailgate, enlarged hopper.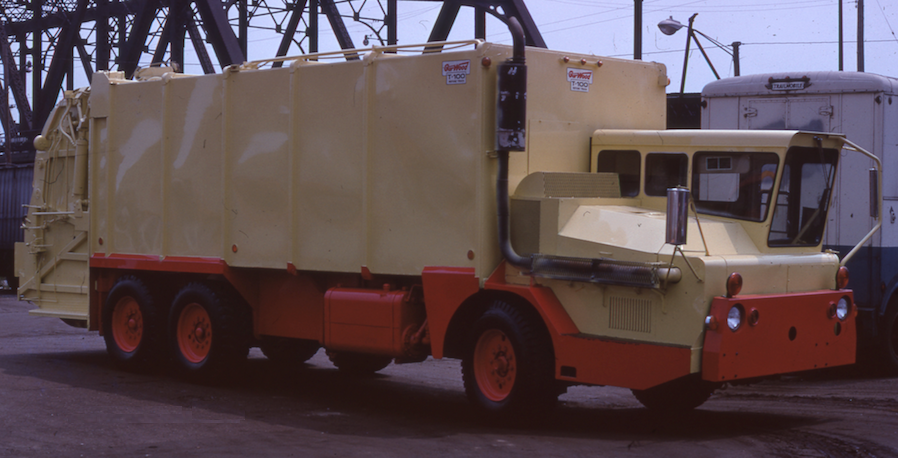 Modified engine bay and exhaust on '68 model indicates it was likely equipped with a Cummins V-8 diesel, which replaced the original GM Toro-Flo V-6 unit.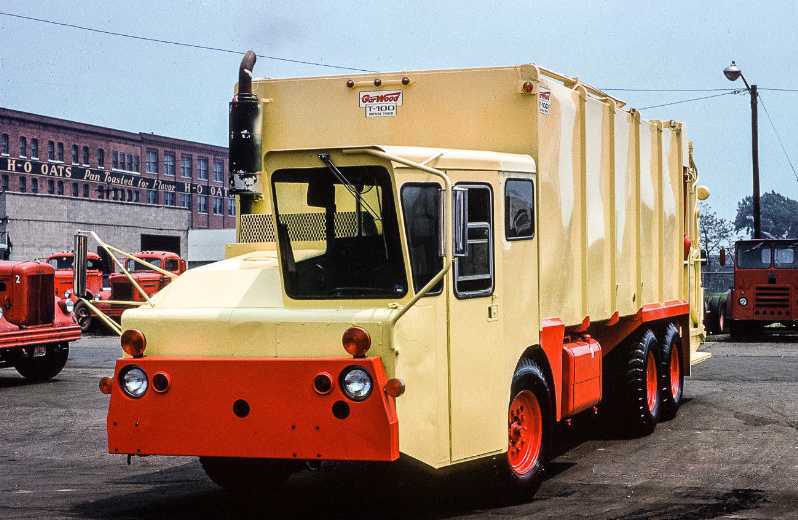 Front view of 1968 model, photographed at a Buffalo, NY truck dealer.
&nbsp&nbsp&nbsp Carrying payloads approaching 15 tons with front-wheel drive, the T-series was extremely prone to becoming bogged down on soft landfill surfaces. The front driving axle, despite being equipped with a traction lock, had great difficulty in pulling the loaded vehicle through mud. Gar Wood offered an auxiliary drive as an extra-cost option, consisting of hydraulic motors driving each of the four wheels through pinion gears cogged to the brake drums. This was strictly for low-speed operation, with two speed settings of 2 and 4 MPH.

&nbsp&nbsp&nbsp Other advanced features of the T-series included a direct-drive hydraulic pump, powered from the front transfer case ahead of the transmission and eliminating the power take-off. Pump operated at a low 1,000 PSI pressure, increasing the life of all hydraulic system components. A variable-speed hydraulic winch allowed it to handle containers up to ten yards. A power-actuated latch system, invented by Angus O'Brien, used the tailgate lift cylinders to automatically release the assembly from the body prior to lifting. If all these features were not enough, there was one more incredible surprise option for the T-series: a front-load container system!


Continued...





7/30/14
---

© 2014 Eric Voytko
All rights reserved
Photos from factory brochures/advertisements except as noted
Logos shown are the trademarks of respective manufacturers