Chapter 12
T-Series Front Loader and S-100 Trailer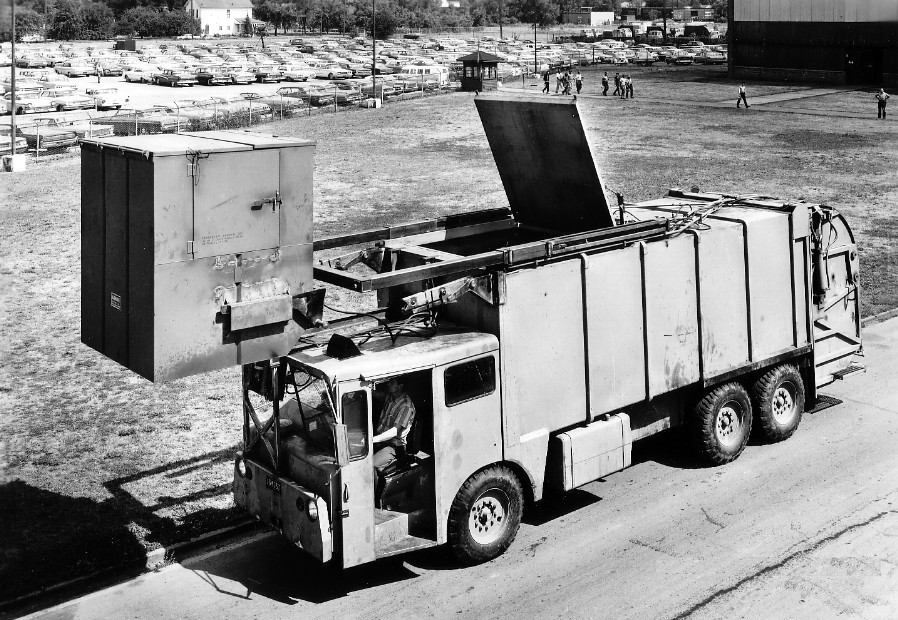 T-140FL lifts an 8-yard box at the Wayne, Michigan plant. The container has been modified, with the fork pockets having been cut off and lowered
&nbsp&nbsp&nbsp Released concurrently with the T-series rear loaders were several models of front loaders, the first ever built by Gar Wood. Dedicated front loaders could be ordered with straight tailgates (no rear packer) in 30, 40 or 50 cubic yard capacities. The T-130 and T-140 models could be ordered with both the front loader and rear packer tailgate together. By adding the optional rear winch, these models could handle two types of containers and hand-loading routes. The 6,000 pound capacity container lift was partly nestled in the open space next to the cab and above the engine compartment. The ejector blade functioned as the packer blade when used as a front loader. An automatic hopper door was standard.

&nbsp&nbsp&nbsp Originally, Gar Wood designed their own bottom-coupling method for hooking up to containers. A single self-aligning plate that mated with a receiver slot below the container, it was somewhat similar to the Lodal triangle coupler. The literature claimed this bottom-type coupler was "adaptable" to all types of containers. However, a standard side-fork type arm was quickly developed, and appears to have been far more common. The container lift itself worked a lot like a forklift truck, raising the container straight up to roof level, then sliding it rearward. The can was not inverted until it reached the loading opening, reducing chances for spillage.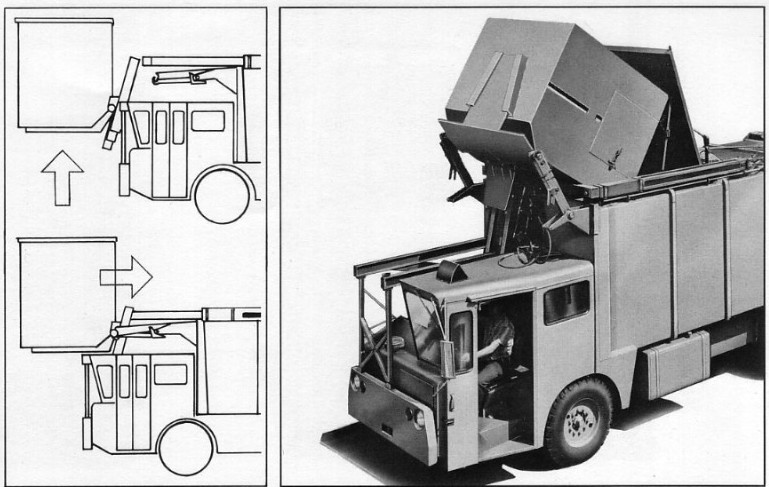 T-Series front loader with Gar Wood self-aligning coupler. Very few are believed to have been equipped this way.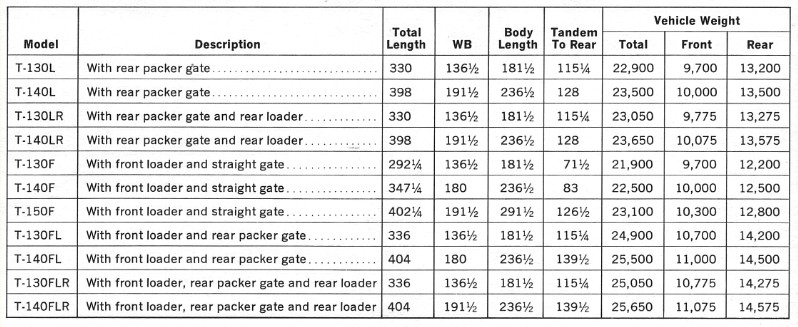 The T-series encompassed 11 model combinations in 30, 40 or 50-cubic yards capacity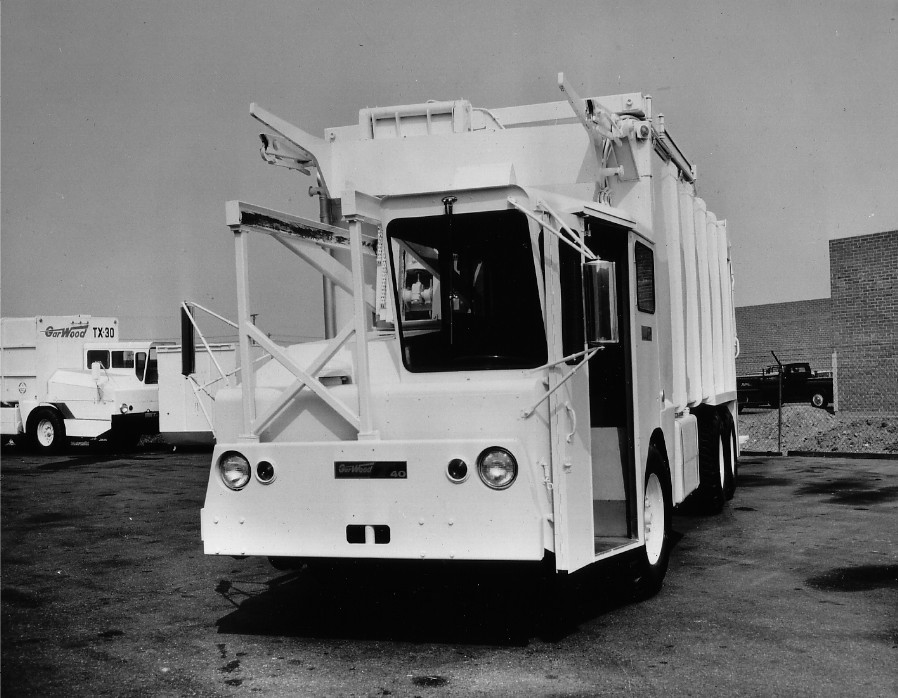 Early model T-40FL (T-140FL) at the factory. The experimental model TX-30 rear loader is visible in the background.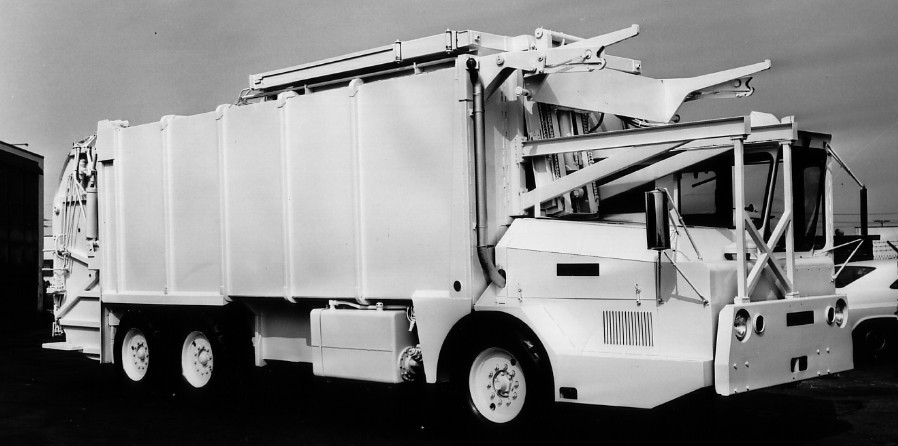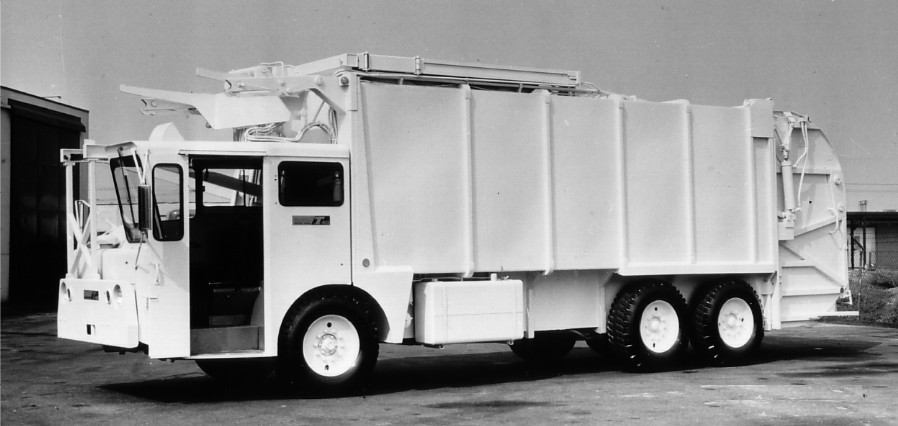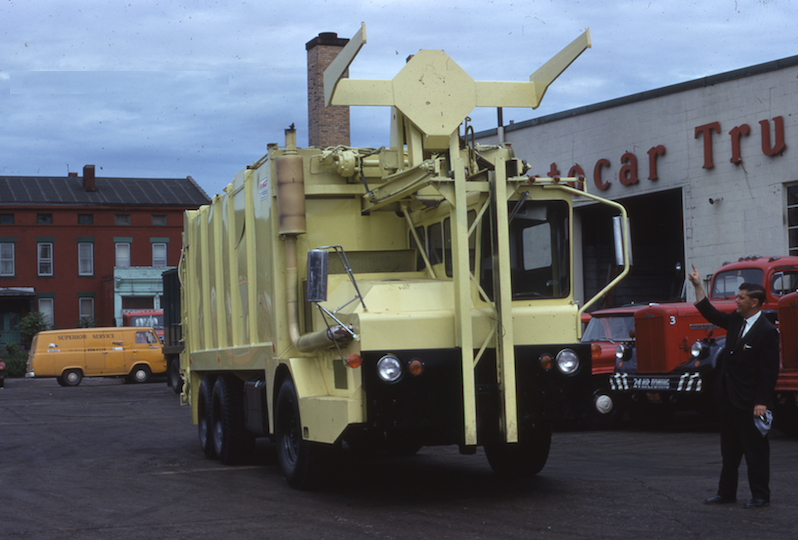 This 1968 example shows extensive changes made to later-model T-series front loaders. The entire container lift assembly has been revised,
with the vertical rails centered, instead of offset. The sliding framework atop the body of early models has been completely eliminated, and a
hydraulic motor and roller chain drive slides the carriage over the roof of the cab. Also visible on the side of the body is a pivoting hopper door.



---
S-100 SERIES TRAILER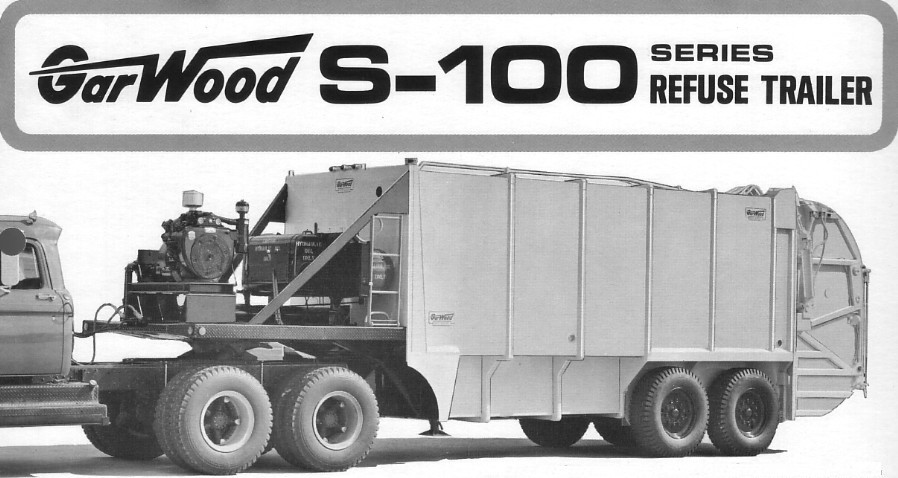 &nbsp&nbsp&nbsp The S-100 was a semi-trailer version of the T-140 rear loader. The front drive train and cab assembly was replaced with a trailer tongue and fifth-wheel coupler. It came with its own self-contained hydraulic power system independent of the towing vehicle. This included a 60 HP Wisconsin V-4 gasoline engine with 30-gallon fuel tank, and a 50-gallon hydraulic oil reservoir.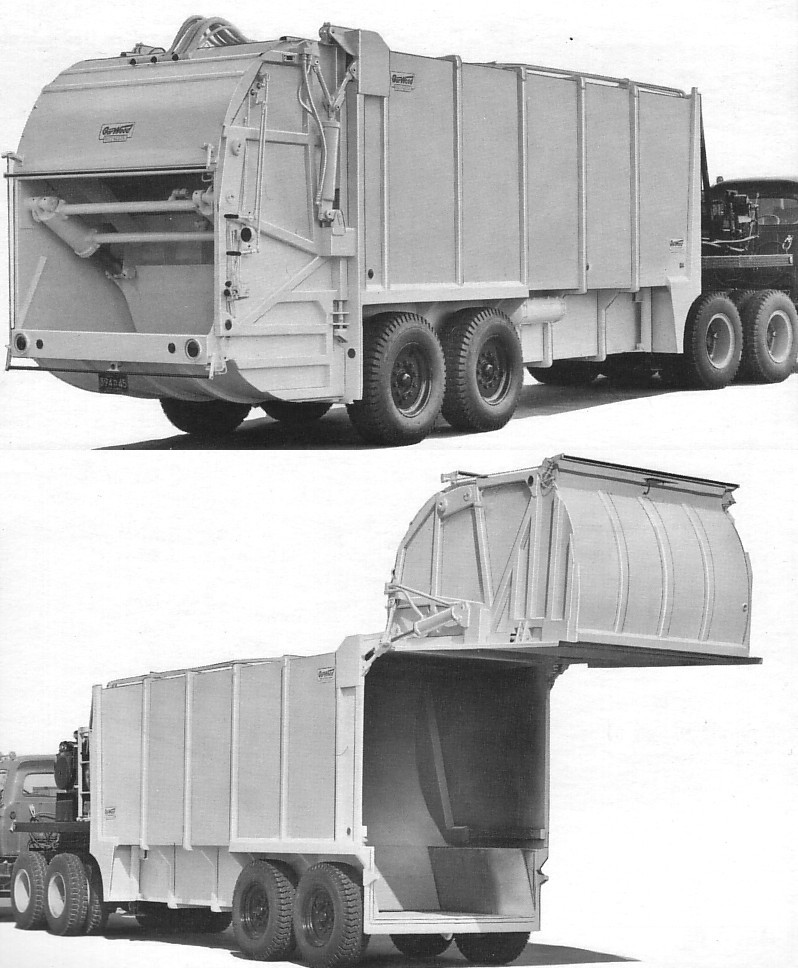 THE FAILURE OF THE T-SERIES
&nbsp&nbsp&nbsp For all of its groundbreaking design achievements, the T-series unitized refuse trucks seemed to have received at best a tepid response in the marketplace. The front-wheel drive layout probably caused most prospects to stay away, but unitized construction and an oddball packer likely didn't help matters. The combination models, incorporating a front-and-rear loader in one truck were novel, but not necessarily practical. On the whole, it was just too big a change from the way refuse trucks were built in America, with the buyer selecting the truck chassis for any given body installation. Keep in mind, that owners often transferred older refuse bodies to several different truck chassis over their life span. If a T-100 chassis were to eventually "wear out", the unitized packer was effectively useless.

&nbsp&nbsp&nbsp The Allison MT-41 automatic transmission was great feature, but it was already available as an option in most other standard type truck chassis. The General Motors D478 Toro-Flow diesel was a poor choice for a power plant, especially in a vehicle of this size. It was derived from GMC's V-6 gasoline engine, and developed 310 lbs-ft torque at 3,200 RPM. Gar Wood replaced the Toro-Flow in 1967 with a V-8 Cummins, which produced 330 lbs-ft torque at a more leisurely 1,800 RPM. GM and Cummins both made better engines, and a big in-line six from either company would have been a much better choice. However, the cramped T-series engine bay was not very accommodating, and limited Gar Woods options.

&nbsp&nbsp&nbsp There are a handful of positive reviews of the T-100, and its rear packer seems to have been a formidable machine. However, poor traction was the Achilles heel of the big Gar Wood, which just could not pull itself through a soggy landfill without the complex and expensive hydraulic-assist drive. The front loader, while an ambitious engineering feat, was overly complex with many sliding parts that were prone to rapid wear. It was ingenious in how it was integrated it into the existing package. But companies such as Bowles, Dempster and E-Z Pack, and a host of smaller firms all made better and simpler front loaders. Then, as now, not many haulers seemed interested in a combination front and rear loader.

&nbsp&nbsp&nbsp The T-series can only be seen as a colossal failure, and one that seems to have seriously and permanently crippled the Wayne Division, and Gar Wood as a whole. Refuse trucks were the backbone of the company, and its best selling product. Up until this point, they enjoyed a good reputation and often led the industry. Complete catastrophe was avoided only because Gar Wood had wisely kept their proven and popular Cyclomatic packer in production, and improved it at that. If any good at all came out of the T-series project, it was bold engineering that in some cases foreshadowed the refuse trucks of the future. Unfortunately, Gar Wood would not profit from that experience. Having sunk so much treasure into its development, they were stuck with the T-100 for the foreseeable future. The company would be in a struggle for its very survival by the end of the decade.

&nbsp&nbsp&nbsp Below is a table listing some of the notable engineering achievements pioneered by the T-series, and their influence on future products within the industry. O'Brien, McCarthy, and everyone involved with the project at least deserve credit for what was the most daring and innovative refuse truck design of the 1960s. Perhaps the T-series greatest flaw was that it tried to change too much about the refuse truck all at once.
1964 Gar Wood T-Series Feature
Future use in Industry
First packaged refuse truck (body and chassis) in America
Lodal EVO (1968), Crane Carrier Integrated series (1984)
Front wheel drive in a refuse truck
Lodal EVO (1968)
Unitized body construction in a refuse truck
Lodal EVO (1968)
Externally mounted ejector cylinder
Gar Wood Load-Runner (1969)
Crane Carrier Integrated series (1984)
Swing-link, trackless packer blade system
Gar Wood Load-Packer 800 (1967)
Dempster Route King (1971)
Gar Wood Load-Packer 900 (1972)
Automatic locking tailgate using lift cylinders
Gar Wood FL-3000 (1975) and E-Z Pack Goliath (1984),
and numerous other models
Combination rear and front loader in one truck
Heil Python Multi-Pak (combination rear loader and ASL)
40-cubic yard rear loader (non-trailerized)
none in USA





7/30/14
---

© 2014 Eric Voytko
All rights reserved
Photos from factory brochures/advertisements except as noted
Logos shown are the trademarks of respective manufacturers