Chapter 16
Load-Runner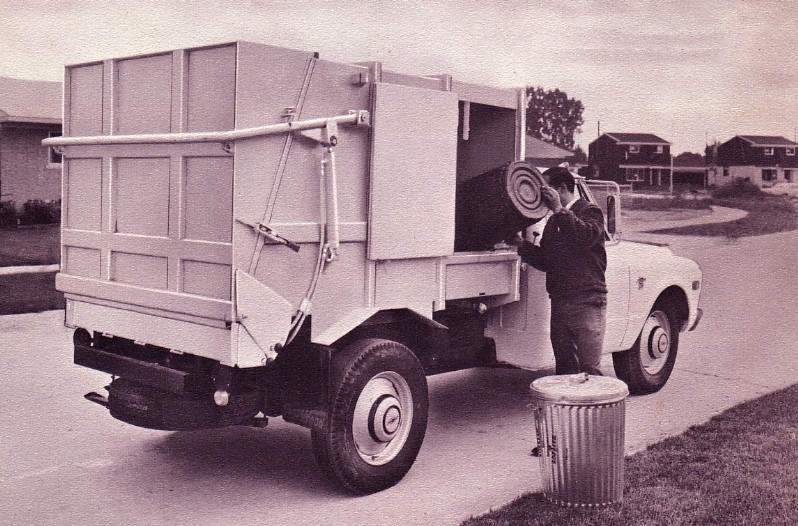 &nbsp&nbsp&nbsp Since 1965, Gar Wood had not offered a packer smaller than 16-cubic yards capacity, as the 10 and 13-cubic yard versions had not been carried over from the old 600 series. This left the company without a smaller rear loader for alleys and scattered-route service. A smaller body finally returned to the product line for 1969, but now in the form of a side loader dubbed the Load-Runner.

&nbsp&nbsp&nbsp In many ways, the Load-Runner looked like a conventional rectangular-bodied side loader, with a hydraulic packer/ejector panel and 6.5 cubic yard capacity. It was designed to be mounted on a standard 1-ton light truck chassis from GM, Ford, Dodge or International. However, the new side loader had many other advanced and interesting design features, which foreshadowed the emergence of so-called "satellite" refuse trucks.

&nbsp&nbsp&nbsp The Load-Runner could be used like any typical refuse truck; first loaded, and when filled, driven to the disposal point to unload. However, it also had the ability to eject its load directly into a larger rear-load packer truck by means of a rear body lift cylinder. This elevated the rear of the body up to 12 inches, to match the hopper sill height of the receiving truck. Thus, the satellite truck was free to operate longer by eliminating time-consuming trips to the disposal point. A two-stage hydraulic cylinder provided packing and full ejection, and was housed in a space-saving tunnel protruding into the vehicle cab. Loading height of only 48" made for easier lifting, and bulky objects could even be loaded through the hydraulically raised tailgate if the body was nearly empty.

&nbsp&nbsp&nbsp Like the Dispos-Haul roll-off, the Load-Runner was designed outside of the company by Charles E. Jones and William H. Riley, and produced by Gar Wood under license. Competitive with similar models from Wayne and New Way, it had a distinct advantage with its rear-lifting body. It was a forward-thinking design, and far more practical than a down-sized LP-700 could have ever been. Unfortunately, the Load-Runner bears the distinction of being the last new packer model to come from the company, before its financial condition worsened in 1969. Gar Wood Industries was facing imminent collapse.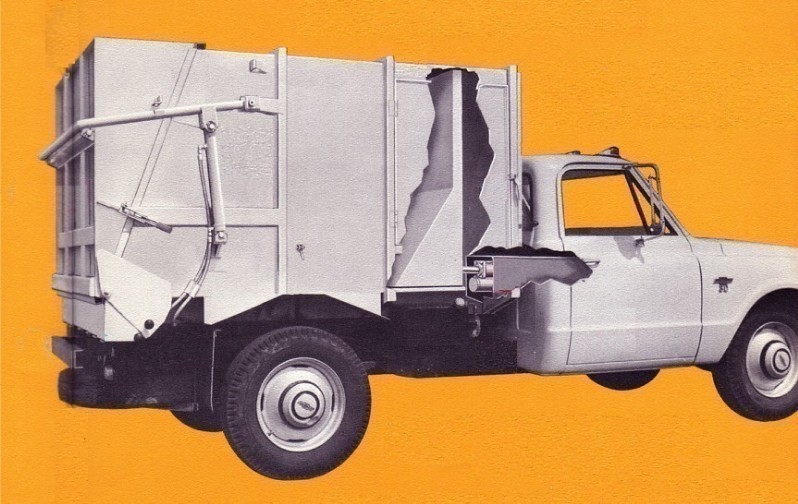 Cut-away drawing shows the Load-Runner two-stage pack cylinder, housed within the cab of the truck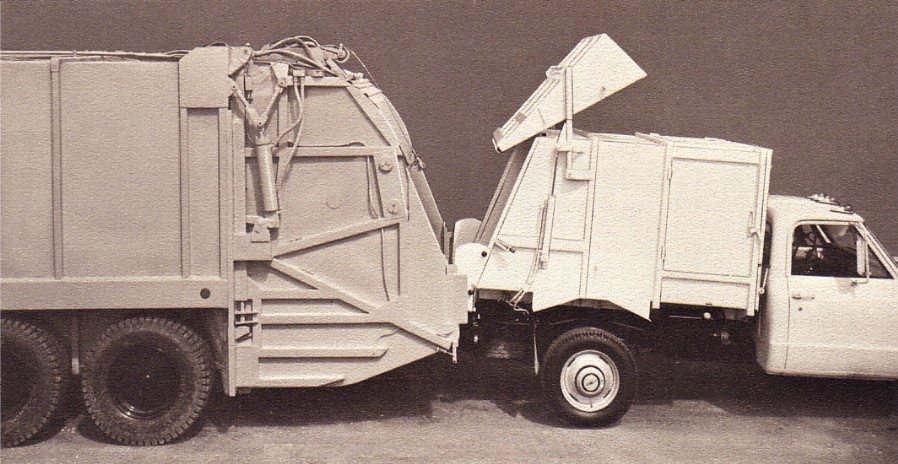 Load-Runner body lifted 12 inches at the tailgate end, enough to mate with most rear loaders, such as this Gar Wood T-100





Unique two stage cylinder was really two standard cylinders coupled together, housed between the driver and passenger seats




Left: Low side loading door Right: Upward lifting tailgate for discharging into rear loader hopper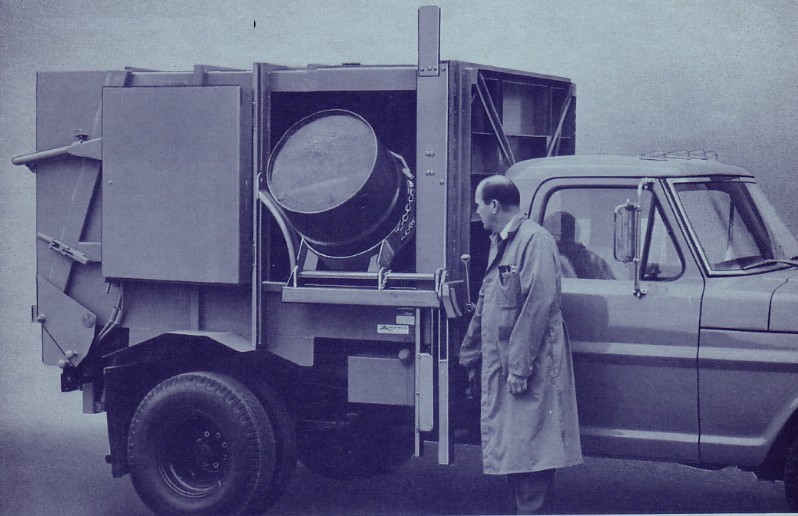 Load-Runner equipped with Ambrose-West barrel lift attachment





7/30/14
---

© 2014 Eric Voytko
All rights reserved
Photos from factory brochures/advertisements except as noted
Logos shown are the trademarks of respective manufacturers