Chapter 17
The Sale of Gar Wood to Sargent Industries
and a Look Back at Gar Wood Products Through the Years

The Gar Wood refuse product line during 1970-1972


&nbsp&nbsp&nbsp Hints of trouble at Gar Wood, which had appeared in the financial press towards the end on the decade, were confirmed during 1969. In June of that year, Gar Wood Hydraulics Division (non-refuse) was sold to the Dana Corporation for an undisclosed cash price. Then, in late October, an agreement was reached for the sale of the remainder of Gar Wood to Sargent Industries of Century City, California. Sargent purchased the company for stock valued at fifteen million dollars, and the sale was finalized in early 1970.

&nbsp&nbsp&nbsp Although truck bodies were perhaps the most visible product of Gar Wood Industries, it was in fact a vast and diverse conglomerate. Since it's founding, through growth and acquisition, it had grown in to a colossus, with factories from coast to coast and all over the world. Along the way, the firm had produced a bewildering variety of products for many different industries. In addition to the famous truck bodies and hydraulic components, there were boats, buses, home heating systems, bulldozer blades, cranes, winches, trailers, excavators, ditchers, and lift gates to name but a few. There was even a Gar Wood wheel cover sold as an accessory for passenger cars.

&nbsp&nbsp&nbsp Thus, the souring financial situation at Gar Wood Industries in the late 1960s was not necessarily to be blamed entirely on Wayne Division, which produced the refuse equipment, even as disastrous as the T-Series had been. Unshackled from the other divisions, and with some updates, Gar Wood was still capable of being a formidable contender in the industry. Fortunately, Sargent Industries had a reputation for turning around unprofitable companies, and rapidly began to slim-down their new acquisition, now known as Gar Wood Division, while also bringing in fresh engineering talent to revamp the product line. Remarkably, even before the biggest changes had occurred, Sargent reported a profit for the division by August of 1970, a mere six months after taking over.

&nbsp&nbsp&nbsp While the Wayne Division had dodged the bullet, at least temporarily, the stark reality for a great many Gar Wood employees was the loss of their jobs. The commercial winch division was sold to Warner & Swasey (Gradall) in early 1971. That same year, the Buckeye Ditcher division of Findlay, Ohio was shuttered. A maker of trenching equipment, Buckeye had been a wholly owned subsidiary since 1945. Remaining ditcher production was initially moved to Wayne, Michigan until that factory was also closed, with the loss of 500 jobs in March of 1972. The Wayne factory had been the heart Gar Wood Industries since the early 1950s, and the current facility was only seven years old. Only the Gar Wood Division headquarters remained in Wayne, while production of refuse bodies would resume later that year at a brand new facility in Enterprise, Alabama.


Garfield Arthur Wood (1880-1971)
&nbsp&nbsp&nbsp Of historical note, company founder Garfield Arthur Wood died at Miami, Florida on June 19th, 1971. He had essentially been in retirement since selling the company in 1945, living on his 230-acre estate on Fisher Island. At his passing, he was primarily remembered for his powerboat racing exploits, both as a designer and pilot. However, it was Gar Wood's invention of the hydraulic hoist that made him wealthy, and spawned the worldwide manufacturing firm that bore his name. Such was the renown of that name that it remained with the company long after he had sold all of his interest in it. Thousands of refuse bodies, as well as all manner of other equipment, would be built with the Gar Wood badge over the course of over sixty years.

&nbsp&nbsp&nbsp Gar's brother Phillip S. Wood died six months later in January 1972. Phil Wood had run the Canadian division of Gar Wood, later renamed Phil Wood Industries, and had marketed refuse trucks under that name. He had only recently sold his company in 1968. Another of the Wood brothers who had a pioneering role in the refuse industry was George B. Wood, (1888-1977) who had invented the Load-Packer in 1937, the first hydraulic rear-loading refuse packer sold in America and for many years the unchallenged leader. Though not the worlds first, it was to have a profound influence on the design of almost all future refuse bodies. Just as the Ford Model A had made the motor car accessible to average man, the all-hydraulic Load-Packer proved to be a practical, affordable and ultimately indispensable tool for municipalities and contractors that had once been ambivalent about modernization. It broke open the floodgates, and the refuse industry hasn't looked back since.


Brothers Gar and Phil Wood circa 1970
&nbsp&nbsp&nbsp In present times, the Gar Wood name is now a distant memory, but the hydraulic hoist that is his true legacy is still with us today. It remains one of the most important inventions in industrial history, just as critical to the motor truck as the engine, transmission or axle. From a simple lifting device to unload coal trucks, it has evolved into the primary operating means by which heavy components move. Modern machinery, as we know it, would not exist without hydraulic power. In this sense, there is a "Gar Wood" in action, every day, no matter the actual brand name of the equipment. Around the world and around the clock, Gar Wood's hoist continues performing some valuable, difficult, and often life-saving work.



---
LOOKING BACK: OTHER GAR WOOD PRODUCTS
&nbsp&nbsp&nbsp Though outside the focus of Classic Refuse Trucks, featured below are some of the many non-refuse related products made by Gar Wood Industries and its subsidiaries over the years. This is not an all-inclusive list, but will help to illustrate the immense manufacturing prowess of the company.



GAR WOOD BOAT DIVISION



&nbsp&nbsp&nbsp Garfield Wood's boat racing achievements from 1916-1933 had made him one of the best-known sportsmen in the world. Early on, he had pioneered the use of aircraft engines in boats, when conventional wisdom had said it was impossible. His Miss America racing boats, hand-built by Wood and his team, brought him five straight Gold Cup victories, and he won the Harmsworth Trophy nine times.

&nbsp&nbsp&nbsp Gar Wood Boat Division of Marysville, Michigan was actually an entirely independent entity from the parent company. It was envisioned as a sort of prestige project, to market a quality powerboat with the well-known Gar Wood name. These were not the full-blown competition boats used by Mr. Wood for racing, but were personal luxury craft for sale to the public. They were hand-built and finished at Marysville to the highest standards by the best craftsmen in the industry.

&nbsp&nbsp&nbsp Though it was a source of great pride to the men who ran it, The Boat Division lost money, and was eyed somewhat negatively by other divisions, as well as shareholders who were buying into Gar Wood Industries in the 1930s. When Garfield Wood sold the remaining shares of the company in 1945, the fate of the division had been sealed. The new owners instituted a program to try and turn the division around, but the cost-cutting measures changed the character of the product. Sales slumped further, and the division was closed by 1947. Gar Wood boats of that era are considered some of the finest ever built, and are today highly sought-after collectors items.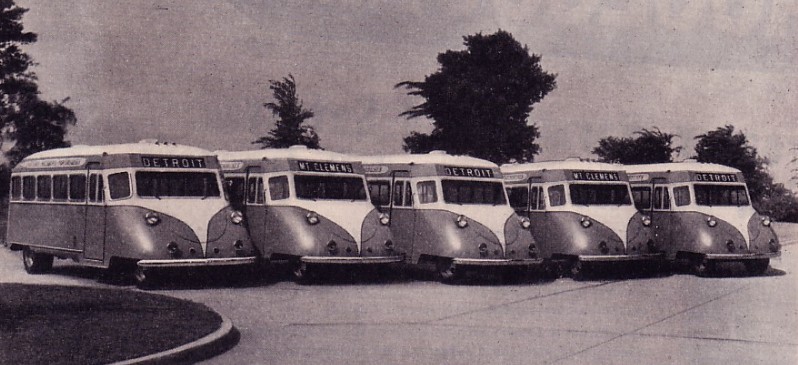 Innovative but short-lived Gar Wood motor coaches. The division was sold in 1939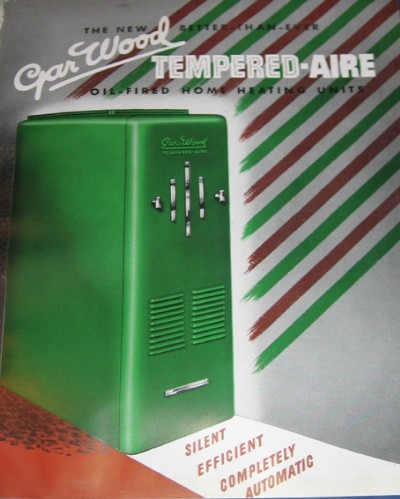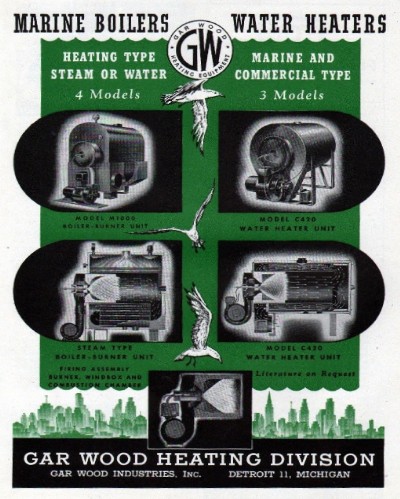 Home and commercial heating products made during the 1930s and 1940s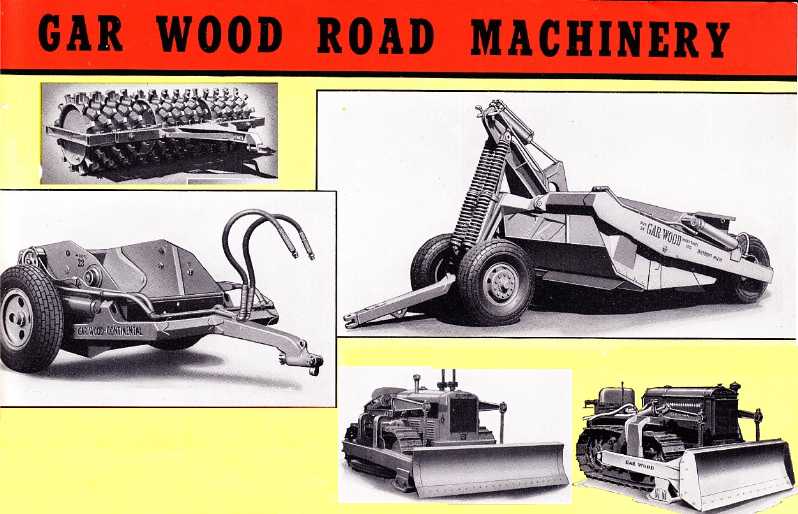 Road machinery: rollers, scrapers and dozers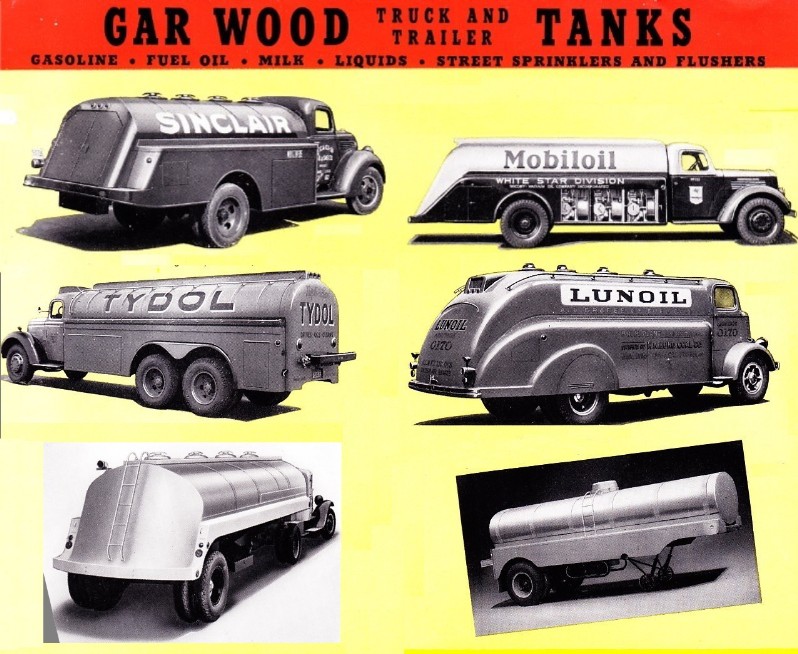 Tankers for gasoline, oil and milk




GAR WOOD STREET FLUSHERS


&nbsp&nbsp&nbsp Working side-by-side with collection trucks in most big-city sanitation fleets are street flushers, which are water tankers, equipped with high-pressure pumps and spray nozzles for street cleaning. Gar Wood flushers were produced by the Tank Division, which also built transport tank bodies for oil, water, milk, Etc.

&nbsp&nbsp&nbsp Gar Wood street flushers had many heavy-duty features, including all welded steel suction/discharge lines, fully-adjustable, machined-bronze nozzles, vibration-isolated pumps, and bronze globe-type flusher valves. In addition to the standard tank, beautiful streamlined versions could also be ordered and integrated with the truck cab. A booster pump allowed flushers to pump at increased pressure from the tank or hydrant through attachment hoses, or to pump out flooded basements.


2,000-gallon Gar Wood DeLuxe model streamlined flusher integrated with Autocar U-series cabover



Autocar cab interior showing pressure gauge and air-operated control valves



Booster pump converted flusher to a pumper or siphon



Official street flusher of the 1939 New York World's Fair


Dump bodies for coal






High-lift bodies for coal (left) and railroad car icing (right)






Truckveyor coal-unloader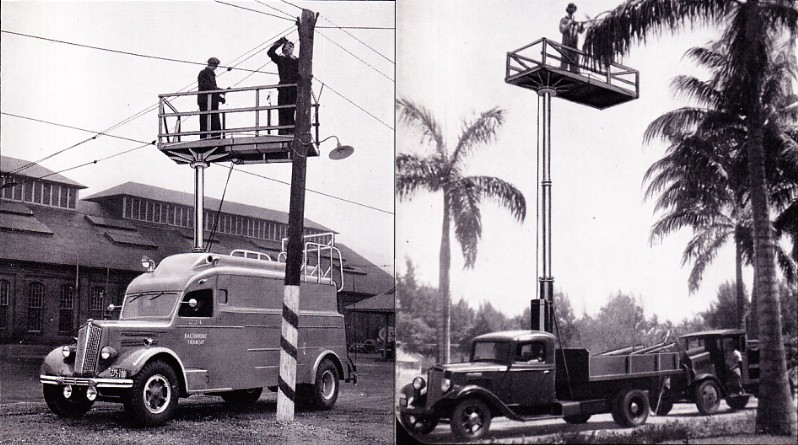 Mobile Repair tower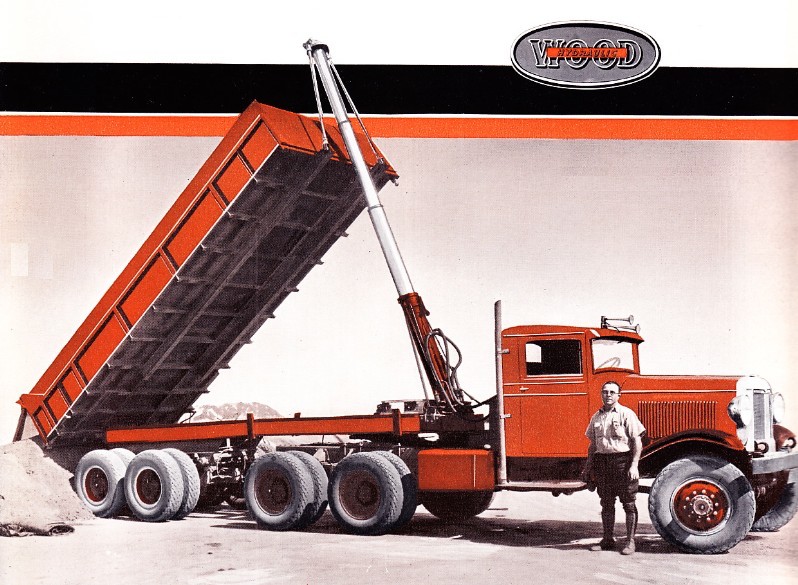 Trailer-mounted dump body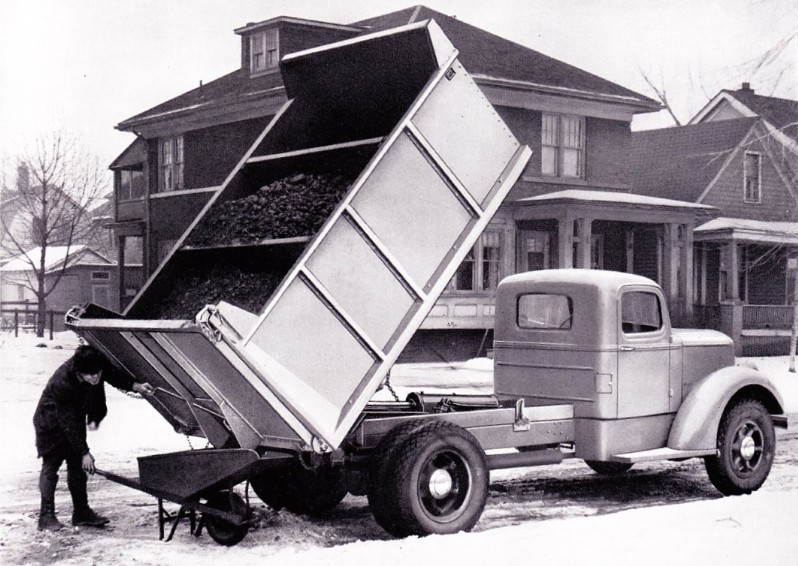 Type L heavy-duty body with coal chute and partitions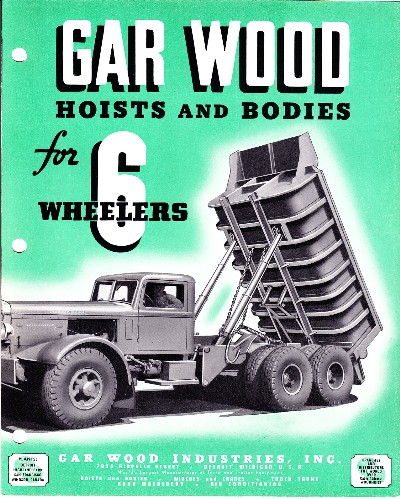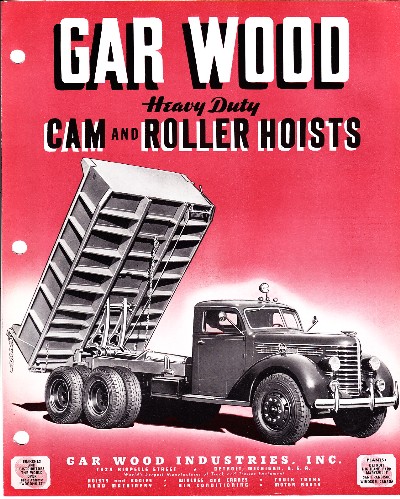 Twin telescopic hoist (left) and cam-and-roller hoist (right)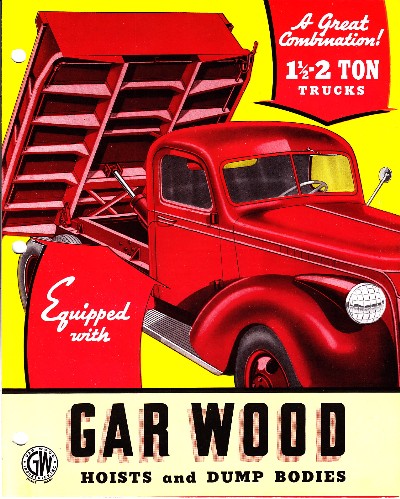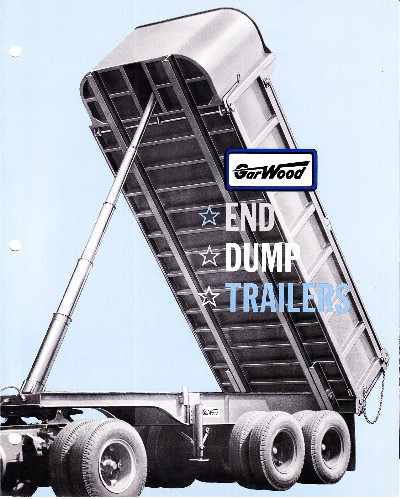 Standard direct-lift hoist (left) and telescopic end-dump trailer (right)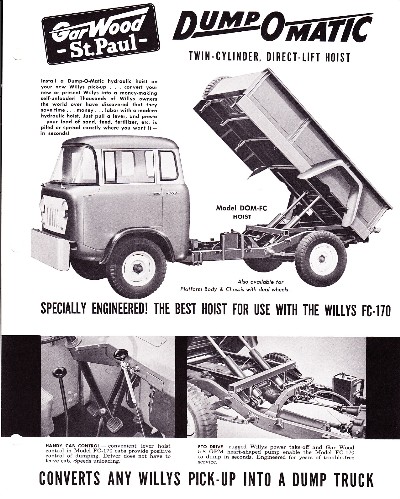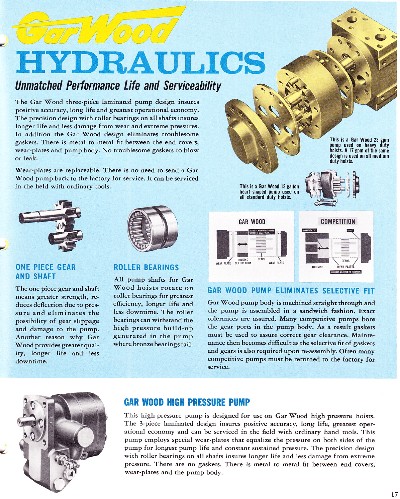 Dump-o-Matic conversion hoist for light-duty trucks; World-famous Gar Wood hydraulics for industry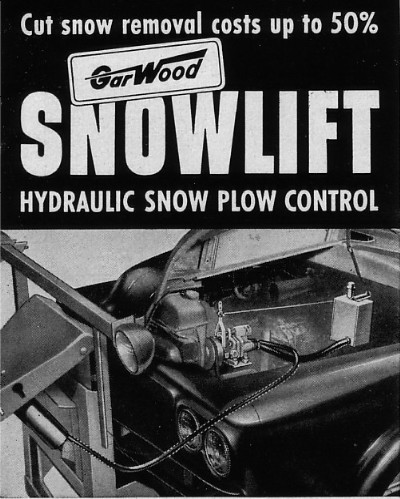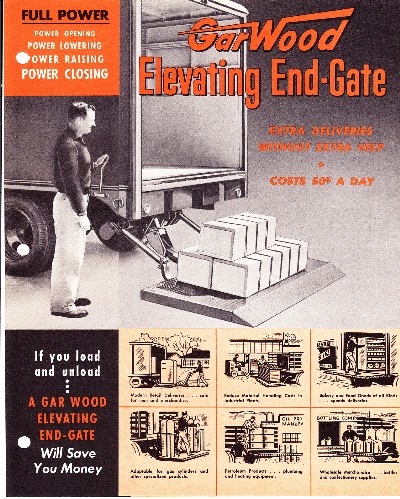 Snowlift and End-Gate joined Gar Wood after acquisition of the National Lift Co.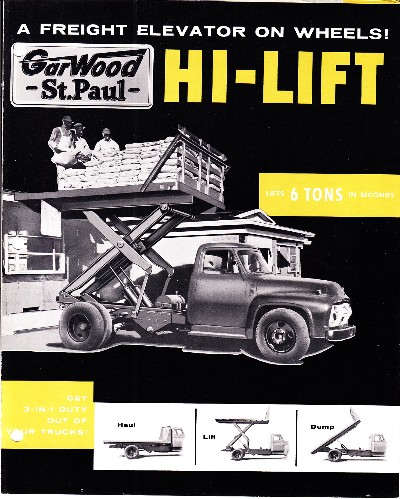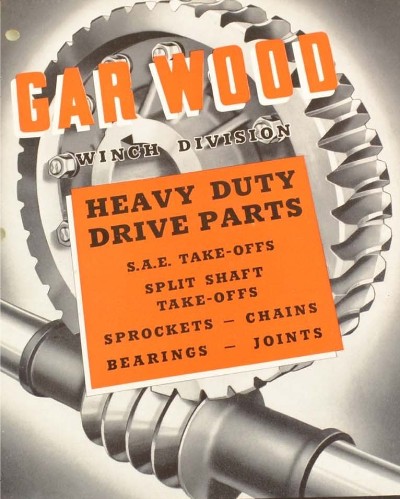 Hi-Lift body; Driveline parts from the Winch Division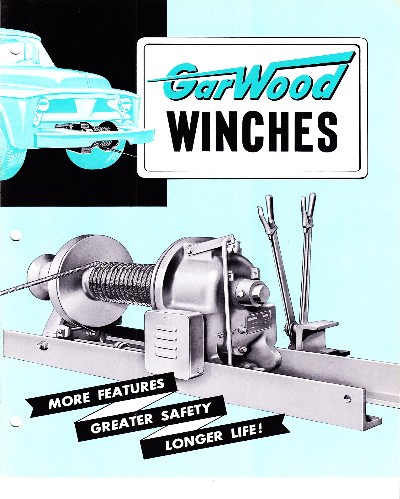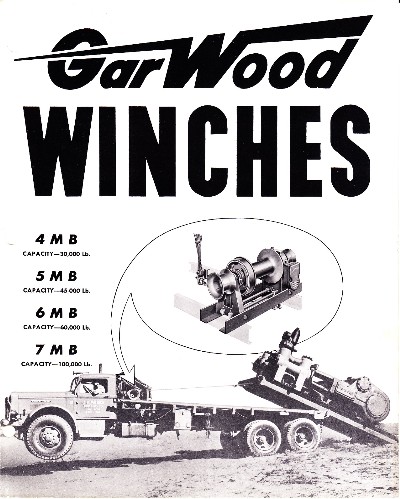 Winches to 100,000 pounds capacity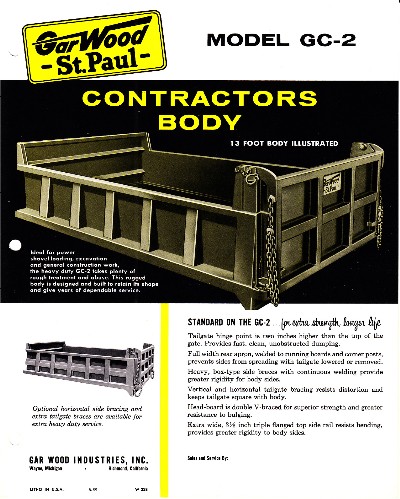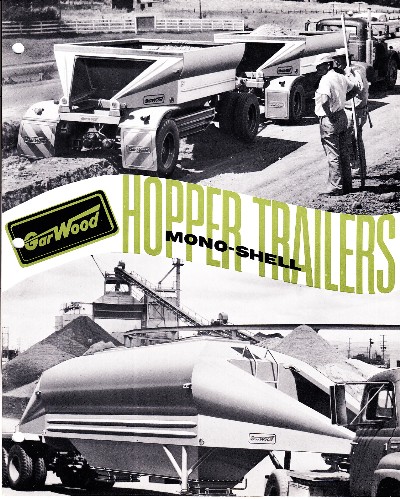 Contractors dump body; Mono-shell hopper trailers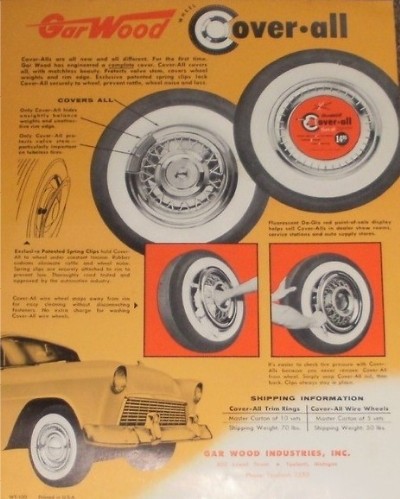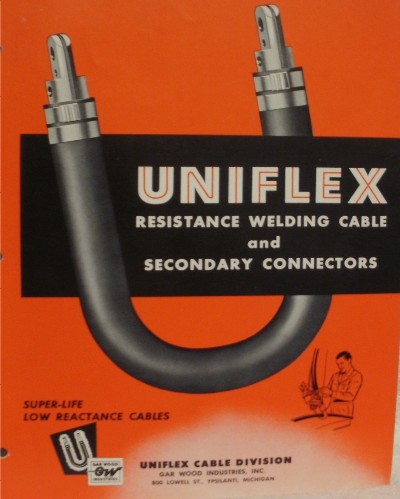 Cover-All wheel covers for autos; Uniflex Cable Division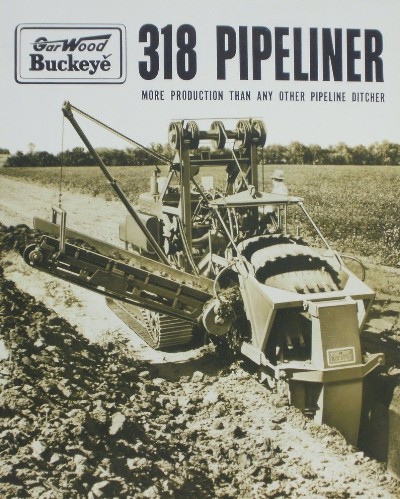 Road building machinery by Buckeye Division, Findlay Ohio (acquired 1945)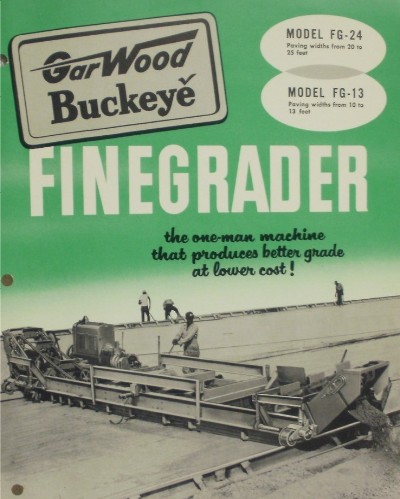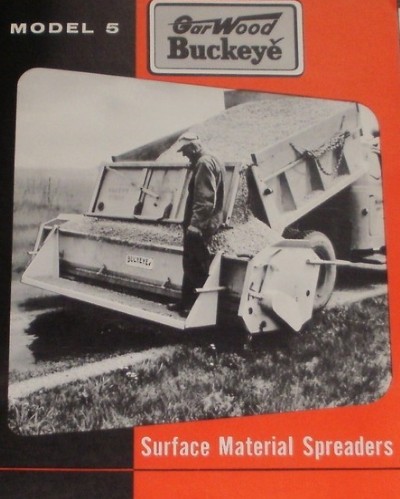 Buckeye grading & paving machines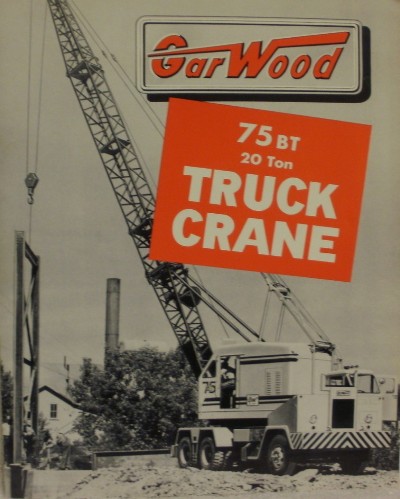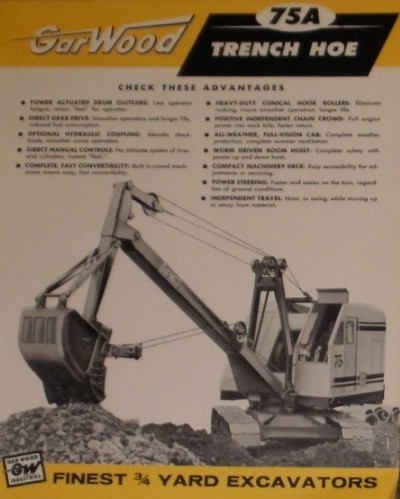 Gar Wood cranes, and Trench Hoe attachment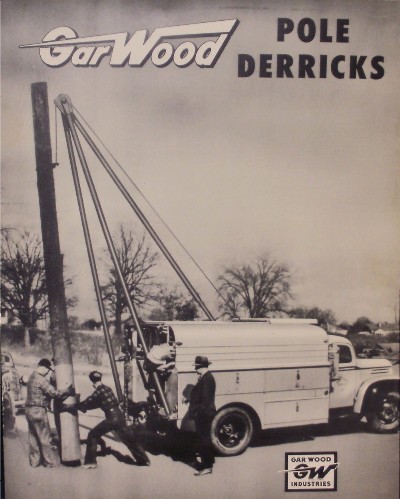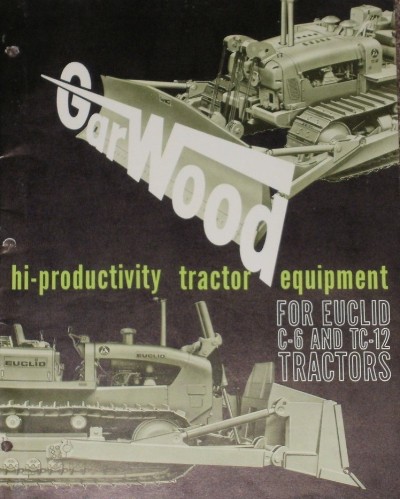 Pole Derricks for line construction; Dozer blades for Euclid crawlers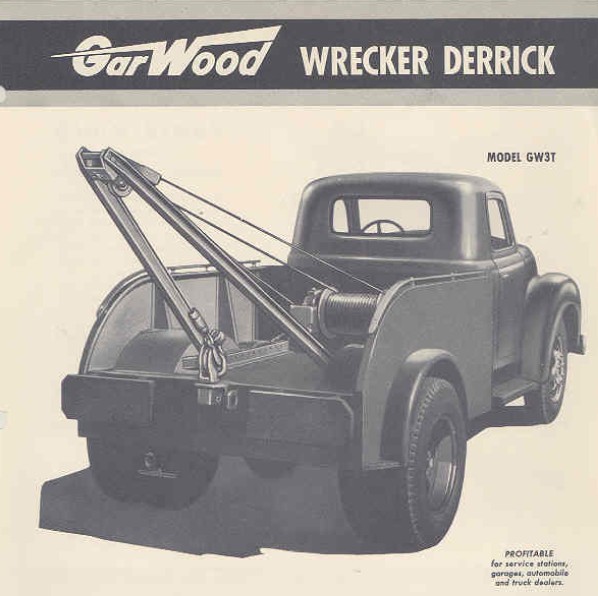 Wrecker Derricks for tow trucks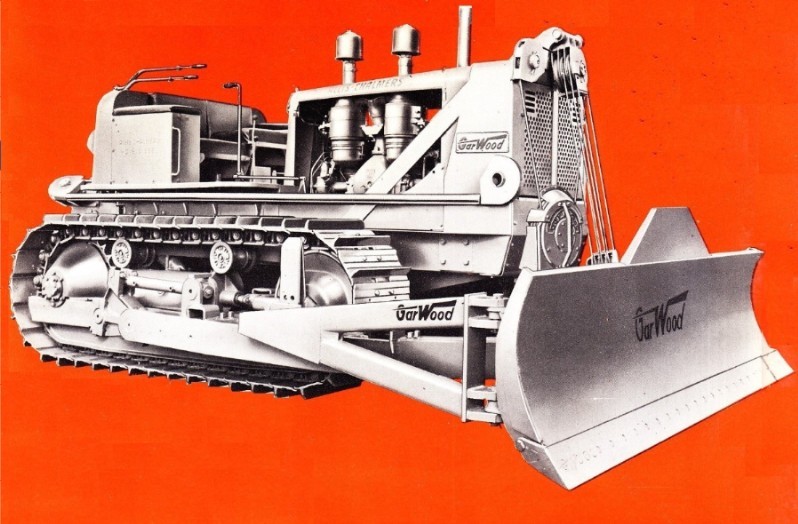 Gar Wood brand Dozer from 1954 was an Allis Chalmers HD-15 tractor with Gar Wood blade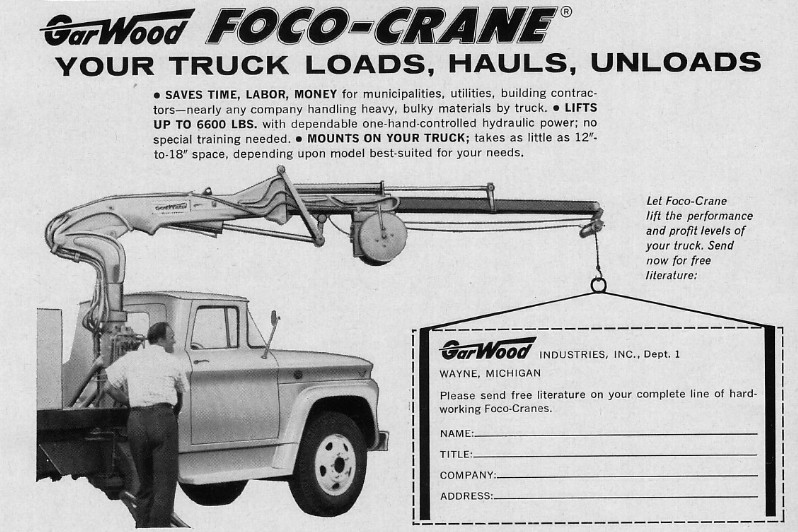 Foco-Crane unloader from 1965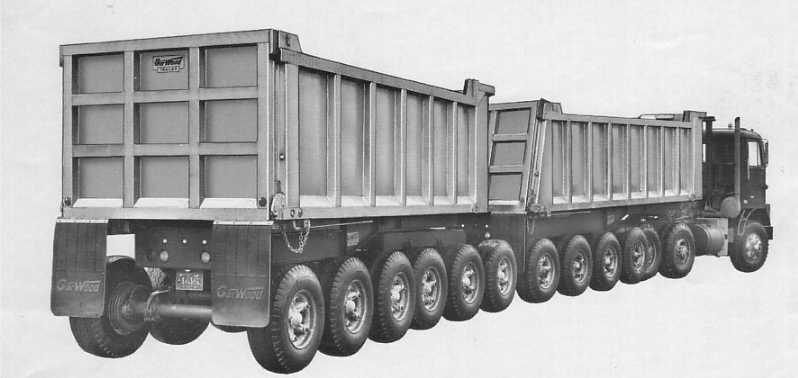 End-dump trailer combination from the 1960s





7/30/14
---

© 2014 Eric Voytko
All rights reserved
Photos from factory brochures/advertisements except as noted
Logos shown are the trademarks of respective manufacturers