Pakomatic
The Forgotten Heil Side Loader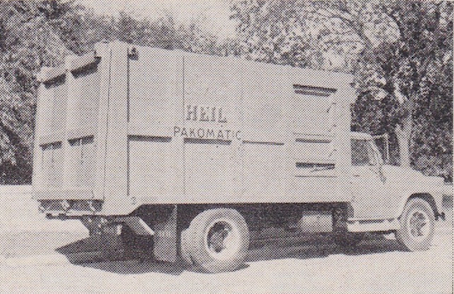 1958 Heil Pakomatic press release photo


&nbsp&nbsp&nbsp Five years after Heil broke into the compaction rear loader market, their next new refuse body debuted in the November of 1958. A press release announced Pakomatic, an advanced new side loader joining the Colectomatic rear loader in Heil's refuse product line. This was a truly unique side loader for its day, combining elements of the full-sweep Hydro E-Z Pack, and partial packers like the Hydepak. This was the first Heil "Half Pack/Full Eject" design, thirty years before that name was applied to their front loaders.

&nbsp&nbsp&nbsp Like the Hydepak, it had a short-stroke packer blade, which packed refuse from the front hopper area into the main body. To unload, the packer blade engaged the movable front wall of the body, and both sections were pushed rearward to eject the load under the top-hinged tailgate. Ejection was performed by an independent, telescopic ram of the type used on the E-Z Pack. However, unlike the E-Z Pack, the telescopic ram was mounted horizontally, and thus projected through the panel. This was bold engineering at a time when many of the side loaders on the market had blades powered by chains, cables or screws!

&nbsp&nbsp&nbsp No patent has been found for the Pakomatic, indicating that it may have been created independently and purchased by Heil (such was the case with Colectomatic). Another possibility is that Heil may have abandoned the patent application (or never filed one), as a result of poor sales, engineering problems or legal challenges. Following the initial press release, no other commercial advertisements ever appeared in American City or Public Works magazines, the premier trade journals of the time. All that is known, except for its basic design functions, is that it was created to be a lower-priced alternative to their Colectomatic.

&nbsp&nbsp&nbsp Only two images of the Pakomatic are known. One is from the 1958 press release, and the other is a Heil factory photo. The latter is emblazoned with title "New Heil Pakomatic" and bears 1960 Wisconsin license plates. It differs from the 1958 model in its open hopper, and a hydraulic-powered adjustable loading rave. Body and tailgate bracing were also altered. The Pakomatic would disappear almost as quickly as it arrived, and Heil wouldn't return to the side loader business for another twenty years. However, the telescopic ejection cylinder foreshadowed something big; the next new product from Heil would kick off the 1960s in spectacular fashion, and change the rear-load packer forever.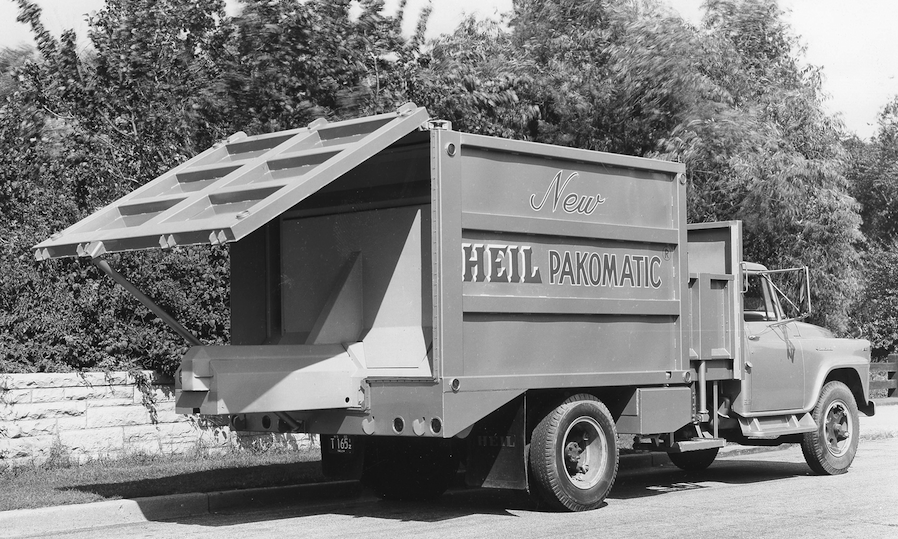 1960 Heil Pakomatic factory photo
REFERENCES
American City Magazine, November 1958, page 229






7/2/16
---

© 2016 Eric Voytko
All Rights Reserved
Photos from factory brochures/advertisements except as noted
Logos shown are the trademarks of respective manufacturers