Leach Centralized Transfer System
and 31-Cubic Yard 2-R Packmaster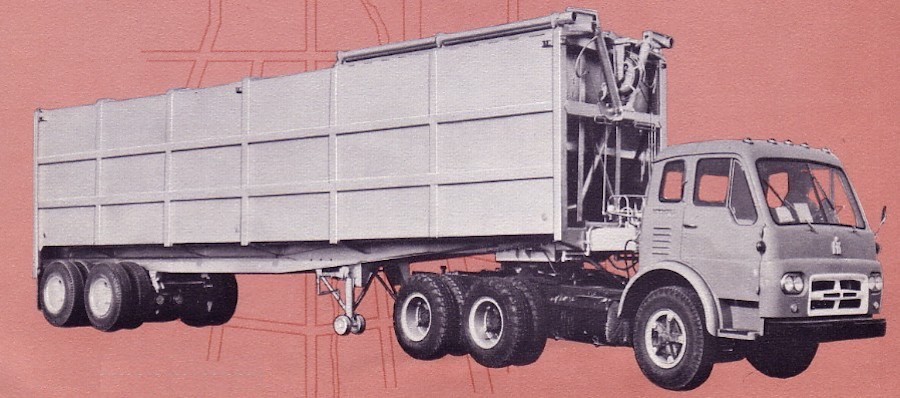 A 75 cubic yard, 38' Leach transfer trailer
&nbsp&nbsp&nbsp With production underway at the new factory, Leach took a step into a new area of refuse hauling machinery; the transfer station. The Leach Centralized Transfer System (LCTS) was first marketed in 1963, and included stationary packers and associated handling equipment. For transport, a top-loading 75 cubic yard semi-trailer was built. The new transfer trailers utilized the same Push-Out system that had been recently added to the Packmaster and 2-R rear loaders.

&nbsp&nbsp&nbsp Though Leach had pioneered the marketing of transfer stations, and the demand for them was increasing every year, the company's foray into this side of the industry was short-lived. Leach was set up as a mass-producer, but almost no two transfer stations were ever the same. The size of the equipment, including the big transfer trailers was almost too much for even the new facility that Leach occupied. Almost all of the major refuse body makers were to try their hand at transfer stations, and most them eventually abandoned them, as Leach did by the 1970's.

Leach transfer trailer used same Push-Out system as Packmaster and 2-R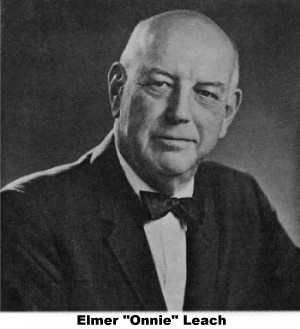 1963 was to be a solemn year for Leach, with the passing of Onnie Leach on June 12. Cancer had claimed The 67 year old owner and president, who had been with the company since 1914. Onnie Leach was there for every major development of Leach refuse bodies, from the first Refuse Getter to the mighty 2-R Packmaster.

The last ten years of his tenure had been especially prosperous for Leach Company, growing from a marginal manufacturer of refuse bodies to become the technological leader of the industry, with a state-of-the-art factory and sales approaching 1,500 units annually.

Onnie was succeeded as President by his son, David Leach, who represented the third generation of the Leach family to run the business during its 76 year history.
---
31-CUBIC YARD 2-R PACKMASTER

A 75 cubic yard, 38' Leach transfer trailer
&nbsp&nbsp&nbsp With the 2-R Packmaster becoming increasingly popular, a market was emerging for an even larger version of the giant refuse packer. Leach responded with a 31 cubic yard version of the 2-R for 1964. Initially marketed as a semi-trailer mounted packer, it was the biggest rear loader in the industry. Auxiliary engines could be specified for use as stationary compactors. In later years, most of the big 31 yard 2-R's would simply be mounted to straight trucks.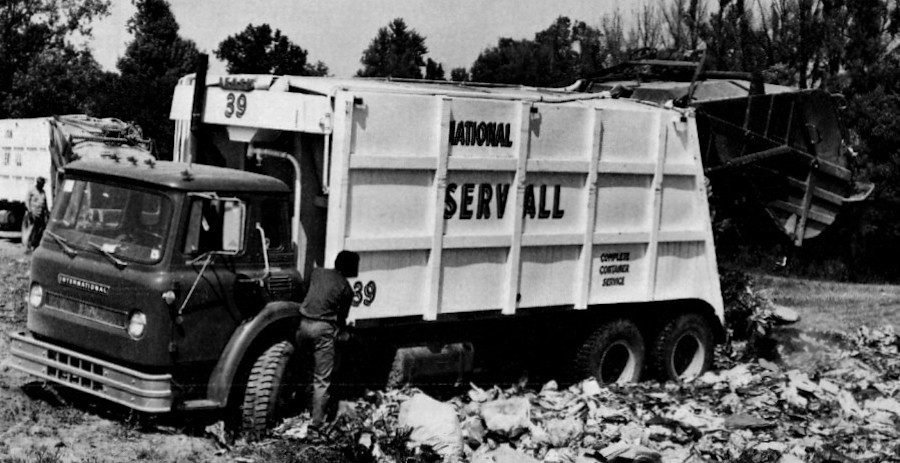 10/4/09
---

© 2009 Eric Voytko
All Rights Reserved
Photos from factory brochures/advertisements except as noted
Logos shown are the trademarks of respective manufacturers