1978: The Eagle has Landed
1978 Maxon Shu-Pak AL (Automated Loader)

&nbsp&nbsp&nbsp Big changes were in the air for Maxon in 1978. The Shu-Pak AL (automated loader) was announced that year joining the first early wave of factory-ready automated side loaders (ASL) that were hitting the streets. The diligent efforts of Scottsdale, Arizona in creating, building and using the world's first automated collection system were now being implemented by other cities. Building the equipment to do the job was a group of smaller manufacturers, including Maxon, which could produce it profitably with low production numbers. Frequently, this simply meant the marriage of an existing side load packer with a loader arm, made by Rapid Rail, EMCO or Litter Lift. The Shu-Pak AL appears to have used the latter, or a close copy of it. The drop-frame chassis modification was not necessary, since loading height was irrelevant with an ASL. Neither was stand-up drive needed since the operator never had to leave the cab, although right-hand drive was still specified.

&nbsp&nbsp&nbsp Also in 1978, Maxon moved to new factory on seven acres in City Of Commerce, California. It was during this period that the Bemars name began to be phased out in favor of the corporate identity. Meanwhile, the Kouri family, founding partners of Bemars, were back in business in the Bay Area as the Able Body Company, and competing with Maxon again in the western front loader market. Close by to ABC was Norcal, another upstart formed by former Western Body & Hoist employees. In Los Angeles, AMREP had recently began building refuse bodies in Maxon's back yard, and would figure prominently in the coming years as a "Battle of Los Angeles" ensued. Maxon and Shu-Pak parted company, ending a relationship that went back twenty years to the early days of Western. This did not however, mean that Maxon was out of the side loader business.

&nbsp&nbsp&nbsp The Shu-Pak was replaced by their own drop-frame side loader called the Eagle, which was marketed as a complete refuse vehicle. Maxon produced the body and chassis, with a special fiberglass cab. Powertrain consisted of the 3208 Caterpillar V-8 diesel and Allison MT-653 automatic, with either a triple torque rod rear suspension (single axle) or a Hendrickson tandem axle. Right-hand stand-up drive was integrated into the design, rather than being added to a standard truck chassis. Maxon had already been doing these conversions at the factory, and the Eagle made them a bona-fide specialist truck manufacturer. This was a risky proposition, having only been tried by Gar Wood and Lodal in the USA, the former with disastrous results. The Eagle was nowhere near as complex as either of the former, but added the need to now service and warranty motor trucks, as well as the packer body.

&nbsp&nbsp&nbsp The Eagle could be configured with hopper enclosures, or an automated loader arm as an optional extra. Most models had a body shaped exactly like the old Shu-Pak. Gradually, the body became more streamlined, a trend that would continue in the 1980s. An Eagle front loader soon followed, with a standard-frame Maxon chassis and a half-pack body. Similarly, the Maxon Automatic was scaled-down front loader body which used a rail-type lift for emptying barrels or small commercial containers from the side. Maxon reached the Atlantic in a big way with their first-ever order from the New York City Department of Sanitation (DSNY) for Eagle side loaders. It was the first time the DSNY had used a side loader since the early 1930s, in an attempt to cut crew sizes from 3 to 2 men per truck. Unfortunately, the DSNY was unhappy with the Eagle, and the Uniformed Sanitationmen's Association was unhappy with side loaders in general. A subsequent order went to E-Z Pack/Crane Carrier and Maxon was left holding the bag. Ultimately, the City went back to rear loaders anyway. The episode probably contributed to the fast fade of the Eagle, which was discontinued in the early 1980, and Maxon returned building bodies only.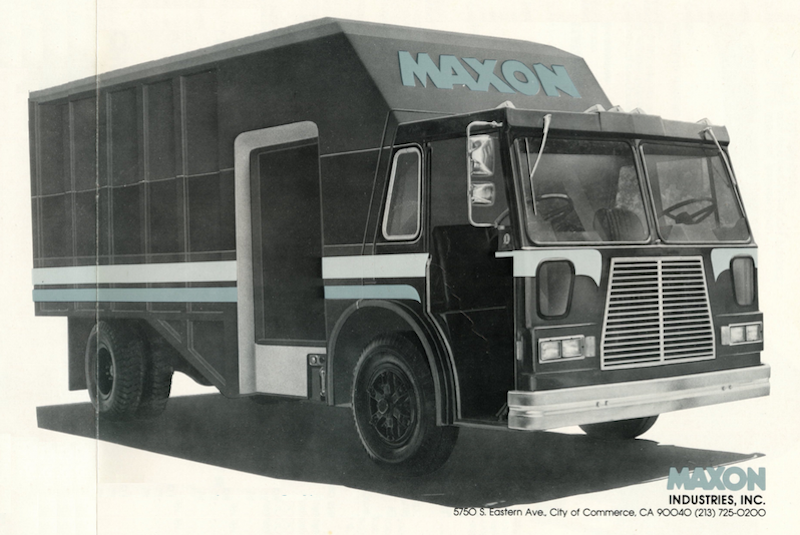 1978 brochure image of the Maxon Eagle refuse collection vehicle, with a stylized hopper canopy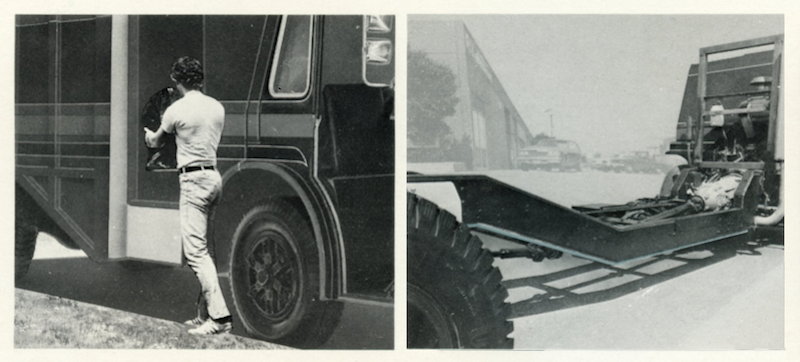 41-inch pitch-in height is achieved by lowering chassis rails behind the cab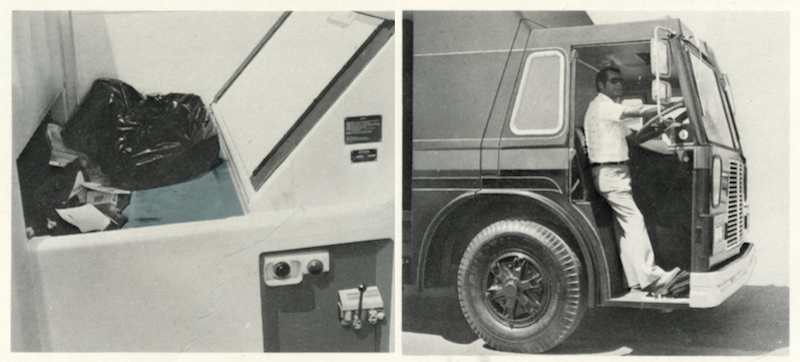 CAT 3208 diesel with direct-drive pump kept packer cycling on the move, RH stand-up controls were standard on the Eagle SL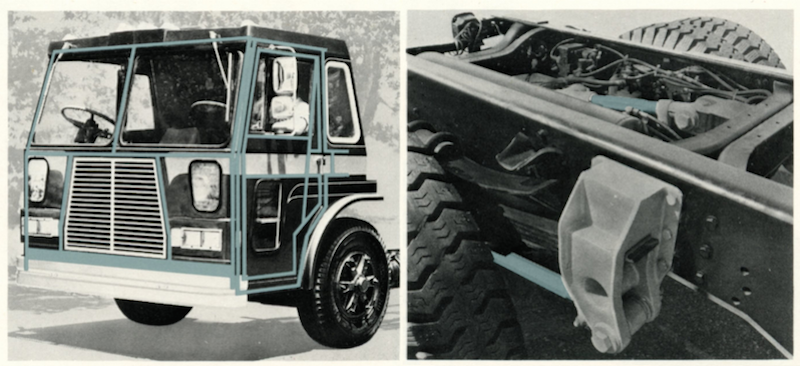 High-visibility cab was fiberglass with metal sub-frame, Maxon triple-torque rod suspension (single axle models)





Profile shot of the Eagle chassis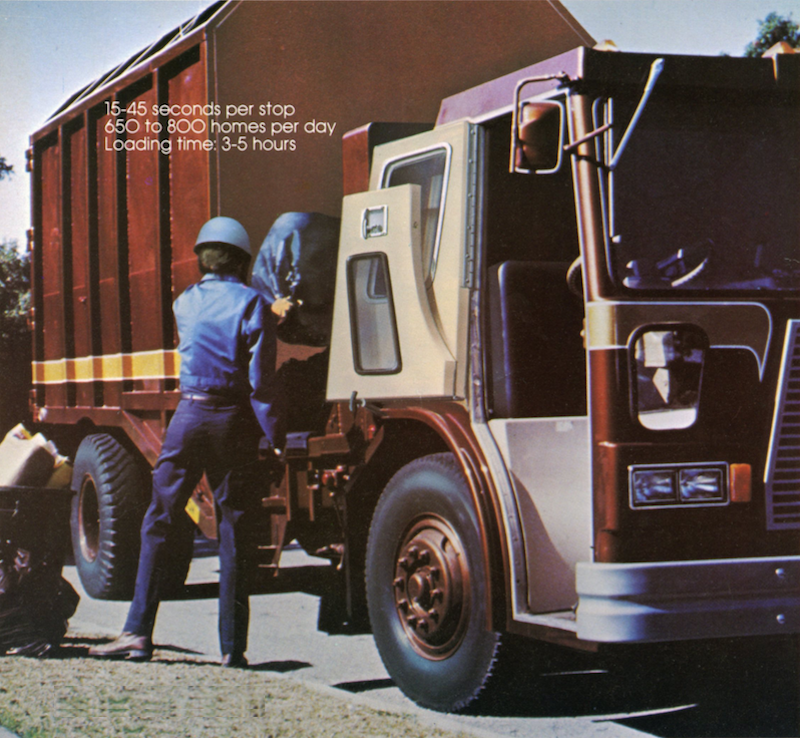 Eagle advertising highlighted its speed and economy compared to rear loaders




This Eagle ASL belonged to the Detroit Department of Public Works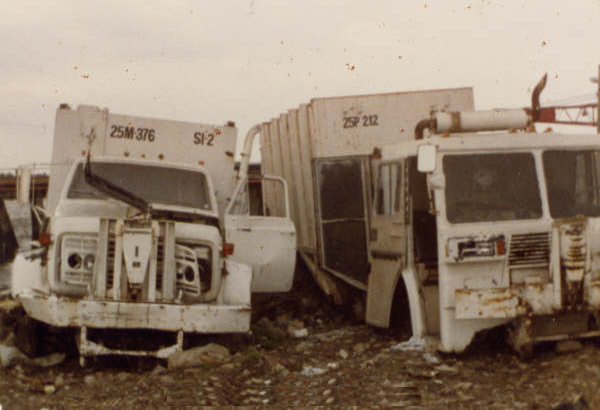 At right, a rare DSNY Maxon Eagle lies derelict; Maxon and New York parted company in 1981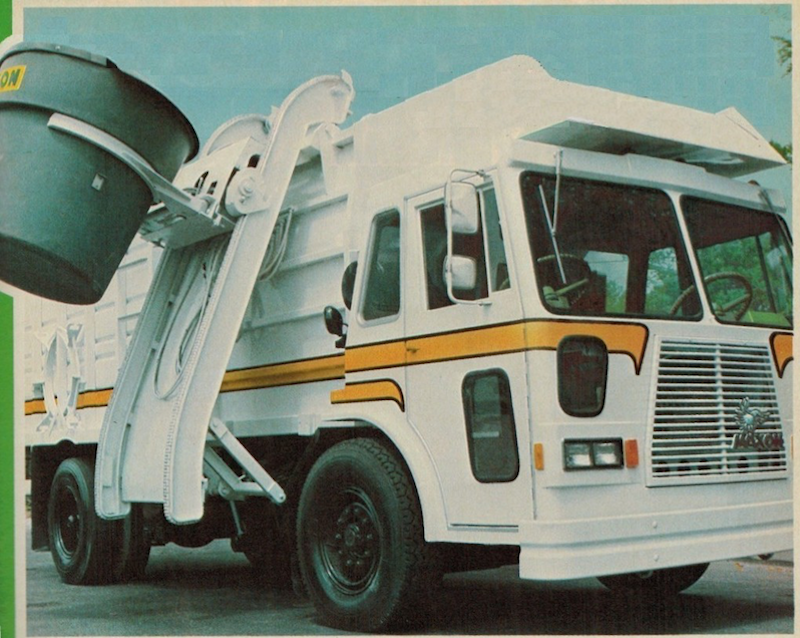 The Eagle Automatic body was a modified version of their half-pack front loader with a rail loader mechanism



City of Detroit Eagle Automatic prepares to hook up with a small container...




...rail lift frame kicks out to engage hooks on container...




...and container is lifted and dumped into hopper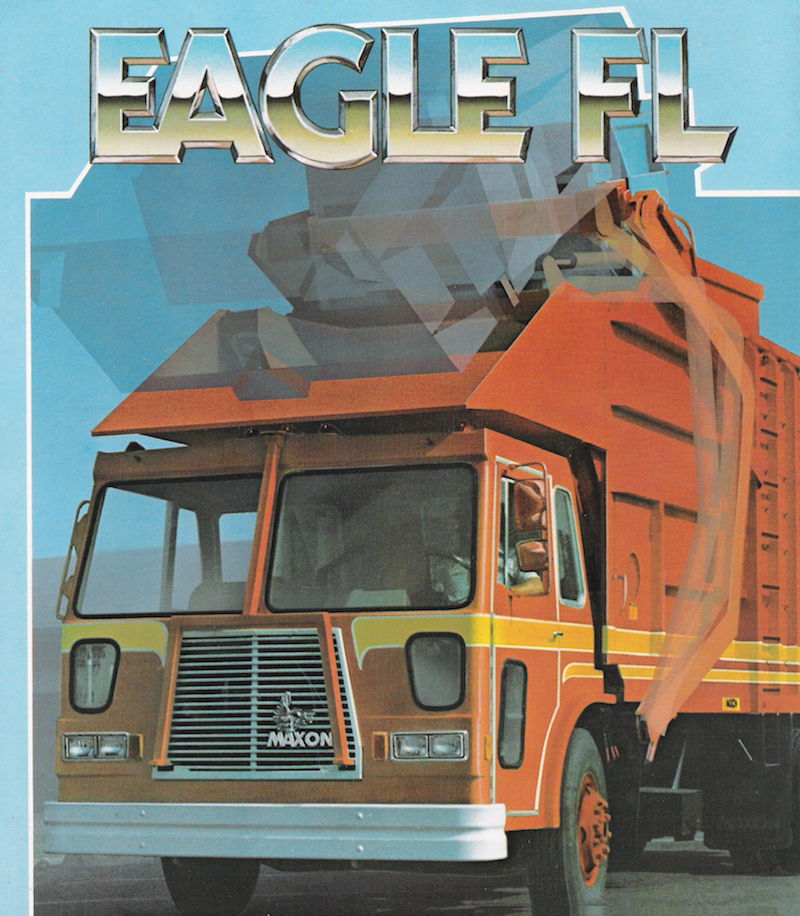 Maxon Eagle front loader was a packaged vehicle, but the half-pack body could also purchased separately





8/6/17
---

© 2017 Eric Voytko
All Rights Reserved
Photos from factory brochures/advertisements except as noted
Logos shown are the trademarks of respective manufacturers