The Legal One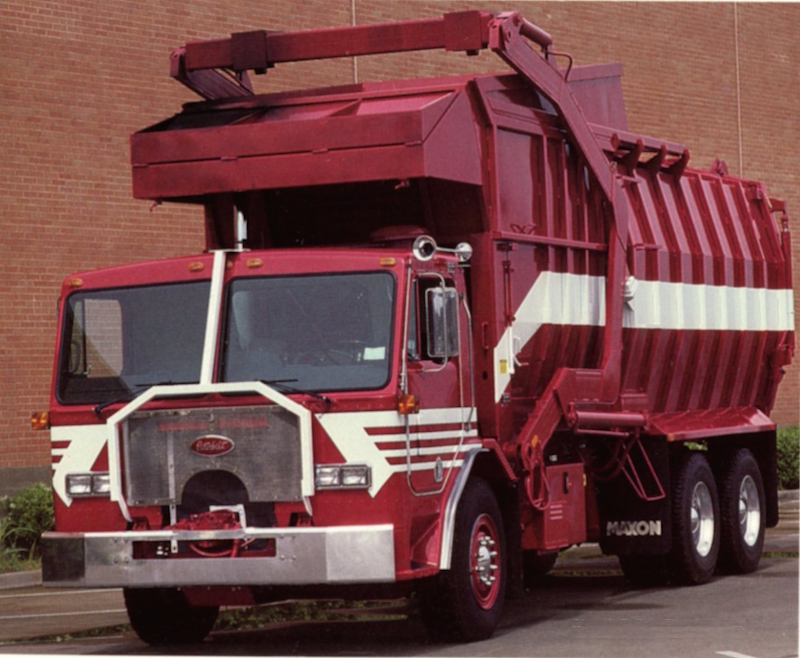 Maxon's unmistakeable 12-sided Legal One front loader

&nbsp&nbsp&nbsp Maxon's experiment in manufacturing complete vehicles (Maxon Eagle) had not been successful, but the company survived and bounced back nicely for the big '80s. Truck chassis were gradually phased out, but the side-loading refuse bodies were still available for mounting on other makes,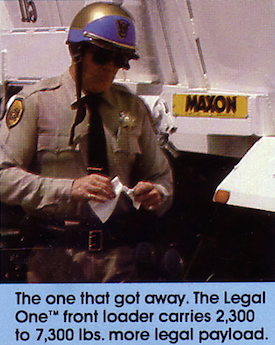 and were named Side-Pak, since the Shu-Pak trade name was no longer in licensed to Maxon. Nevertheless, they still looked pretty much the same as always, with the exception of an integrated crusher panel was mounted to the front of the packer head, developed and patented by Maxon in 1975. Amazingly, the original Bemars half-pack front loader design was still in production in the early part of the decade, now wearing Maxon badges and renamed the Speed-Pak. The Full-Pak remained for the heavy-duty front loader customer.

&nbsp&nbsp&nbsp Mid-decade saw Maxon introduce their most advanced design ever, the futuristic -looking polygonal-bodied Legal One 38-yard front loader. The body section was formed of slightly curved high-tensile steel in a 12-sided arrangement for maximum strength and light weight. A new shallow packer which employed 6" single-stage cross-mounted rams had light-weight follower plates to prevent fallback. At floor level, the face had moderate body penetration, but the upper panels never passed under the roof line. It was a kind of "inverted top-pack" , except with followers. The east coast version of the Legal One had 1/4" hopper floor and 8,000 pound lift arms, while a west coast version had a 3/16" floor and 6,000 pound arms, and later models weighed in at an impressive 12,700 pounds. Maxon advertising cleverly stressed the advantages of their new front loader, with one showing a highway patrolman who thought he had made his quota, instead tearing up the ticket " ...because he made the mistake of stopping a Legal One". The new 12-sided body was of course adapted to Maxon side loaders. Model SL-109 was built in 25, 29, 33 or 37-yard sizes, in either straight or drop-frame configuration. Smaller 4" x 30" packing rams operated the inverted drawer blade. These Maxon bodies were popular with western haulers as hand-loaders, semi-automated or full-automated with a Sunbelt Automated Systems lift. Open or enclosed hoppers could be specified.

&nbsp&nbsp&nbsp Maxon also kept a parallel lineup of "square" bodies in both side and front-loading styles. The 40-yard FLE/FLW front loaders (east and west) replaced the Bemars Speed-Pak, with a modernized body and cross-ram packing cylinders. These were several thousand pounds heavier than the Legal One, but certainly not the heaviest in the industry. The Model SL-108 was the modern successor to the original Shu-Pak side loader, with a more streamlined body. It was 1,000 pounds more than the Legal One side loader, with capacities and packers identical to the SL-109's. These "square" versions were probably kept around as price leaders, as they were undoubtedly less costly to manufacture. Roll-off frames remained in the Maxon catalog, at least through the 1980s, with a choice of reeving hoist or drum winch.

&nbsp&nbsp&nbsp In 1990, Maxon moved refuse body manufacturing from City of Commerce to a pair of factories in Mexico. Corporate offices were relocated to the original home at Huntington Park. By the end of that decade, Maxon teamed up with Crane Carrier Corporation of Tulsa, Oklahoma with a ready-built "packaged side loader" program. A CCC Centurion low-entry chassis would be sold with a Maxon body already installed and ready for service. Like Maxon in the late 1970s, CCC had ventured into making complete vehicles with their Integrated series, which had only recently been cancelled. The arrangement allowed each manufacturer to play to their respective strengths. Although these packaged side loaders had Maxon packers, they were adorned with "CCC" badges which can lead to some confusion.

&nbsp&nbsp&nbsp Maxon abruptly ceased refuse body production around 2000, and has since concentrated solely on the manufacture of lift gates, their longtime specialty. It is speculated that one contributing factor was a legal battle regarding the Sunbelt lift arm (used on Maxon ASL's); Sunbelt reportedly prevailed and won a judgement against a competitor. However, the competitor worked around infringement with a technical change, thus keeping a lucrative municipal contract with the City of Los Angeles. Another factor may have been the tightening market for refuse equipment in general, with mid-sized refuse haulers disappearing, while giant body builders like Heil and McNeilus locked-up most of the national refuse hauling accounts necessary for survival. Maxon had a successful and profitable product in their lift gate, and didn't need to risk their future in the increasingly turbulent waters of refuse body manufacturing.

&nbsp&nbsp&nbsp Although Maxon did not invent the drop-frame side loader, they were instrumental in popularizing its use nationwide, and several manufacturers are still producing this type of body. The Maxon Legal-One is one of the all-time great designs in refuse truck history, and aesthetically striking as well. Even today, it lives on in limited production by Bob's Services of Anchorage, Alaska and F.F. Gomez of Whittier, California.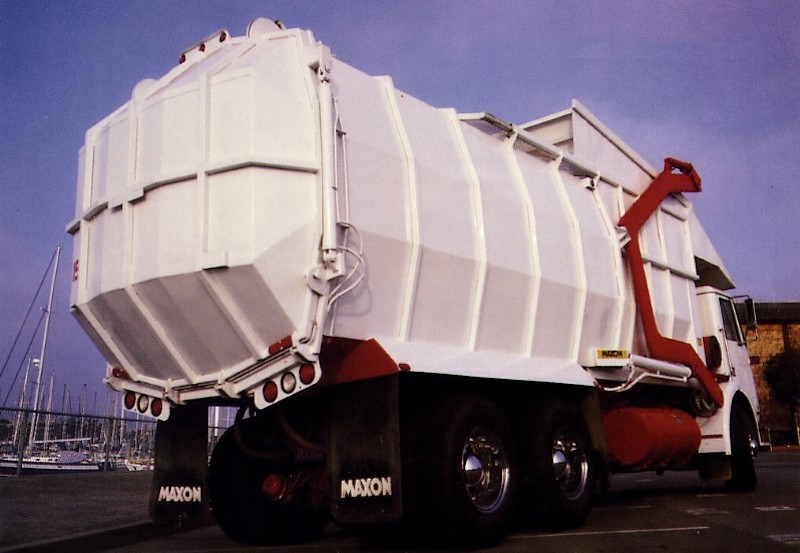 Maxon Legal One showing its 12-sided body and bustle tailgate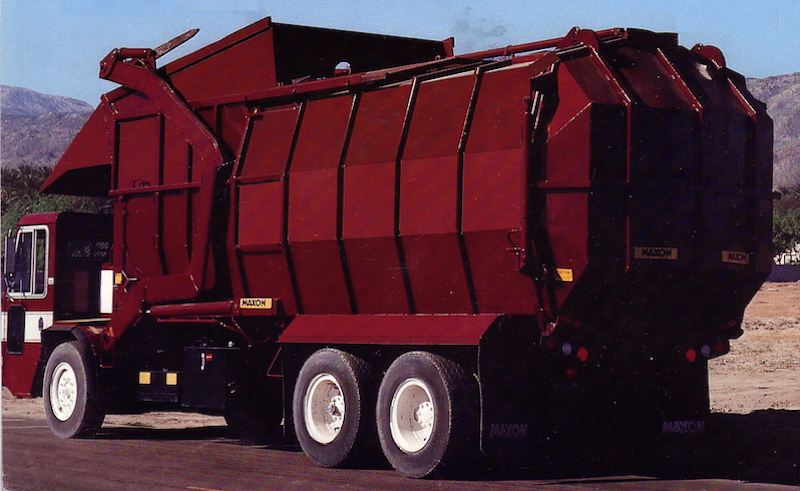 The 12-sided polygon construction has light weight and high strength, with less wasted space than circular bodies



Maxon Legal One FL in action, including packing cycle
Video courtesy of A & B Disposal and George Lanoszka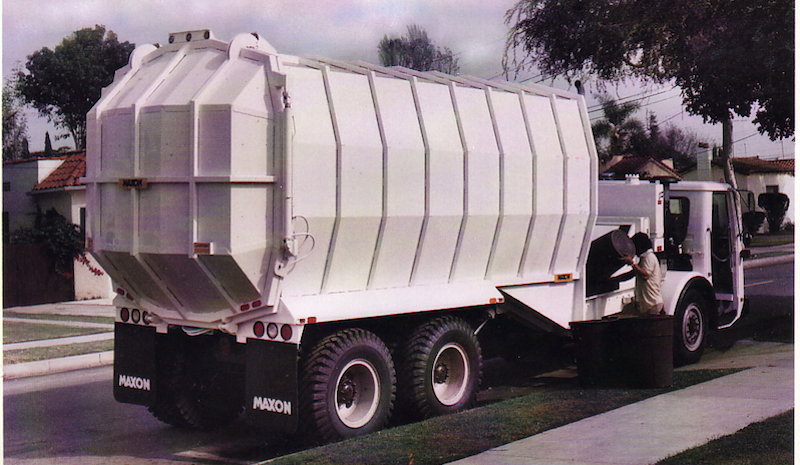 Legal One side loaders combined the new body with Maxon side loader technology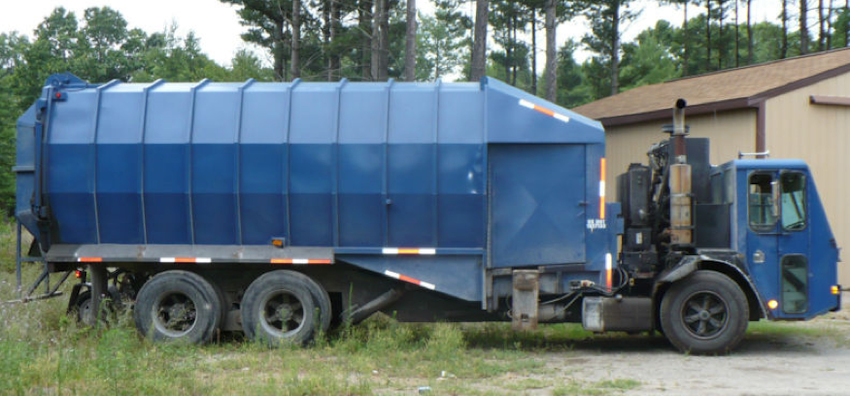 Legal One SL-109 series could be ordered up to 37-cubic yards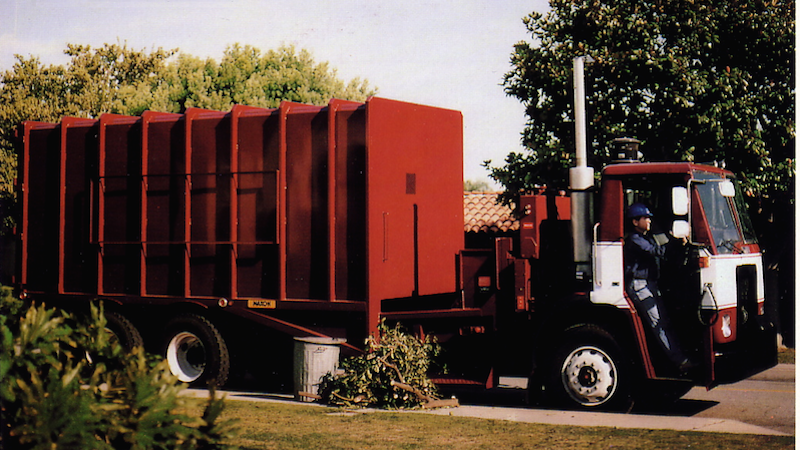 Maxon SL-108 standard side loader was an updated version of the original Shu-Pak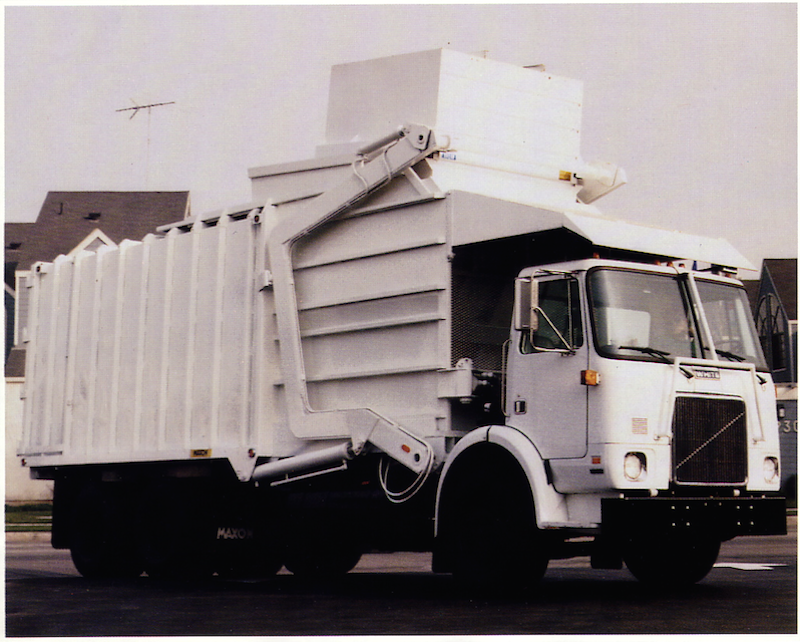 FLE/FLW series front loaders were half-pack tilt-dump types with a cross-ram packer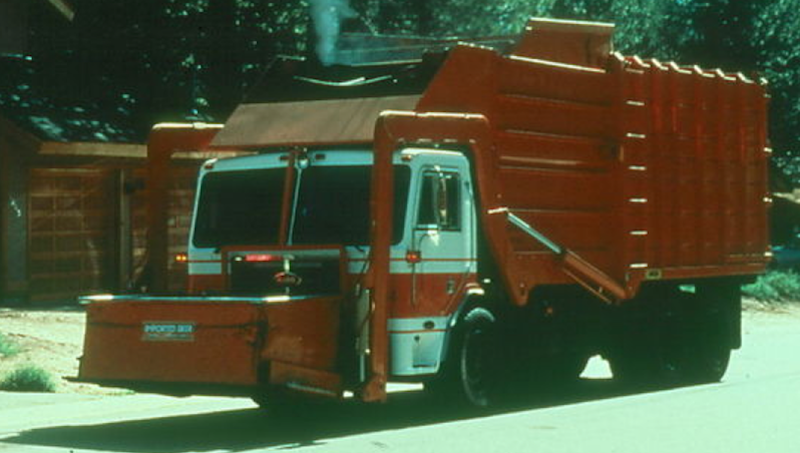 Maxon FLW with carry bucket, continued a residential collection tradition popular in California since the 1940s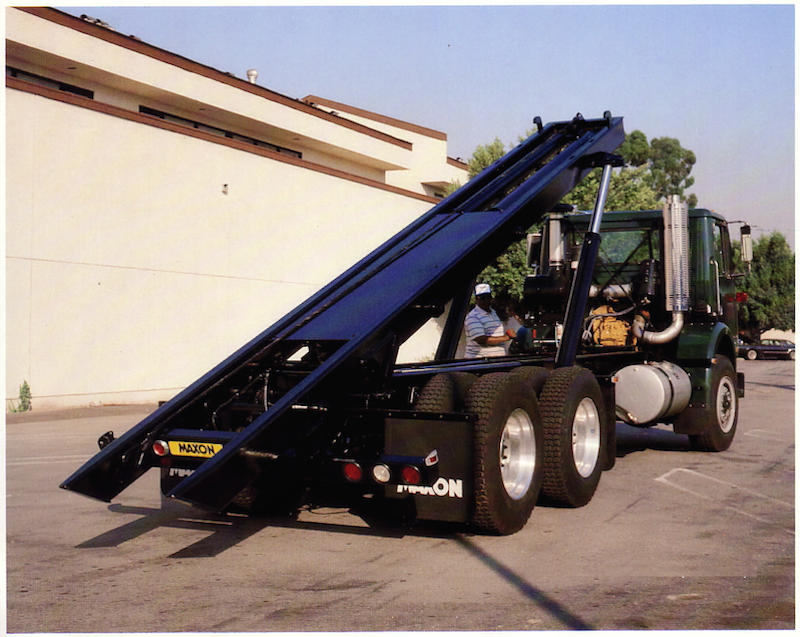 Maxon roll-off from the 1980s with twin-cylinder reeving hoist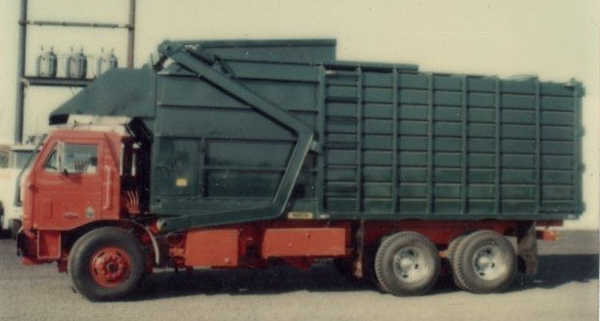 Maxon Speed-Pak was the original Bemars design, virtually unchanged since 1960





1995 Maxon SL-109 33-yard Legal One on Crane Carrier Centurion LET





1995 Maxon SL-109 33-yard Legal One on Peterbilt 310



Maxon Legal One ASLs with Sunbelt Automated Systems loader arms
Video courtesy of 3amrepmike3
Visit YouTube for many more excellent Maxon videos of various models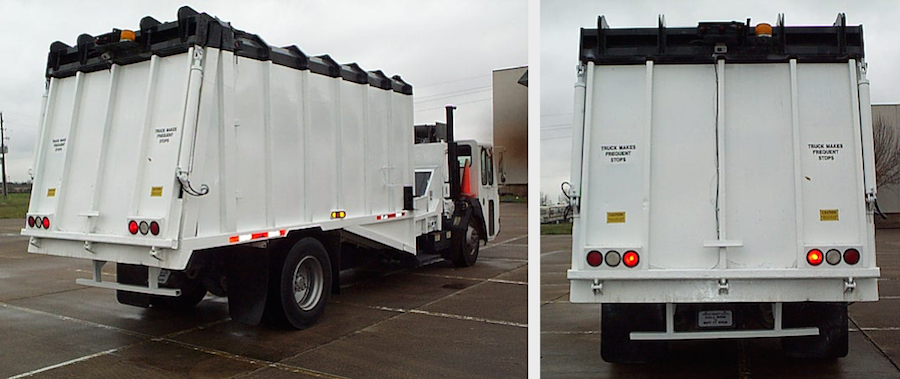 1996 Maxon SL-108 29-yard side loader with flat tailgate




1999 Maxon/CCC split-body side loader for recycling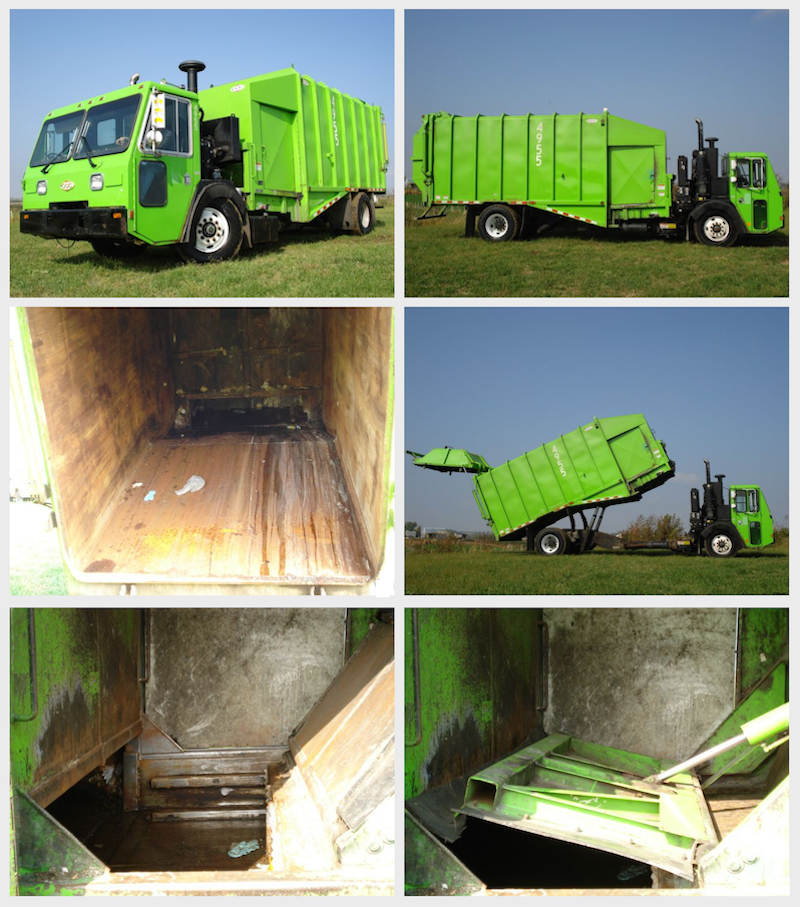 One of the last Maxon refuse bodies built was this 2000 SL-108 33-yard, part of a CCC packaged side loader unit
REFERENCES

U.S. Patent no. 3968891, William V. Perkins, January 16, 1975 (Unitized crusher panel)

U.S. Patent no. 4619959, Michael L. Verner, July 12, 1985 (Legal One front loader)

U.S. Patent no. 5049026 John Bingman and Armand G. Mezey, February 16, 1990 (Sunbelt automated loader)

Waste Advantage Vintage History Corner: Amrep Inc. by Zachary Geroux, October 3, 2015




8/6/17
---

© 2017 Eric Voytko
All Rights Reserved
Photos from factory brochures/advertisements except as noted
Logos shown are the trademarks of respective manufacturers