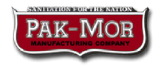 Pak-Mor Manufacturing
San Antonio and Seguin, Texas
By Eric Voytko
LOUIS ALEXANDER LELAURIN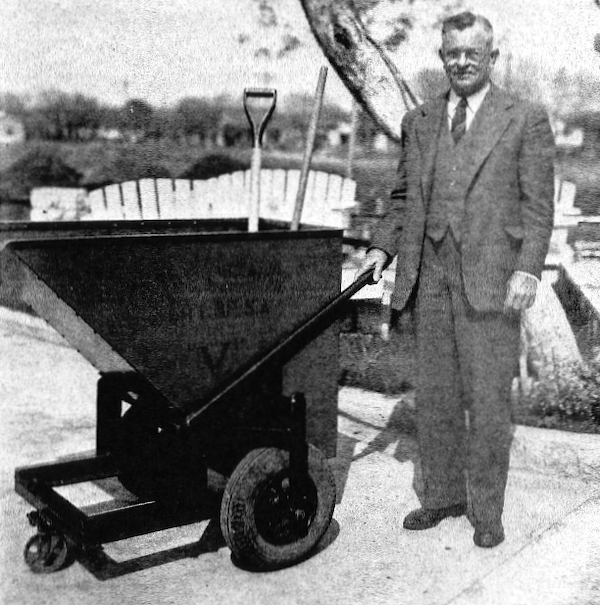 Louis LeLaurin; Inventor and refuse industry pioneer with one of many inventions he created for the City of San Antonio
INTRODUCTION

&nbsp&nbsp&nbsp Perhaps because his name was never affixed to his creations, few people are probably aware of the influence that Louis Alexander LeLaurin had on the refuse body industry. In 1940, he created what would evolve into one of the top selling refuse packers in history, and led to the formation of Pak-Mor Manufacturing Company of San Antonio, Texas. By the late 1930's, refuse packer bodies were relatively new technology, and were often complex and expensive. LeLaurin came up with a design that was both simple and economical to produce, and capable of handling virtually any type of refuse. LeLaurin joined forces with a friend and expert boiler manufacturer named Jimmie Thurmond, and the rectangular body construction was changed to a circular design. The result was a lightweight, but strong refuse packer, and these barrel shaped trucks would soon become ubiquitous in towns of the southwestern United States, and eventually were sold nationwide. This would position Pak-Mor to do an "end run" around the bigger national manufacturers, who were in the 1950's battling each other for market supremacy with comparatively complex and expensive rear loader designs.

&nbsp&nbsp&nbsp I would like to sincerely thank Janet LeLaurin James, who was kind enough to provide CRT with some background information on her grandfather, without which this history would not have been possible.



&nbsp&nbsp&nbsp Louis LeLaurin was obviously no stranger to mechanization, holding the position of Foreman at the San Antonio Machine Works by 1931. This was a time when "off-the-shelf" replacement parts were not exactly commonplace, and machinists excelled at repairing and making things (as they do to this day) literally from scratch. LeLaurin's ingenuity was readily apparent during his years as Superintendent of the Garbage Department for the City of San Antonio, Texas. During the Great Depression, municipalities had to make due with revenue at hand, and individuals in public works shops often found creative ways to provided needed equipment on a shoestring budget. For example, in 1939, when the San Antonio Parks Department needed a tree-moving machine, LeLaurin's shop built one out of old automobile parts for a cost of $450.00. In 1941, the city needed, but could not afford a $500.00 centrifugal pump for water projects. LeLaurin and shop foreman John Pena built one from a junked automobile chassis for the mere cost of $75.00.

&nbsp&nbsp&nbsp For the Garbage Department, LeLaurin personally re-designed the push carts used by city street sweepers, replacing the wear-prone iron wheels with easy-to-push pneumatic tires. When war came to America, he lost twenty-five of his men to the military draft. The pragmatic superintendent made the national newswires by hiring women to work on the City garbage trucks. The War Production Board awarded the Salvage Merit Pennant to the Department, the first to win the award in the southwestern United States. LeLaurin's crews collected more than three million pounds of scrap tin.

&nbsp&nbsp&nbsp Of course, one of the departments primary responsibilities was the collection and disposal of garbage and refuse within the city. Under LeLaurin's tenure, the last horse-drawn garbage wagon was retired from active service. By switching to trucks, the City would save $250.00 per month and could provide better service. In the early 1940's, switching to trucks often meant open-body dump trucks, or in some cases enclosed bodies for garbage collection. Although many mechanized refuse collection bodies were already on the market, cash-strapped cities often could not afford such special-purpose equipment.

&nbsp&nbsp&nbsp On the other hand, cities could not ignore the increasing bulk of municipal refuse, driven mainly by the growing popularity of disposable packaging. Once again, Louis LeLaurin came up with a solution that would not bust the budget. He would design and build a low-cost refuse packer for the city. He filed a patent for the new truck on July 30, 1940, though there were likely working models on the streets of San Antonio before that time. The body was a side loader, with dual openings on the left and right front ends of the body. A packer plate was operated to traverse the length of the body, consolidating the load as the body filled, and pushing out the rear end at the dump site. Locking barn doors secured the body while on route.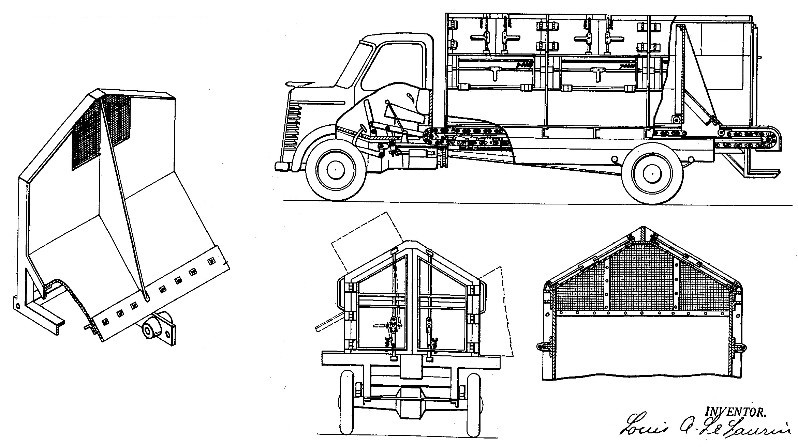 LeLaurin packer from patent drawings. Endless-loop roller chain propels packer plate. Rectangular body
with peaked roof shows multiple, latching loading doors on sides. Front of body and top of plate are screened.
&nbsp&nbsp&nbsp Where LeLaurin's design differed from its contemporaries, was in the packer drive mechanism. Direct hydraulic power had not yet been used on bodies of this type (though Marion Metal Products was to shortly thereafter apply it to their Hydropaka side loader). During the 1930's, a few side load packers used spiral screw drives to power the packer blade, with two or three screw shafts and host of complex sprockets and bearings in the system. LeLaurin's design utilized a single, 'endless loop' roller chain on the body floor which pulled the blade (itself supported on a roller trolley) back and forth. Motive power came from a power take-off box, of the type then commonly used for operating winches or pumps.

&nbsp&nbsp&nbsp The true genius of LeLaurin's packer was in its simplicity; it could be built with readily available materials in the city shop, and easily maintained by mechanics with only basic skills. It could take anything that could be fed into it, and was emptied safely by ejection. The chain driven packer blade was less likely to jam, especially when compared to the screw-driven packer plates of other makes.

&nbsp&nbsp&nbsp Early on, probably around 1941, the LeLaurin-designed packer began to appear with circular bodies. A local company called Alamo Welding and Boiler Works produced these new bodies for San Antonio. Jimmie Thurmond had started Alamo in 1926, and had been friends with LeLaurin. Thurmond had well over twenty years experience building and repairing pressure vessels, including lococmotive boilers. A circular vessel is ideal for high pressure boilers, as it will resist stress equally around its circumference. Extra re-inforcement with bracing is minimized. These characteristics were also ideal for a compression-type refuse packer body. The 'boiler body' had the strength to withstand the stresses of compaction, but without unnecessary weight or dead corners. Combining a circular body to the the LeLaurin-designed side-load packer mechanism had created what would become the Pak-Mor, though that trademark would not be used for a few more years.
Above Left: One of the fleet of 27 LeLaurin 18-yard packers in service for San Antonio in 1945
Above Right: A slightly later model of larger capacity. Chain drive is visible just below rear doors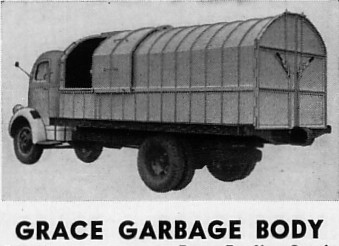 FOOTNOTE: GRACE BODIES
The 1941 Grace Garbage Body, shown at left bears a striking resemblance to the LeLaurin packer as depicted in in the 1940 patent. Note the chain roller at the back of the body, just below the doors. The W.E. Grace Company of Dallas, may have built this under some sort of license agreement with LeLaurin. Or, it could have been a "copy-cat" design that was withdrawn from the market as soon as LeLaurin's patent application was granted. For whatever reason, by 1946 Grace was advertising a completely different, screw-driven side loader. The new model Grace was evidently not produced for more than few years, as the Grace Company apparently dropped out of the garbage body business for good.

For a picture of the Grace triple-screw side loader, see the article W.E. Grace album here at CRT





4/5/09
---

© 2009 Eric Voytko
All Rights Reserved
Photos from factory brochures/advertisements except as noted
Logos shown are the trademarks of respective manufacturers