McClain Industries
Utica, Michigan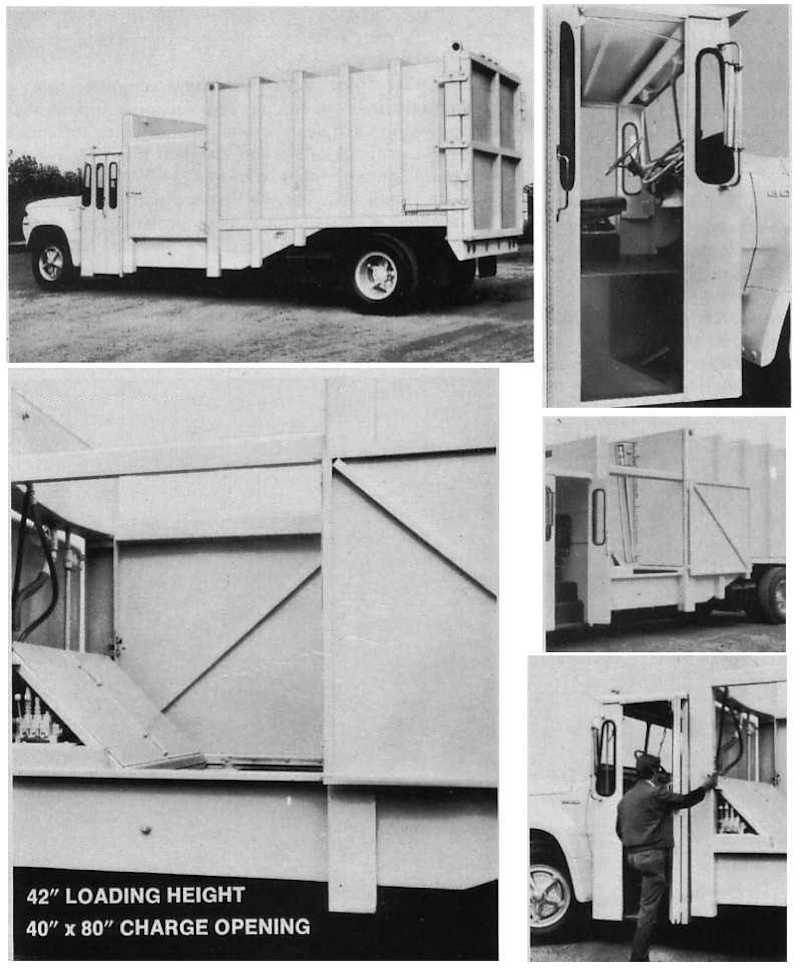 &nbsp&nbsp&nbsp This family-owned metal fabrication firm entered the refuse equipment market first by producing containers. Eventually stationary compaction equipment was added, as well as a roll-off (the Magna Hoist).

&nbsp&nbsp&nbsp By 1974, McClain had a very modern residential collection unit, the OMSUL, which stands for One Man Side Universal Loader. OMSUL was in many ways a conventional drop-frame side loader with a partial packer blade, of the type pioneered by Shu-Pak. However, it added a full ejection/compaction blade in the main storage body, whereas tilt-to-dump unloading had been the most common method on this type of side loader in the past.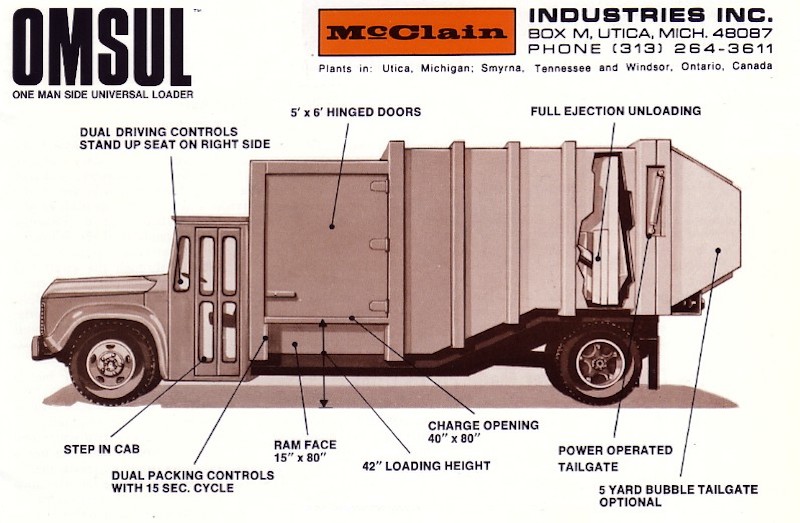 &nbsp&nbsp&nbsp OMSUL was marketed with a walk-in, dual control cab, presumably mounted on the customers choice of cowl-forward truck chassis. Manual barn doors closed off the body, with a hydraulically raised five yard bubble tailgate as an option. Crankshaft-driven hydraulic pump allowed for "pack on the go" capability.

&nbsp&nbsp&nbsp Although advertised as late as 1978, the OMSUL appears to have been discontinued shortly thereafter. McCLain continued production of their stationary compactors and containers, and in 1992 acquired Peabody Galion and thus became the new owner of the E-Z Pack line of refuse equipment. Rather than absorb the company outright, McClain gave their new Galion Solid Waste division 'brand autonomy', with production of E-Z Pack products maintained at plants in Ohio. Additional plants were added in Oklahoma and Georgia, and through the decade the bodies came to be known as McClain E-Z Pack.

&nbsp&nbsp&nbsp After little more than a decade of ownership, McClain sold E-Z Pack to Clean Earth LLC of Cythiana, Kentucky in July 2003. The factories that once built E-Z Pack products were shuttered, including the original plant at Galion, Ohio. In September, 2004, McClain closed its three remaining plants and sold their assets to container giant Wastequip.
NOTE: McClain E-Z Pack products are also covered in the E-Z Pack album here at CRT



10/4/09
---

© 2009 Eric Voytko
All Rights Reserved
Photos from factory brochures/advertisements except as noted
Logos shown are the trademarks of respective manufacturers