Mazzocchia
Frosinone, Italy



1990 Mazzocchia Jolly 2 rear loader
&nbsp&nbsp&nbsp This company can trace its history to 1920, when Giuseppe Mazzocchia began building fine carriages for Italian nobility, and in later years brought his children into the trade. The current firm dates to 1968, when brothers Leuco, Giuseppe, Alfio and Mario formed Fratelli Mazzocchia at Frosinone. Products included trailers, tanks and quarry containers. 1972 brought the first refuse trucks, which quickly became the dominant product. The Jolly 2 rear loader was patented in Italy in 1984, and joined a range of smaller satellite vehicles. By 1990, the first side loaders were added, followed by an all-new rear loader designed by Giorgio Gasparini, creator of the Bergomi Bi-Pac, but with some distinct differences in the packer guidance. Currently the company is now solely owned by Alfio Mazzocchia and his daughters, and produces this complete range of refuse bodies as well as hooklifts and stationary packers.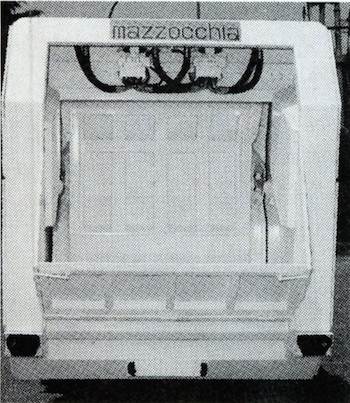 Packer blade of the Jolly 2





Jolly 2 used a large folding packer panel and four cylinders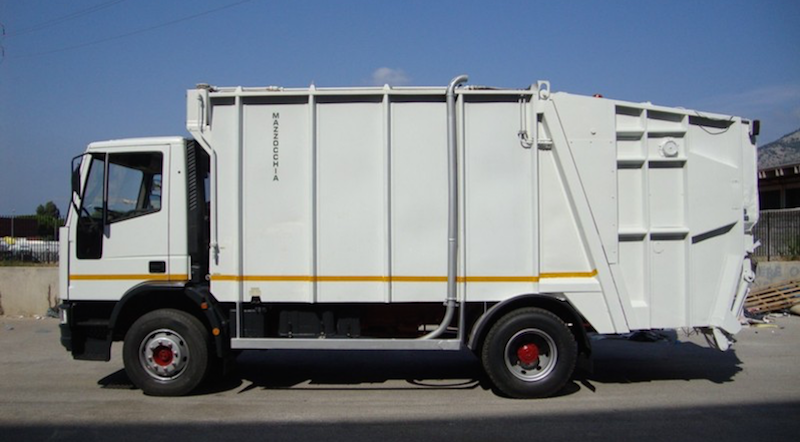 Later model Jolly 2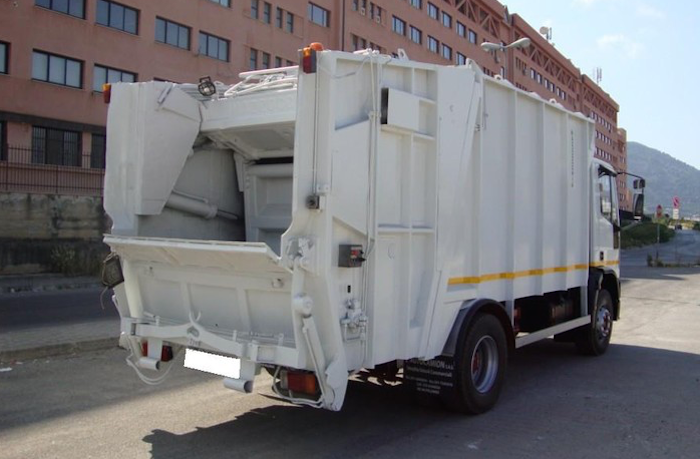 Rear view shows the Jolly 2 folding panel and packer cylinders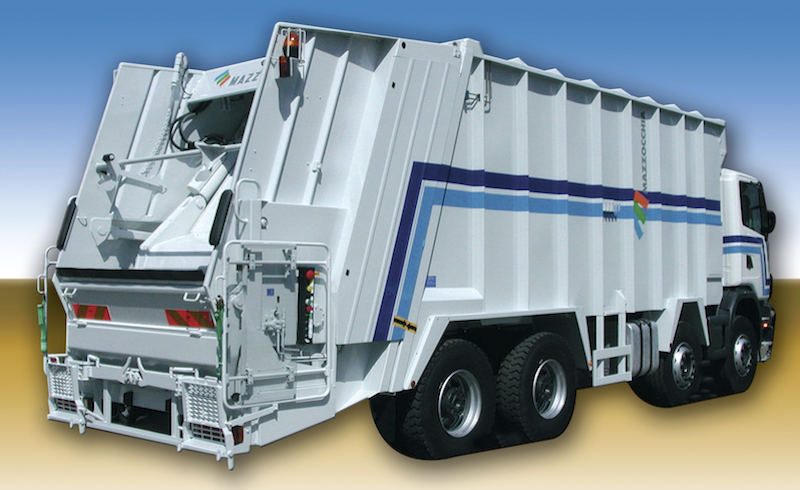 The Ecomac (now called the MAC1) uses a packer based on the Bergomi Bi-Pac system, with a short-stroking blade carried on swing links.
The difference is that Mazzocchia mounts the slide cylinders outside the tailgate, with slide tracks, whereas Bergomi has inside rams and upper links.






Drawings illustrate the upper slides used on the Mazzocchia, with slide cylinders mounted outside of the tailgate




Mazzocchia EcoMac/MAC1 on rounds (Video cortesy of xxxfabioxxx02)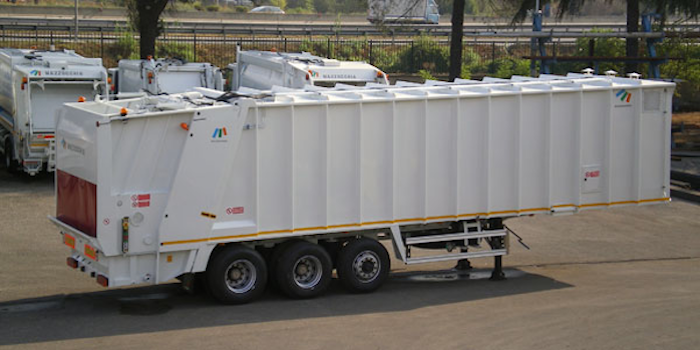 50m3 SMR MAC rear loader trailer has its own engine for mobile or site use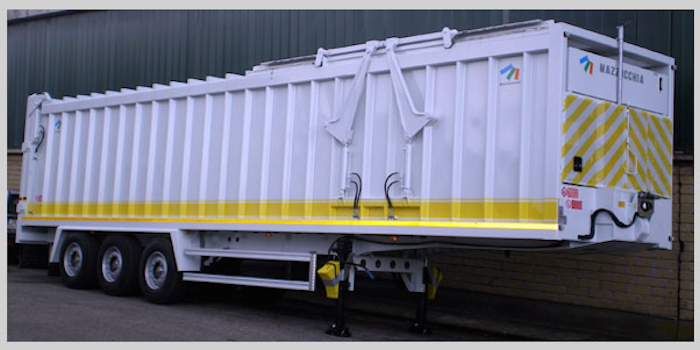 Mazzocchia also makes open top transfer trailers up to 60m3 capacity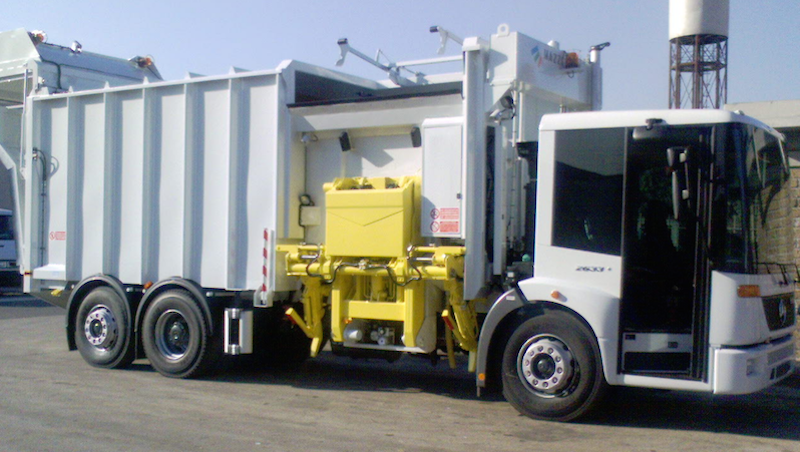 Side loaders were introduced in 1990, for residential or commercial collections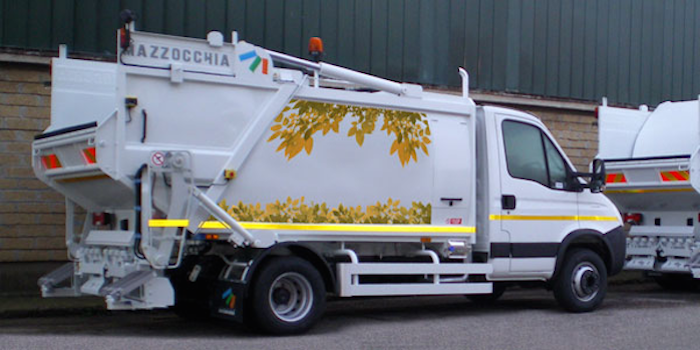 Jolly 1B satellite packer has ejection discharge for emptying into a mother truck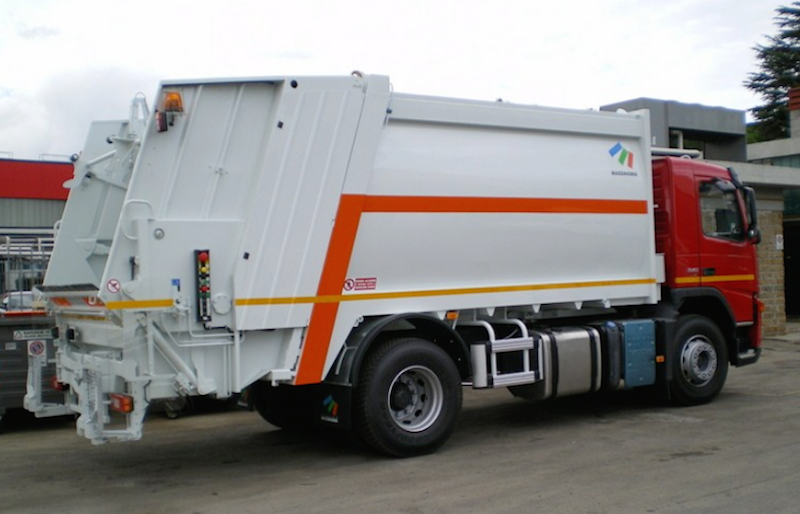 The MAC 2B has a modern curved-side body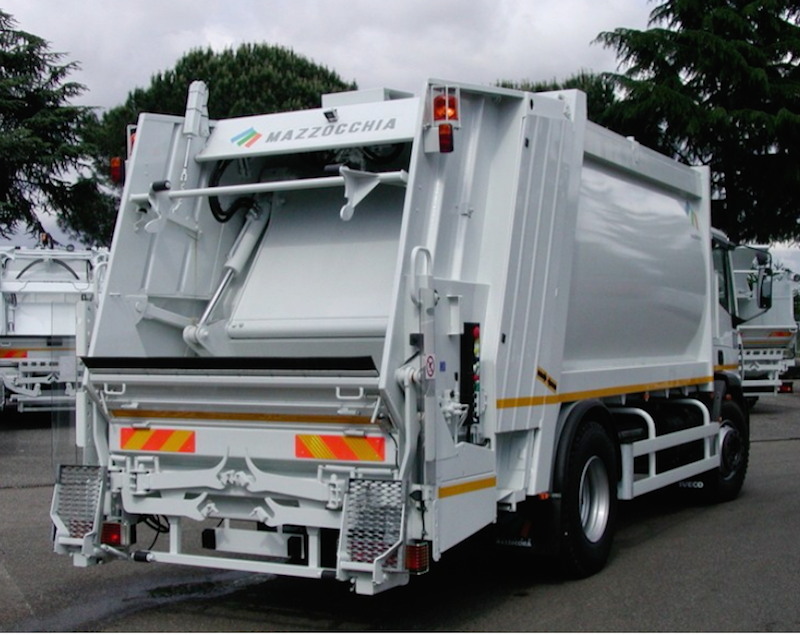 The MAC 3B rear loader comes in sizes up to 18m3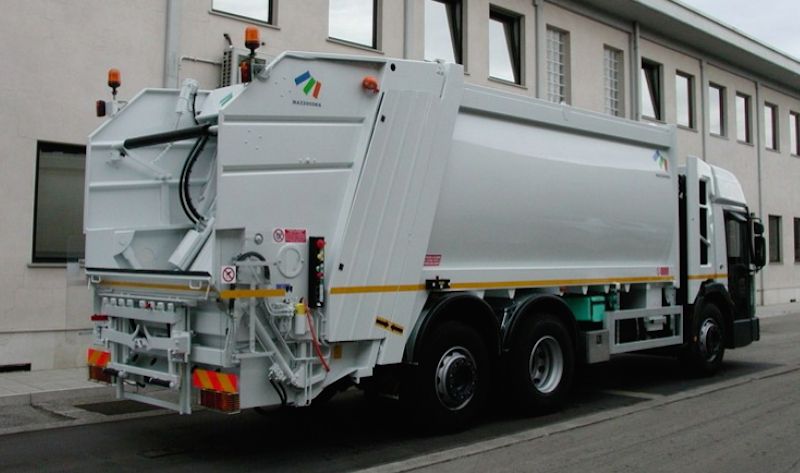 Heavy-duty MAC 2NB rear loader has body sizes from 20-25m3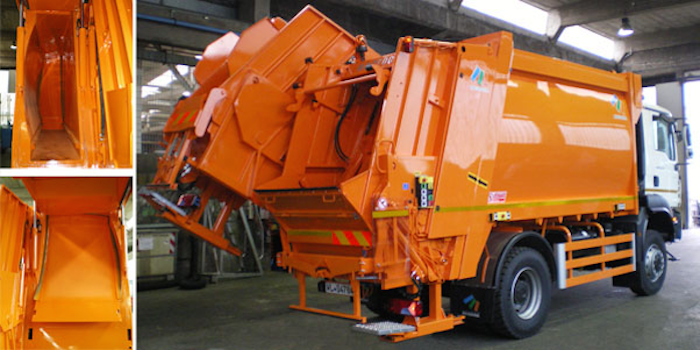 Split compartment MAC B Dual



Mazzocchia MAC3B (Video courtesy of EcomtechJSC)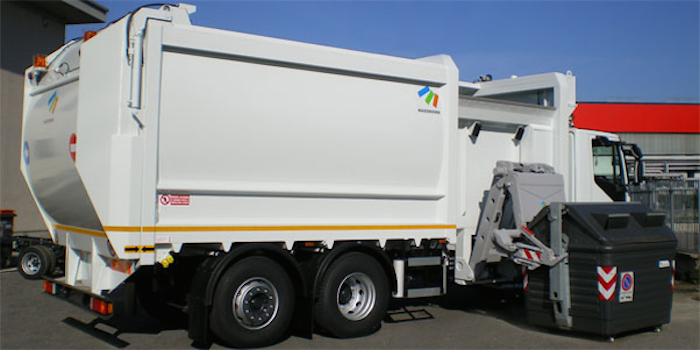 The LAT3 is the newest version of Mazzocchia's side loader
REFERENCES

U.S. Patent no. 4786228A, Mazzocchia Brothers, August 15, 1986 (Jolly 2 rear loader)

European Patent no. 0691289A1, Giorgio, Luca and Fillipo Gasparini, June 21, 1994 (MAC series rear loader)



9/4/17
© 2017 Eric Voytko
All Rights Reserved
Photos from factory brochures/advertisements except as noted
Logos shown are the trademarks of respective manufacturers