Shu-Pak
By Eric Voytko
&nbsp&nbsp&nbsp The name Shu-Pak refers both to a model of refuse truck body, and more recently to the sole company that produces it this day. The same basic body has been manufactured by a number of different firms over a period of more than fifty years with little variation, and has had a profound impact on the way residential refuse is collected.

&nbsp&nbsp&nbsp The Shu-Pak was designed by John M. Shubin of San Pedro, California in the late 1950s, and was unlike many of the refuse truck bodies then on the market in several respects. It is basically a side-loading packer truck with a shallow hopper just behind the cab, connected to a much taller enclosed body which forms the rear of the assembly. A plunger-like packing blade sweeps small batches of refuse from the hopper, and through a narrow opening in the front of the body. As more refuse is forced in, it piles on to what has already been loaded until the body is completely filled. It is derived from designs pioneered by Fernand Rey and Jacob Ochsner in the 1930s.

&nbsp&nbsp&nbsp Western Body & Hoist of Los Angeles obtained the patent rights to Shubin's design and, built the first models for sale around 1959 as the Shu-Pak. The Shu-Pak's arrival on the market was well-timed, coinciding with a population surge in California, and growing demand for efficient refuse service. It was here that Shu-Pak made its reputation, and would eventually spread to communities throughout the rest of the country. Its simple design resulted in a light body of high capacity, which carried maximum legal payloads. It was this combination of features that was increasingly demand, especially in a part of the country where truck weight regulations were rigidly enforced.

&nbsp&nbsp&nbsp Also a radical departure was Shu-Pak's use of a "drop frame" chassis modification, in which a standard truck chassis was chopped and lowered between the back of the cab and the rear axle. This allowed the hopper to sag down low behind the cab, resulting in ultra-low loading height which reduced operator fatigue. Though the hopper was small, it was constantly being swept clear by the reciprocating packer, which pushed it into the body, up an incline to floor-level in the main compartment. Refuse could be loaded even on top of the moving packer blade, which had a built-in follower plate. The follower also protected the packer cylinders from expose to refuse. To speed the digestion of unusually bulky objects such as cartons or brush, a swinging hydraulic crusher panel could be brought down whenever necessary to reduce their density and force them in front of the moving plunger.



Early Shu-Pak built by Western Body & Hoist Co, of Los Angeles


&nbsp&nbsp&nbsp The low loading hopper could be filled from either side, and its convenient location was optimized by modifying the chassis for stand-up drive with right-hand (curb side) controls. In this form, they were truly "one-man" refuse trucks which realized tremendous savings in manpower for many operators. Large fleets of Shu-Paks began appearing across southern California, in municipal and private services. Along with residential front-loaders, they began rapidly displacing the traditional rear load packer in this region of the country.

&nbsp&nbsp&nbsp Shubin was involved with patent litigation against rival S. Vincen Bowles, who had introduced their own Load-n-Pack drop-frame side loader around the same time. The two sides eventually called a truce by the mid-1960s, agreeing that litigation was counter-productive. Nevertheless, the Shu-Pak was alone atop the one-man side loader market by 1970, when Western Body & Hoist was bought out by Maxon Industries.

&nbsp&nbsp&nbsp Now badged as the Maxon Shu-Pak, U.S. production continued through the 1970s as Maxon Industries pushed the brand nationally. New customers were found in cities far from Los Angeles, including Detroit, Michigan and St. Petersburg, Florida. One-man refuse trucks appealed to more and more communities during the recession-plauged 1970s, as they looked for ways to maintain service and reduce cost.

&nbsp&nbsp&nbsp North of the border, Carter Brothers Limited of Waterloo, Ontario obtained the rights to build the Shu-Pak in Canada during the 1960s. By the 1970s, Belgium Standard Limited took over Carter Brothers, which continued to build the Shu-Pak at Waterloo. Meanwhile, in the United States, Maxon dropped the Shu-Pak from its product catalog in favor of their own side loader, which was simply branded as Maxon or Maxon Eagle.

&nbsp&nbsp&nbsp In 1985, the Shu-Pak production was transferred to Woodstock, Ontario becoming the Equipment Division of Amertek, Inc. Models were produced for both Canadian and American markets. Available body capacities were 25, 29, 33 or 37 cubic yards. Current operations are now out of Cambridge, Ontario as Shu-Pak Equipment Inc. Modern curved-shell bodies are now standard, an industry first for a side-loader, and a wide variety of split-body variations can be ordered for multi-stream collection. Chassis conversions to stand-up drive are also done at the factory.







Carter Bothers of Waterloo, Ontario built Shu-Pak for the Canadian market




Left: Carter Shu-Pak hopper showing crusher panel and mechanical-type control levers
Right: Dual-drive conversion allowed for stand-up operation of the vehicle on the route, and normal control during transport




Mid-70s Maxon Shu-Pak owned by St. Petersburg, Florida. Stand-up, RH drive gives operator outstanding visibility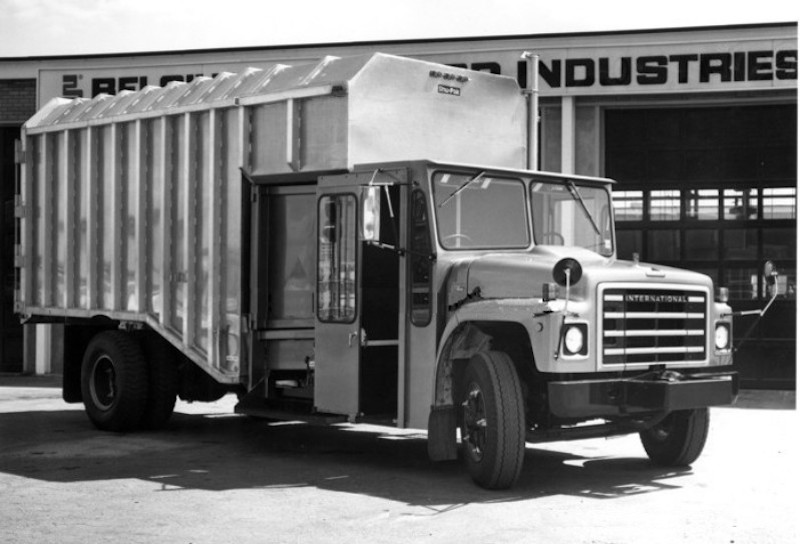 Belgium Standard Shu-Pak body from the early 1980s constructed of lightweight aluminum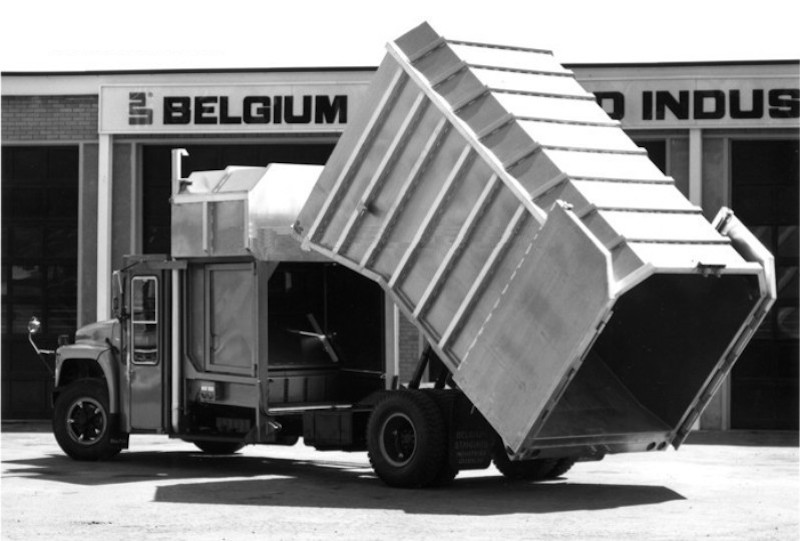 Body un-locks from hopper/packer to dump, Less weight hoisted results in better stability. Optional unitized versions were also available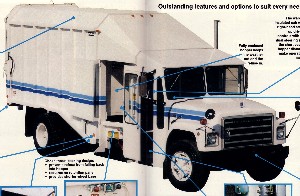 AMERTEK SHU-PAK

Click on thumbnail image above to see two-page Amertek features from 1986
Amertek Shu-Pak hopper and packer blade, without optional crusher panel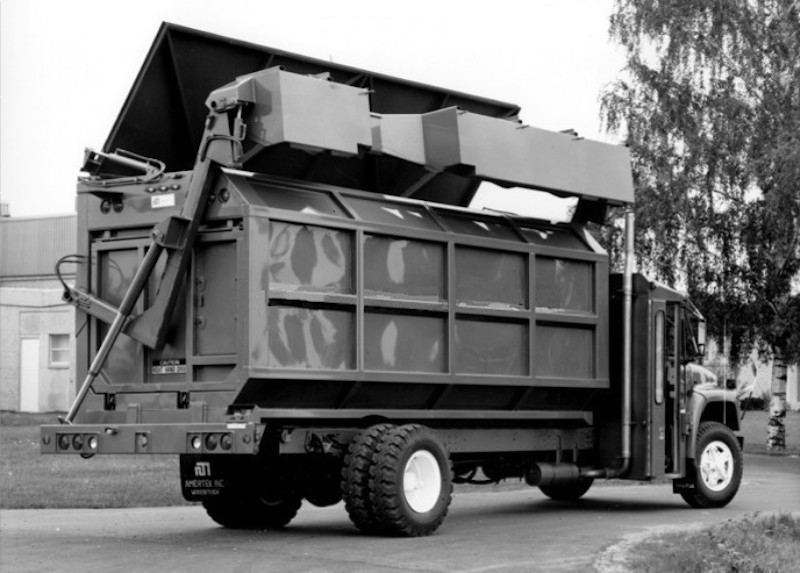 A 1980s Amertek bucket loader for multi-stream recycling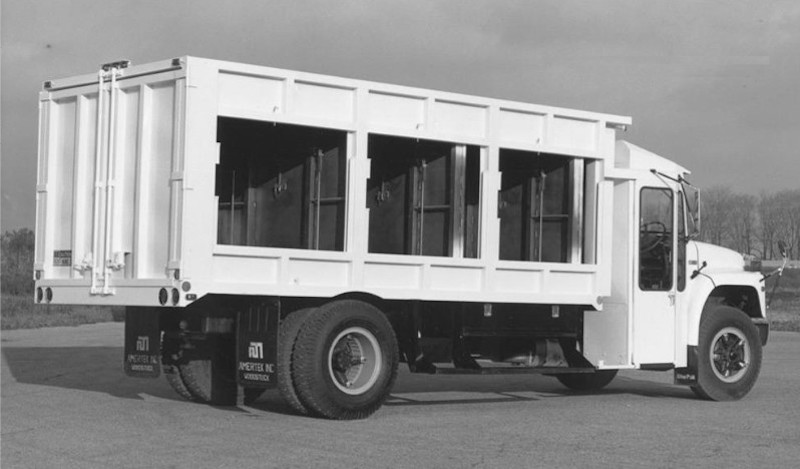 Hand-loaded Amertek compartmented recycling body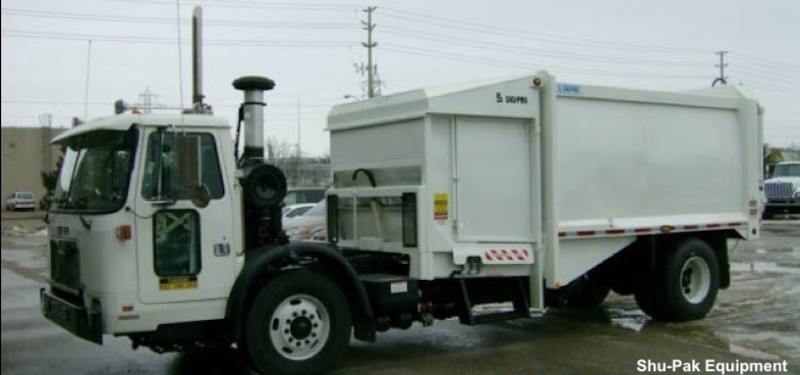 Curved-shell S109 from Shu-Pak Equipment combines renowned, rugged efficiency with beauty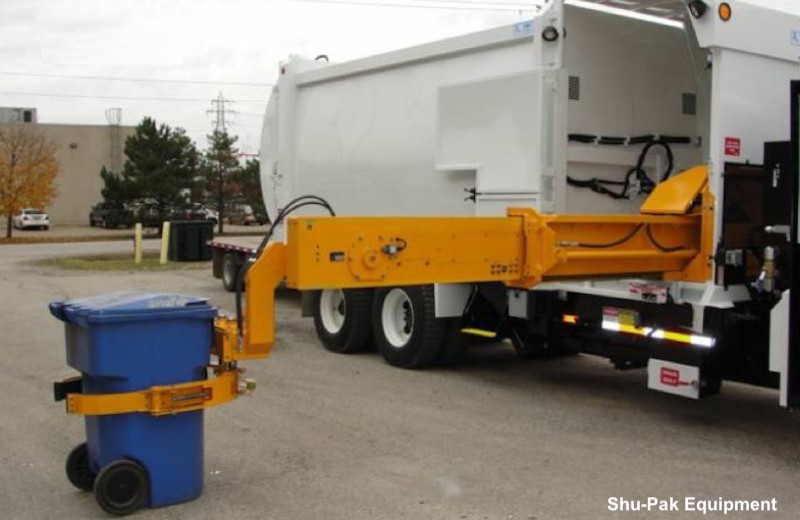 The modern P-K Flex is an automated side loader, but it's low loading height allows for easy hand-loading when necessary.
31 and 40 yard bodies are available in single or split stream configurations.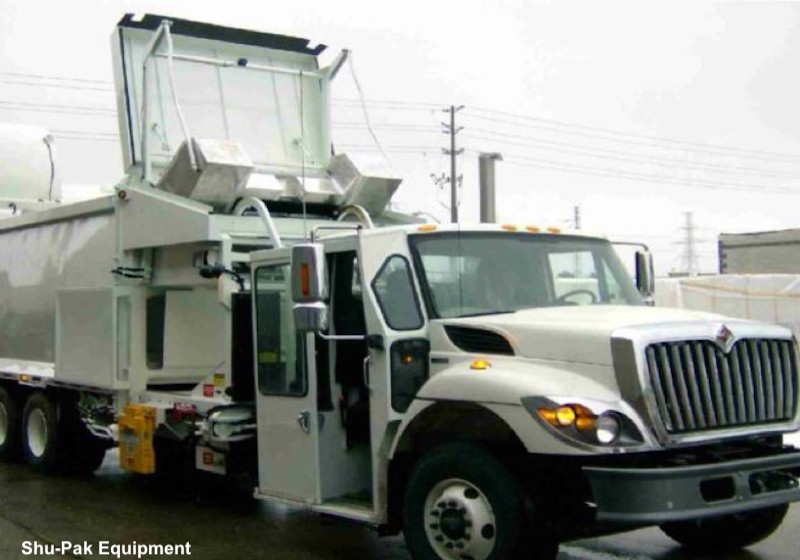 The Pac-King III is a three-stream packer, with two vertically-split high-compaction compartments below, and a full-width top compartment that has its own medium-duty packer
See Also: Carter Brothers, Western Body & Hoist



1/6/13
---

© 2013 Eric Voytko
All Rights Reserved
Photos from factory brochures/advertisements except as noted
Logos shown are the trademarks of respective manufacturers