Towner Mfg. Co.
Santa Ana, California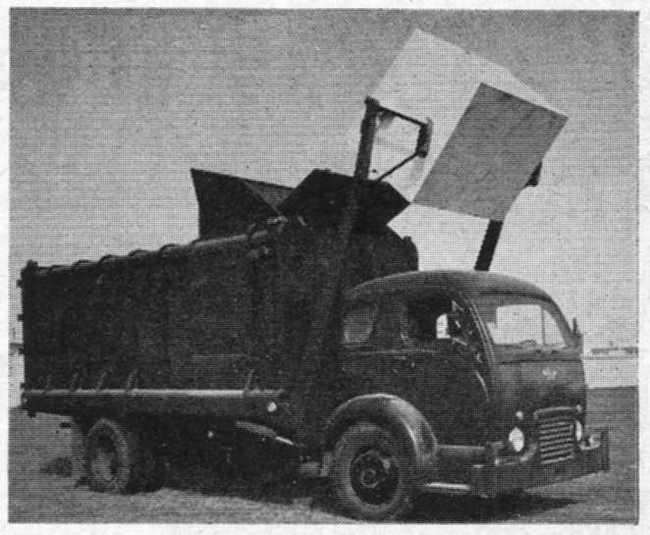 &nbsp&nbsp&nbsp The Nu-Way Pak Sanitary Van, part of the Nu-Way Rubbish system, was made by Towner Mfg. of Santa Ana, California. Though technical details, as well as patent information remain elusive at this time, it is known that this front loader featured a full-hydraulic packer plate exerting 24,000 pounds of force, making this perhaps the world's first modern front loader. I say this because this photograph (the lone image of this rare truck) was taken no later than December, 1955. Only the early Bowles hydraulic packer possibly pre-dates the Towner. Dempster did produce front loaders in mid-1955, but used existing mechanical packers (such as Pak-Mor and Packa-Van) until sometime in 1957.

&nbsp&nbsp&nbsp Going back in time to the 1950's, we would find backyard incinerators were once the most common method of disposal for combustible rubbish in the Los Angeles area. Their abolition due to smog regulations, and a burgeoning population undoubtedly sparked the "golden age" of the SoCal refuse disposal and truck body industries in the 1950's and 1960's. At the request of local smog-control authorities, the Truman Boyd Manor housing project in Long Beach stopped their practice of burning refuse in multiple incinerators. They chose the locally-built Towner system to provide refuse removal for the 1,000 families living there. One truck serviced 38 containers of 2-1/2 cubic yards capacity at the project. Looking at the photograph, The lift arms look conventional for their day, but the coupling method for the containers is unlike the fork designs which were far more common. This unusual (and incompatible) coupling method may explain why the Towner never 'broke through' in the competitive truck body market of the late 1950's and early 1960's.

&nbsp&nbsp&nbsp Towner Mfg, from what I have found so far, is better known for their farm tractor implements, most notably disc harrows, for which the firm held several patents. They were also known to be a contract supplier of these attachments for the Ford Motor Company, who manufactured compact tractors. With some of the largest orchards virtually in their own backyard, Towner was well positioned in their field. Their venture into building refuse bodies might seem unusual, except for the changing refuse disposal methods and population growth of Southern California that occurred after the second world war. As orchards and farms gave way to housing and businesses, switching to refuse trucks would seem like a good way to survive in changing times.

&nbsp&nbsp&nbsp What ever became of the Nu-Way System, or of Towner is not known. Looking at Google Maps, their factory at 2111 West 17th appears to be gone, replaced by apartments. Gone also are the orchards...and even the Santa Ana River is almost gone, having been reduced to a trickle by an upstream dam. However, they have a good claim to having built the first hydraulic-packing front loader, a true modern marvel and universal throughout the world. If this bears out, it would be no small achievement for a small implement manufacturer from "out in the sticks" of Orange County.

TOWNER DEMO PICTURES
&nbsp&nbsp&nbsp The photos below were recently discovered among the photo archives of the S. Vincen Bowles Company. These magnificent images may be the best remaining evidence of the Towner front loaders, and offer a clear look at the machine going through a lift and dump operation. One can not help but notice how modern the body of this truck looks for 1955!
Special thanks to R. Duane Bowles for making these photos available

and also to Bill Tetreault for scanning them for CRT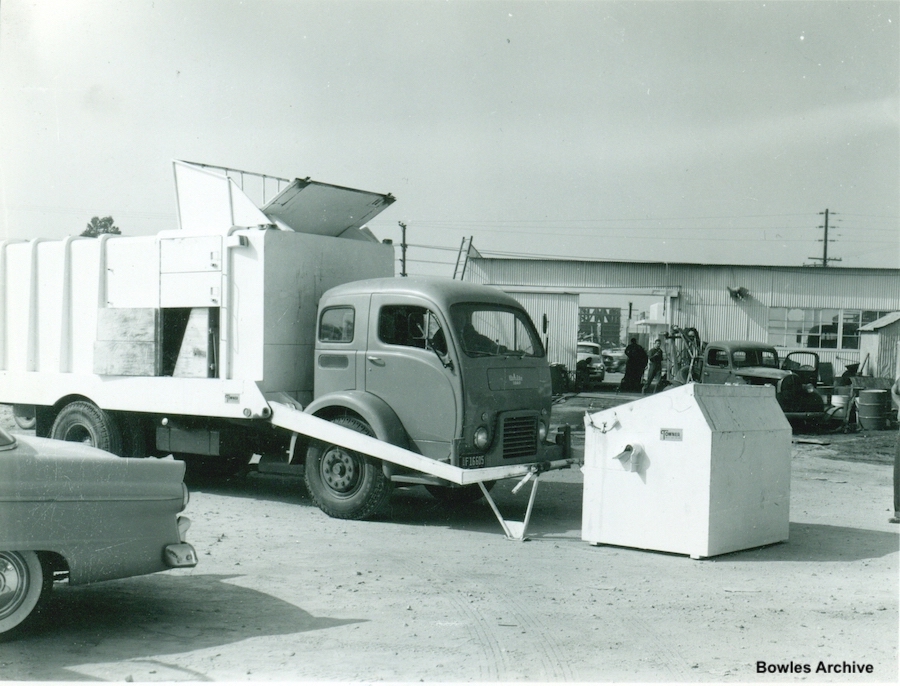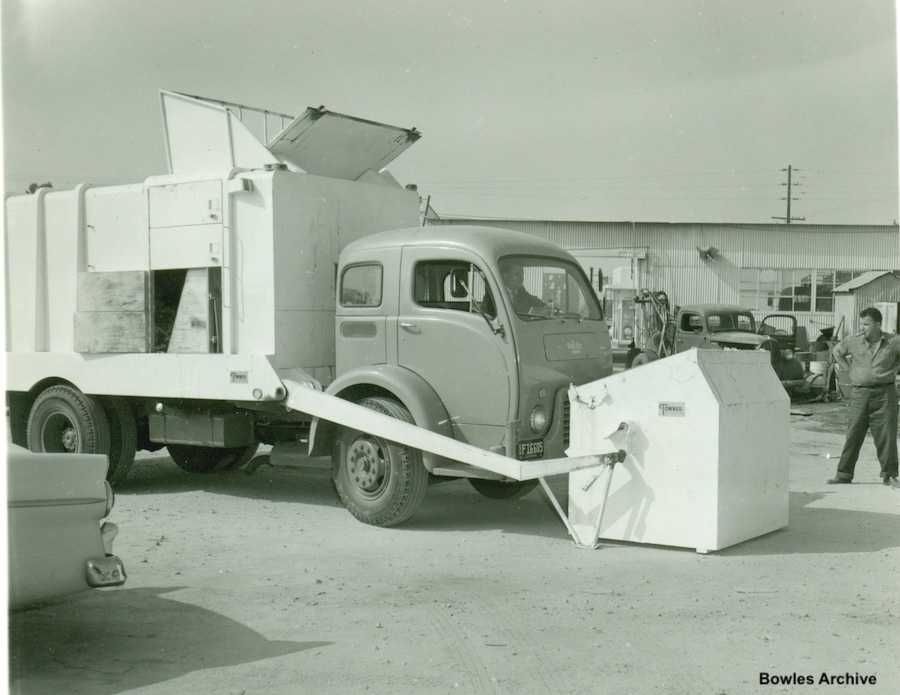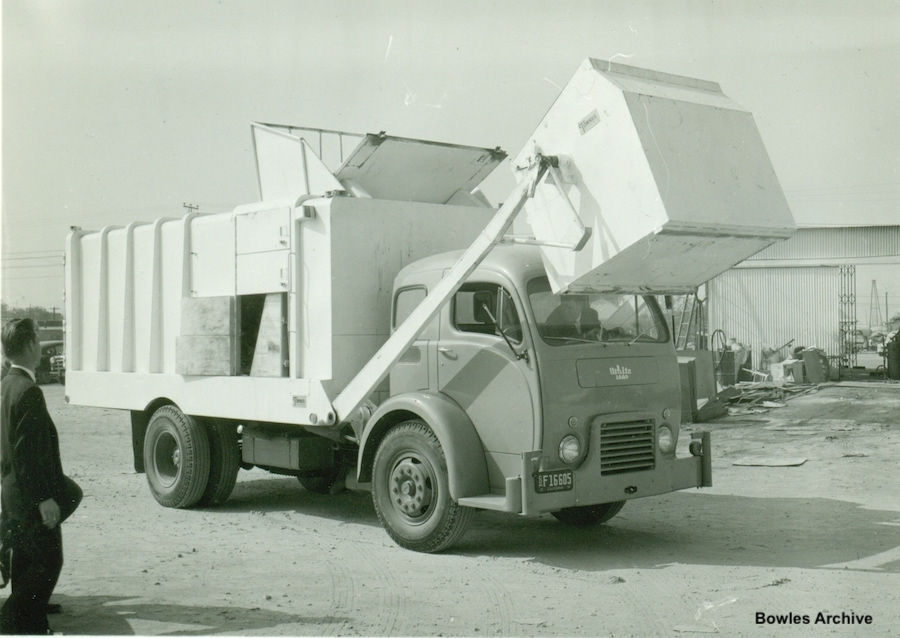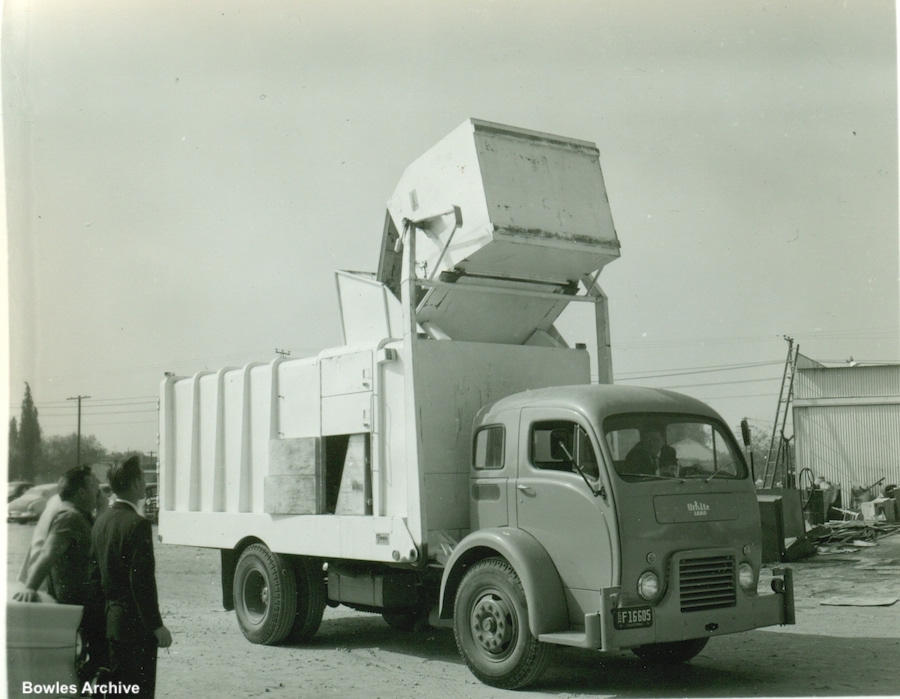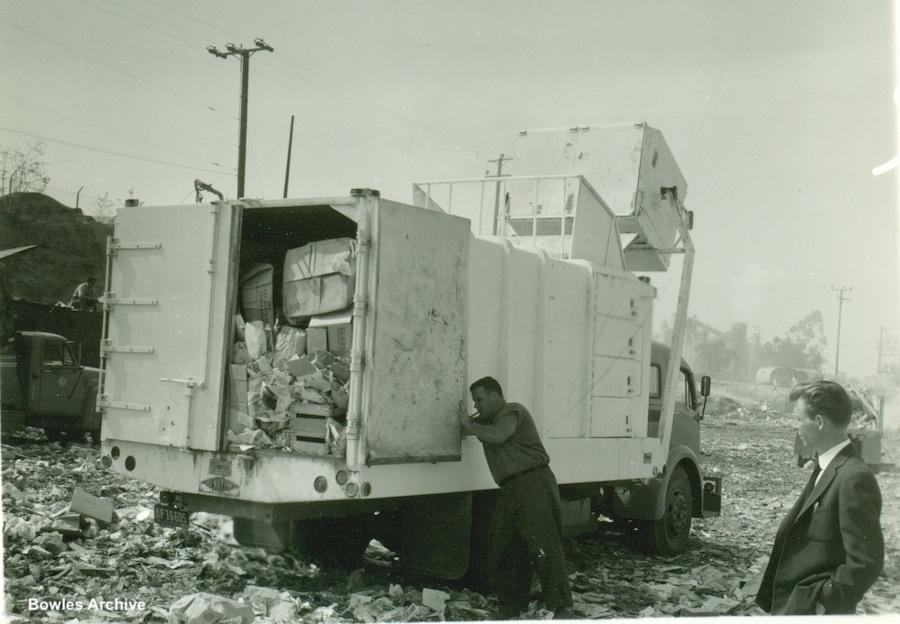 Towner front loader seen in an episode of the TV show "Leave it to Beaver"






1/6/08 (updated 10/4/09)
---

© 2008 Eric Voytko
All Rights Reserved

Logos shown are the trademarks of respective manufacturers
Photos from factory brochures/trade advertisements except as noted