REFUSE TRUCK CONVERSIONS and MODIFICATIONS

by Eric Voytko
&nbsp&nbsp&nbsp As well constructed as they are, refuse trucks are often retired by their original owners long before their useful life has ended. Some municipalities regularly replace equipment after a period of time regardless of its condition. In other instances, it may be desirable for fleets to standardize all their equipment on a more up to date model.

&nbsp&nbsp&nbsp Used refuse trucks are most often "recycled" in one of two ways. Late model used equipment is typically re-sold by truck dealers. Wrecked, worn out and obsolete trucks usually find their way into salvage yards, and eventually are reduced as scrap. However, what follows is a selection of vehicles that with some ingenious modification found a new lease on life, even after being decommissioned from the hardship of refuse service. A few were actually still in service, but modified to meet the demands of the locality. Most of these were done in the 1950's and 1960's, though there is one example from the 1980's. They are a testament not only to the durability of the equipment, but also to the ingenuity of the men who maintained them.

&nbsp&nbsp&nbsp Most of these appeared in American City Magazine, and were submitted by municipalities, justifiably proud of their thrift and ingenuity. Maybe you have seen one of these, or a similar modification to a refuse truck in your hometown. So, without further ado, here are refuse truck conversions at Classic Refuse Trucks: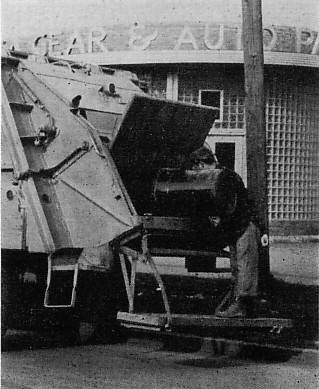 Gar Wood Load Packer
Modified with rear step
Rome, New York 1949


Rome's use of heavy duty Mack trucks which doubled as snow plows resulted in a high hopper height on their Gar Wood bodies, which had a relatively high height to begin with. This simple, folding rear platform was made of lightweight steel mesh and somewhat resembles steps used on British refuse trucks of that era. In this particular city, one man typically remained on the step and received cans handed to him by ground crew.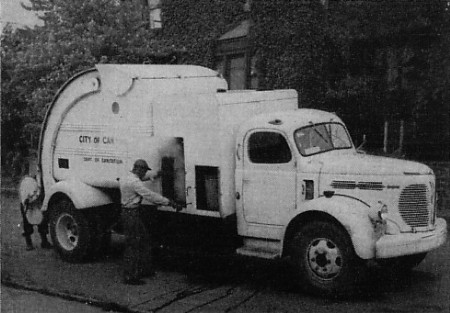 LEACH REFUSE GETTER
With steam cleaner for cleaning cans
Canton, Ohio 1951


Canton's long-wheelbase Reo trucks mounted a steam cleaner apparatus between the cab and the Leach bucket loader body. Can cleaning and sterilization was more of an issue in the days before plastic bags, particularly on routes where garbage was collected separately.

This was one of eight used by the city of Canton, who did the modifications in-house. The steam cleaner had its own auxiliary gasoline engine, and could also be used to thaw frozen cans during cold weather.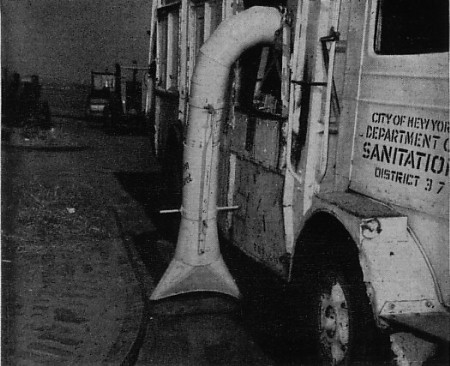 GMC TRUCK WITH ENCLOSED BODY
With suction sweeper added
New York City 1951



These enclosed, non-compaction bodies were ordered by the hundreds in the late thirties and early forties, but by 1951 the city was going more and more to packer bodies for refuse collection. This classic GMC refuse truck has been fitted with a vacuum sweeper for leaf collection in the outlying areas in the city. This was an experimental project carried out by the vacuum manufacturer to demonstrate the effectiveness of the device for the job. With a right-hand vacuum nozzle and left-hand drive truck, this vehicle would have been difficult to operate on a regular basis for this purpose.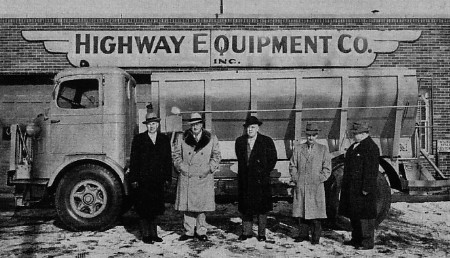 GMC TRUCK CHASSIS
Converted to spreader
New York City 1953


Another of the famous NYC fleet, converted from refuse truck to salt spreader. This is one of thirty conversions done by Highway Equipment Company of Cedar Rapids, Iowa. Truck may have originally been fitted with an enclosed body (like the one shown above) or possibly a Kurtz Conveyor loader. Officials from the Department of Sanitation and Comptrollers Office pose with company representatives.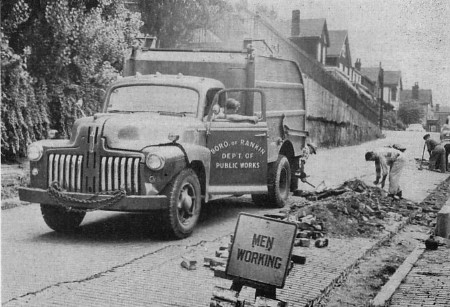 St. PAUL PAX-ALL
In use with Highway Department Crew
Rankin, Pennsylvania 1954



These St. Paul bucket loaders were so efficient at collecting refuse that they were available to the highway crews for hauling heavier material. Though a novel idea, this type of use is extremely hard on refuse equipment, and probably was not common practice due to wear and damage concerns.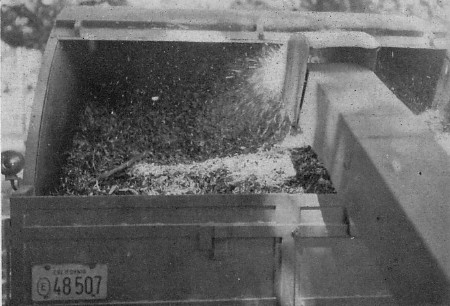 HEIL COLECTO-PAK
Converted to wood chipper body
Sacramento, California 1958



By simply removing the bucket, lift arms and rear door, one of Sacramento's old Heil bodies made an excellent companion to the new Asplundh wood chipper purchased by their Parks Department. The hoist dumping body would have made for easy unloading.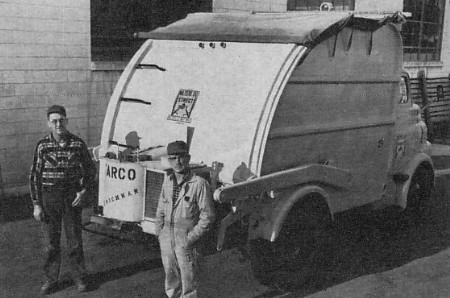 HEIL COLECTO-PAK
Converted to salt spreader
Waterloo, Iowa 1959

These Colecto-Pak bodies on Dodge cabover chassis were actually featured in a Heil magazine ad when new in the late 1940's. A decade later, three of them had been retired from refuse collection duty and sent to the streets department. One had most of its bodywork removed and carried a liquid sprayer rig, while the other two were converted by the city into salt spreaders. Modifications included addition of a rearward sloping, galvanized "false bottom" floor to help keep material flowing to the rear mounted Tarco spreader units. The body hoist was also utilized to aid in moving the salt rearward. Capacity after modification was five cubic yards, and the enclosed bodies limited exposure of the salt to weather, which can cause caking.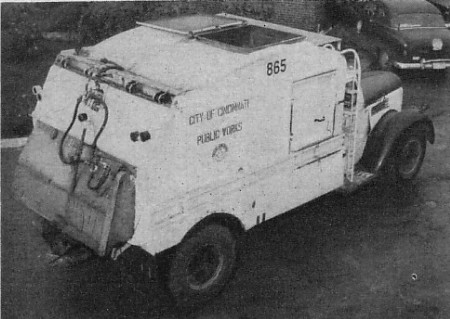 GAR WOOD LOAD-PACKER
Converted to salt spreader
Cincinnatti, Ohio 1960

For a total cost of $400.00, city employees converted this 15 yard 1947 Load-Packer into an effective ice control unit. The tailgate packer mechanism was replaced with a custom enclosure to which was fitted a Century hydraulic spreader. The Gar Wood hydraulic pump and piping was retained and more than ably powered the spreader motor and the body hoist. A top mounted filling hatch was also fitted with a debris screen.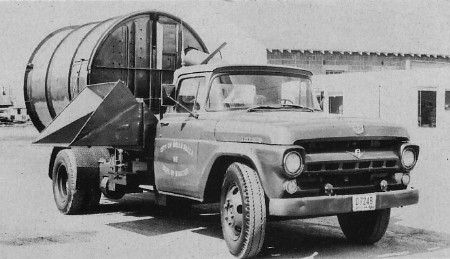 PAK MOR SIDE LOADER
With chipper added
Walla Walla, Washington 1964

A very ambitious undertaking was the addition of this Asplundh trailer-mounted chipper to a 1957 Pak-Mor I-series side loader. Turned sideways and mounted between the cab and the body required a considerable amount of changes to both pieces. The result was this dual-purpose truck available for spot-collection and missed stop refuse service, while also being on call for brush removal. The loading chute for the chipper was hinged and folded up during transport.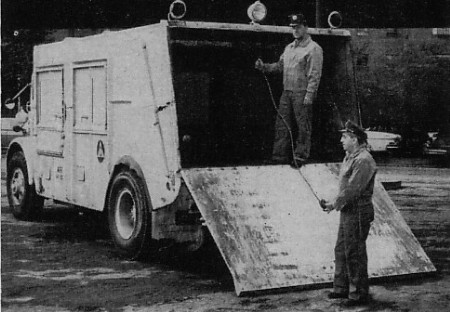 UNKNOWN ENCLOSED REFUSE BODY
Converted to carcass remover
New York City, 1964


This animal hearse was probably on an Autocar chassis, and is among the type so popular with city during the 1930's and 40's. It was used to remove animals that died on city streets, parks and zoos. The addition of a ramp-type end gate and a heavy duty winch enabled the vehicle to haul large animal carcasses such as horses, of which the city still picked up an average of four per week even in 1964!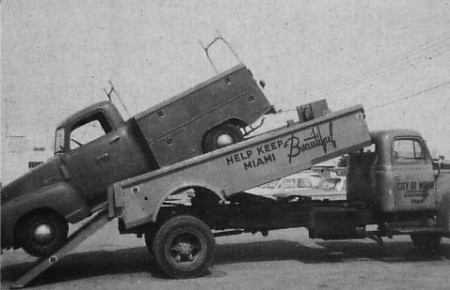 GAR WOOD LP-500
Converted to car hauler
Miami, Florida 1967



This relatively simple modification to a former rear load refuse packer was one of two converted LP-500's used to clear derelict vehicles from city streets. A precursor to the modern "roll-back" wreckers which have become so popular in recent years.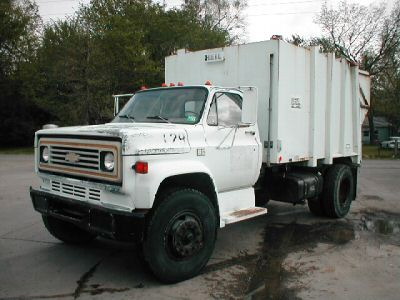 1983 HEIL FORMULA 4000
Converted to wood chipper body



Even in modern times, refuse trucks still occasionally find a second life. This ejection unloading body, sans packer tailgate, appears as if it made a fine hauler for shredded tree and brush debris.



5/7/06
---

© 2006 Eric Voytko
All Rights Reserved
Photos from factory brochures/advertisements except as noted
Logos shown are the trademarks of respective manufacturers