---
(January 16, 2016)
&nbsp&nbsp&nbsp Three excellent new pictures have been added, courtesy of Ronnie Keshishian, which I will post here now, as well as adding them to their respective albums.


&nbsp&nbsp&nbsp The Silencer was the trade name of a quiet-running hydraulic pump developed by Fred Smith for Gar Wood. The decibel levels on an LP-720 are being tested in this 1972 photo. This truck is probably one of the last original-style LP-700s, which were replaced by the LP-700-9 series soon thereafter. Truck is an International Cargostar. I once worked on truck exactly like this, except for the container kick-bar....wishing I had one like it today!


&nbsp&nbsp&nbsp Next is a Dempster Route King II working for BFI in 1985. From what I observed here in the Washington, DC area, Dempster was indeed "king" when it came to the national accounts. WMI, BFI and AAA Disposal had large fleets of them. BFI of Northern Virginia used the RK-II in 20-yard form on Ford F-850s converted to right-hand stand-up drive.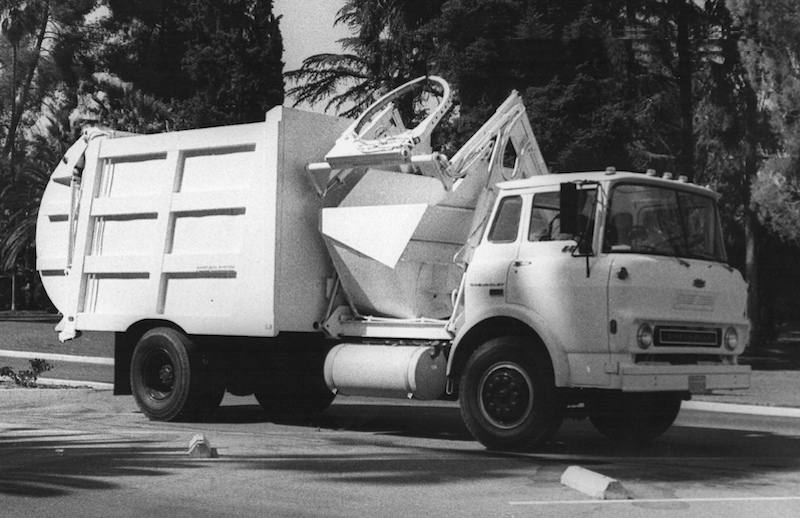 &nbsp&nbsp&nbsp This unusual-looking truck is one the earliest ASLs, a Rapid Rail Gruncher. This unit, mounted on a Chevrolet tilt-cab, was one of their first attempts at marketing a complete packer-loader assembly, and was featured in a 1978 advertisement. Rapid Rail's automated lift arm was mated to the Wayne Gruncher, which used a corkscrew compactor much like the Swedish Norba system. Wayne Engineering also sold a rear-load version of the Gruncher.

&nbsp&nbsp&nbsp Actually, there is no Rapid Rail page at CRT at this time. However, I've created a temporary "under-construction" page for this brand, so that it may be easier to reference.


---
(January 10, 2016)
&nbsp&nbsp&nbsp Still working on the Heil album, and in researching their conveyor-loader, I ran across the gem which is featured on the home page, the Automatic Truck Loader. I had been aware of the patents for this truck for some time, and while I suspected it had actually been built, no evidence had ever been found to support the hunch. These pictures definitively prove the existence of at least one example. They were digitized from photographs in the Library of the New York Academy of Medicine, which campaigned to improve public health in the 1920s and 1930s through modernizing the City's sanitation trucks. These photos show one of the earliest mechanized refuse trucks ever built in the United Sates. This truck was also the forefather of the New York City escalator-loader design which would arrive in 1937, and the similarities between the two are striking.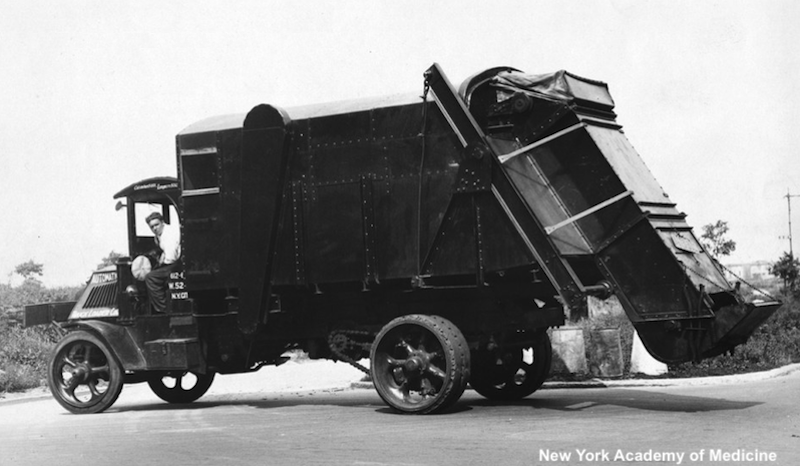 &nbsp&nbsp&nbsp This is indeed a rare treat, to uncover a refuse body design of such historical significance. Mack Truck fans will also take pride in knowing that it was a Bulldog pulling this pioneering wagon; how little some things change in the refuse industry! I won't go into more detail here, but instead refer you to a short article I have written on what is known of this truck and its inventor, one Joseph Goodman of New York. I believe the casual reader and enthusiast alike will enjoy this rare look at the "missing link" in the story of the escalator/conveyor loader, which was so pivotal in modernizing the way municipalities collected refuse.

The article has been added as an entry to the CRT Refuse Body Database


---
(December 27, 2015)
&nbsp&nbsp&nbsp A belated Merry Christmas, and my regrets that I have no new albums posted. The fast pace of new posts this past summer and fall slowed during the creation of the Haller album, and has now ground to a halt. The reason is that Heil is now in full swing, but will not be posted until it is complete. I've spent most of the past two weekends just working on ATIA and Colecto, which has been time consuming. Colecto is Heil-related, while ATIA is not, but the latter had to be included in the Heil album for reasons which will soon be apparent. Both companies were among the first refuse body builders in America, and their histories have been almost forgotten over the 75 years since they ceased operations.

&nbsp&nbsp&nbsp So as not to come here empty-handed, I have two pictures to share, one new and one old. The old is courtesy of Chris Richards, who sent a picture of an old truck he used to see in his travels to New York City. It is an Autocar Construktor with an unknown-make roll-off owned by Red Ball Demolition. What makes this one so unusual is the Lodal Load-a-Matic lift arm attachment, with their patented triangle coupler. In addition to using them on their own front loader body, Lodal sold these lift arms as a "bolt-on" attachment. Like many of you, I have been enjoying all of the recent YouTube videos of NYC demolition trucks, mostly Load-Masters and 2Rs (and a related article was recently published by Zachary Geroux in Waste Advantage magazine). This is yet another example of the creativity of NYC's private cartmen in designing their own specialized equipment.


Photo courtesy of Refuse Truck Photography
&nbsp&nbsp&nbsp The other picture is not old or rare, and is in fact a publicity photo released by Heil last June. You don't need to a vision check, it is indeed a "Route King" with Heil badges. This is their new Mini Rear Loader, and it looks a lot like the Lil' Boss, an 11-yard body made by Currahee Waste Products since 2011, and based on the old Dempster Route King II design. A quick check of Currahee's website gave no information of any collaboration with Heil, but it would appear that we may hear an announcement soon.


---
(December 12, 2015)
&nbsp&nbsp&nbsp Three new pictures added the Buca album, courtesy of Sjef van Lierop. Apparetly, Buca made their packer in convertible form, whereby the top and tailgate could be removed to make it a standard tipper. (see BODY DATABASE on the left-hand control panel of this page)

&nbsp&nbsp&nbsp Unfortunately, there was no update last week due to time constraints. The next two months will see more of the same, so please bear with me. Two new trucks trucks have been added to the growing RESTORED TRUCKS section, both owned by Sunrise Sanitation Service of Oregon. These are a pair of true classics. There is a Hesston Pak-Rat MSL of 1970s vintage, before Martco took over production of that body. Even better is the Gar Wood LP-925 on a Kenworth LCF with a Detroit two-stroker; could this be the ultimate classic truck, or what? Looking forward to seeing much more of these two, and will post more pictures as they become available.


---
(November 28, 2015)
&nbsp&nbsp&nbsp The final chapters of the Haller album have now been posted, covering the X-series rear loaders and the last of the Hallers. I also added some pictures of bin washer trucks to Chapter 3. I am still amazed how little Haller history can be found, particularly on the website of their new owners. Thankfully, CRT has now remedied that. Sincere thanks to Michel Ferro. Without his photo collection, this would have been a much smaller album. (see BODY DATABASE on the left-hand control panel of this page)


---
(November 22, 2015)

GEORG REAR LOADERS
&nbsp&nbsp&nbsp I now have my good flatbed scanner running again, and have replaced poor quality images of Loadmaster in the Glover, Webb and Liversidge album (Chapter 1). Also replaced the photo of the Georg Hakenlifte, and added four more from a 1990 Georg brochure. The rear loaders (shown below) are most interesting, being previously unknown to me. The one on the left may be a Georg design, and looks similar to other German designs of the period from FAUN, Haller, and Schörling. The one on the right is a bulk loader, and is clearly a variation of the American Pak-Mor R300 tailgate design of the 1970s/1980s.
(Note-Martin Nilsson correctly identified the Georg on the left as being a re-badged Norba Ki11)
---
(November 20, 2015)

BACK IN ACTION!
&nbsp&nbsp&nbsp Classic Refuse Trucks is up and running again, with 20 new images in the Haller album. New chapter #8 covers the Kompakt Müllwagen (or Compacting Refuse Truck) introduced circa 1966, and the first of the full-ejection Hallers. (see BODY DATABASE on the left-hand control panel of this page)

&nbsp&nbsp&nbsp After a painful transition to a new PC, things should get back on track again after a long hiatus. Much of the downtime was spent getting familiar with the new equipment, which was over seven years old. Computer-wise, it has been much like going from a 1956 Gar Wood Load-Packer to an LP-900. Having bypassed several intervening operation systems, almost nothing worked on the new unit without a lot of tweaking. I have been practicing during this time by updating past issues in the CRT Archive, which have now had all of their broken links repaired and missing photos restored.

&nbsp&nbsp&nbsp Still a little more to come from Haller, and the amazing collection of Michel Ferro, and then it will be on to the rest of the H's.


---
(November 1, 2015)

SICK COMPUTER... &nbsp&nbsp&nbsp...it just won't start. The "CRT Mainframe Computer" died last Friday, after over seven years of reliable service. Seriously though, I am referring to my own desktop PC on which I edit and upload the site, which has either a bad power supply or PRAM issues. I have backup files, but the process of transfer to a new PC looks to be painful. I have a temporary unit (on which this message was sent) in operation, and am again able to get online again. My email is out for the time being, but should be operational very soon. Please bear with me during this (hopefully) short delay in getting Classic Refuse Trucks back in normal operation condition.


---
(October 24, 2015)

MISSING LINKS &nbsp&nbsp&nbsp Along with overhauling the Refuse Body Database, I have been doing much repair work to the 'mechanics' of this website, the behind-the-scenes HTML code which lies beneath what you see and read. Numerous broken web-links resulted from my re-organization, which is needed to help me post thing efficiently. Today, I have completed the move of all remaining manufacturer albums and pages from 'Photo Albums' to the REFUSE BODY DATABASE, and have cleaned up many dead links. A lot of work remains, particularly in the Archives, but that will be given a lower priority.
&nbsp&nbsp&nbsp Unfortunately, no new Haller photos this weekend (again), but I may try to post another page on Sunday, or perhaps during the week, time permitting. However, I do have an update for COLLECTORS CORNER, with 13 images of Pete DeRose's latest model of a 31-yard Leach Packmaster. (Click here to go directly to the new page.)


---
(October 18, 2015)
&nbsp&nbsp&nbsp A new image has been added to the Pak-Mor album. This is a color image of a 1950s I-Series side loader, sent in by Ronnie Keshishian. Ronnie believes this was taken in Denver. Full-color images of refuse trucks from this period are extremely rare, and this is one good looking truck done up in high-visibility yellow.




&nbsp&nbsp&nbsp This next image was found on eBay, a Gibson Pendulum from the 1960s, with a large-capacity body and a six-man cab. The make of the truck, with its unusual styling, seems familiar to me, but I can't seem to pin it down. Anyone have any ideas who made the truck? Dennis? Albion?




&nbsp&nbsp&nbsp Next up, from From Russia (by way of George Lanoszka) check out these classic trucks still in service. A pair of old Ochsner-type packers, of unknown Russian manufacture. These "inverted drawer" packers were wildly popular throughout Europe from the 1930s through the 1970s, and these look close to 1960s German versions such as made by M-A-N. It's good to see some of these surviving, and hopefully we might get some video of the packer in operation some day.


&nbsp&nbsp&nbsp No other updates this week, but I should resume the Haller album next weekend.
---


(October 10, 2015)
&nbsp&nbsp&nbsp Phase Three of the Haller album has been posted, new chapters 6 and 7 covering the Magirus-Deutz M10K continuous-loading refuse bodies (25 images), plus one new image added to chapter 3, of a Haller de-mountable refuse body (see BODY DATABASE on the left-hand control panel of this page)


---
(October 4, 2015)
&nbsp&nbsp&nbsp Phase Two of the Haller album has been posted, new chapters 4 and 5 covering the Magirus-Deutz M-Series (25 images), plus two new images added to chapter 3, of the Magirus-Deutz D-type cabover (see BODY DATABASE on the left-hand control panel of this page)

&nbsp&nbsp&nbsp A difficult assignment this weekend, but a fascinating one. From a large group of unsorted factory photos, I had to put together a comprehensive history of the Magirus-Deutz M-Series Müllwagen. There is almost nothing about these models to found on the World Wide Web, but I lucked upon some patents assigned to the parent company (Klöckner-Humboldt-Deutz) and some key Haller literature that helped give a fairly accurate story, to the best of my knowledge.




&nbsp&nbsp&nbsp Magirus-Deutz is of course, a well-known truck manufacturer, and pioneer of the air-cooled Deutz diesel engine. They were also heavily involved in the special vehicle body market, which resulted in these refuse truck bodies being designed. I am relatively sure that these were in fact built by Haller, for reasons explained in the new chapters, which is why they are included here. If information to the contrary should surface, I will consider moving these models into a Magirus-Deutz page in the future.

&nbsp&nbsp&nbsp Not included here is the 1950-51 Magirus-Deutz bucket loader, for which I have found the patent, and possibly some photos. However, I am not sure if Haller had any involvement with this project, so it will appear later as a Magirus-Deutz model.

&nbsp&nbsp&nbsp One more unusual Magirus model is on deck next; the M 10-K, and the Haller design it spawned. For now, enjoy these rare photos of the M-Series, which I believe have not been seen since the 1950s and 1960s. Thanks again to Michel Ferro for making this possible.


---
(September 27, 2015)
&nbsp&nbsp&nbsp Phase One of the Haller album has been posted (see BODY DATABASE on the left-hand control panel of this page)

&nbsp&nbsp&nbsp This album is in progress, and will be continued. I didn't come close to finishing it, so I've decided to post what has been completed. This is heavy on the photos and light on the text, but what a group of photos they are! 40 images, mostly factory photos taken by Haller and Magirus Deutz. I have not seen any of these posted anywhere else, and I would like to once again thank Michel Ferro for sharing his amazing collection. Much more to come!


---
(September 20, 2015)
&nbsp&nbsp&nbsp Slow start to the H's, only three new thus week: Hagie, Hanans and Haul-All . (see BODY DATABASE on the left-hand control panel of this page)

&nbsp&nbsp&nbsp Helix has been added as a separate page, but it is only a reprint of the existing article which appeared in the 2012 Cobey album. I will be splitting off more brands this way, with the same page appearing in multiple locations on the site when there is a "buy out" situation.

&nbsp&nbsp&nbsp I was ready to set my sites on Heil, but realize that Haller comes first, and this will take time. Haller is an important company, but I have very little hard data on their history. In a "good news-bad news" situation, I also have dozens of high-quality Haller photos (dating back to the 1950s) which were graciously contributed by Michel Ferro, but they have no annotation and it is going to be difficult to string them together to form a coherent picture of the company. It will be worth the wait, particularly for fans of European designs. With any luck, it may be ready by next weekend, but all depends on my work schedule.


---
(September 12, 2015)
&nbsp&nbsp&nbsp Now completed the G's with Gitsham, Gladco, Gingras, Gomez, Greer, GSH and Gulf MBR (see BODY DATABASE on the left-hand control panel of this page).


---
(September 7, 2015) &nbsp THE "STATE OF THE WEBSITE" ADDRESS

&nbsp&nbsp&nbsp Forgive my borrowing of a politicians phrase, but I would like to take this opportunity to recap what has been happening here at Classic Refuse Trucks.

&nbsp&nbsp&nbsp Beginning in June of this year, I began a program to update the site by posting reference pages or albums for every known manufacturer of refuse equipment. Up to that point there were already 66 manufacturers represented here, of the nearly 400 known, and listed in the Refuse Body Database. Starting with the letter "A", the "blanks" in the Database have begun to be been filled with entries, mostly short pages, but with a few larger histories (most notably Eagle, FAUN and Geesink). The depth of each page is dependent on the amount of information and material I posses on that particular make.

&nbsp&nbsp&nbsp Many of these entries can, and will be updated in the future, and I will consider submissions from anyone interested who has knowledge or interest in a particular make or makes. My familiarity with European and Asian companies is limited, and some of those pages will reflect this fact. However, I feel it is important to a least get something posted on every make, so that interested persons will at least be able to find something here at CRT, even if it is nowhere else.

&nbsp&nbsp&nbsp A case in point is the recently completed page for John Gibson & Son Ltd., Edinburgh. This was a fairly important player in the UK and world market during the 1950s and 1960s, yet there is scant little to be found on this company. That has been remedied today, with a nice little history and 16 images, including some from extremely rare Gibson brochures. (see BODY DATABASE on the left-hand control panel of this page).


The Gibson Pendulum
&nbsp&nbsp&nbsp All told, there have been 79 new manufacturers or updates added since June, and an untold number of new images. As I will soon finish the letter "G", I will next begin the letter "H" which includes Heil Environmental. Having been promising to finish Heil for several years now, my plan is to stop there and complete the Heil album before proceeding. This will undoubtedly slow down the updating process, but has to be done. Besides, working on all these smaller albums this summer has been an inspiration to me, and I think I can get it wrapped up fairly quick.

&nbsp&nbsp&nbsp Meanwhile, remember that the "Photo Albums" page is being phased out, and access to all manufacturer pages will be through the Refuse Body Database, where they are listed alphabetically. Here you will also find a running list of new albums posted during the last 30 days

&nbsp&nbsp&nbsp Happy Labor Day, and thanks for your continued support and many helpful contributions, which have made CRT what it is today.

-Eric-


---
(September 6, 2015)
&nbsp&nbsp&nbsp Georg and Gergen pages added. (see BODY DATABASE on the left-hand control panel of this page).


---
(September 5, 2015)
&nbsp&nbsp&nbsp Continuing through the G's with Garwood Europe, GDA and Geesink (see BODY DATABASE on the left-hand control panel of this page).


---
(August 30, 2015)
&nbsp&nbsp&nbsp While cleaning up the E-Z pack album, I ran across the following on YouTube, which has my vote for "best video find" of 2015. An E-Z Pack Super Hopper rear loader, in working condition, filmed on the job at a trailer park. This is one model I never expected to see still working, having been out of production since the early 1970s. Kudos to West Coast Refuse Trucks for sharing this video, which has been added to a place of honor in the E-Z Pack album.


---
(August 29, 2015)
&nbsp&nbsp&nbsp Not as many as I would like this week, but constraints of time have limited me. Time permitting, will try to do a few more tomorrow. New albums are G&H, G-S Products, Gabler, Galbreath and Galion. The latter two are "re-runs", but I have added a few new pictures to each. (see BODY DATABASE on the left-hand control panel of this page).


---
(August 23, 2015)
&nbsp&nbsp&nbsp Tough going through the "F's", but they are finally done. FAUN took longer than expected, due to their many acquisitions and affiliations across Europe. New pages today are Falck-Schmidt, Fanotech, Farid, Farun, FAUN, Force (derived from Alexander page), Fruehauf, Fuji and Fujicar.(see BODY DATABASE on the left-hand control panel of this page).


FAUN-Sita rear loader
---
(August 15, 2015)
&nbsp&nbsp&nbsp New pages for Brandyske Strojirny/BSS (which got missed) and Aspinall (taken from the Gar Wood album). Then, finished the "E's" with pages for Ecolotec, Econovo, Edbro, Edelhoff, Edge, EMI Tecno, Environmental Elements, Essloo, Eurovoirie, and Evans. (see BODY DATABASE on the left-hand control panel of this page).


Scammell Mechanical Horse tractor with Essloo refuse trailer
---
(August 9, 2015)
&nbsp&nbsp&nbsp Only one new album this week, Eagle Engineering, and apologies for the late weekend posting. In my quest to create a page for every marque, I will occasionally run across and important company like Eagle, which will take more time to compile. This was long overdue; Eagle history is almost non-existant on the internet, yet the company played such and important role in the industry (and technically continues to this day under the Dennis eagle banner). Enjoy this look back with 35 images. (see BODY DATABASE on the left-hand control panel of this page).


---
(August 2, 2015)
&nbsp&nbsp&nbsp Finished the "D's" with two short pages for Dow and Dulevo. The Glover album has been updated, wit a new picture of the Transport Propeller. (see BODY DATABASE on the left-hand control panel of this page).


---
(August 1, 2015)
&nbsp&nbsp&nbsp Diving into the "D's" at the Database: new pages have been added for Dadee, DaeKyung, DAF, Dempster Sales and DeMartini today. The Dempster and Dennis albums have been updated, as has BUCA. Herman has been separated from Daybrook.(see BODY DATABASE on the left-hand control panel of this page).
---
For previous news items, visit the CRT Archive


© 2015 Eric Voytko
All Rights Reserved

Logos shown are the trademarks of respective manufacturers
Photos from factory brochures/trade advertisements except as noted