---
(July 5, 2015)
&nbsp&nbsp&nbsp New pages have been added for Bertsche, Bob's Services, Bosich and Boughten today. A revised CDE page was posted July 4. (see BODY DATABASE on the left-hand control panel of this page).

&nbsp&nbsp&nbsp Now, take a time-warp trip back to the 1980s, for a ride through the streets of New York in a Mack R with a 2-R Packmaster Push-Out, courtesy of George Lanoszka and Scocozzo Carting:




Click Here to go directly to YouTube if video does not appear above.
---
(July 3, 2015)
&nbsp&nbsp&nbsp New pages have been added for ARE, Basmaior, Bausenbach and Bergomi today. (see BODY DATABASE on the left-hand control panel of this page).


---
(June 28, 2015)
PETE DEROSE REPLICA LM-320 LOAD-MASTER

&nbsp&nbsp&nbsp Pete sent in a bunch of images of the completed model, and it looks terrific. Check out the comparison photo of the real truck and note the exacting detail of this model in the LOAD-MASTER MODELS section of Collectors Corner.


---
(June 24, 2015)
&nbsp&nbsp&nbsp New pages have been added for Atrik and Automatic Loader today. (see BODY DATABASE on the left-hand control panel of this page).


---
(June 22, 2015)
GAR WOOD LP-513
&nbsp&nbsp&nbsp I am happy to report that the truck featured on the front page of CRT has been purchased by Waste Pro for their refuse truck museum in Florida.

&nbsp&nbsp&nbsp New pages have been added for Atlas, Atlas-Weyhausen and Antonicelli added today. (see BODY DATABASE on the left-hand control panel of this page).


---
(June 21, 2015)
ANCHORPAC
&nbsp&nbsp&nbsp Just one new album this weekend, a revised Anchorpac page (see BODY DATABASE on the left-hand control panel of this page). The ownership chain of this brand is confusing, but I think I've presented as clear a picture as possible at this time. An identical page still appears as Chapter 8 of the COBEY album.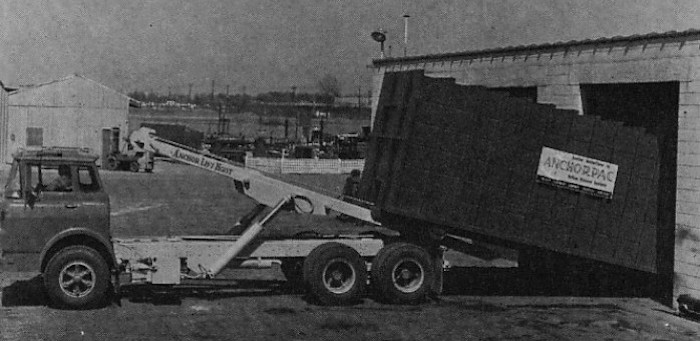 ---
(June 13, 2015)
EDITOR'S MESSAGE: CHANGES TO THE LAYOUT OF THIS WEBSITE

Summary of changes:
The page titled "PHOTO ALBUMS" is being phased out. The content of that page will be merged into the "BODY DATABASE".

Timetable:
Process has begun, and will probably take several months.

Reason for change:
&nbsp&nbsp&nbsp Since Classic Refuse Trucks was founded in 2004, the PHOTO ALBUMS section has contained a list of links to the various histories of individual refuse truck manufacturers here at CRT. Originally, there were six listed, and very quickly the list began to grow with the website. Currently there are 71 manufacturers listed on this page in a 'Hollywood Squares' format.

&nbsp&nbsp&nbsp However, there were an even greater number of companies known to have produced refuse equipment which had yet to be documented on the site. Thus, in 2008 I started the REFUSE BODY DATABASE, which is an alphabetized quick-reference list of all known manufacturers, with links to their CRT articles and/or company websites whenever available. There are currently over 460 companies listed in the Database, including the 71 makes listed in the Photo Album section.

&nbsp&nbsp&nbsp Maintaining these dual lists is time-consuming for me, and somewhat confusing for the reader. Therefore, the Photo Albums section is being merged into the more complete Body Database. In the future, access to the individual company histories contained on this site will only be through the Body Database. Additionally, I have already begun the process of expanding the Body Database by creating "mini-histories" of every company where documentation exists. These will mostly be just small collections of photos (in many cases, just one) for the purpose of have having a more complete picture of the industry available, like a "refuse truck encyclopedia" for easy reference. These entries can (and will) be expanded upon as more information becomes available, and time permits. I will also begin to phase in accessory manufacturers such as those making cans/containers and lifts, and expand coverage of roll-offs, landfill compactors and stationary packers on a limited basis. New albums will be listed (with date added) on the index page of the Database. Click on BODY DATABASE on the left-hand toolbar of most CRT pages.

&nbsp&nbsp&nbsp During the transition period when the two pages are merging, some makes will be deleted from the PHOTO ALBUMS page, and will be available only through the BODY DATABASE. I will post a reminder atop the Photo Albums page to this effect. None of the existing albums are being removed. Only the links to access them are changing. Remember that the BODY DATABASE will be the default page for all manufacturers.

&nbsp&nbsp&nbsp A similar consolidation was started several weeks ago at the CRT Collectors Corner, where refuse truck models and replicas previously featured in periodical format, are now being grouped by make (i.e. Gar Wood, KUKA, Leach etc.). However, I will be devoting most of my efforts to the Refuse Body Database, as I consider this the higher priority.


---
(May 10, 2015)
VINTAGE 500 SERIES LOAD-PACKER
&nbsp&nbsp&nbsp The featured truck on the main page is one of the more surprising finds yet to emerge from the Northwest United States, and area that is evidently home to many great living classics. This 1961 Ford C-series tilt-cab is owned by Michael Phillips, of Troy, Montana. This running truck is equipped with a Gar Wood LP-513 which is in working mechanical condition.

&nbsp&nbsp&nbsp It may be difficult to fathom, but this classic truck was pulling regular refuse duty well into the 21st century, as Michael explains."It was owned by the town of Wilbur Washington (a small farming community) as their local trash truck, up to about nine years ago. Then it was auctioned off to a local farmer who used it for his family farm dump runs. His family moved away and he sold it to me."



&nbsp&nbsp&nbsp Of course, the C-series Ford was one of the most popular refuse truck chassis in history, from its introduction in 1957 right through the last models which rolled off the assembly line in 1993. During this amazing 36-year production run, only the most minor cosmetic changes were made, mostly to trim and badges. The cab was designed by the Budd Company, and had two headlights in its debut year. The 1958, 1959 and 1960 versions had quad headlights, mimicking the trend in passenger cars at that time, but Ford reverted back to two headlights in 1961, the year Michael's truck was built. Thus with exception of three model years, virtually every Ford C-series cab looked identical, from the Eisenhower era right up to the dawn of the Clinton years!

&nbsp&nbsp&nbsp The Gar Wood Load-Packer 500 series was introduced the same year as the Ford C-series (In March, 1957), but had a much shorter production run. In early 1959, it was replaced by LP-600 series, although the basic engineering of the design was unchanged, with its rotary sweep panel and swinging packer plate. The LP-510 and LP-513 (10 and 13 cubic yards) were the smallest of the series, and were narrower and shorter than the full-sized LP-516 and LP-520. They had one-cubic yard hoppers, compared to the yard-and-half sized bucket used on the 16 and 20 yard bodies.



&nbsp&nbsp&nbsp Since Gar Wood replaced the 500 series in 1959, Michael's vehicle is most likely the result of an older dealer-stock body that wasn't mounted until 1960 or 1961, or a refitting of the body from an older chassis to the one it currently sits atop. Neither scenario would be out of line with industry practice, either then or now. This body is also fitted with a Gar Wood Pax-All container lift, another nice touch on this intact and working original.

Michael is selling the packer body. If anyone is interested, contact CRT and I will forward your information to him.



LOAD-MASTER LM-320 "DSNY" REPLICA


&nbsp&nbsp&nbsp Another accurate model from the hand of Pete DeRose is in progress, this one being a Load-Master LM-320. The 300 series was a mid-range rear loader introduced in 1967 as a smaller alternative to the original 100 series, and competed with the Leach Standard Packmaster and Heil Mark III. The New York City Department of Sanitation (DSNY) purchased a large fleet of these in 1968 when they broke from using the Roto-Pac. The DSNY versions are recognized by the hazard light cluster panel attached above the hopper opening.

&nbsp&nbsp&nbsp Shown below is one of the first of the 1968 DSNY Load-Masters on a GMC chassis. In addition to the Load-Master 320, the Department purchased an equal number of trucks with Heil Mark III bodies that same year:




A page has been added for Pete's model at the CRT Collectors Corner in the Load-Master Models section.


&nbsp&nbsp&nbsp

WALKER BROTHER/PAGEFIELD
&nbsp&nbsp&nbsp The Walker's album has been updated slightly, with higher quality image of the 1950 Paladin advertisement. Also better quality images of the Jekta telescopic body, and a more detailed description of how it worked. Hopefully, better technical drawings of this interesting body will appear in the future.


CRT DOWNLOADS
&nbsp&nbsp&nbsp The CRT Downloads section has been cleaned up, and I've added a 1969 brochure for the Gar Wood Load-Runner, and added a better quality scan of the Gaskin front loader sheet. This section may be accessed from the toolbar on the left side of most CRT pages.
---
(March 8, 2015)
FUJI / GAR WOOD PHOTO...
&nbsp&nbsp&nbsp ...has been added to chapter 10 (LP-600) of the Gar Wood Album at CRT, courtesy of Yasuyuki Akagi. This is a 1967-70 Isuzu TDX40 with a Fujimighty LP-101A packer body. Beginning in 1962, Gar Wood and Fuji Heavy Industries collaborated to bring the LP-600 to Japan. These were typically much smaller than their American counterparts in order to navigate the narrower roads of Japanese cities. Also note that the reduction chain drive has been relocated to the right side of the body.


&nbsp&nbsp&nbsp Fuji still produces the rotary-blade packer to this day, long after this type of body has disappeared from the streets of North America. Fuji has added many technical improvements over the years, and the latest versions bear little outward similarity to the LP-101, except for the rotary packer blade. Many other manufacturers produce rotary-blade packers, which remain popular throughout Asia.


UNIVERSAL HANDLING EQUIPMENT..
&nbsp&nbsp&nbsp ...of Hamilton, Ontario has declared bankruptcy, The Hamilton Spectator reported on December, 15th. The action was filed December 5th, and reportedly the company sought receivership, and does not plan to restructure. The company started out making refuse containers for front loaders, and eventually produced a front load packer of their own. The company faced mounting debt and dwindling orders. (Thanks to Chris Samborsky for passing along the link, which unfortunately got lost in my email for two months)


REFUSE TRUCKS ON FILM
&nbsp&nbsp&nbsp Two new entries have been added to the CRT Films section from England. The Plank (1979) is a short silent comedy film in which the character almost get swallowed by a Jack Allen Colectomatic. Common as Muck was a comedy series about binmen, and aired in two series during 1994 and 1997. Both of these are available on YouTube at this time. (Kudos to Neal Setamon for passing these along to CRT)

&nbsp&nbsp&nbsp From America, Take it Away (1950) is a documentary about the New York City Department of Sanitation (DSNY), and includes an excellent scene showing the packing cycle of the first-generation Gar Wood Load-Packer. The DSNY was using Load-Packers for the first time when this film was made, and shortly afterwards switched to Roto-Pacs. The old Load-Packer had an amazingly fast cycle time, which probably helped offset its somewhat smaller hopper. This video can be viewed at frequency.com. (Many thanks to Zachary Geroux for unearthing this gem).


CRT COLLECTORS CORNER
&nbsp&nbsp&nbsp This has been a neglected corner for several years due to the constraints of time. Now, the Collectors Corner home page has a section on top listing replicas and models by make, which will make it easier to search for a particular type of truck. Eventually, all of the featured models that have appeared in the past issues will migrate here, as well as any new additions.

&nbsp&nbsp&nbsp Currently, I have posted the latest pictures of Pete DeRose's LM-120 model (under Load-Master) which he recently completed. Also up are the complete collection by Dana Gregory, including never before published pictures of his SD Revopak model. See the Bowles, Glover, Norba and SD sections for all of the pictures of his amazing steel replicas.


RETURN OF THE AUGER
&nbsp&nbsp&nbsp New Way Manufacturing (Scranton, Iowa) recently announced a new Automated Side Loader (ASL) for MSW and organics, which features and auger-type packer mechanism. The Roto Pac revives one of the classic refuse truck names of the 1950s (City Tank's escalator-compactor), but has more in common with the likes of Norba or Glover, Webb & Liversidge. Augers make for impressive packer mechanisms, with the ability to splinter solid objects prior to compaction. Their use in rear loaders dates back to at least the 1930s (by Norba), but they are mostly considered unsafe for hand loaded rear loaders today, due to their ability to snag the operators clothing. If you've ever seen one of these in action, they are relentless once the screw has taken hold of an object.

&nbsp&nbsp&nbsp It is good to see some diversity coming back to refuse bodies in recent years, such as the Pendpac and Dadee Scorpion, and now the Roto Pac. However, CRT notes that an auger-type ASL has in fact once before been built in the USA:


&nbsp&nbsp&nbsp This May, 1978 advert for Rapid Rail's Mark VI Gruncher actually represents a hybrid. The complete ASL package consisted of the Rapid Rail lift arm attached to a Gruncher auger-compactor built by Wayne Engineering of Cedar Falls, Iowa. Wayne also sold the Gruncher for manual collection, but in rear-loader form. Wayne was actually collaborating with Norba at this time, the latter re-branding Wayne's Royal GT rear loader for sale in Europe. In more recent times, Haller has been producing the Lotos ASL with an auger-compactor for European markets.


THAT SUPERFLUOUS 3RD CYLINDER!
&nbsp&nbsp&nbsp Going back a few a years, there had been some dialog on discussion boards and YouTube comments regarding an "extra" hydraulic cylinder on the driver side lift arm of the Dempster XHD front loader. Dejuan McDaniel recently wrote to CRT with an explanation: it is a hydraulic cushion cylinder, to reduce shock when the lift arms are fully raised (with a loaded container). This information came from one Al Pervis, who can speak with some authority. Al is the Sales Manager at Atlanta International Hydraulics, and has a family connection to the waste hauling industry. His father was the founder of North Atlanta Sanitary of Norcross, Georgia, and is believed to have been the first in the Atlanta area to use the Dumpmaster front loader during the 1950s. They used Dempster products exclusively, with over 50 trucks in service at their peak.

&nbsp&nbsp&nbsp Al used to have some pictures of the fleet, but unfortunately they have been lost in the ensuing years since the company was sold to BFI. However, Dejaun passed along some old pictures of his own hometown municipal collection fleet in Greenville, Mississippi. And here's one of Dejaun's own Dempster XHD, which he recently purchased from the City of Atlanta:


2-R AND WTC
&nbsp&nbsp&nbsp A nice shot of a Mack MR with Leach 2-R Packmaster 31-yard set against the backdrop of the World Trade Center in New York. Ernest Cummings says he got this from his local Leach dealer when they purchased their Curbtender in 1986:


&nbsp&nbsp&nbsp Ernest sent along some more old photos from his personal collection, which I have posted in the Cummings Refuse album here at CRT.


MYSTERY CIRCULAR FRONT LOADER
&nbsp&nbsp&nbsp Referencing Unsolved Mystery #16 the photo below shows a new view of this unknown-make circular front loader. Zachary Geroux found this amongst a batch of negatives developed from the Bowles Archive.


&nbsp&nbsp&nbsp This is very similar in concept to an early square-bodied Bowles half-pack, having two angled cylinders which extended over the cab of the vehicle (See the Englewood-Littleton front loader in chapter 5 of the Bowles album). The fact that our mystery circular body is nestled among a fleet of Bowles bodies adds to the possibility that this may be a Bowles creation.

&nbsp&nbsp&nbsp Finally, and old White with a Bowles half-pack early-style over-cab arm, circa 1959, from the fleet of G.I. Rubbish Co. of Los Angeles. Shown here simply because it is a cool old photo...


---
(February 15, 2015)
CUMMINGS REFUSE COLLECTION

&nbsp&nbsp&nbsp Following up a picture posted here two weeks ago (see January 26th post), the restored 1956 International with Hydro E-Z Pack side loader belonged to Ernest Cummings, a third-generation hauler from West Virginia who sold his business in 2008. Ernest tells CRT that he restored the truck, which originally belonged to his grandfather, and has sold it to the Waste Pro Museum.

&nbsp&nbsp&nbsp Ernest sent in some old photos of his former trucks, which I have posted in the Living Classics section under Cummings Refuse. Two more factory photos Ernest sent are shown here, and have been added to their respective manufacturer albums at CRT: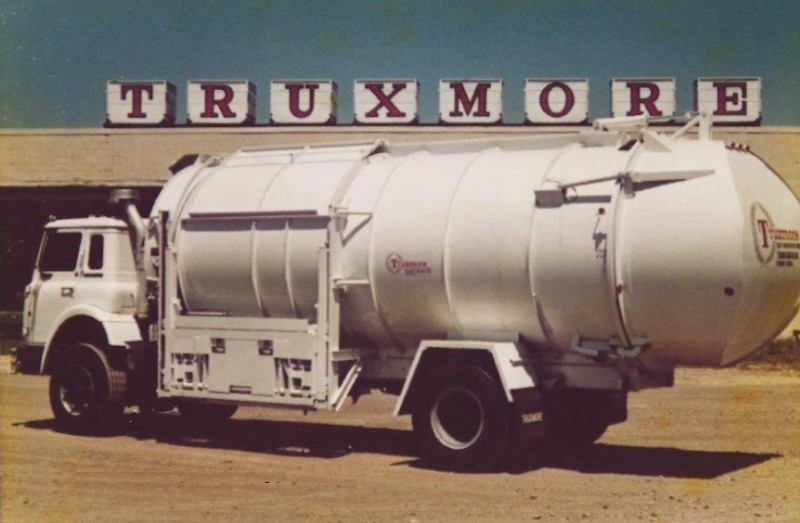 Truxmore Pakker 27-yard container truck circa 1975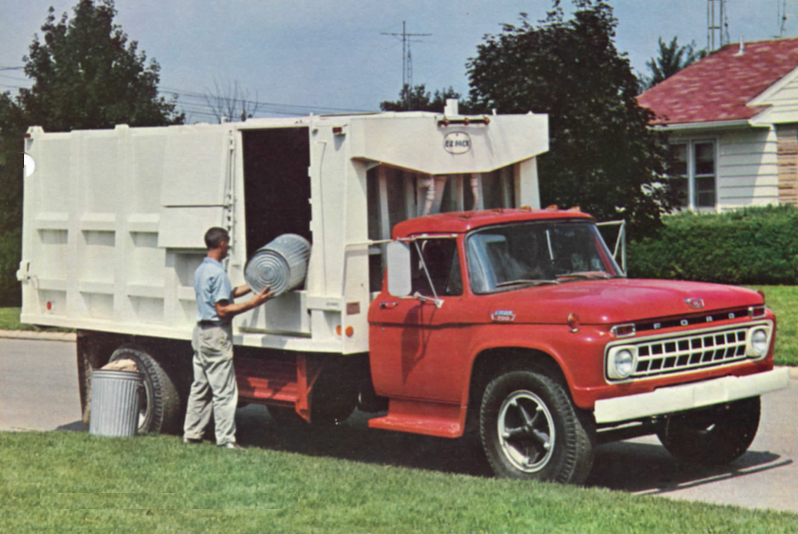 1965 Ford with E-Z Pack 20-yard side loader



SCOTT BLAKE 2-R PACKMASTER UPDATE
&nbsp&nbsp&nbsp Also added to the Living Classics section are the recent exterior pictures (shown on these pages below), as well as some really nice pictures of the cab interior of the International. These CO's were once a staple of our industry, yet this may be the only example currently in preservation as a refuse truck. More often than not, truck collectors tend to strip off refuse bodies from trucks like this, either because of a lack of interest, the expense of restoration, the value of the body as scrap, or any combination of these factors. There is also (unfortunately) a tendency towards "truck snobbery" amongst some, who look down their noses at refuse trucks, restored or otherwise.


&nbsp&nbsp&nbsp This truck certainly is a "goodwill ambassador" for restored refuse trucks, and I happen to feel it would be a crowd-pleaser at any truck show. This cab is in amazing shape for its age, considering the terrible abuse wrought on the average refuse truck. Scott is trying to get it as close to original condition as possible. This is a difficult task though, as these trucks have done a "vanishing act" from salvage yards in recent years, undoubtedly due to the rising prices for scrap.

All of the latest pics are in the 1971 Packmaster album located in the Living Classics section.


GLOVER, WEBB & LIVERSIDGE
&nbsp&nbsp&nbsp While adding some new pictures to the GWL album, I noticed that it was in need of some updating since it's debut in 2010. I have made major revisions to 4 of the 5 pages, and added about twelve new images. This includes a section on the previously excluded Blenheim, and clarification of some facts about the Ramillies and Binmaster. Also, there is a major revision to chapter five, which now shows the Grenadier, 202 and Loadmaster in their progression.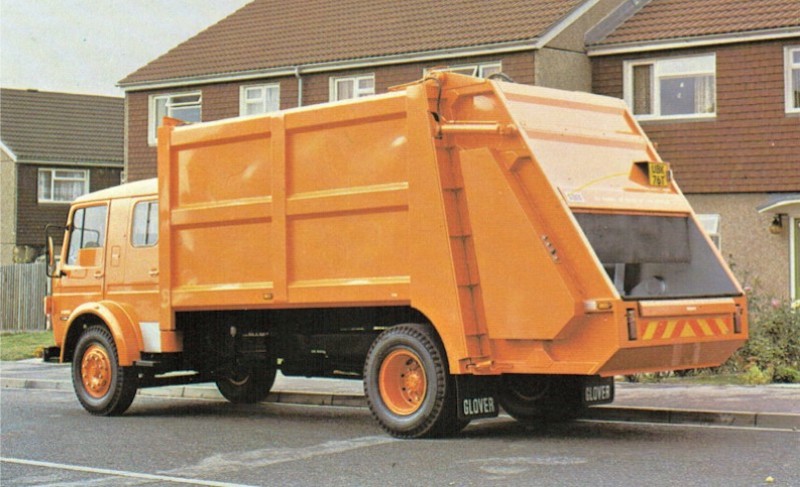 &nbsp&nbsp&nbsp This is a relatively short story, but an important one in the history of British refuse collection vehicles. I still need some pictures of the last Glover Loadmasters, which somehow seem to be harder to find than anything else they ever made! Please contact CRT if you have any publishable pictures.

&nbsp&nbsp&nbsp I have a sizable amount of British RCV literature which I have acquired but needs to be scanned, so look for more of the UK stuff here in the future!


---
(January 26, 2015)
ANCIENT TRUCKS OF THE NORTHWEST

&nbsp&nbsp&nbsp Road trip to Idaho yields mucho ancient iron. Bill Tetreault, Zachary Geroux George Lanoszka visited with Magic Valley Disposal and found some fine old beauties still on the job. First up is this amazing International Loadstar stand-up with a Hydro E-Z Pack side loader. The container lift appears to be the type designed by Harold Alexander for the Super-Pack side loader built by Superior Mfg.:




And in case you were wondering what a Super-pack looks like, they found one of them too!




Did you ever think you'd ever see trucks like these? Makes me wonder if there are any old Sicard Sanivans still wandering the prairie in Manitoba!

See more pics at Refuse Truck Photography


...AND ANCIENT TRUCKS OF WEST VIRGINIA


&nbsp&nbsp&nbsp This just showed up for auction on Ebay: 1956 International S160 with a Hydro E-Z Pack. I don't know anything about this truck, but it is located in the Charleston, West Virginia area. See the listing and contact the seller if interested.


---
(January 24, 2015)
MORE ON NORTH AMERICAN "SHARKS"

&nbsp&nbsp&nbsp The following unedited commentary comes from Dana Gregory, with a follow-up to the Rolling Meadows article published here three weeks ago. I think you will enjoy his observations on the KUKA Shark's appearance in the Boston metro area in the late 1960s:

&nbsp&nbsp&nbsp I may be wrong but I think that the Shark arrived in the Northeast a little earlier than it did in Rolling Meadows. I first heard rumors of an amazing German-built garbage truck demonstrator making the rounds in the NYC-Boston area in late 1968 or early 1969. It was a 19-yard mounted on a cabover Mercedes painted light green. It was featured in Newsweek magazine, with pictures of it devouring a refrigerator in NYC. Soon after, it appeared in Boston. James Freany, Boston's second largest contractor, located in South Boston, fell in love with the Shark and was going to become the American distributor for the Shark. He had the original demo, plus a 25-yard mounted on a White Compact, just like the Philadelphia demo in your article, only it was painted light grey. They also were going to use the stainless steel 2-yard containers that were (and still are) popular in Europe. I saw these dumpsters and was very impressed with them.

&nbsp&nbsp&nbsp I also fell in love with the Shark and in the spring of 1969. I would go into Boston on Saturday mornings to watch it collect in the Beacon Hill section of Boston. I saw it reduce furniture to matchsticks as easily as it gobbled up residential trash. It would then dump at the South Bay incinerator (long since demolished). Mr Freany also brought over a German mechanic to supervise maintenance on the Shark. He was a real gentleman. The plan was to convert the entire residential fleet to Sharks, and Mr. Freany started to do just that. He bought several more with the newer, wider opening on the back. Unfortunately, in mid-to-late 1969 Freany Disposal was bought out by Sanitas, based in Providence, Rhode Island. They were not interested in the Shark at all and stopped the conversion that James had started. Rumor had it that Sanitas was a Mob operation, but nothing was actually proven at the time.

&nbsp&nbsp&nbsp It is sad because the Shark was so adept in urban collection. I actually tried to buy the original demo, and at the tender age of 19, I submitted a bid at a local shopping center with an underground tuck tunnel, which I would use the Shark for. I did not get the contract, as I had nothing to back me up. Another try to resurrect the Shark was attempted by a local truck body dealer outside of Boston named Ed Blieler. He was the original Elgin-Leach dealer for the Boston area, but gave it up because he didn't want to deal with sweepers. He loved the Shark, and had a beautiful 23-yard Shark mounted on a White Alleycat for a demo. He sold a few in the area, then St. Regis took over and as we saw, it sort of died out. What a shame. Orbital tried to get going, but their problem was that they tried to sell a whole system and nobody was interested in buying a whole system. I saw the Orbie demo in the Boston suburb of Newton. It was a 20yd mounted on a 10 wheel Ford Cabover and it packed over 10 tons! Unfortunately, that never really got off the ground.

&nbsp&nbsp&nbsp I think the newer Rotopress would do well over here, especially with the popular cart lifting systems now in use. Waste Management has a trailer-mounted Rotopress used for organic waste. I would love to see someone give the rotary packer another try. Maybe, with a good US importer, it will finally catch on.

(This commentary will be added to the KUKA album in the near future)




IS THIS THE MOST BEAUTIFUL CLASSIC REFUSE TRUCK IN AMERICA?


These new pictures of Scott Blake's 1971 International CO-Leach 2-R Packmaster make a strong case for that argument, despite strong (and welcome) "competition" which is increasing around the United States. OK, so I never met a classic refuse truck I didn't like, but Scott's truck achieves that perfect match of truck and body, for its time period. I had always been a fan of the IHC Cargostar cab, another popular choice for 70's 2-Rs, but this one is making a "CO believer" out of me. Enjoy Scott's latest pics, which will be added to his album in the near future.





For previous news items, visit the CRT Archive


© 2015 Eric Voytko
All Rights Reserved

Logos shown are the trademarks of respective manufacturers
Photos from factory brochures/trade advertisements except as noted