---
(October 12, 2014)

NEW ALBUM: WALKER BROTHERS / PAGEFIELD PALADIN
Along with Geneve Salubra, the Pagefield Paladin was one of the pioneering systems in bulk collection of refuse using detachable containers. In many ways, the Paladin system is the forerunner of today's modern equipment, utilizing a mechanical lift to empty containers at the rear of an ejection-discharge body that featured a moderate compaction mechanism.

Almost a decade before front loaders appeared in California, or the introduction of the Leach Packmaster container system, the Paladin was collecting bulk refuse in the densely populated cities of England. In its home country, the ubiquitous round Paladin bins were so popular that they survived well into the modern era, long after the collection vehicle that spawned it had become obsolete. Brian Carpenter has written a brief history of Walker Brothers' Pagefield Paladin system for Classic Refuse Trucks, and I've added some photos and even a few video links to this informative article.


---
(October 5, 2014)

NEW PICTURES ADDED TO THE GAR WOOD ALBUM
Some rare pictures of Gar Wood T-Series refuse trucks recently surfaced on Ebay. They were taken at Buffalo White-Autocar Trucks in 1968, and include a T-140FLR and a T-140RL. These beautiful Kodachrome images show the T-series in amazing living color!

Show above is the T-140FLR, which has a front container lift which was heretofore entirely unknown. The centere-mounted vertical rails and chain-drived horizontal slide are a complete revision from the original 1965 models. You can compare them to each other in chapter 12 of the Gar Wood Album, where this picture has also been posted. Also note the "Dempster" style hopper door visible on the side of the body.

This truck is equipped with an external exhaust pipe and muffler, and an extra air intake over the engine compartment cover. I believe this indicates that it is equipped with a Cummins V-8 engine, which appeared in late-1967 spec sheets and replaced the original Toro-Flo V-6. None of the early T-series factory images show this air intake of external exhaust system.

In chapter 11 I've added three images of a 1968 T-140RL which also has the revised exhaust system, as well as an enlarged rear hopper by way of extensions of the side walls. This may have been done only on models with the rear container lift (which that example has), or may have been a running change on all of the rear loaders.

These pictures offer a rare look at the T-series, and point to Buffalo, New York as a location for possible surviving examples. Finally, there is a nice color picture of an early LP-620 in chapter 10, owned by Eggertsville Disposal Service. Interestingly, this company appears to still be operating in the Buffalo area!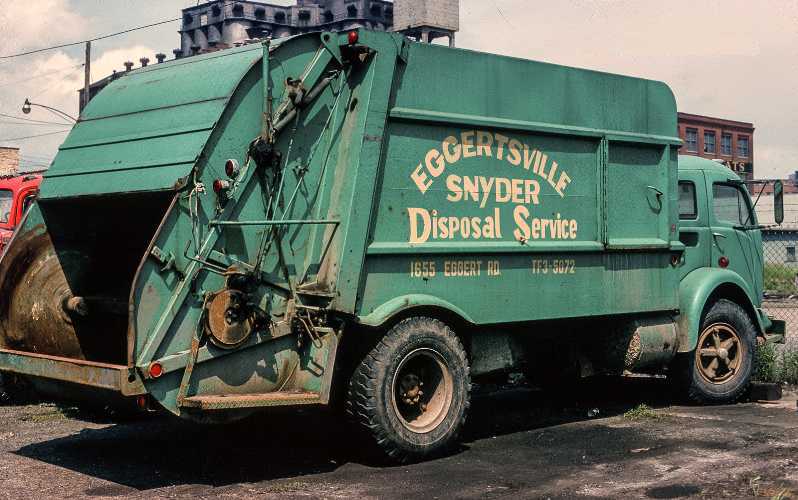 UPDATE-OCTOBER 6

A note from Warren Seward mentions that Eggertsville-Snyder Disposal has long ceased operation (1973), so the company I found on my web search is probably a different outfit with the same name. Coincidentally, Warren knows this particular White 3000/LP-600 quite well: it is the first truck he ever worked on when he lived in the area. Imagine seeing a truck from your past suddenly show up on the pages of CRT? Now, does anybody out there remember those T-series trucks.....
---
(August 9, 2014)

TRUCK RESCUE: LEACH PACKMASTERS
This swell-looking pair of Packmasters are for sale in Connecticut. One is 16-yard tilt-to-dump, the other a 20-yard Push-Out model, on 1963 and 1965 REO truck chassis. Both are running and need work, seller has lots of parts. Contact Chris Peichert:

E-mail: King REO

Phone: 413-207-4123




TRUCK RESCUE: DENNIS PAXIT
This amazing 1975 Dennis Paxit was reportedly in service up until may of this year. It is for sale by a UK classic truck dealer, who says that it is an excellent candidate for refurbishment. Thanks to Kevin Sowter for forwarding this to CRT.


See the full listing at the Car and Classic website.


---
TEN YEARS OF CLASSIC REFUSE TRUCKS
(July 30, 2014)
Yes, that's right...ten years on the World Wide Web. CRT officially launched on July 30, 2004, so this 10th anniversary edition is being posted mid-week to coincide with that date. To further commemorate this milestone, the Gar Wood LP-900 makes its second appearance as the featured truck, only now in color, as opposed to the black-and-white version which was the first ever classic refuse truck.

It's been a great ten years, and a lot has changed since 2004, when old trash tracks were not all that common on the Internet. Today, I'm happy to report that enthusiasts have an endless amount of material available, including a wealth of video documentation, and a growing interest in the preservation of historic vehicles. I'd like to think that this website, and its many contributors and followers, have been instrumental in "mainstreaming" vintage refuse equipment, and I can't thank you enough for making this the enormous success that it is.

Now in the last year and a half, I've not been making regular updates to CRT the way I did in the beginning. Nevertheless, I have still been busy behind the scenes, and the result is available now in the form of an all-new complete history of Gar Wood industries. This is the biggest undertaking in the history of this website, and comprises 22 chapters with over 300 images. When formatted in PDF form, it totals around 170 pages, so you may need time to digest this one!

This project started as the new Heil album back in 2013, but it soon became apparent that the Gar Wood story, which is at times somewhat related to Heil, had to been told in its entirety, so I set about to replace the piecemeal album that existed at that time. As far as I know, the finished product is the first ever in-depth history of the most important player in refuse truck history ever published. From the hydraulic hoist to the curved-shell body, Gar Wood Industries was there, and if not for the company's untimely demise in 1979, it might still have been the most recognized name in refuse trucks today.

So enjoy the Gar Wood story, and let's look forward to another ten years of Classic Refuse Trucks!


---
(June 8, 2014)

No, this is not a Child Guidance #2500 Loadmaster from ebay; you are looking at a hand-made custom model LM-120 body, which will be mounted atop a First Gear International Harvester S-Series chassis. It is the work of Pete DeRose (aka 800Trashman) and is constructed of styrene and with some balsa wood. It is modeled on a truck Pete used to see many years on Cape Cod, which started out as a white body but was later repainted brown (see lower photo).
Pete is still working on this one, and will send in some more pictures when it is complete. Below are some thumbnail images of the body under construction. Thanks for sharing these with CRT, Pete!


---
(May 17, 2014)

Zachary Geroux found this video on YouTube showing a restored Leach Refuse Getter demonstrating the bucket loading operation. This truck was sold at auction in 2007, and this video appears to have been taken at that time.




(Video courtesy of oldSawyer)

This video has been embedded in the Leach Album (chapter 1)

This video has been embedded in the Schaaf page in the Restored Refuse Trucks section


---
Also at Zach's website, there are some pictures of a Montana yard discovered by AmrepMike using Google Maps (!) which houses a few well preserved old front loaders from Bemars, Maxon, C&O/Dempster and a very nice Cobey ForkTainer.


---
(May 11, 2014)

For all his diligence and tracking down the history of West Coast refuse equipment manufacturers, Zachary Geroux has also recently helped unite several rare refuse trucks with a new owner and a shot at long term preservation. The trucks in question were first mentioned here back in 2012, when Zach discovered them sitting at the LeMay yard in Washington, and include an ultra-rare Pax-It side loader and several Gar Wood Load-Packers. In April of this year, these trucks were shipped east to the Waste Pro facility in Florida, where the best antique refuse truck collection in the United States is being assembled. Additionally, a first-generation Heil Colectomatic body was among those purchased, the only known example currently in preservation.


Refuse truck enthusiasts can finally take heart, now that a serious effort is underway to preserve some of the classic designs from the golden years of the industry. And not a moment too soon, as scrap prices and time have conspired to endanger the few examples left. Our sincere thanks to John Jennings and everyone involved with this historic undertaking, preserving the past for generations to come.

Zach has some photos of the trucks being loaded, which took ten hours to do, on his West Coast Steel Photography website:
LeMay Trucks: The Final Journey
---
In scale-model news from The Netherlands, Bas Vermond has a 1/14 scale Roto-Press completed, and it is being offered for sale on Ebay. His work was featured in the CRT Collectors Corner back in 2012, and sits atop a Tamiya radio-controlled truck chassis. Click here to see the listing, or search "Faun RotoPress 1/14" on Ebay.


---
From Canada, Pierre Collette has had many of his hand-made refuse truck models featured on these pages over the years. Pierre sent photos of his latest creations, a Ford C-Series with a Heil Mark III body, and a Diamond Reo with a 2-R Packmaster. These also are for sale on Ebay, and can be seen by following these links ( Ford/Heil, Reo/Leach) or by searching "1/25 Scale Garbage Trucks"


---
For previous news items, visit the CRT Archive


© 2014 Eric Voytko
All Rights Reserved

Logos shown are the trademarks of respective manufacturers
Photos from factory brochures/trade advertisements except as noted