---
(August 21, 2016)
&nbsp&nbsp&nbsp New pages for Jaeger, Jumping Bean, K-PAC, Kann and Kaoussis.

(see BODY DATABASE on the left-hand control panel of this page)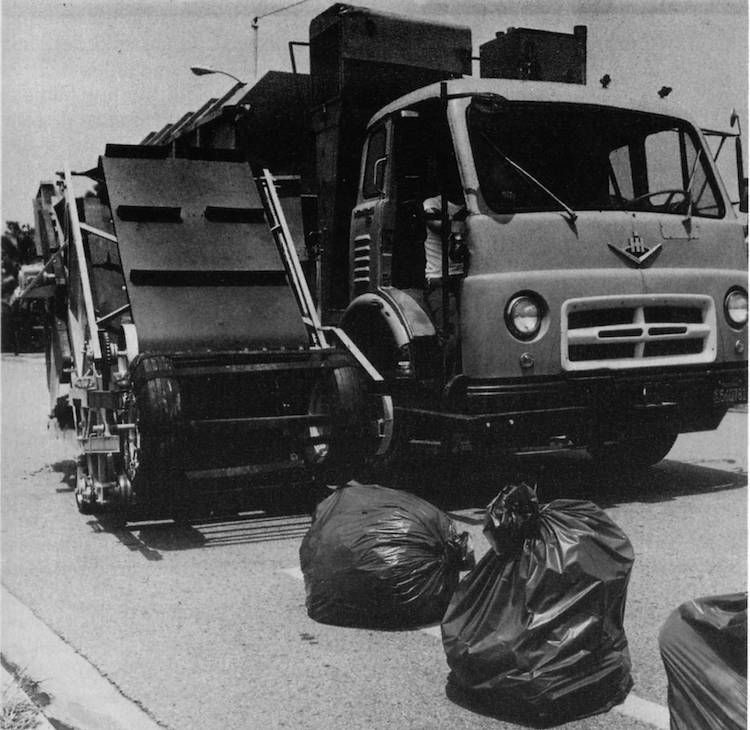 1973 Jumping Bean prototype
---
(August 7, 2016)
&nbsp&nbsp&nbsp New pages for Hykap, Industrial Tool & Die, IGSA, Inco-Mol, Inpak and Inuzuka.

(see BODY DATABASE on the left-hand control panel of this page)
---
(August 6, 2016)
&nbsp&nbsp&nbsp New pages for Hfaistos Stefanou, HKM, Holmes-Owen and Huffermann.

(see BODY DATABASE on the left-hand control panel of this page)
---
(July 24, 2016)
FAUN SIDE-TO-SIDE TIPPERS
FAUN side-to-side tipper on a FAUN truck chassis with right-hand drive and outside steering control
&nbsp&nbsp&nbsp Omitted from the FAUN album last year was the very interesting "side to side" tipper refuse truck that appeared briefly in Germany in the late 1920s, and was in a class by itself. It was related to the "Fore and Aft" tipper, whose body was tipped forward to consolidate the load, and rearward to dump at the disposal site. FAUN's side-to-side tipper consisted of a circular body, which rolled on its axis, to transfer accumulated refuse from the curb side to the street side, until fully loaded, at which point it was tipped in the conventional manner to dump. A series of apertures were mounted along the curb side, on to which enclosed household refuse containers were hung by the crew, and manually tipped through a "dustless" shutter.

&nbsp&nbsp&nbsp It is not known to what extent this truck was used, outside of the City of Hamburg, which maintained a large fleet of them. Even as late as 1948, at least one example was still in use by that city. Dustless loading systems were pioneered in Europe, through the designs of Jacob Ochsner and others, and modern automated systems can trace their lineage to these early designs. Dust and odor control were the primary goals, and the pleasant appearance of city streets by the use of a uniform, sealed refuse container.


The Hamburg FAUN fleet in world-war II Germany, 1943.
In late July of that year, an allied bombing raid caused a firestorm which destroyed the city, killing over 42,000 people
&nbsp&nbsp&nbsp FAUN produced both the motor truck and the body at this time, although some examples of this body appear to be mounted on other types of trucks. After world war II, the company continued to produce trucks, but by the 1970s had moved towards specialized-service and heavy vehicles, rather than commercial trucks. The patent for the body is elusive, and may not have been owned by FAUN, but produced under license. Today, FAUN is well-known as one the leading producers of refuse bodies in Europe.


An early model from Hamburg on FAUN chassis
&nbsp&nbsp&nbsp Along with these pictures, there fortunately exists an excellent demonstration film from 1928, which shows the vehicle in action, complete with animated sequences which show how the load behaves inside the drum. This film has the distinction of being the earliest known film of a mechanized refuse truck in existence. Watching the crews collect in a densely-populated urban area, it becomes clear why so much effort went into dust control. It is also a fascinating look at the daily routine of refuse crews of pre-war Germany.


City of Hamburg refuse collection, 1928



One of the few FAUNs which survived the bombing of Hamburg, was still in use in 1948
This article will be added to the FAUN album in the near future
Special thanks to Sjef van Lierop, Alex Penner, The City of Hamburg, and axis history.com
---
(July 16, 2016)
&nbsp&nbsp&nbsp New additions to the CRT Collectors Corner. Anthony Ricchio submitted photos of several of his scratch-built bodies, mounted on First-Gear model chassis. Featured are a Pak-Mor 200 real loader, Leach 2-R Packmaster and Sanicruiser, Palfinger loader, container carrier and a semi-trailer roll-off. A nice variety of bodies not typically seen, especially the Pak-Mor and Sanicruiser.

(click the COLLECTORS CORNER button on the left-hand control panel of this page)
---
(July 4, 2016)
&nbsp&nbsp&nbsp New pages for Hesston, Martco and Val-Jac, the three companies that built the Pak-Rat rear loader.

(see BODY DATABASE on the left-hand control panel of this page)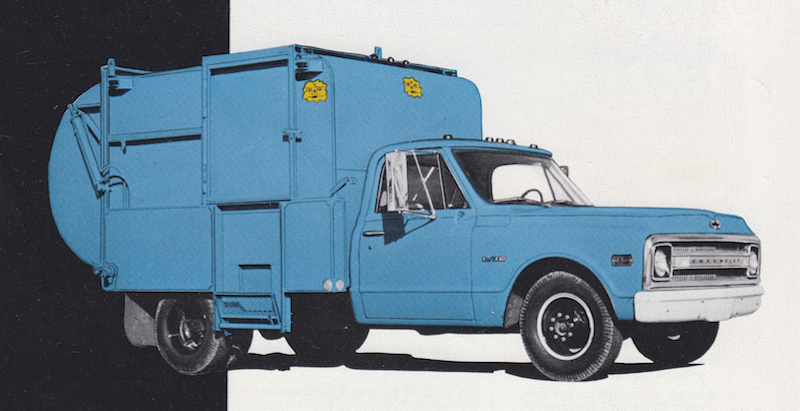 ---
(July 2, 2016)
&nbsp&nbsp&nbsp At long last, part one of an all new Heil album is now online here at CRT. Covering the founding of the company through the 1960 Mark II Colectomatic, the reader will enjoy a tour of every significant refuse truck development from Heil during these turbulent but formative years. Probably the most recognized name in refuse collection equipment around the world today, there were many twists and turns along Heil's path to success. Indeed, refuse trucks were almost a "side line" for Heil during the early years. The company became world famous for its tank bodies, added hoists and dump bodies, construction equipment and even home climate control products as it grew prior to World War II. Their acquisition of Colecto in the late 1930s helped their standing in the field, but it was the modern post-war Colectomatic rear loader that changed things for Heil, and from there the company never looked back.


&nbsp&nbsp&nbsp This history also covers the Heil Conveyor loaders, their first in-house design and a design which saw limited regional success. Of course, Heil was a major contract supplier of the DSNY-designed conveyor-loaders at the same time, which was covered previously here in the Gar Wood album. Since the two companies share this history, chapter 4 of the Heil album is merely a repeat and contains no new material. Also included is ATIA, which was not a Heil company, but was integral to the early history of the industry and their rival Colecto, which was involved with Heil. Both the ATIA and Colecto chapters will appear in identical form as "stand alone" albums in the CRT Refuse Body Database.

&nbsp&nbsp&nbsp Unfortunately, part 2 of the Heil story had to be delayed. The early part took longer than expected, and I felt it would be better to post what was completed immediately, rather waiting; there has been no proper Heil album here at CRT since 2013, which is far too long. The second part should go much quicker, having taken place in the modern era, when Heil products were better known and publicized. In the interim, I intend to continue for a while past the letter "H" in the CRT Database, posting some smaller albums to fill in where I left off last fall.

THE KELLY LOADER: AMERICA'S FIRST REFUSE TRUCK?
&nbsp&nbsp&nbsp In my quest for information about conveyor loaders, I revisited a patent filed by one John Kelly of Massachusetts in 1909. Kelly's patent was for a chain conveyor loader, designed to be mounted on a motor truck, to load dirt or refuse. If this machine was actually built (and not just patented), it would be perhaps the very first mechanized refuse collection body in the US, and maybe the world! This rear-loading conveyor was the inspiration for the Automatic Loader (1930), DSNY Conveyor (1937) and Heil Conveyor (1938), and is cited in several of those patents.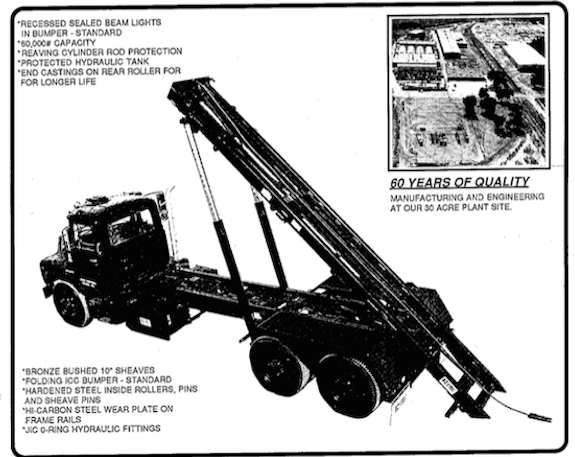 &nbsp&nbsp&nbsp As of this writing, there is no positive proof that Kelly's conveyor was anything more than an idea. The motor truck itself was in its infancy, and trade journals of that time were practically nonexistent. Tracing the life of John Kelly is not easy; he lived in Jamaica Plain, a suburb of Boston, a stronghold of Irish immigration. His family name is among the most common in that part of the country. However, if Kelly did indeed build his loader (and I believe that he must have), there is a strong possibility that it was at least tried by Boston sanitary authorities.

&nbsp&nbsp&nbsp Because of the significance of John Kelly's loader, I am going to add it to the CRT Refuse Body Database, with the provision that it is only known to be a patent at this time. Hopefully, conclusive proof of its existence will surface in the future.


---
(May 29, 2016)
&nbsp&nbsp&nbsp A cool video link sent in by Zachary Geroux. This is film made by Dempster, showing how the Dumpster box system was used in the City of Baltimore in the market districts and in housing projects. It is in amazing color, so we see these trucks in all their glory. There are a few Gar Wood Load-Packers present as well, both in the landfill scenes and during a demonstration at an elementary school.


&nbsp&nbsp&nbsp This film dates to approximately 1949, the year that Commissioner William Fannon (who appears in the film) wrote an article on the subject for American City Magazine. The Dempster Dumpster system enjoyed decades of popularity, even after the Dumpmaster front loader arrived on the scene. I can well remember them from the 1970s, being used for newspaper recycling drop-boxes, among their many uses. There remains a core market for them even today, and the Dempster family is still building them in Knoxville.

THE HEIL COMPANY


&nbsp&nbsp&nbsp The photo above shows me fact-checking with Illinois refuse collectors for the upcoming Heil article, after having travelled back through time. Seriously, the long overdue Heil album is not complete, but I have decided to release the first installment by July 4th, and possibly even much sooner. This will cover the Heil story from 1901 through the Colectmatic Mark II (roughly 1962) in ten chapters. I am sure enthusiasts will enjoy reading this one as much as I've enjoyed writing it, and there are close to 100 images, some of them rare and only recently discovered.

&nbsp&nbsp&nbsp I thank you for your patience, but this is a huge company that has been been making refuse bodies for almost a century now. Information on business actives prior to WWII is hard to come by, and a few surprises discovered along the way consumed much time. The rest of the Heil story, post-1960, should go faster, and will cover Load-Lugger through the present day. I may do some smaller albums over the summer, to continue filling in the CRT Refuse Body Database.


---
(May 16, 2016)
&nbsp&nbsp&nbsp New page for C-E Air Preheater (1 image of license-built Universal Handling FL). Updated existing pages for the following: Bynal (added Roll-Off and stationary packer), Fastpack (4 new images) and Cleburne (5 new images of a 1971 Ranger RL). The latter two entries from the Dana Gregory Collection, with many thanks!

(see BODY DATABASE on the left-hand control panel of this page)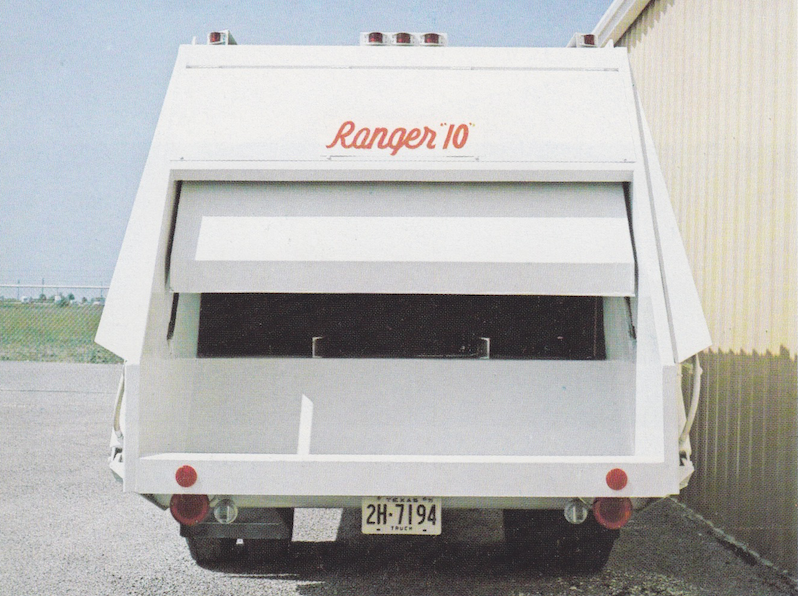 ---
(May 8, 2016)
&nbsp&nbsp&nbsp Added new pages for Howard Porter and Kaisis Motor Company, from items seen on eBay. The former was the Australian Licensee for the Kyokuto Press Pack rear loader, while KMC built a Cypriot version of the SD Revopak. By special request, I've also created a page for the Stratton Equipment Company, which made loading platform attachments for open dump trucks beginning in the 1940s. This was a novel device which took the strain out of loading 10' tall bodies, although OSHA would definitely never allow it today. There strongest market seems to have been in the Chicago area.
(see BODY DATABASE on the left-hand control panel of this page)
&nbsp&nbsp&nbsp Shown below is a nice 1971 shop photo sent in by Ronnie Keshishian. This Atlas Refuse Disposal of Harvey, Illinois. These are 20-yard 2-R Packmasters, which are kind of rare. Also unusual is seeing these big packers on the International Loadstar chassis, as they were more commonly seen on heavier IH Fleetstars, Whites or Macks.
&nbsp&nbsp&nbsp Check out the Flickr page of Giorgos Kollias who wrote in from Greece regarding and unknown Greek version of the SITA 6000 paddle packer. There does appear to be a badge visible on the back in one photo, but I can not identify it. Please write in if you know what make this is:


Giorgio's Flickr page
&nbsp&nbsp&nbsp From Dylan Baranski, a new refuse truck on film has been sighted. It is in Terminator: Genisys (2015), and is a re-creation of the front loader scene in the original 1984 movie. The International Cargostar now has a Heil body, instead of the Leach 2F unit.


---
(March 26, 2016)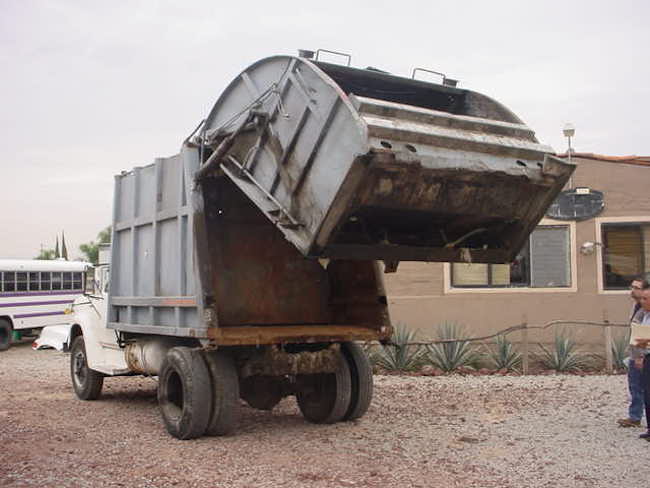 &nbsp&nbsp&nbsp An interesting update to Unsolved Mystery #5 (The Mexican Mark III), and an addition to Refuse Body Database (Frink Canada). Patrick McGee is regional sales manager for Joe Johnson Equipment in Innisfil, Ontario. He commented recently to Classic Refuse Trucks about the truck shown above, an unidentified Colectomatic Mark III copy which appeared in a classified ad in Mexico:

"This body looks like a Frink built packer body and ejector blade, with a Heil Tailgate which were produced under license for the Canadian market from the 1960s onward till the mid-80s. The founder of the company I work for, Joe Johnson, would have worked for Frink at the time. Unfortunately, the only guys that could conclusively confirm that it's a Frink have passed on, but it is strikingly like some I encountered as very elderly packers twenty years ago when I started in garbage truck sales."

&nbsp&nbsp&nbsp While this truck has not yet been positively identified, it may indeed turn out to be a license-built Frink, or perhaps a different brand that was built in Mexico under a similar arrangement. Any further information about Frink packers will be published here if and when it becomes available.

This stub article has been added to the Frink album and Unsolved Mysteries #5


---
(February 21, 2016)
&nbsp&nbsp&nbsp Nothing could be finer than finding a working classic, and Scott Watson discovered an example of my personal favorite, a first generation Gar Wood LP-700 in Colorado. This is a 20-yarder on a '72 Chevy conventional, and the box may be of the same vintage; during 1972-1973, Gar Wood replaced these with the LP-700-9 series, but there would have been a good number of the original 700's still in dealer inventories in any case. Relax and enjoy this superb Gar Wood:



This video has been added to the LP-700 page in the Gar Wood album
See the REFUSE BODY DATABASE for more information

Click here to see a vintage 1968 Chevrolet/LP-700 advertisement


---
(January 16, 2016)
&nbsp&nbsp&nbsp Three excellent new pictures have been added, courtesy of Ronnie Keshishian, which I will post here now, as well as adding them to their respective albums.


&nbsp&nbsp&nbsp The Silencer was the trade name of a quiet-running hydraulic pump developed by Fred Smith for Gar Wood. The decibel levels on an LP-720 are being tested in this 1972 photo. This truck is probably one of the last original-style LP-700s, which were replaced by the LP-700-9 series soon thereafter. Truck is an International Cargostar. I once worked on truck exactly like this, except for the container kick-bar....wishing I had one like it today!


&nbsp&nbsp&nbsp Next is a Dempster Route King II working for BFI in 1985. From what I observed here in the Washington, DC area, Dempster was indeed "king" when it came to the national accounts. WMI, BFI and AAA Disposal had large fleets of them. BFI of Northern Virginia used the RK-II in 20-yard form on Ford F-850s converted to right-hand stand-up drive.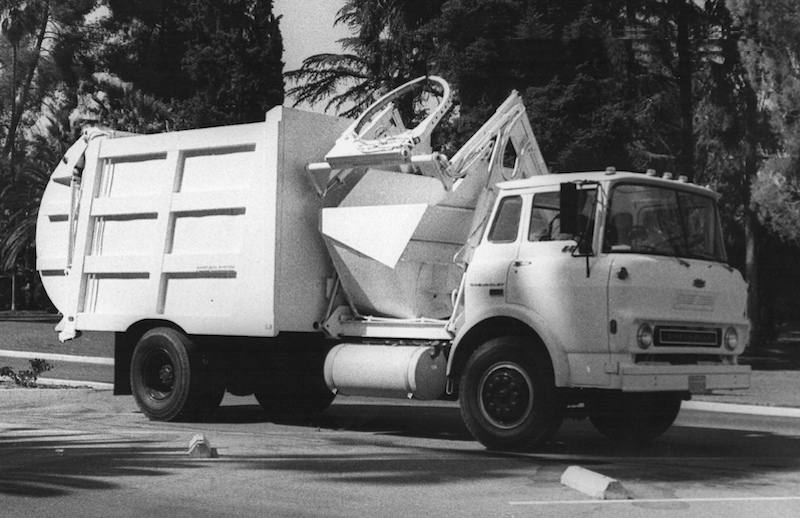 &nbsp&nbsp&nbsp This unusual-looking truck is one the earliest ASLs, a Rapid Rail Gruncher. This unit, mounted on a Chevrolet tilt-cab, was one of their first attempts at marketing a complete packer-loader assembly, and was featured in a 1978 advertisement. Rapid Rail's automated lift arm was mated to the Wayne Gruncher, which used a corkscrew compactor much like the Swedish Norba system. Wayne Engineering also sold a rear-load version of the Gruncher.

&nbsp&nbsp&nbsp Actually, there is no Rapid Rail page at CRT at this time. However, I've created a temporary "under-construction" page for this brand, so that it may be easier to reference.


---
(January 10, 2016)
&nbsp&nbsp&nbsp Still working on the Heil album, and in researching their conveyor-loader, I ran across the gem which is featured on the home page, the Automatic Truck Loader. I had been aware of the patents for this truck for some time, and while I suspected it had actually been built, no evidence had ever been found to support the hunch. These pictures definitively prove the existence of at least one example. They were digitized from photographs in the Library of the New York Academy of Medicine, which campaigned to improve public health in the 1920s and 1930s through modernizing the City's sanitation trucks. These photos show one of the earliest mechanized refuse trucks ever built in the United Sates. This truck was also the forefather of the New York City escalator-loader design which would arrive in 1937, and the similarities between the two are striking.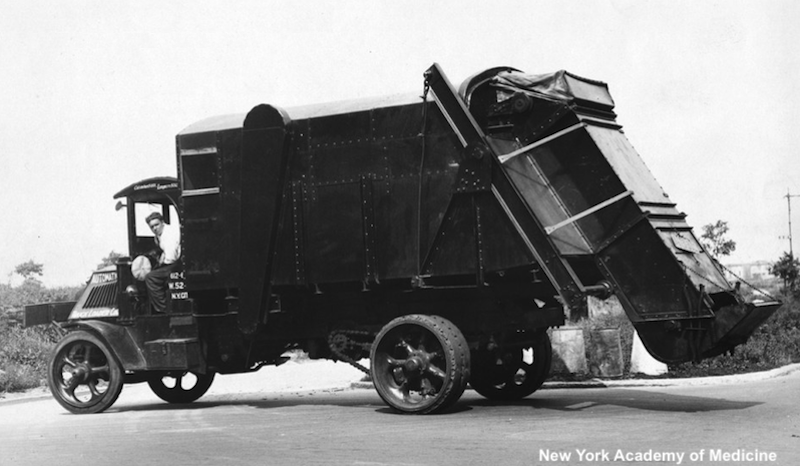 &nbsp&nbsp&nbsp This is indeed a rare treat, to uncover a refuse body design of such historical significance. Mack Truck fans will also take pride in knowing that it was a Bulldog pulling this pioneering wagon; how little some things change in the refuse industry! I won't go into more detail here, but instead refer you to a short article I have written on what is known of this truck and its inventor, one Joseph Goodman of New York. I believe the casual reader and enthusiast alike will enjoy this rare look at the "missing link" in the story of the escalator/conveyor loader, which was so pivotal in modernizing the way municipalities collected refuse.

The article has been added as an entry to the CRT Refuse Body Database


---
For previous news items, visit the CRT Archive


© 2016 Eric Voytko
All Rights Reserved

Logos shown are the trademarks of respective manufacturers
Photos from factory brochures/trade advertisements except as noted