---
(September 17, 2017)
&nbsp&nbsp&nbsp The McNeilus album is taking longer than expected, but should be complete by next week, my apologies for the delay. Meanwhile, I found some other interesting items, including this 1989 S-III Packmaster demonstrating the chain container lift system:


&nbsp&nbsp&nbsp The S-III was the last version of the 1955 tailgate, and its amazing how little it changed during its long life. The ribbed Push-Out body makes these look like Sanicruisers or Alphas from the front. Even after it was officially discontinued, apparently there were some leftover tailgates at Oshkosh (from an overseas order) that were mounted on bodies and sold in the 1990s. This is only the second Packmaster video I have ever found online, and although its function is identical to the Sanicruiser, those of who remember these will appreciate the familiar look of the old-style tailgate and blade.

&nbsp&nbsp&nbsp This was undoubtedly the most popular American rear loader of the 1960s and 1970s, and had a loyal following. It was not the best or most powerful by any means, but it never changed, and that kind of familiarity often breeds great appreciation from small haulers and municipal operations. And the container hoist is a great example; for the extra cost of two chains and container locks, Leach could put you in the container business. There were size limitations, but the one-and-two yard containers were more common in the old days (I guess were threw away less?). I remember fondly the time in 1973 when I rode along with H.E. Award Trash Removal on a night-time container run at Dulles International Airport in a 1966 Ford Super Duty with a 20-yard Packmaster. Then, as now, I was impressed with how well the system worked.

&nbsp&nbsp&nbsp This truck is for sale at Erickson Trucks & Parts in Minnesota. If your looking for a neuvo-classic refuse truck to use or show, this looks like a steal at $16,800.00. It has a 3208 CAT and and an Allison trans and only 124K on the clock.

Italian Gar Wood Mystery Truck
&nbsp&nbsp&nbsp Dana Gregory wrote in with some observations about the 1978 Fiat with the Gar Wood "hybrid" body featured here two weeks ago:

"I am certain that the packer blade is fed by a 90-degree pivoting drawer with a curved spill shield, similar to the Haller and Unimatic loading systems. You can see covers in the hopper protecting the pistons which would pull the drawer up to meet the packer blade. This is a continuous loading system. If you look carefully at the side of the hopper, you can see bearings for the mechanism. I find this to be an interesting adaptation of the Garwood 700-9 body."

&nbsp&nbsp&nbsp Still don't a have positive an identification of the builder, but whichever company was selling Gar Wood in Italy during those years is the most likely. It may be a Macchi, but I'm not sure how far back they go with Gar Wood. On a related subject, Martin Nilsson passed along a YouTube channel link with some good Italian refuse truck videos: TheTrash Truck

French Mystery
&nbsp&nbsp&nbsp This was sent in for identification by Matt from Germany: A Renault with an unknown-make refuse packer:


&nbsp&nbsp&nbsp The packer looks very much like the kind of stationary units found behind shops, with the "clamshell" type blade. This is the first time I've seen one in a permanent-mount mobile application. Contact CRT if you cane name it, or I'll move it over to the Unsolved Mysteries section.

Frink Canada
&nbsp&nbsp&nbsp While working on the McNeilus album, I needed to re-scan some old ads for the PacStar RL from my collection. These go back to 1990, and I have not pulled them out of storage for many years. On the back of one, I found a surprise; The Frink PRD3000, a 30-yard recycler made by Frink Canada. This was a rare treat, since I have so very little info on this make. I guess recycling bodies didn't get my attention back in 2004 when I last looked at and scanned this literature! I will add it to the Frink page as soon as possible: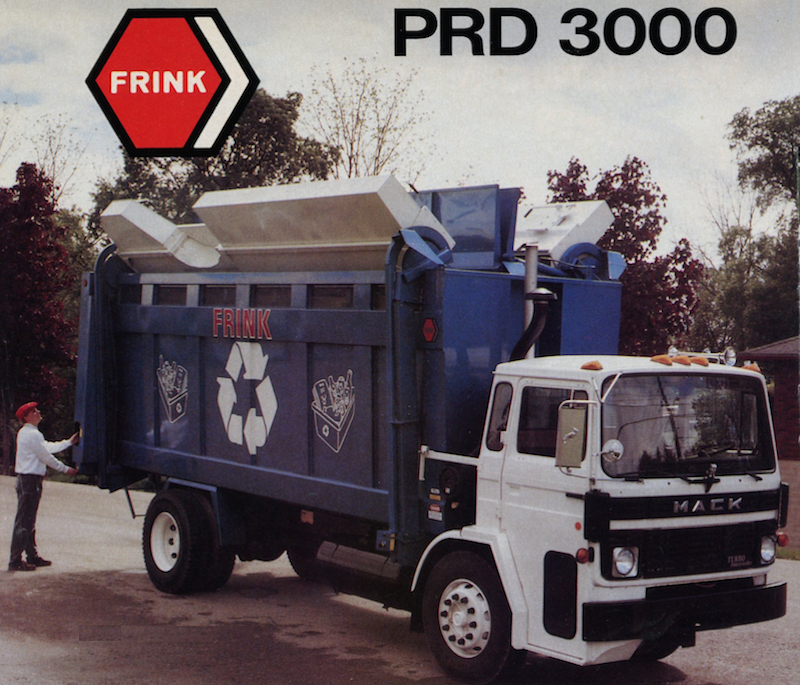 ---
(September 4, 2017)
&nbsp&nbsp&nbsp What I thought would be a very basic Mazzocchia album led to some very interesting stuff from Italy. Fratelli Mazzocchia brought out the Jolly 2 rear loader in the 1980s, an interesting design which works like a cross between the Geesink GPM and SEMAT Cargopac. This was quickly supplanted with a swing-link packer designed by Giorgio Gasparini, who also created the Bergomi Bi-Pac (also sold as the Brivio Bi-Pac and Jack Allen Swinglink). As a result, I have also done a mild re-write of the Bergomi page, with some new drawings added, as well as patent references. The Brivio and JA pages are now linked to Bergomi to ease any confusion over the design. Mazzocchia has a very nice product line, and has been family owned since its founding in 1968...no small feat for a European refuse truck manufacturer.

&nbsp&nbsp&nbsp During my hunt for Compattatores Italiano I found yet another similar design to the Bergomi Bi-Pac from AutoBren, a company that was not even on my radar, and will be added to the CRT Database as soon as possible. They are located just east of Bergomi's old home base in Milan, and may have been influenced by regional fondness for this type of packer. If all of this isn't confusing enough, let's not forget the Farid T2, another swing-link design from Italy, from the company that just so happens to own Brivio Pierino!

&nbsp&nbsp&nbsp But that's not all....I also stumbled across some interesting Italian Gar Wood LP-900s which I was unaware had existed. These are not actually Gar Woods, but are clearly licensed versions of Sargent Industries' LP-900 design that do not appear to be from FAUN or KSG, I believe them to sold by Macchi, whose name appears visible just above the hopper opening on the truck below. This picture was from a 2015 story about refuse collection in the municipality of Castellammare del Golfo, and presumably the truck was still in use. On the other hand, it may be just a "file photo" which is much older. The other Macchi LP-900 is clearly retired, and was posted at a discussion board in which Macchis were remembered with much fondness. It is amazing how many names this classic design has shown up with over the years, before production became concentrated between Heil and FAUN.



&nbsp&nbsp&nbsp Then I ran into the weirdest one yet, and on video no less. This is a 1978 Fiat which was auctioned off in 2013, and is presumably long gone now. The body is pure Gar Wood/Sargent 9-series construction with the classic slant pillars. The packer blade is pure Gar Wood LP-700, a massive pivoting slab with same reinforcement pattern. But the rest of the tailgate is something else altogether...there is no rotary sweep panel or chain drive as on the Gar Wood 700, and a whole different shape to the hopper. It almost appears as if there is a hinged or elevating hopper (Like a Heil Colectomatic or Ochsner), but the mechanism which feeds that big panel is still a mystery. I keep thinking I've seen it all when it comes to old refuse trucks, then something like this comes along!



&nbsp&nbsp&nbsp All of this would have made a terrific article for Columbus Day, but it will have to suffice for the Labor Day edition instead. But hey, you don't have refuse trucks without labor, I suppose. Onward to McNeilus next time.....


---
(August 26-27, 2017)

&nbsp&nbsp&nbsp This unusual truck is up for sale in Idaho, sent in by George Lanoszka, which is a 1990 Ford C-8000 with a Lodal front loader. It has been equipped with a Tink Claw attachment used for loading leaves and debris directly off the street. George surmises that the relocation of the lift arm cylinders is done to allow the cross shaft to drop to street level (or below), which would not be possible in the stock configuration. Also nice is the low-mileage Ford C, which could easily pass for a 1957 model since the cab never changed in over thirty years production! The 1958-60 models had quad headlamps, and there were some badge changes over the years, but otherwise this is a relatively modern chassis which would look great with on older packer on it, or just the way it is now.

&nbsp&nbsp&nbsp George sent another Craigslist classic which I failed to publish before it was sold. Fortunately, it found a good home; Amick Equipment bought it and is going to restore this 1959 Chevrolet Viking/Pak-Mor I-series (chain drive) side loader. It is reportedly identical to the first refuse truck they sold in 1959. It was a beautiful styling era for Chevrolet trucks, and this is one of the few chain-drive Pak-Mors known to be preserved. Is there a 1945 LeLaurin side loader lurking somewhere near San Antonio?
&nbsp&nbsp&nbsp Found alive and apparently well in New England recently was R.J. Souto's classic 1978 Mack DM685/Pak-Mor RL330. This truck was featured here way back in 2008, at that time still working a container route after 30 years in service. This is one of my all-time favorites, and it is rare to see a heavy-duty Pak-Mor, especially one with the first generation tailgate (the slide cylinders are mounted above the track, instead of below it). Unfortunately the video has since been removed from YouTube. Nick Sordillo (Metro Boston Trash Trucks) found the truck resting comfortably, and it is evidently now retired (no tags), but looking to be in good shape. No word on what is to become of this classic truck, but hopefully it will someday be preserved.

&nbsp&nbsp&nbsp Nick also provided a film he shot of a Manupac roll-off in the Boston area, which has been added to the Manupac page here at CRT. This short-lived Canadian company is still a bit of a mystery, and information is scarce.
---
(August 13, 2017)
&nbsp&nbsp&nbsp Added a video to the Maxon album, a nice demo of the Legal One shot by George Lanoszka. Also have embedded several more of your videos into CWS, Able Body Sales and Able Body Company (which got a minor revision). I appreciate all of the hard work in finding and filming these rare trucks, and have credited appropriately. These videos are not new, but I am adding them to their respective manufacturer albums as the Database progresses. Also, all of the CRT albums have now been converted to white backgrounds for easier reading, and I am working on eliminating the silver backgrounds on a few remaining pages on the site.

&nbsp&nbsp&nbsp Some extraordinarily nice Living Classics have been added this week. There is another Gar Wood LP-900 which was acquired by Sunrise Sanitation, joining a fleet of three other classic trucks. This one is my favorite so far, and there is lots of good action video as well. A very rare rib-bodied Leach Sanicruiser (pre-1985) was found in Colorado, on a correct and probably original IHC S1900 chassis. Lots of good video on that one too. Will a working Standard Packmaster show up next? We can only hope.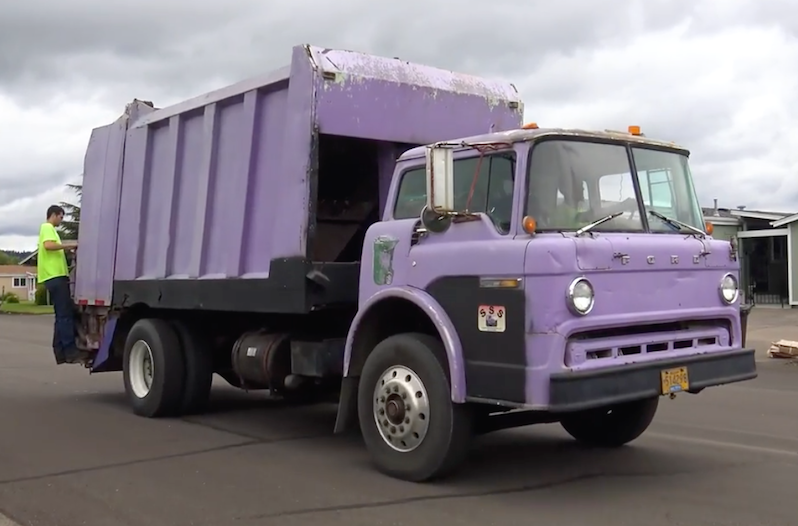 Sunrise Sanitation LP-918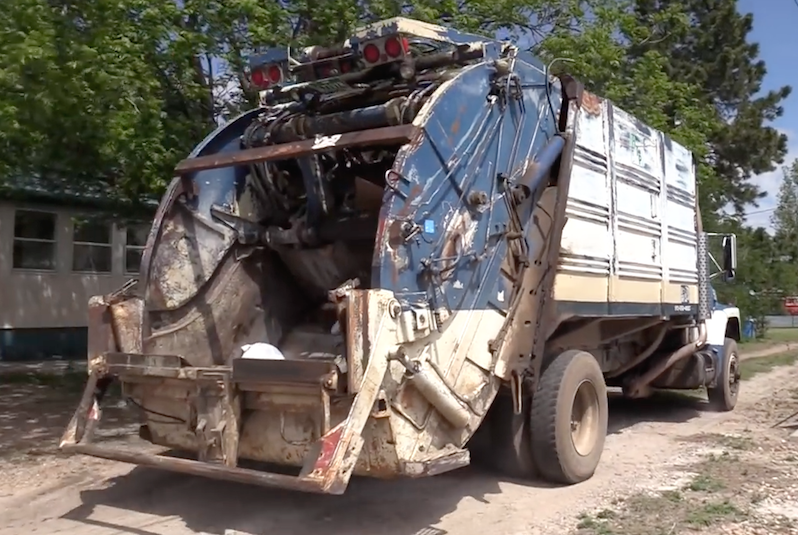 C & L Sanitation Leach Sanicruiser
---
(August 6, 2017)
&nbsp&nbsp&nbsp I had foolishly believed that the Maxon album would go quickly...that was three weeks ago! Thanks for your patience, it is now complete. An interesting company that gave us one of the wildest front loaders ever, the Legal One. Now located in the Refuse Body Database, or click here to go directly to the new album.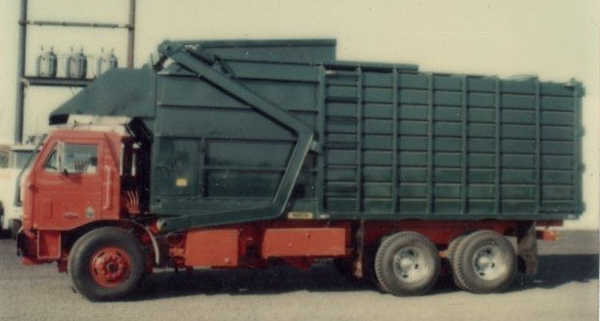 Maxon Speed-Pak front loader
---
(July 15, 2017)
New albums for Ampliroll, Manpuku, Manupac, March and Marshall Cooke.

(see BODY DATABASE on the left-hand control panel of this page)

&nbsp&nbsp&nbsp Added some new pics to existing Gar Wood, KUKA and SEMAT albums, which are shown here to keep from hunting for them. The Gar Wood LP-700/Los Angeles County FD is a better copy, scanned directly from the color slide.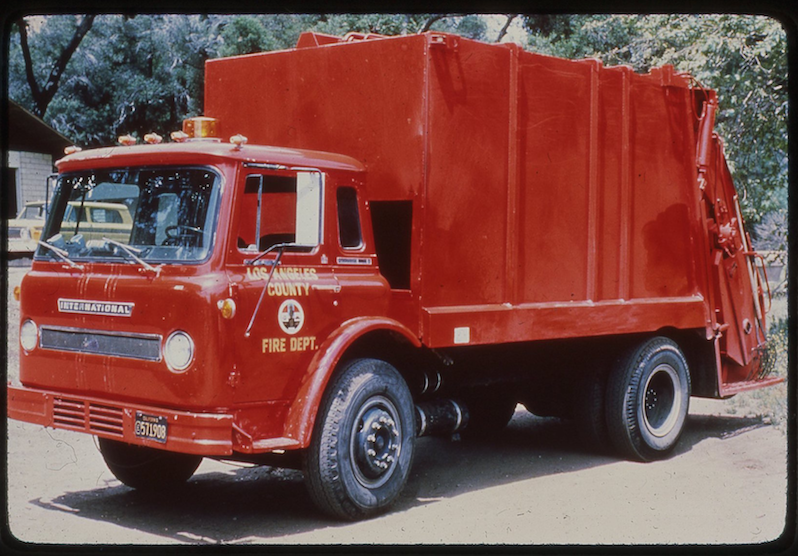 KUKA 219 Bullpress...



SEMAT SUPERPAC...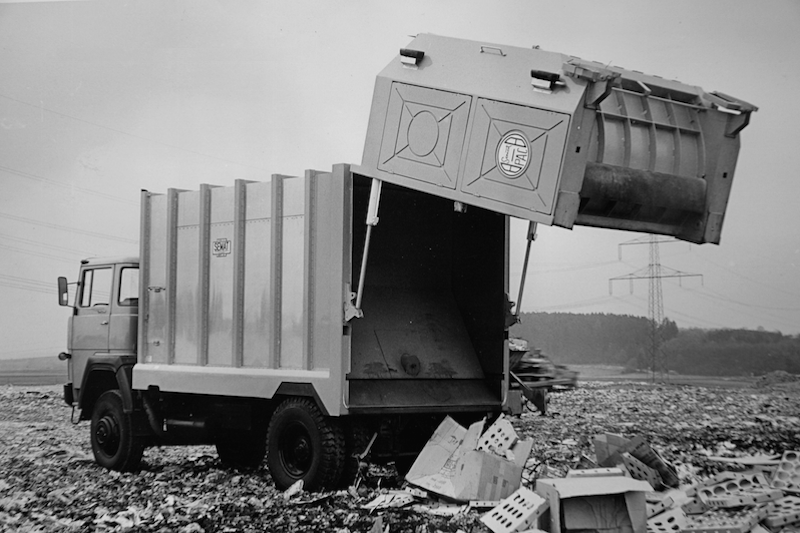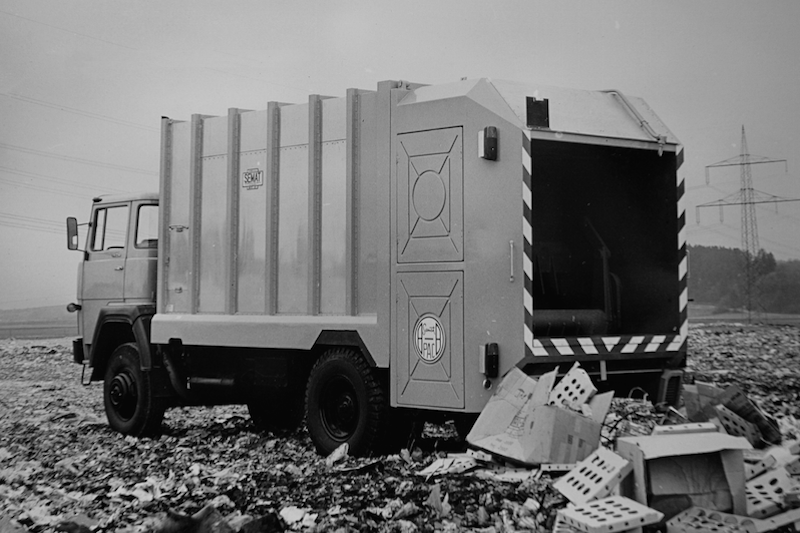 ---
(July 9, 2017)
&nbsp&nbsp&nbsp Chipping away as much as possible, but only enough time for one new entry in the "M"s this week; Manco Environmental of New Zealand. An interesting company with a really great looking product range, including the Wayne Power Lynx rear loader.

(see BODY DATABASE on the left-hand control panel of this page)


---
(July 4, 2017) MYSTERY TRUCK
&nbsp&nbsp&nbsp The place: Wellington, New Zealand. The year: 1971. A Bedford TK series truck with an unknown packer body, based loosely on the original Gar Wood Load-Packer design. Watch the film and see if you can identify it. There is a badge on the front of the body, and oval with stylized lettering that appears to read "NEWCO". There is a metal fabricator in Australia by that name, but I can't find any evidence that they ever produced truck bodies. I also did a search of "YEWCO", a British company that did import tankers down under (and made a Fore & Aft tipper in the early 1960s), but that was inconclusive as well. Thanks to George Lanoszka for forwarding this one. Packer is shown operating at approximately 10:00 into the film.
---
(July 3, 2017)
&nbsp&nbsp&nbsp New pages added for M-U-T, Macchi, MacDonald Johnston and Magirus-Deutz (see BODY DATABASE on the left-hand control panel of this page)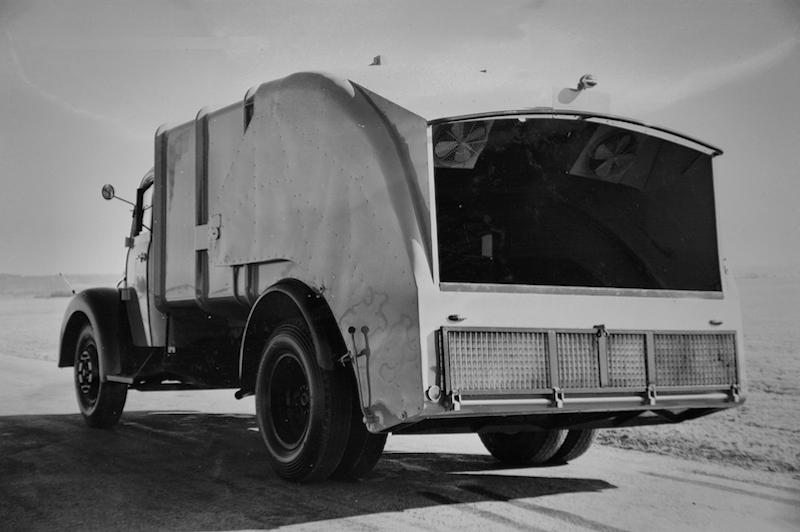 ---
(June 19, 2017)
&nbsp&nbsp&nbsp Added some new pictures to Gar Wood: Chapter 19 has a picture of "The Silencer" front mounted pump, and Chapter 15 features a new picture of a Cleveland LP-820 (shown below). Chapter 20 has several nice new images of the great LP-3000 front loader, thanks to Dana Gregory who provided an original brochure from around 1975. I had very few images of the 3000 when the article was published in 2014, but the brochure contained several beautiful illustrations which are now posted.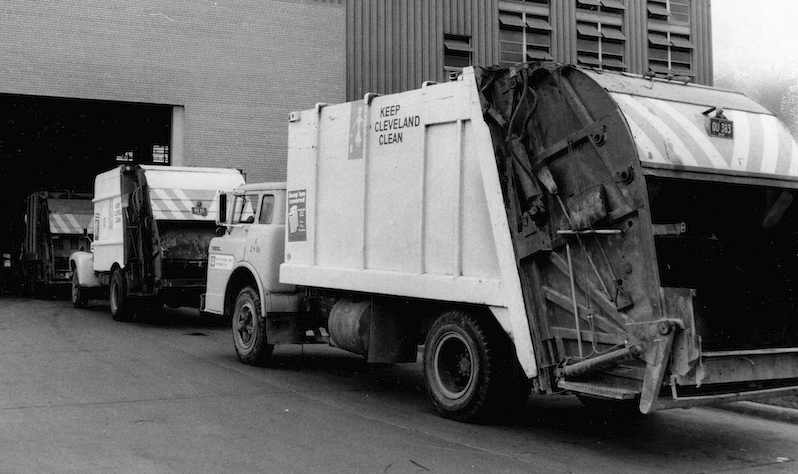 ---
(June 4, 2017)
&nbsp&nbsp&nbsp Some "catch-up" here this weekend. Added a new video to the Wayne temporary album, showing the Wayne Hypax, a rare American rear loader based on the Norba KI 11. (Thanks to George Lanoszka for tip.)


&nbsp&nbsp&nbsp Brian Carpenter noticed the lack of a CRT Database entry for Marshall SPV, a company that briefly and unsuccessfully tried their hand at refuse bodies in the 1990s. Former SD people were involved, resulting in designs similar to the Pakamatic and Route Chief. Marshall is still in business, but the their RCVs are no more. My thanks to Brian and Phil Clifford who provided a rare photo, so that we now have them cataloged here at CRT.


---
(May 29, 2017) HEIL: A FORMULA FOR SUCCESS
&nbsp&nbsp&nbsp The second part of the Heil story is now posted here at CRT. Getting this ready for Memorial Day meant there has been no activity here for the last month or so, as this has taken every bit of spare time I had. I will be catching up on some other items in the following weeks, and thank you for your patience. I believe most readers of this site will not be disappointed; there are 19 new chapters with 205 new images and 7 videos. It details Heil's history since 1961, and some of there best-known equipment. Combined with the first part (posted last summer), this is by far the largest album on the site. Heil is not a small company, and has been around for over a century, so there was a lot to tell. Rear loader fans will appreciate the story of the fabled Mark V, its demise and how Heil ultimately snatched victory from the jaws of defeat in one of the biggest gambles in refuse truck history.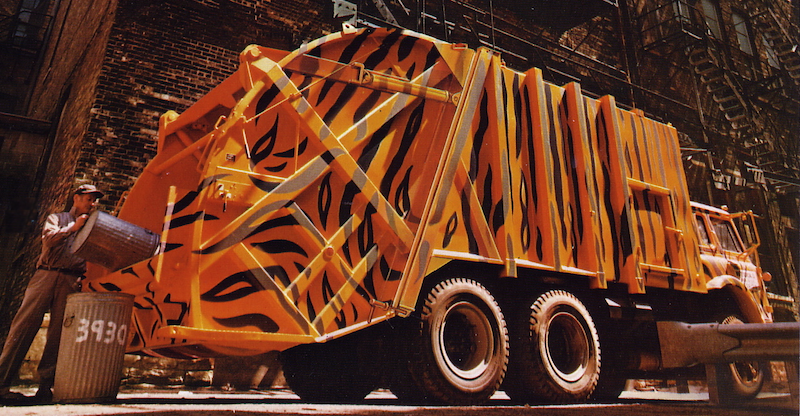 &nbsp&nbsp&nbsp My sincerest of thanks go to Dana Gregory, who came through with a cache of literature which is greatly appreciated; I could not have documented the early days of the Formula era without it. And to Scott Blake, who has also provided a wealth of literature and information to CRT over these many years. John Thomas shared his fascinating "inside information" on the company, having been with Heil during a critical moment in their history. I must also thank Zachary Geroux; if there is ever a west coast connection in a front loader, he will probably be the first to discover it. Alan Blanchard provided a nice demonstration clip for the Formula 5000. (Alan I'm sorry it took four years to get it into an album!) Last but certainly not least, I am grateful to all the dedicated "truck hunters" who document the living legends and neo-classics in pictures and video. Your efforts bring the history alive, in way words can't often describe, and preserve the memory of this equipment while it is still around.

Both sections of the two-part Heil history may be accessed from the Heil Gallery, which is now linked through the CRT Refuse Body Database.
---
(April 8, 2017) TRUCK RESCUE
&nbsp&nbsp&nbsp Nick Marshall (Orwell Container, Richland NY) sent in some pictures of some very old trucks in need of a good home. Shown below are an old Truxmore Pakker "barrel truck" on a Ford F-series, and a Hydro E-Z Pack on a C-series tilt cab. These trucks belonged to his grandfather, and currently reside on his estate about an hour north of Syracuse, New York. The clock is running on these trucks, which now must go either to scrap or a new home. Contact Nick at 315-298-3739 or email Orwellcontainer@gmail.com if interested. He also mentioned that he has two Leach Sanicruisers in operable condition as well.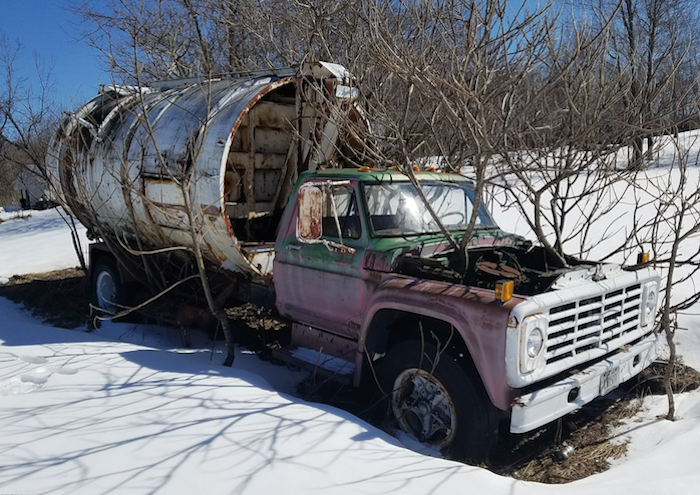 &nbsp&nbsp&nbsp This 20-cubic yard E-Z pack bears serial number 4339, and was built by Hercules Galion Products Inc, probably before 1969. The company was acquired by Peabody International at that time and afterwards was known as Peabody Galion.


---
(March 26, 2017)
&nbsp&nbsp&nbsp Here's the set of Geesink Packmaster images promised for last weekend (apologies) by way of Sjef van Lierop. I'm reasonably sure Geesink manufactured the Leach Standard Packmaster body in The Netherlands at some point, but this DAF truck may have an imported body from the USA. It looks exactly like a 25-yard model from America, right down to the ID plate at the front corner. It also has the mounting flanges for the "Leach" emblem atop the body opening at front (some UK Packmasters had a "Lacre" emblem in this same location). Later Geesink Packmasters have slightly different body side sheet stampings as well.


&nbsp&nbsp&nbsp Here's a couple more Britich RCVs from Ebay: A Jack Allen "Little Gem" rear loader, which was their slide-sweep model packer for the Borough of Pendle. This nice looking body has a power-locking tailgate clamp electric packer controls. Below the Gem is side view of a Glover 202.


---
(March 12, 2017)
&nbsp&nbsp&nbsp A new multi-page article on front loader history by Zachary Geroux appears in the latest issue of Waste Advantage Magazine. Those without a hard copy can view the article online here. Zach has been contributing to WA over the last year or so, and this is one of his biggest features to date.

&nbsp&nbsp&nbsp Some new pictures, all of which will eventually wind up in their respective CRT albums in the near future, but I'll post them here to save you the trouble of looking them up. First up are some 1970 shots of a Kronenburg Power-Packer on A DAF cabover sent in by Sjef van Lierop. I'm fairly certain that Daybrook had discontinued these in the USA by that time, and they would not last much longer in the Netherlands either. These are by far the best photos of any version of this packer that I have ever seen. In addition to Kronenburg, it has been sold by Herman, Daybrook, and Wood (Canada), and was designed by Gar Wood's brother George.


Next up from Sjef is a 1973 Kronenburg Colectomatic on a DAF 1200, which looks very much like the Heil version (Mark III) except with a much more angular tailgate. Presumably this replaced the Power Packer, at least for a few years in Holland. Some of the European variants would be badged as Heil, although Norba had their own version for a while, and UK Heils all went under the Jack Allen badge until the 1990s. A nice looking packer, to be sure...I think I like this better than the American version! (Next week I'll have some Geesink-Leach Packmaster photos from Sjef)


Below is a 27-yard Truxmore Pakker on a hand-loaded residential route via Pete DeRose. During the 1970s and 1980s, these were among the largest packers around, and were far cheaper and easier to maintain than a rear loader. With a 600 lbs+ per cubic yard capability, they were popular with small independents and many municipal outfits as well. The downside was loading height, and with the panels raised at the end of the load, it was akin to working on an old open bodied truck.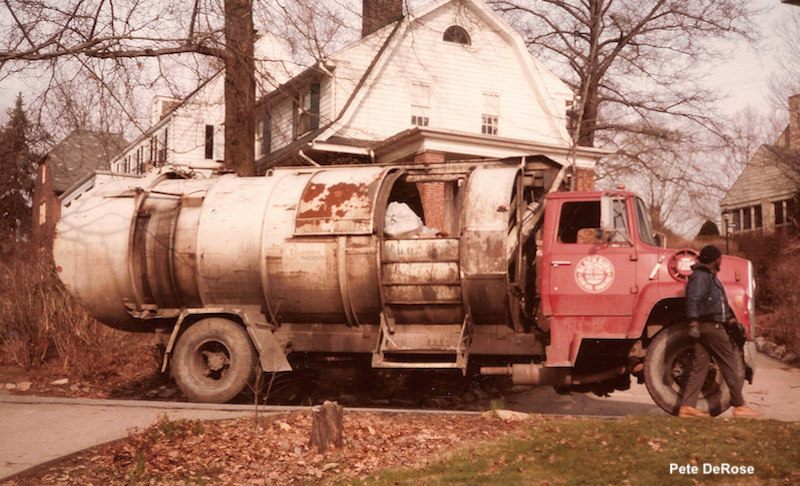 These pictures came from Ebay; an American LaFrance rotary body from 1933. A short-lived model that may be a Von Keller body in disguise, but that is not certain. Also notable for being a rare example of an American company building the complete truck. It's too bad these photos had exposure problems.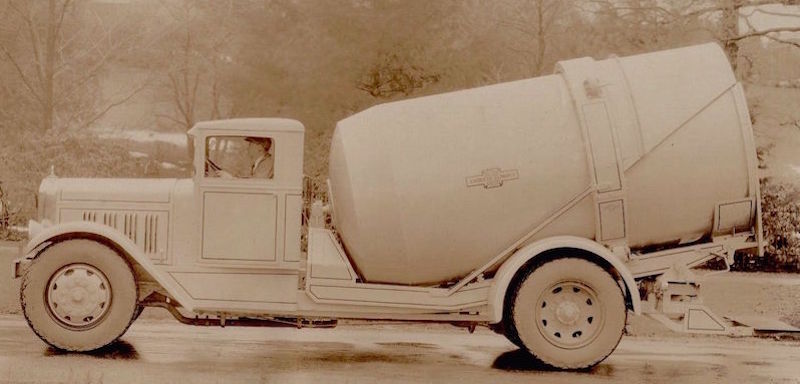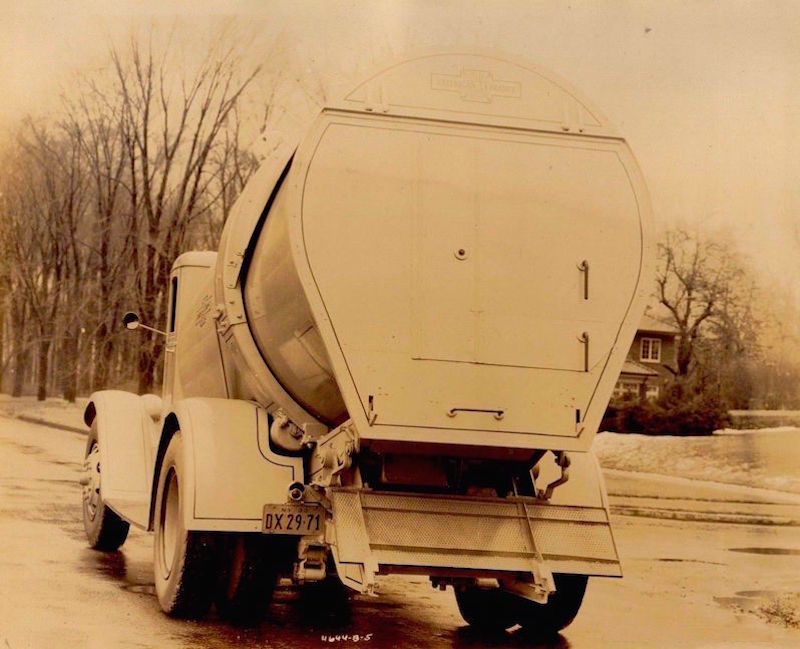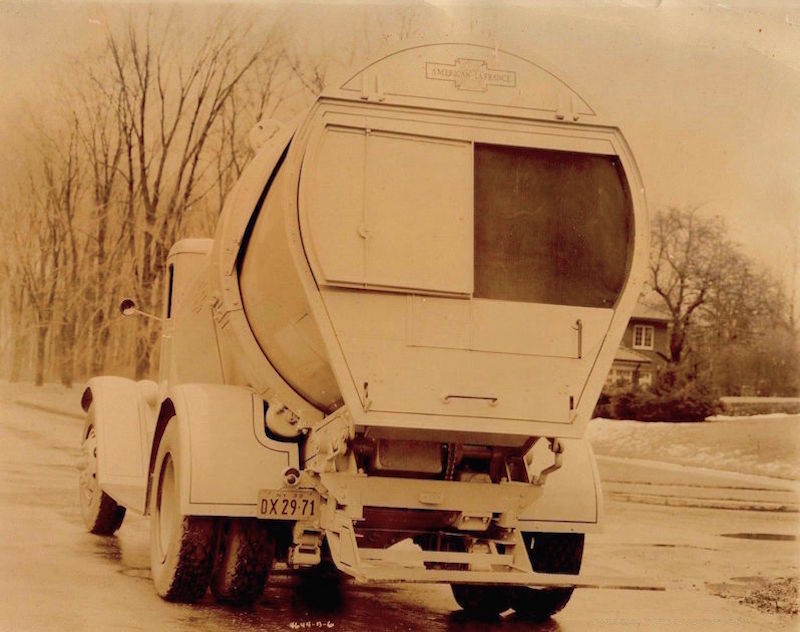 Finally, again from Ebay, some UK iron, starting with this Eagle Crushload circa 1962, disgorging its dense payload....




...and a Glover, Webb & Liversidge single-screw Musketeer in Germany...


...and last up is this special Glover, Webb & Liversidge truck with crane for emptying bottom-dump refuse bins from high-rise flats in Kensington. I believe the main body is a moving-floor type.


---
(February 19, 2017)
&nbsp&nbsp&nbsp A new municipal album is now posted for The City Of Los Angeles Bureau of Sanitation. I created this album primarily to post some recently acquired pictures of the L.A. fleet during its launch in early 1957. I've posted these 22 images in a much higher resolution than normal, owing to their exceptional quality and historic significance. Thumbnail images will link to the full size image, some of which are 3000 pixels wide. I've also added other pictures of historic LA BoS equipment, although the selection is certainly not all-inclusive. Will update this page if any new material becomes available. (Municipal albums and special articles may be found by clicking the PHOTO ALBUMS button on the left-hand tool bar)

&nbsp&nbsp&nbsp From the same set of images, there were four of a Heil Colectomatic dumping at an unknown L.A. county landfill. Since this was not a Los Angeles City truck, those images have been posted in the Heil album, chapter 8, Heil Colectomatic. The new photos are at the bottom of the page under the header "At the Landfill, 1957".
&nbsp&nbsp&nbsp Nothing should make CRT enthusiasts happier than news of a truck rescue, and a tip-of-the-hat this week to Thompson Sanitation of Clarks Grove, Minnesota for saving this 1974 International Cargostar with a 20-yard Leach 2R body. Owner Frank Thompson reports that it is in good working order, and he plans to have it restored for parades and special events. I ran short on time this weekend, but I will add it to the restored/preserved list ASAP, and will update the page as needed.


---
(February 12, 2017)
&nbsp&nbsp&nbsp Two new trucks have been added to the Restored Trucks section, both being early model Heil Formula 7000 automated side loaders owned by the City of Granger, Washington and photographed by Alan Yunt. These two trucks are in amazing condition, one on an International Cargostar, and the other on a 1982 American LaFrance CTC. The latter still has its original "Formula" deluxe paint scheme intact. Click through the video link for the 1982 truck to Alan's YouTube page, and you can read the video description for details on the trucks and the amazing people of Granger DPW who have kept them going all these years.

&nbsp&nbsp&nbsp I've upgraded my scanner to the Epson V550, which will scan slides and negatives. I don't have that many negatives, but did recently acquire a set of pictures from the Los Angeles Bureau of Sanitation taken in March of 1957, when the City had just inaugurated citywide refuse collection and was giving public relations tours of their new trucks (lots of Leach Packmasters). The picture below is a sample, scanned in 800 DPI resolution (compared with the usual 150-300 DPI range I typically use. The result is quite amazing, and if you click on the 798 pixel image, it will open it in the actual size of 2,100 pixels width. Even better, the scanner can scan up to 12,800 DPI, if you have the time!
&nbsp&nbsp&nbsp Notice the guy with the movie camera at the far right, meaning there may be a filmed record somewhere of these events! What a find that would be. Look for a LABOS album with these pics in the very near future, as well as anything else I can round up on the department. I hope to do one for the DSNY at some point as well. In the meantime, one quirk of this scanner is that it has a film scan size limit of 2.74 x 9.00 inches, but many of my negatives are 4.0 x 5.0 inches, and thus can not be scanned in their entirety (i.e. cropped). If anyone has any experience with the V550 and knows how to overcome this, please let me know. Otherwise, I will do the best I can with what I have.


---
(January 29, 2017)
&nbsp&nbsp&nbsp I'm posting links to two new albums here, Vestfold Bil & Karosseri (VBK) and Hagemann & Partner. These two are new to me, and when I have new entries to the Database such as these, I will try and get some minimal info posted as soon as possible. In the case of VBK, this is the first manufacturer in the Database from Norway, but there is little information to be found about their seemingly rare refuse bodies. Hagemann is still in business, and seems to specialize in compact side loaders.

&nbsp&nbsp&nbsp I've upgraded the picture of The Litter Gulper dhown on the CRT home page and in its album. It is identical to the one replaced, but of much higher quality. Also found a picture of an Edbro skip loader with trailer:
---
(January 21, 2017)
&nbsp&nbsp&nbsp Two interesting photos to share...first up is a rare look at a 13-yard Cleburne Ranger rear loader, nearly new, from the early 1970s. Cleburne was a Texas manufacturer which was acquired by Dempster in 1972-73, and ultimately thee small rear loaders were sold as the Dempster Route Mate. Very few images of the Cleburne-badged Ranger exist. The owner standing proudly with his new truck is Elmo Astle, a private hauler who worked the City of Afton and the Star Valley area of Wyoming.


&nbsp&nbsp&nbsp Below is what I believe to be a 15-yard Clyde Refuse Getter working in Waverley, New South Wales in the mid-1960s. Clyde produced this Leach body in Australia for many years, but this particular truck was not identified and will remain tentative for now. This is the latest model Refuse Getter that I've ever found, and the only one with a vertically ribbed body and 1.5 cubic yard loading trough, although otherwise it looks much like the Leach version on the 1950s.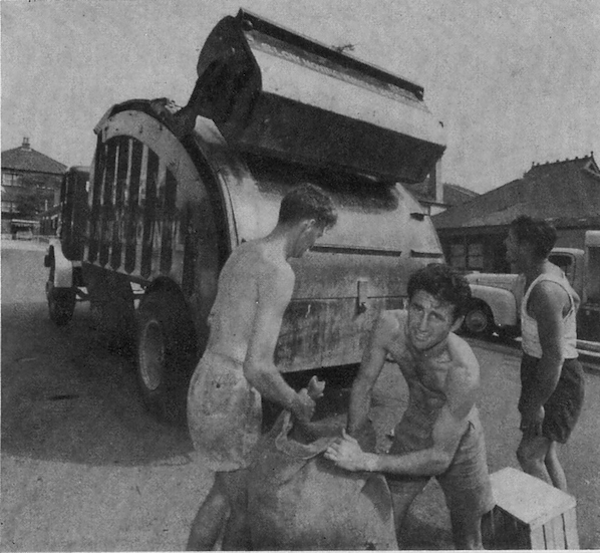 ---
(January 15, 2017)
&nbsp&nbsp&nbsp Have recently obtained a better quality image of Z301 from the UNSOLVED MYSTERIES page, and am posting here for more publicity and hopefully identification. Unfortunately, the emblem on the tailgate door is still not identifiable (to me), although I suspect it may be a "Powell Duffryn" logo. This is one of the more unusual front loaders I've ever seen, with its "pusher" lift arm cylinders and the toggle linkage built into the arm joint. Mounted on a Leyland Bison with the Ergonomic cab, I would estimate this to be no later than very early 1980s, and obviously British.


---
(January 8, 2017)
&nbsp&nbsp&nbsp CRT is back for 2017, and despite no new updates for the month of December, I was able to make a lot of progress during that time on the second half of the Heil album, which will cover the years from 1961 to the present. I hope to have everything done no later than this Spring, but will publish it earlier time permitting.



DEMPSTER TRADE SHOW MODEL
&nbsp&nbsp&nbsp I received an email recently from the owner of the Dempster Trade Show model, and hoped to have some update on its current status. I have not heard back from the owner as of this writing. If "George" is reading this post, please try and contact me again in case my message did not get through. I sure the readers of CRT would be interested to hear more about this incredible scale model.



&nbsp&nbsp&nbsp I've added a new page for the Litter Gulper, our featured truck for January. The story is shown in its entirety below, as well in an album in the CRT Refuse Body Database. I'm going to file this one under its name (Litter Gulper) since it was most likely never in regular production by the manufacturer (Pioneer Engineering). It will be cross-referenced in the Database under Pioneer and American Can Co., which was the sponsor of the prototype.

THE LITTER GULPER


The Litter Gulper Mark II attachment on EVO Lodal refuse truck


&nbsp&nbsp&nbsp The early 1970s saw an increased public awareness in ecology, which spawned a public service campaign against roadside litter in the United States. The "Pitch In" logo soon began appearing on refuse receptacles, and the memorable television PSA showing the American Indian weeping as motorists tossed trash out of their windows became emblematic of the movement. At the same time, technological developments in refuse collection equipment were just breaking out, such as the Son of Godzilla, the Gulf MBR, The Jumping Bean and the Glen Myers autoloader.

&nbsp&nbsp&nbsp Out of this came the Litter Gulper, the creation of Jerry Fleming of Oroville, Washington. This device was an attachment arm which was coupled to a conventional refuse packer, and was designed to patrol highways and automatically pick up roadside refuse without the driver ever leaving his vehicle. Fleming built his own prototype, and later a working prototype was commissioned based on his design by The American Can Company, a producer of packaging (primarily beverage containers) which made up a large part of highway litter. The finished product, dubbed the "Mark II", was built by Pioneer Engineering & Manufacturing of Warren, Michigan. Pioneer was the largest and oldest engineering firm in Detroit, and had long worked with the major auto manufacturers based there. Starting with a standard Lodal EVO unitized side loader, Pioneer added a 17-foot reach loader arm with a conveyor belt which emptied into the hopper of EVO. At the opposite end, the opening was fitted with compressed air jets and a sweeper to dislodge and lift loose rubbish (including bottles and cans) on to the conveyor, at a working height of up to 4-feet above street level. The dual steering controls of the EVO made the operation easier from the right-hand drive position, while left-hand drive could be used to-and-from the job.

&nbsp&nbsp&nbsp The Litter Gulper was a novel and timely idea, but except for this prototype, there is no evidence that any more copies were ever built. The Litter Gulper received some mainstream and trade press coverage in 1972, but ultimately was probably too expensive for most municipalities. It was a novel idea, and timely, but probably was just too cumbersome and expensive for the job it performed. It remains today as a mechanized footnote in the 1970s ecology movement, a cross between a road sweeper and a refuse truck.



Inventor Jerry Fleming demonstrates his Litter Gulper in 1972


REFERENCES: American City Magazine, September 1972, page 12 "Roadside Litter Gulper"



---
For previous news items, visit the CRT Archive


© 2016 Eric Voytko
All Rights Reserved

Logos shown are the trademarks of respective manufacturers
Photos from factory brochures/trade advertisements except as noted