---
(February 15, 2015)
CUMMINGS REFUSE COLLECTION

&nbsp&nbsp&nbsp Following up a picture posted here two weeks ago (see January 26th post), the restored 1956 International with Hydro E-Z Pack side loader belonged to Ernest Cummings, a third-generation hauler from West Virginia who sold his business in 2008. Ernest tells CRT that he restored the truck, which originally belonged to his grandfather, and has sold it to the Waste Pro Museum.

&nbsp&nbsp&nbsp Ernest sent in some old photos of his former trucks, which I have posted in the Living Classics section under Cummings Refuse. Two more factory photos Ernest sent are shown here, and have been added to their respective manufacturer albums at CRT: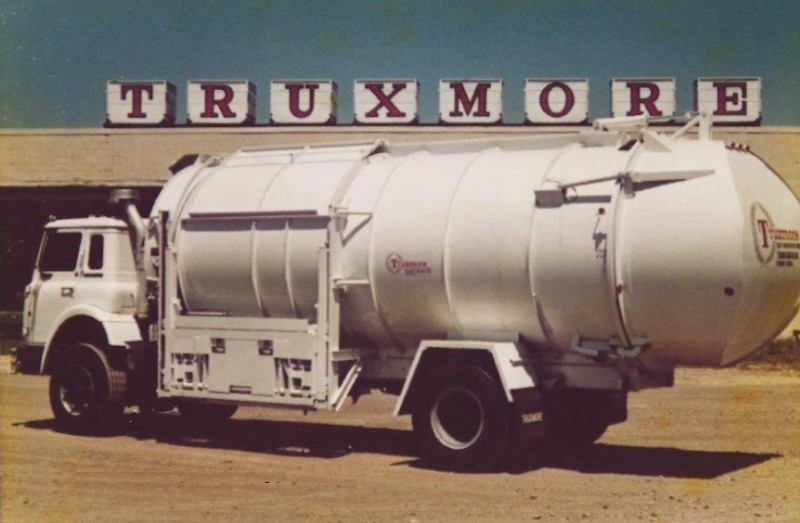 Truxmore Pakker 27-yard container truck circa 1975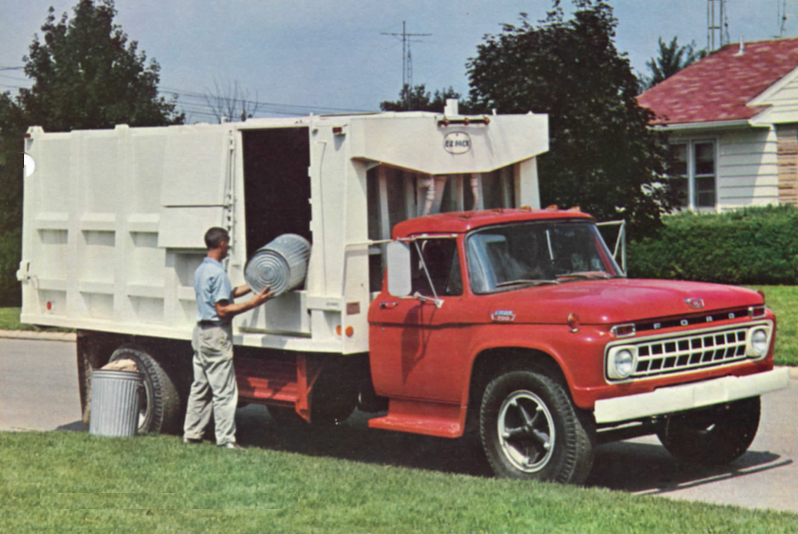 1965 Ford with E-Z Pack 20-yard side loader



SCOTT BLAKE 2-R PACKMASTER UPDATE
&nbsp&nbsp&nbsp Also added to the Living Classics section are the recent exterior pictures (shown on these pages below), as well as some really nice pictures of the cab interior of the International. These CO's were once a staple of our industry, yet this may be the only example currently in preservation as a refuse truck. More often than not, truck collectors tend to strip off refuse bodies from trucks like this, either because of a lack of interest, the expense of restoration, the value of the body as scrap, or any combination of these factors. There is also (unfortunately) a tendency towards "truck snobbery" amongst some, who look down their noses at refuse trucks, restored or otherwise.


&nbsp&nbsp&nbsp This truck certainly is a "goodwill ambassador" for restored refuse trucks, and I happen to feel it would be a crowd-pleaser at any truck show. This cab is in amazing shape for its age, considering the terrible abuse wrought on the average refuse truck. Scott is trying to get it as close to original condition as possible. This is a difficult task though, as these trucks have done a "vanishing act" from salvage yards in recent years, undoubtedly due to the rising prices for scrap.

All of the latest pics are in the 1971 Packmaster album located in the Living Classics section.


GLOVER, WEBB & LIVERSIDGE
&nbsp&nbsp&nbsp While adding some new pictures to the GWL album, I noticed that it was in need of some updating since it's debut in 2010. I have made major revisions to 4 of the 5 pages, and added about twelve new images. This includes a section on the previously excluded Blenheim, and clarification of some facts about the Ramillies and Binmaster. Also, there is a major revision to chapter five, which now shows the Grenadier, 202 and Loadmaster in their progression.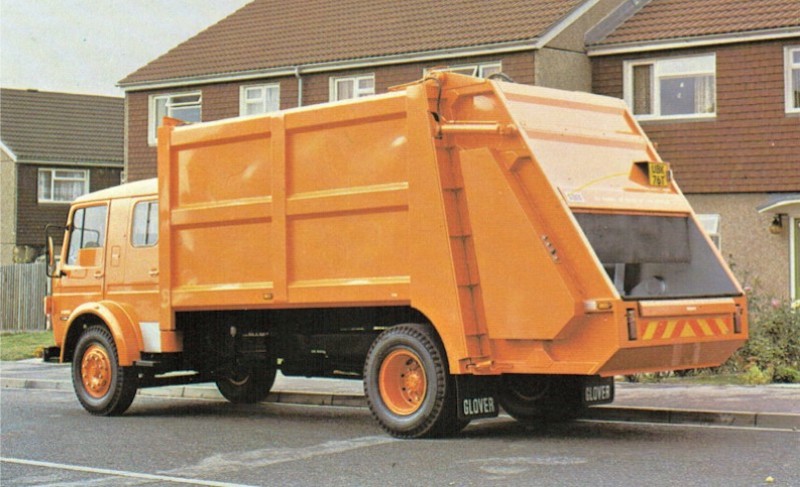 &nbsp&nbsp&nbsp This is a relatively short story, but an important one in the history of British refuse collection vehicles. I still need some pictures of the last Glover Loadmasters, which somehow seem to be harder to find than anything else they ever made! Please contact CRT if you have any publishable pictures.

&nbsp&nbsp&nbsp I have a sizable amount of British RCV literature which I have acquired but needs to be scanned, so look for more of the UK stuff here in the future!


---
(January 26, 2015)
ANCIENT TRUCKS OF THE NORTHWEST

&nbsp&nbsp&nbsp Road trip to Idaho yields mucho ancient iron. Bill Tetreault, Zachary Geroux George Lanoszka visited with Magic Valley Disposal and found some fine old beauties still on the job. First up is this amazing International Loadstar stand-up with a Hydro E-Z Pack side loader. The container lift appears to be the type designed by Harold Alexander for the Super-Pack side loader built by Superior Mfg.:




And in case you were wondering what a Super-pack looks like, they found one of them too!




Did you ever think you'd ever see trucks like these? Makes me wonder if there are any old Sicard Sanivans still wandering the prairie in Manitoba!

See more pics at Refuse Truck Photography


...AND ANCIENT TRUCKS OF WEST VIRGINIA


&nbsp&nbsp&nbsp This just showed up for auction on Ebay: 1956 International S160 with a Hydro E-Z Pack. I don't know anything about this truck, but it is located in the Charleston, West Virginia area. See the listing and contact the seller if interested.


---
(January 24, 2015)
MORE ON NORTH AMERICAN "SHARKS"

&nbsp&nbsp&nbsp The following unedited commentary comes from Dana Gregory, with a follow-up to the Rolling Meadows article published here three weeks ago. I think you will enjoy his observations on the KUKA Shark's appearance in the Boston metro area in the late 1960s:

&nbsp&nbsp&nbsp I may be wrong but I think that the Shark arrived in the Northeast a little earlier than it did in Rolling Meadows. I first heard rumors of an amazing German-built garbage truck demonstrator making the rounds in the NYC-Boston area in late 1968 or early 1969. It was a 19-yard mounted on a cabover Mercedes painted light green. It was featured in Newsweek magazine, with pictures of it devouring a refrigerator in NYC. Soon after, it appeared in Boston. James Freany, Boston's second largest contractor, located in South Boston, fell in love with the Shark and was going to become the American distributor for the Shark. He had the original demo, plus a 25-yard mounted on a White Compact, just like the Philadelphia demo in your article, only it was painted light grey. They also were going to use the stainless steel 2-yard containers that were (and still are) popular in Europe. I saw these dumpsters and was very impressed with them.

&nbsp&nbsp&nbsp I also fell in love with the Shark and in the spring of 1969. I would go into Boston on Saturday mornings to watch it collect in the Beacon Hill section of Boston. I saw it reduce furniture to matchsticks as easily as it gobbled up residential trash. It would then dump at the South Bay incinerator (long since demolished). Mr Freany also brought over a German mechanic to supervise maintenance on the Shark. He was a real gentleman. The plan was to convert the entire residential fleet to Sharks, and Mr. Freany started to do just that. He bought several more with the newer, wider opening on the back. Unfortunately, in mid-to-late 1969 Freany Disposal was bought out by Sanitas, based in Providence, Rhode Island. They were not interested in the Shark at all and stopped the conversion that James had started. Rumor had it that Sanitas was a Mob operation, but nothing was actually proven at the time.

&nbsp&nbsp&nbsp It is sad because the Shark was so adept in urban collection. I actually tried to buy the original demo, and at the tender age of 19, I submitted a bid at a local shopping center with an underground tuck tunnel, which I would use the Shark for. I did not get the contract, as I had nothing to back me up. Another try to resurrect the Shark was attempted by a local truck body dealer outside of Boston named Ed Blieler. He was the original Elgin-Leach dealer for the Boston area, but gave it up because he didn't want to deal with sweepers. He loved the Shark, and had a beautiful 23-yard Shark mounted on a White Alleycat for a demo. He sold a few in the area, then St. Regis took over and as we saw, it sort of died out. What a shame. Orbital tried to get going, but their problem was that they tried to sell a whole system and nobody was interested in buying a whole system. I saw the Orbie demo in the Boston suburb of Newton. It was a 20yd mounted on a 10 wheel Ford Cabover and it packed over 10 tons! Unfortunately, that never really got off the ground.

&nbsp&nbsp&nbsp I think the newer Rotopress would do well over here, especially with the popular cart lifting systems now in use. Waste Management has a trailer-mounted Rotopress used for organic waste. I would love to see someone give the rotary packer another try. Maybe, with a good US importer, it will finally catch on.

(This commentary will be added to the KUKA album in the near future)




IS THIS THE MOST BEAUTIFUL CLASSIC REFUSE TRUCK IN AMERICA?


These new pictures of Scott Blake's 1971 International CO-Leach 2-R Packmaster make a strong case for that argument, despite strong (and welcome) "competition" which is increasing around the United States. OK, so I never met a classic refuse truck I didn't like, but Scott's truck achieves that perfect match of truck and body, for its time period. I had always been a fan of the IHC Cargostar cab, another popular choice for 70's 2-Rs, but this one is making a "CO believer" out of me. Enjoy Scott's latest pics, which will be added to his album in the near future.


---
(January 3, 2015)

THE LAND SHARKS OF ROLLING MEADOWS
&nbsp&nbsp&nbsp Starting out the New Year, Classic Refuse Trucks presents one of the most unusual chapters in American refuse truck history with the story of Rolling Meadows, Illinois. A small city on the outskirts of Chicago, it is believed to be the first city in the United States to use the German-built KUKA 215 "Shark" rotary refuse body. I would like thank Brad McFeggan, who passed along most of the photos and a wealth of information. Brad's grandfather, James McFeggan, was the first Superintendent of Public Works for Rolling Meadows, and was instrumental in bringing the Sharks to his city for use with a paper sack collection system he spearheaded in the late 1960s. McFeggan ultimately was involved in efforts to promote the paper sack system and rotary refuse collection bodies throughout the country.


James McFeggan
&nbsp&nbsp&nbsp The KUKA rotary was one of the first purpose-built refuse bodies in history, having been introduced during the 1920s. It became wildly popular in Europe, and thrived in the postwar period. By the late 1960s, it would achieve a feat that had eluded almost every other European builder, by breaking into the competitive North American market. The first Sharks evidently entered the continent via the St. Lawrence, and beached themselves at Montreal where Metropole Refuse Disposal had at least one in service by 1968. From there, they worked their way south to Lake Michigan, coming ashore in Illinois when Rolling Meadows purchased their first trucks in 1969. This event would bring the city a great deal of publicity. Not so much because of the KUKA body, which was truly unusual and groundbreaking, but because of the L-series Mercedes-Benz trucks they were riding on. It was the stuff of dreams for newspaper editors; stories about "luxury" refuse trucks, and headlines like "Could Rolls-Royce Trash Trucks be Next?"


&nbsp&nbsp&nbsp For in the USA at this time, Mercedes-Benz was known to the American public as a prestige automobile marque, building high-end sedans and sporty coupes for the well to do, and limousines for foreign dignitaries. The fact that they were one of the world's largest truck manufacturers didn't register in a land dominated by Macks, Internationals and GMCs. In reality, the L-series "short bonnet" conventional was one of MB's most popular models, and enjoyed a production run spanning 1959-1995. Most of the L's were for export, primarily to the Middle East and South America, where a production facility was added in Brazil. By the 1970s, they were showing in up in greater numbers across America, primarily as delivery trucks, and occasionally, in refuse service. Thus, when the first refuse trucks bearing the famous three-pointed star emblem were sighted, it made for interesting news copy.

&nbsp&nbsp&nbsp The quirky news stories never bothered Rolling Meadows, where the trucks and the sack-system worked smoothly and delivered what was promised; an efficient and clean collection service that wound up saving the city money. The low-RPM Sharks were so quiet, that nighttime collections were even considered. Perhaps because of the their notoriety, the City decided to save the last Shark when it was due to be retired in the early 1980s. It was refurbished as a non-functional "parade" truck, brought out for special events. Ultimately, the parade truck was itself auctioned off in the early 1990s, and its whereabouts are now unknown. This is perhaps the most intriguing aspect of the story, at least for the enthusiast; because of this trucks fame and iconic status, subsequent owners may have been preserved it. Only time will tell if any of Rolling Meadows' Sharks will surface in the Illinois countryside.

&nbsp&nbsp&nbsp The complete Rolling Meadows article is too large to reproduce here on the news page, so it has been incorporated into the KUKA album here at CRT. The first sections of this album were written by Michel Ferro in 2009, and are recommended reading for KUKA enthusiasts as he documents the history of the company. The last three sections were authored by myself, and concern KUKA models exported or licensed outside of Germany, and similar makes of rotary-drum refuse collectors. Chapter 8 has the Complete Rolling Meadows Story, with 14 new pictures, including the handful of other KUKA Sharks known to have made it to America. Chapter 9 covers Orbital Collection Systems, a company that imported both the KUKA as well as Policar and Talenti rotary bodies from Europe.


---
(January 1, 2015)

NEW YEARS CAVALCADE OF PICTURES
For your viewing pleasure. These will all be added to their respective albums here at CRT in the near future.


A rare 25-yard Leach Standard Packmaster on a White 3000..what more can be said?




Municipal special: Leach 2-R Packmaster on a GMC conventional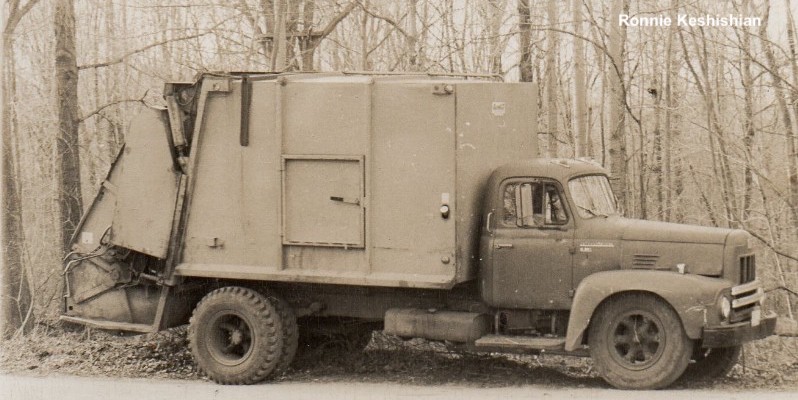 A rare combination of a Gar Wood LP-716 on an International R-series (Thanks Ronnie!)




Ronnie says this truck has Connecticut license plates. Anybody remember this guy?




60s-era City of Chicago Gar Wood LP-720 during the brutal winter of 1978 (Thanks again Ronnie!)




1920s or 1930s KUKA, Gothenburg Cleansing Dept. (Before Norba took over Sweden!)




Kronenburg Power Packer from The Netherlands. These were sold in the USA by Daybrook.
Designed by George B. Wood, Gar's brother who also created the original Load-Packer




Dennis Paxit, probably from the late 1940s or early 1950s




Perham Hush-Packer, a derivative of the SITA 6000, disgorging its payload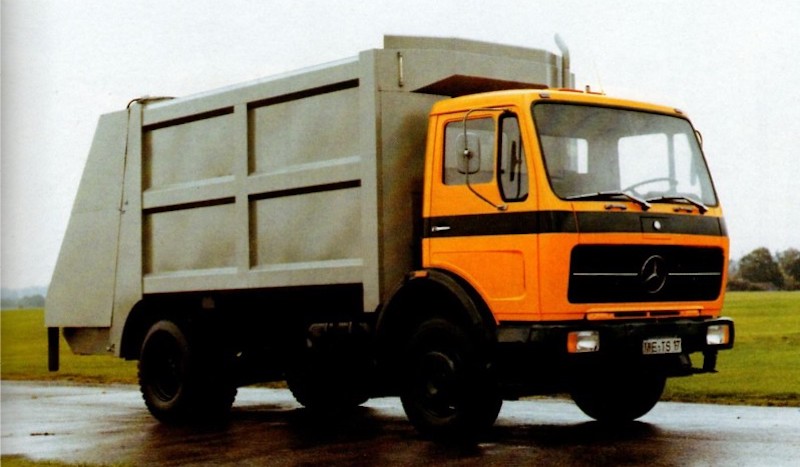 Glover 202 on a 1983 MB chassis. This was a revolving-blade packer similar to the SEMAT Superpac and SD Revopak




A bigger 202 on M-A-N tandem-axle conventional




The Blenheim, a pendulum-type packer built by Glover, Webb and Liversidge Ltd. on the famous Karrier Bantam




SD would occasionally mount their Pakamatic on a rival chassis, such as this BMC for Torbay




One of the handful of Marion photos I've ever seen, a Hydropaka side loader used by the City of Cleveland
---
(December 28, 2014)

DEMPSTER ROUTE CHIEF
&nbsp&nbsp&nbsp I've received some nice pictures of the rare Dempster Route Chief from Eric Haas, who also kindly sent along a nice video of one in action for BFI back in 1992. In helping Eric identify this rear loader, I realized that it received somewhat short shrift in the Dempster Album here at CRT, so I have created a revised Route Chief section which appears below and has been incorporated into the Album.

&nbsp&nbsp&nbsp I personally remember seeing the "Chief" in person in 1983, when I was at AAA Disposal in Fairfax, Virginia. They had a demonstrator, which featured the giant image of a Indian warrior Chief on the body. I believe that was also the year this model was formally introduced. Ultimately, AAA did change over to Dempster rear loaders, but instead bought a huge fleet of the heavy-duty Route King II models, and I never have seen another Route Chief since!

&nbsp&nbsp&nbsp The Chief was not an exact copy of the RKII, in that the packer blade linkage was arranged differently. It became the MR60 in 1990 after Dempster was purchased by Wastequip, and received a cosmetic styling update, but I don't have any good pictures of the MR60 at this time. If anyone has any MR60 images, or the early demo trucks with the warrior Chief, please pass them along and I'll post them as well.



Introduced in the early 1980s, The Route Chief series was created to fill the mid-range packer slot. Unlike the Route Mate, the new model utilized the swing-link geometry of the high-compaction Route King II. The Route Chief was of somewhat lighter construction, and differed from its bigger brother in the placement of the lower links, which were "in-line" with sweep cylinders instead of beside them.

The Route Chief was sold in England by Shelvoke-Dempster for a time, replacing the Shelvoke Revopak and Maxipak models. In the USA however, it never sold as well as the heavier Route King. By 1990, it had been renamed the MR60, but was subsequently discontinued within a few years.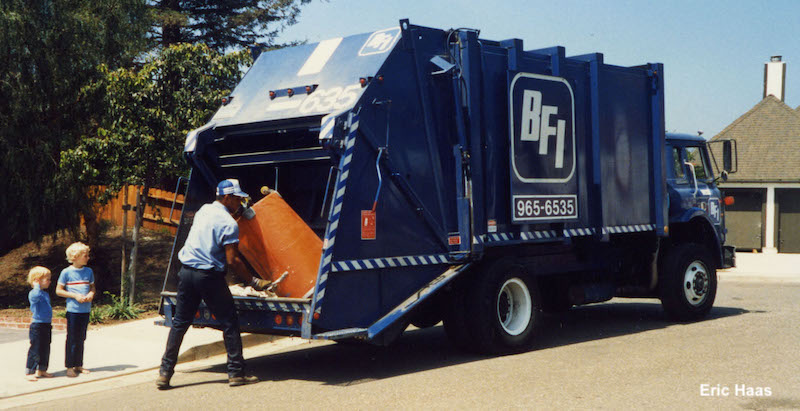 Mid-1980s vintage Route Chief on the job in Southern California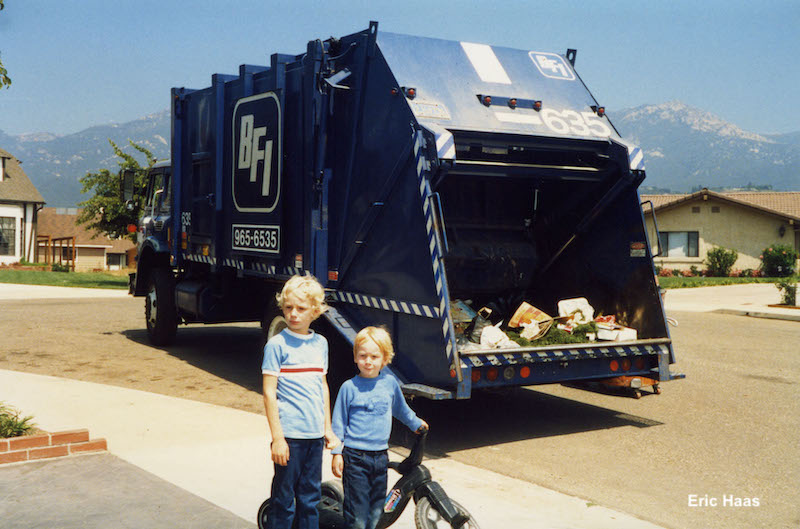 BFI and other "national" haulers were big users of Dempster rear loaders during the 1980s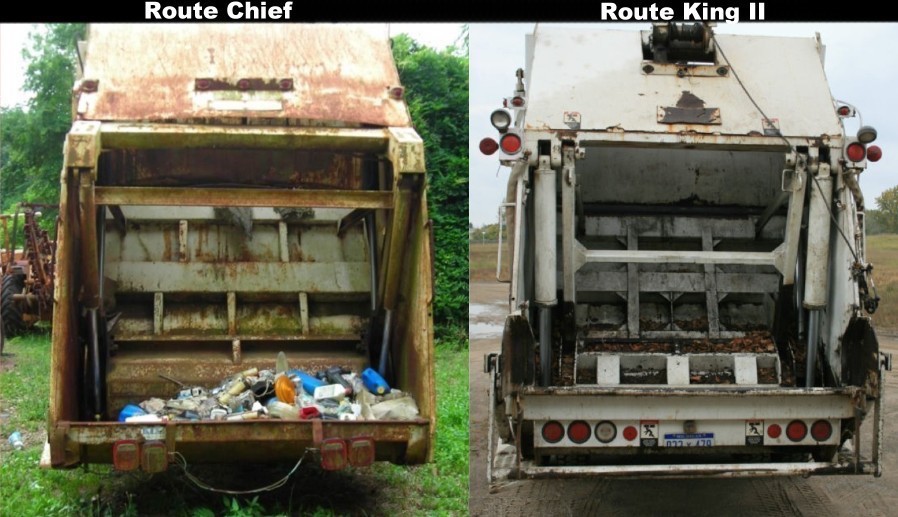 Although both employed the same packing method, the tailgates of the mid-range Route Chief and high-compaction Route King II
were completely different. The Chief had a lighter swing links located behind the sweep rams, whereas the King had a heavy-duty
link assembly between its large bore rams and extra blade reinforement. None of their components were interchangeable.





Route Chief II featured up-rated hydraulics and packed 900 lbs/cubic yard.
Its close similarity to the Route King II may explain explain why it never sold as well.




Video of a Route Chief picking up in California in 1992 (Courtesy of Eric Haas)
---
(November 29, 2014)

GAR WOOD LOAD-PACKER 900: PREPRODUCTION MODELS, 1970-1972

&nbsp&nbsp&nbsp Warren Seward lived in the Buffalo, New York area during the 1960s and 1970s and has a working knowledge of many of the area refuse haulers during that time. As was the case in many larger cities, Gar Wood refuse bodies had a strong presence there. Additionally, Warren has first-hand knowledge of prototype or pre-production LP-900 packers, which were in use during the early 1970s, a full two years before the official nationwide rollout of the 900 series in September 1972. These early versions of the 900 packer were much different than the final production models, and were in fact coupled to the Gar Wood ejector bodies of the 1960s style as used on the 700/800 series Load-Packers.

&nbsp&nbsp&nbsp In 1970, Gar Wood Industries was purchased by, and became a division of Sargent Industries, an agglomerate that had a reputation for turning a profit from failing companies. Undoubtedly, Gar Wood had indeed fallen into the failing category by 1969, after years of virtually dominating the refuse body industry. A disastrous foray into building unitized refuse trucks of immense proportions (the T-Series) had fallen flat, and was followed by the hastily-conceived LP-800 bulk packer. The 800 was the first ever swing-link packer, and had good potential, but was dogged by quality-control problems and may have been hurt by its resemblance to its predecessor.

&nbsp&nbsp&nbsp To turn Gar Wood around and restore it to its former glory, Sargent Industries was faced with a choice to either "fix" the troubled LP-800, or replace it with an entirely new model altogether. Ultimately, the decision was made to kill the 800, at the behest of engineer Fred Smith, who would be tasked with coming up with its replacement. That replacement was the LP-900 series, which is today well known as the Formula 5000 by Heil. Despite the urgency of getting the new Gar Wood high-compaction rear loader into production, some field-testing would certainly be needed, and this is where Warren Seward's recollections get interesting.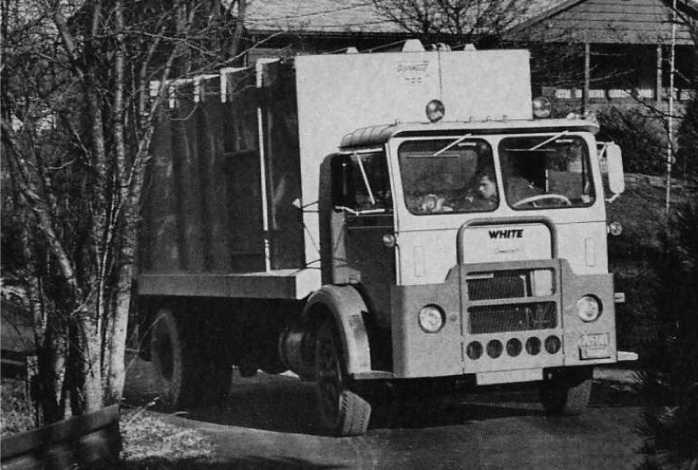 A 1960s White Compact with Gar Wood LP-725 body owned by Niagara Sanitation Company.
Click here to download the original ad from 1969.
&nbsp&nbsp&nbsp Like Gar Wood, the company that Warren worked for, Roy Wingdale Disposal, was also to be sold around this time. Wingdale sold his business to Nick Bodnar, who hauled under the names Niagara Sanitation Company and Trash Lovers Co. (TLC) in the metro Buffalo area. Bodnar also was the owner of Buffalo White Trucks, an established heavy-duty truck sales and service center. Warren writes:

&nbsp&nbsp&nbsp "When Nick Bodnar bought out Roy Wingdale Disposal in January, 1970, he ran Roy's old trucks for about six to eight months, and phased in the new units in the summer of '70. I distinctly remember seeing that summer, the first of three new White Compacts with the new Gar Wood 900 tailgate mounted on the old 700/800-style ejector bodies T.L.C. Disposal had purchased. Nelson Miller, who owned Amherst Disposal, also bought a new White with the 900 -700/800 style body in early 1971."

&nbsp&nbsp&nbsp If the first LP-900 tailgates appeared in Buffalo during mid-1970, that would be a full two years before the 900 was unveiled in a national advertising campaign. The use of the LP-700/800 ejection body gave Gar Wood a ready platform to which the new tailgate could be "bolted on" for tests under actual working conditions. The popularity of Gar Wood in Buffalo, and its close proximity to Gar Wood's Detroit-based operations would have made that city a logical choice for testing. The fact that Nick Bodnar was in the refuse hauling business and also owned a full-service truck repair facility would have probably made Buffalo and Niagara Sanitation even more attractive choice for experimental models. Being new designs and probably hand-built at Gar Wood's Wayne factory, the prototype tailgates would undoubtedly need occasional repairs or modifications, which could be done at Buffalo White by their own technicians or in conjunction with Gar Wood personnel. These pre-production tailgates may have been installed on new or used 700 bodies in the field. But the use of the 700 series body wasn't the only difference, as Warren continues:

&nbsp&nbsp&nbsp "One other thing comes to mind on the early 900's I worked on: all three had the electrically-operated packer controls. It was odd because they didn't have any levers to override the travel of the packer during cycling, only a 'jog' switch that you could manually adjust the packer in travel. I personally didn't like them, and most of the other guys didn't either. I heard they had problems with them shorting out in heavy rains. Roy's 800 model had both the electrically operated packer and levers...But for some reason, the early 900's we had didn't have any levers."

&nbsp&nbsp&nbsp The use of push-button electric controls would seem to indicate that Gar Wood intended to try and work the bugs out of their system, which had been used on both the T-100 and the LP-800. Electro-hydraulic controls had been used by Heil throughout the 1960s, as well as in Europe, where such systems are today in greater use than in America. For whatever reason, the push-button controls never made it to the production model LP-900, which used conventional mechanical linkage to operate the packer control valves.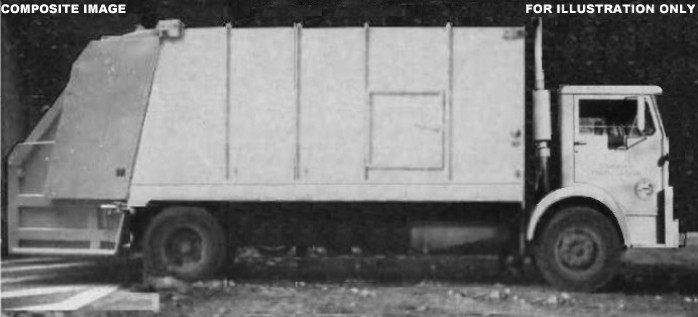 Composite of a 1976 LP-900 tailgate and a 1960s LP-725 body on a White Compact chassis
to illustrate what the pre-production prototype LP-900s looked like in 1970-71
&nbsp&nbsp&nbsp By the fall of 1972, Sargent Industries had moved all Gar Wood refuse body production to their factory in Enterprise, Alabama. This included the LP-900 and LP-700-9, which shared the now familiar slant-pillared ejection body with open-front construction. The "box body" of the LP-700/800 was discontinued. As of this writing, there are unfortunately no known photographs of these pre-production LP-900 models. Gar Wood probably wanted them kept under wraps, as much as was possible at the time. And while there were probably many photos and films taken by Gar Wood for internal use, these were presumably lost when the company ceased operations in 1979.


This article has been added to the Chapter 18 of the Gar Wood Album here at Classic Refuse Trucks.

CRT wishes to thank Warren Seward for sharing this valuable information.

---
NEW IMAGE ADDED:

This color image of a Gar Wood LP-500 with Pax-All container lift has been added to Chapter 9 of the Gar Wood Album:



---
(October 12, 2014)

NEW ALBUM: WALKER BROTHERS / PAGEFIELD PALADIN
Along with Geneve Salubra, the Pagefield Paladin was one of the pioneering systems in bulk collection of refuse using detachable containers. In many ways, the Paladin system is the forerunner of today's modern equipment, utilizing a mechanical lift to empty containers at the rear of an ejection-discharge body that featured a moderate compaction mechanism.

Almost a decade before front loaders appeared in California, or the introduction of the Leach Packmaster container system, the Paladin was collecting bulk refuse in the densely populated cities of England. In its home country, the ubiquitous round Paladin bins were so popular that they survived well into the modern era, long after the collection vehicle that spawned it had become obsolete. Brian Carpenter has written a brief history of Walker Brothers' Pagefield Paladin system for Classic Refuse Trucks, and I've added some photos and even a few video links to this informative article.


---
(October 5, 2014)

NEW PICTURES ADDED TO THE GAR WOOD ALBUM
Some rare pictures of Gar Wood T-Series refuse trucks recently surfaced on Ebay. They were taken at Buffalo White-Autocar Trucks in 1968, and include a T-140FLR and a T-140RL. These beautiful Kodachrome images show the T-series in amazing living color!

Show above is the T-140FLR, which has a front container lift which was heretofore entirely unknown. The centere-mounted vertical rails and chain-drived horizontal slide are a complete revision from the original 1965 models. You can compare them to each other in chapter 12 of the Gar Wood Album, where this picture has also been posted. Also note the "Dempster" style hopper door visible on the side of the body.

This truck is equipped with an external exhaust pipe and muffler, and an extra air intake over the engine compartment cover. I believe this indicates that it is equipped with a Cummins V-8 engine, which appeared in late-1967 spec sheets and replaced the original Toro-Flo V-6. None of the early T-series factory images show this air intake of external exhaust system.

In chapter 11 I've added three images of a 1968 T-140RL which also has the revised exhaust system, as well as an enlarged rear hopper by way of extensions of the side walls. This may have been done only on models with the rear container lift (which that example has), or may have been a running change on all of the rear loaders.

These pictures offer a rare look at the T-series, and point to Buffalo, New York as a location for possible surviving examples. Finally, there is a nice color picture of an early LP-620 in chapter 10, owned by Eggertsville Disposal Service. Interestingly, this company appears to still be operating in the Buffalo area!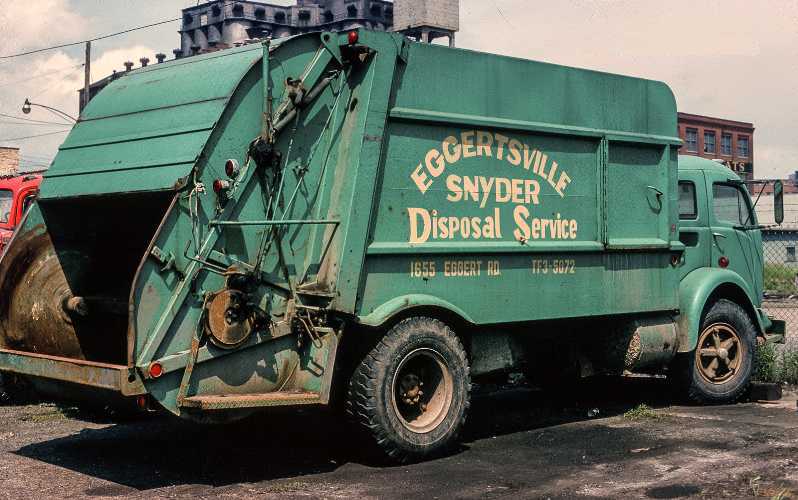 UPDATE-OCTOBER 6

A note from Warren Seward mentions that Eggertsville-Snyder Disposal has long ceased operation (1973), so the company I found on my web search is probably a different outfit with the same name. Coincidentally, Warren knows this particular White 3000/LP-600 quite well: it is the first truck he ever worked on when he lived in the area. Imagine seeing a truck from your past suddenly show up on the pages of CRT? Now, does anybody out there remember those T-series trucks.....
---
(August 9, 2014)

TRUCK RESCUE: LEACH PACKMASTERS
This swell-looking pair of Packmasters are for sale in Connecticut. One is 16-yard tilt-to-dump, the other a 20-yard Push-Out model, on 1963 and 1965 REO truck chassis. Both are running and need work, seller has lots of parts. Contact Chris Peichert:

E-mail: King REO

Phone: 413-207-4123




TRUCK RESCUE: DENNIS PAXIT
This amazing 1975 Dennis Paxit was reportedly in service up until may of this year. It is for sale by a UK classic truck dealer, who says that it is an excellent candidate for refurbishment. Thanks to Kevin Sowter for forwarding this to CRT.


See the full listing at the Car and Classic website.


---
For previous news items, visit the CRT Archive


© 2014-2015 Eric Voytko
All Rights Reserved

Logos shown are the trademarks of respective manufacturers
Photos from factory brochures/trade advertisements except as noted