---
(August 23, 2015)
&nbsp&nbsp&nbsp Tough going through the "F's", but they are finally done. FAUN took longer than expected, due to their many acquisitions and affiliations across Europe. New pages today are Falck-Schmidt, Fanotech, Farid, Farun, FAUN, Force (derived from Alexander page), Fruehauf, Fuji and Fujicar.(see BODY DATABASE on the left-hand control panel of this page).


FAUN-Sita rear loader
---
(August 15, 2015)
&nbsp&nbsp&nbsp New pages for Brandyske Strojirny/BSS (which got missed) and Aspinall (taken from the Gar Wood album). Then, finished the "E's" with pages for Ecolotec, Econovo, Edbro, Edelhoff, Edge, EMI Tecno, Environmental Elements, Essloo, Eurovoirie, and Evans. (see BODY DATABASE on the left-hand control panel of this page).


Scammell Mechanical Horse tractor with Essloo refuse trailer
---
(August 9, 2015)
&nbsp&nbsp&nbsp Only one new album this week, Eagle Engineering, and apologies for the late weekend posting. In my quest to create a page for every marque, I will occasionally run across and important company like Eagle, which will take more time to compile. This was long overdue; Eagle history is almost non-existant on the internet, yet the company played such and important role in the industry (and technically continues to this day under the Dennis eagle banner). Enjoy this look back with 35 images. (see BODY DATABASE on the left-hand control panel of this page).


---
(August 2, 2015)
&nbsp&nbsp&nbsp Finished the "D's" with two short pages for Dow and Dulevo. The Glover album has been updated, wit a new picture of the Transport Propeller. (see BODY DATABASE on the left-hand control panel of this page).


---
(August 1, 2015)
&nbsp&nbsp&nbsp Diving into the "D's" at the Database: new pages have been added for Dadee, DaeKyung, DAF, Dempster Sales and DeMartini today. The Dempster and Dennis albums have been updated, as has BUCA. Herman has been separated from Daybrook.(see BODY DATABASE on the left-hand control panel of this page).


---
(July 26, 2015)
&nbsp&nbsp&nbsp Not much new this weekend. After completing the first section (A through C) of the Body Database, I have been doing some behind-the-scenes "clean-up" of the CRT server. As this site has grown and the number of files has proliferated, this is necessary to help me maintain the website more efficiently. This is especially true with the influx of of new pages that have been added this summer.

&nbsp&nbsp&nbsp These changes will not be visible on most pages of CRT, but a lot of them are changing their URLs. Every album on the Restored Trucks page changed its URL this week, and this will result in "404 Page Not Found" if you access these via links on other pages. Similarly, using search engines to find these pages will result in dead links for a while. I will eventually try and restore these broken links, but for now they will get a lower priority.

&nbsp&nbsp&nbsp Did manage to create some new pages, some which were missed during the last sweep: Superior Trailer (recently discovered by Bill Tetrault), Calabrese, A & P Body (taken from Western Album), ATIA and Colecto (these two will be expanded with HEIL), Benlee and Converto. Updates to CWS and Accurate pages. I should start into "D" next week.

&nbsp&nbsp&nbsp From the mailbag, we have some interesting videos to share. First up is Tyler Gale, who found an old BFI-WMI graveyard in Texas, which includes a bustle-gate Lodal front loader:

BFI-WMI Graveyard



Next up, these are archive footage clips unearthed by Steven T (heiltruckfan) and myself, and contain some real gems:

City Garbage Pickup
Shot 7/5/74 in Minneapolis. Features a Gar Wood LP-825

Pollution
From a 1970 film. Features a Gar Wood LP-718 and a Leach Packmaster

Landfill Closing
Shot 11/13/85 in Scott County, Minnesota. Leach 2-R ejecting at landfill, Gar Wood 716 in background

New York City
1985 clip of a DSNY Mack/Loadmaster LM-125

The Garbage Explosion
(YouTube) Entire 15 minute educational film, circa 1970. Lots of old trucks, especially tilt-dump Packmasters. A Gar Wood LP-820 speeds by at 07:03.

The Household Garbage-The Refuse Problem
(YouTube) Entire 12 minute educational film, circa 1962. I found this one (and the next one) after viewing the previous film. Excellent footage of I-series Pak-Mor packing a hopper load, and a 1st-generation Truxmore unloading at the dump.

A History of garbage Disposal 1920s
(YouTube) Entire 17 minute silent film, circa 1925. Interesting look at refuse collection and disposal technology at the dawn of mechanized methods.

(Some of the footage websites are a little flaky, and the video clips sometimes don't load. If you are using the Firefox browser, the Video Download Helper add-on works great, allowing you to save it to your PC and view easier.)



&nbsp&nbsp&nbsp Finally, from The Netherlands, Sjef van Lierop sent in a link to a site which has some color photos of a BUCA refuse loader in color, including a good shot of the hopper:

Afvalinzamelen Jaren terug
These were taken in the 1970s in the City of Genemuiden

---

(July 18, 2015)
&nbsp&nbsp&nbsp New pages have been added for COV, Crane Carrier, CTI, Cushman, Currahee and CWS today. This completes A-C. (see BODY DATABASE on the left-hand control panel of this page).


---
(July 12, 2015)
&nbsp&nbsp&nbsp New pages have been added for Carrozzeria Moderna, Chagnon, Cleburne, Clyde Engineering, Compaction Systems and COS ECO today. (see BODY DATABASE on the left-hand control panel of this page).


---
(July 11, 2015)
&nbsp&nbsp&nbsp New pages have been added for Bridgeport, Brivio Pierino, Broyhill, BUCA, Bynal, CAF and Carrie Systems today. (see BODY DATABASE on the left-hand control panel of this page).


---
(July 5, 2015)
&nbsp&nbsp&nbsp New pages have been added for Bertsche, Bob's Services, Bosich and Boughten today. A revised CDE page was posted July 4. (see BODY DATABASE on the left-hand control panel of this page).

&nbsp&nbsp&nbsp Now, take a time-warp trip back to the 1980s, for a ride through the streets of New York in a Mack R with a 2-R Packmaster Push-Out, courtesy of George Lanoszka and Scocozzo Carting:




Click Here to go directly to YouTube if video does not appear above.
---
(July 3, 2015)
&nbsp&nbsp&nbsp New pages have been added for ARE, Basmaior, Bausenbach and Bergomi today. (see BODY DATABASE on the left-hand control panel of this page).


---
(June 28, 2015)
PETE DEROSE REPLICA LM-320 LOAD-MASTER

&nbsp&nbsp&nbsp Pete sent in a bunch of images of the completed model, and it looks terrific. Check out the comparison photo of the real truck and note the exacting detail of this model in the LOAD-MASTER MODELS section of Collectors Corner.


---
(June 24, 2015)
&nbsp&nbsp&nbsp New pages have been added for Atrik and Automatic Loader today. (see BODY DATABASE on the left-hand control panel of this page).


---
(June 22, 2015)
GAR WOOD LP-513
&nbsp&nbsp&nbsp I am happy to report that the truck featured on the front page of CRT has been purchased by Waste Pro for their refuse truck museum in Florida.

&nbsp&nbsp&nbsp New pages have been added for Atlas, Atlas-Weyhausen and Antonicelli added today. (see BODY DATABASE on the left-hand control panel of this page).


---
(June 21, 2015)
ANCHORPAC
&nbsp&nbsp&nbsp Just one new album this weekend, a revised Anchorpac page (see BODY DATABASE on the left-hand control panel of this page). The ownership chain of this brand is confusing, but I think I've presented as clear a picture as possible at this time. An identical page still appears as Chapter 8 of the COBEY album.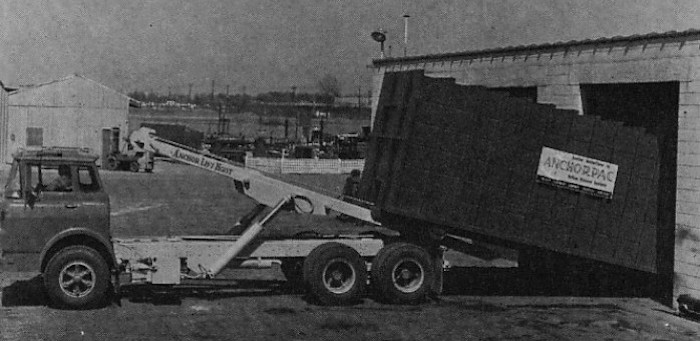 ---
(June 13, 2015)
EDITOR'S MESSAGE: CHANGES TO THE LAYOUT OF THIS WEBSITE

Summary of changes:
The page titled "PHOTO ALBUMS" is being phased out. The content of that page will be merged into the "BODY DATABASE".

Timetable:
Process has begun, and will probably take several months.

Reason for change:
&nbsp&nbsp&nbsp Since Classic Refuse Trucks was founded in 2004, the PHOTO ALBUMS section has contained a list of links to the various histories of individual refuse truck manufacturers here at CRT. Originally, there were six listed, and very quickly the list began to grow with the website. Currently there are 71 manufacturers listed on this page in a 'Hollywood Squares' format.

&nbsp&nbsp&nbsp However, there were an even greater number of companies known to have produced refuse equipment which had yet to be documented on the site. Thus, in 2008 I started the REFUSE BODY DATABASE, which is an alphabetized quick-reference list of all known manufacturers, with links to their CRT articles and/or company websites whenever available. There are currently over 460 companies listed in the Database, including the 71 makes listed in the Photo Album section.

&nbsp&nbsp&nbsp Maintaining these dual lists is time-consuming for me, and somewhat confusing for the reader. Therefore, the Photo Albums section is being merged into the more complete Body Database. In the future, access to the individual company histories contained on this site will only be through the Body Database. Additionally, I have already begun the process of expanding the Body Database by creating "mini-histories" of every company where documentation exists. These will mostly be just small collections of photos (in many cases, just one) for the purpose of have having a more complete picture of the industry available, like a "refuse truck encyclopedia" for easy reference. These entries can (and will) be expanded upon as more information becomes available, and time permits. I will also begin to phase in accessory manufacturers such as those making cans/containers and lifts, and expand coverage of roll-offs, landfill compactors and stationary packers on a limited basis. New albums will be listed (with date added) on the index page of the Database. Click on BODY DATABASE on the left-hand toolbar of most CRT pages.

&nbsp&nbsp&nbsp During the transition period when the two pages are merging, some makes will be deleted from the PHOTO ALBUMS page, and will be available only through the BODY DATABASE. I will post a reminder atop the Photo Albums page to this effect. None of the existing albums are being removed. Only the links to access them are changing. Remember that the BODY DATABASE will be the default page for all manufacturers.

&nbsp&nbsp&nbsp A similar consolidation was started several weeks ago at the CRT Collectors Corner, where refuse truck models and replicas previously featured in periodical format, are now being grouped by make (i.e. Gar Wood, KUKA, Leach etc.). However, I will be devoting most of my efforts to the Refuse Body Database, as I consider this the higher priority.


---
(May 10, 2015)
VINTAGE 500 SERIES LOAD-PACKER
&nbsp&nbsp&nbsp The featured truck on the main page is one of the more surprising finds yet to emerge from the Northwest United States, and area that is evidently home to many great living classics. This 1961 Ford C-series tilt-cab is owned by Michael Phillips, of Troy, Montana. This running truck is equipped with a Gar Wood LP-513 which is in working mechanical condition.

&nbsp&nbsp&nbsp It may be difficult to fathom, but this classic truck was pulling regular refuse duty well into the 21st century, as Michael explains."It was owned by the town of Wilbur Washington (a small farming community) as their local trash truck, up to about nine years ago. Then it was auctioned off to a local farmer who used it for his family farm dump runs. His family moved away and he sold it to me."



&nbsp&nbsp&nbsp Of course, the C-series Ford was one of the most popular refuse truck chassis in history, from its introduction in 1957 right through the last models which rolled off the assembly line in 1993. During this amazing 36-year production run, only the most minor cosmetic changes were made, mostly to trim and badges. The cab was designed by the Budd Company, and had two headlights in its debut year. The 1958, 1959 and 1960 versions had quad headlights, mimicking the trend in passenger cars at that time, but Ford reverted back to two headlights in 1961, the year Michael's truck was built. Thus with exception of three model years, virtually every Ford C-series cab looked identical, from the Eisenhower era right up to the dawn of the Clinton years!

&nbsp&nbsp&nbsp The Gar Wood Load-Packer 500 series was introduced the same year as the Ford C-series (In March, 1957), but had a much shorter production run. In early 1959, it was replaced by LP-600 series, although the basic engineering of the design was unchanged, with its rotary sweep panel and swinging packer plate. The LP-510 and LP-513 (10 and 13 cubic yards) were the smallest of the series, and were narrower and shorter than the full-sized LP-516 and LP-520. They had one-cubic yard hoppers, compared to the yard-and-half sized bucket used on the 16 and 20 yard bodies.



&nbsp&nbsp&nbsp Since Gar Wood replaced the 500 series in 1959, Michael's vehicle is most likely the result of an older dealer-stock body that wasn't mounted until 1960 or 1961, or a refitting of the body from an older chassis to the one it currently sits atop. Neither scenario would be out of line with industry practice, either then or now. This body is also fitted with a Gar Wood Pax-All container lift, another nice touch on this intact and working original.



LOAD-MASTER LM-320 "DSNY" REPLICA


&nbsp&nbsp&nbsp Another accurate model from the hand of Pete DeRose is in progress, this one being a Load-Master LM-320. The 300 series was a mid-range rear loader introduced in 1967 as a smaller alternative to the original 100 series, and competed with the Leach Standard Packmaster and Heil Mark III. The New York City Department of Sanitation (DSNY) purchased a large fleet of these in 1968 when they broke from using the Roto-Pac. The DSNY versions are recognized by the hazard light cluster panel attached above the hopper opening.

&nbsp&nbsp&nbsp Shown below is one of the first of the 1968 DSNY Load-Masters on a GMC chassis. In addition to the Load-Master 320, the Department purchased an equal number of trucks with Heil Mark III bodies that same year:




A page has been added for Pete's model at the CRT Collectors Corner in the Load-Master Models section.


&nbsp&nbsp&nbsp

WALKER BROTHER/PAGEFIELD
&nbsp&nbsp&nbsp The Walker's album has been updated slightly, with higher quality image of the 1950 Paladin advertisement. Also better quality images of the Jekta telescopic body, and a more detailed description of how it worked. Hopefully, better technical drawings of this interesting body will appear in the future.


CRT DOWNLOADS
&nbsp&nbsp&nbsp The CRT Downloads section has been cleaned up, and I've added a 1969 brochure for the Gar Wood Load-Runner, and added a better quality scan of the Gaskin front loader sheet. This section may be accessed from the toolbar on the left side of most CRT pages.
---
For previous news items, visit the CRT Archive


© 2015 Eric Voytko
All Rights Reserved

Logos shown are the trademarks of respective manufacturers
Photos from factory brochures/trade advertisements except as noted