---
(January 1, 2018)
&nbsp&nbsp&nbsp Here's a real New Years treat, especially for West Coast iron fanatics, forwarded to CRT by Aaron Budiman. This is a 47-minute reel of various refuse rucks filmed in the San Gabriel Valley in 1999. There are some real throwback trucks (and haulers, such as Western Waste) from the era just before YouTube really took off. Alice Buck filmed these trucks to create a "home video" for her son, who was (like most boys) a trash truck fan, because there were very few such videos like this in stores. She was was ahead of her time, as evidenced by the popularity of children's videos now available, and the absolute explosion of refuse truck documentation now on the YouTube. I can remember well that in 2004, there were only a handful of home-made refuse trucks videos around, mostly circulated amongst the devout on places like Yahoo Groups and the like. So enjoy this camcorder footage and take a trip back in time with AMREP, ABC, C&O, Maxon, Stagg and company.


Video courtesy of Alice Buck
&nbsp&nbsp&nbsp Winter is a busy time for me, but I plan to resume new album posting as soon as possible.
---
(Decemeber 26, 2017)
&nbsp&nbsp&nbsp I had a few loose ends to tie up before 2018, including a new chapter in the HEIL album (Chapter 27) for the Heil POD. I had inadvertently omitted this one during editing last summer, but have now added it its chronological order, with a few photos and a video. Also added a new album for a German firm called Husmann, and a very interesting convertible rear loader called the Vario-Pac, presumably out of production now. Several new photos have also been added to existing albums. These are mostly supplemental, but if you are interested in seeing them (without revisiting each respective album), you can see them all in one group here.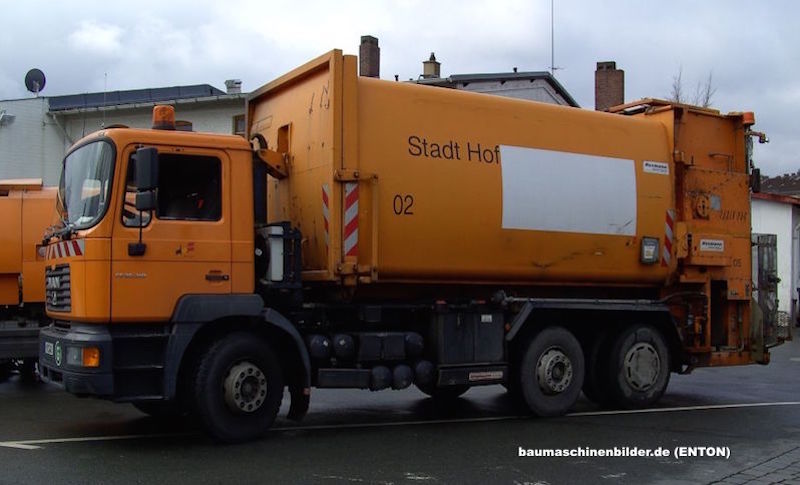 Husmann Vario-Pac
---
(Decemeber 10, 2017)
&nbsp&nbsp&nbsp I recently watched a 1971 episode of Dan August which features a short but clear shot of a Wesco Jet front loader going through the lift and cycle, and a fleeting glimpse inside the hopper. I could not read the name on the dumpster, but the equipment probably belonged to a local hauler that operated in Oxnard, California at the time it was filmed. This was seen on broadcast TV, and it is possible that there are more scenes of the truck which have been cut out from the original episode. The one-hour episode is currently on Youtube, and I have embedded it below. I have queued the video below to start at the scene (30:42)


&nbsp&nbsp&nbsp I've also added a few new items to the CRT Collectors Corner courtesy of Scott Blake. There is a revised Leach Collectibles section, and new page under Miscellaneous Models which features cab & chassis, starting off with a rare Diamond T model. Use the menu bar at the left side of this page to access the Collectors Corner.


---
(November 26, 2017)
&nbsp&nbsp&nbsp Another new album covering Moser Burgdorf, an interesting company that created the Mammut rear loader, most commonly known now as the Geesink GPM series. Since 1959, almost every new rear loader design has utilized the Leach slide-sweep method, which dominates the market to this day. The only exceptions are swing-link packers (Gar Wood, Dempster, E-Z Pack) and the Mammut. The Mammut is in a classification of its own, and is almost hard to describe other than to just call it the Mammut-type. This new page will shed some light on the original Swiss version of this seminal design.


---
(November 24, 2017)
&nbsp&nbsp&nbsp Revised the text of the Hüffermann album and added a new album for HS Fahrzeugbau both in order to try to make sense out of the confusing situation in Europe. I may stop the normal database posting order next year and try and put together a Schörling album, since they are "no more". Also added new albums for Meiller, Midwest (a total mystery), and Morita, which has some great old pictures.

(see BODY DATABASE on the left-hand control panel of this page)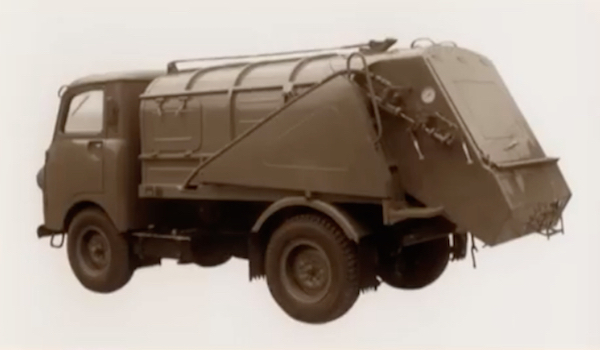 ---
(November 18, 2017)
&nbsp&nbsp&nbsp I've spent the last three weeks revising the Collectors Corner, having neglected this project for several years. Unfortunately there is no new material at this time, but the major restructuring is now complete. In the past, Collectors Corner was written as an independent and occasional journal whenever time permitted and material was submitted. These were archived by the date of publication, but were difficult to search since many different models were lumped together in each edition.

&nbsp&nbsp&nbsp The new page is displayed much like the Refuse Body Database, with toys and models searchable by the manufacturer they are patterned after, such as Heil, Norba, Gar Wood etc, including collectibles and promotional items. A separate section follows this for personal collections of models, miscellaneous models and a few generic-type toys such as Tonka. This will make finding a particular type of model much easier, and I hope to add much more now that the page has been updated. All previously-published material has been retained within the new format. Some dead links may occur throughout CRT as a result of the old journal-type pages being removed.


---
(October 29, 2017)
&nbsp&nbsp&nbsp Revised and updated Cook Brothers album, with 12 new images. Includes more background about the founders Charlie and Howard Cook and a few non-refuse related pictures.

---
(October 22, 2017)
&nbsp&nbsp&nbsp I had planned more album updates, but was sidetracked by another project. I did manage to add 9 new color images to the Bowles album, courtesy of the Bowles Archive by way Zachary Geroux. I also had to take one away, which will appear in a future update of the Cook Brothers album (oops!) in the near future. Images are under chapters for Pull-Back Photo Parade, Push packer, Load-n-Pack and OTC Lift Arms.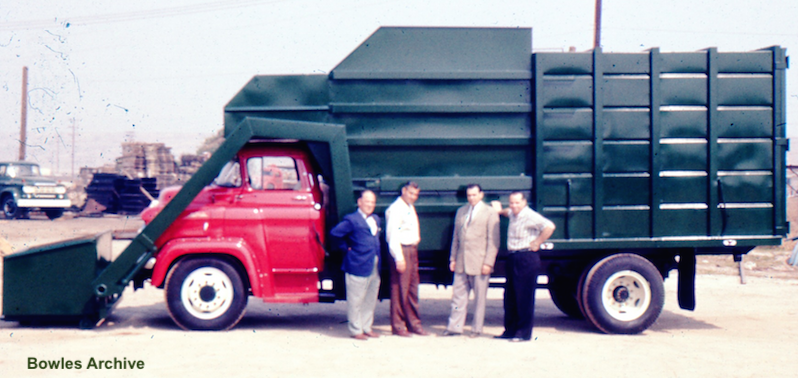 ---
(October 1, 2017)
From the YouTube channel of West Coast Refuse Trucks:
&nbsp&nbsp&nbsp Here's an interesting video of a classic ASL doing unusual work: handling bulky waste, being fed by the ground crew in batches with a standard 300-gallon bin. This truck holds its own against rear loader competition, breaking apart almost everything with only one or two minor jams. You keep watching to see what will stop it, but nothing ever does. Even more impressive is its age; this is a 1982 Heil Formula 7000, owned by the city of Granger, Washington, and is probably the oldest ASL in service in the world!

&nbsp&nbsp&nbsp Next up is a a selection of YouTube video links sent in by Kevin Sowter, featuring some classic British and French refuse trucks from newsreels and TV:

Rubbish Collection and Processing, 1970s - Film 6510
The beginning of the film shows a Dennis Paxit emptying a Paladin bin

A Load of Old Rubbish
Depicts refuse collection and disposal in London, 1970s. Lots of SD Pakamatics and others, briefly

Dustie (1971)
Previously featured here, shows unidentified packer in New Zealand (See also: Unsolved Mysteries, Z309)

October 31, 1978: DUSTMAN STRIKE AND SOLDIERS CLEAR UP
Paris garbage strike; SEMAT loaders and Superpacs, SITA 6000

October 13, 1969: RUBBISH BUILDS UP AS DUSTMEN STILL STRIKE
London garbage strike, more nice footage of Pakamatics

November 21, 1974: TROOPS CLEAR AWAY RUBBISH FOLLOWING DUSTMEN'S STRIKE
Paris garbage strike; a SITA 6000 with a hopelessly clogged hopper; clearly the "paddle packer" is better suited to the deeper hopper of a modern ASL body.

Hale & Pace - Privatised Dustmen
Comedy duo Hale & Pace get into trouble with a 1980s Dennis Phoenix


The following videos come from the YouTube channel of "Balayeuse - Street Sweeper - Bennes à Ordures", and includes some rare French vehicles captured on film:

Rey Loader
From a movie; very well preserved Reyloader, possibly built by Laffly. Includes a brief view of the packer operating

1972 Paris Incinerator
In the queue of trucks, note home many post-war Reyloaders are still in service!

Socima RotoPack
An unusual truck, this is the American-designed Roto-Pac body, built in France by a company called Socima. Very little information remains about Socima, which made these for hand-loading and with bin lifts. These movie scenes are the best known images.

SITA 6000
Another SITA 6000 packer unable to keep up with its crew. Seeing this truck in use for hand-loaded routes, it becomes apparent just how unsafe these continuous paddle-packers were. The crew keep tamping down the boxes and bulky items in the hopper while the blade is swinging and the truck is in motion!



CLASSIC SEMAT LOADER SAVED!
&nbsp&nbsp&nbsp We have confirmation of another classic French refuse truck being restored, this one by the hauling firm Sepur. It is a 1965 Berliet GAK tilt-cab with a classic SEMAT loader. It was one the original trucks owned by the company, and was parked in 1978 when it became inoperable. Over 30 years later, it was pulled out of the weeds and lovingly restored, participating in a classic vehicle road rally recently. Click here for the info page on this truck, which includes a "before" picture.




The following link was sent in by Jeff Alterman, who found another S-III Packmaster on an auction site. Presumably it has already been sold by now, but an excellent video of the packer remains on YouTube of this later version of the classic 1955 Leach design:

Leach S-III Packmaster

This is only the third video of an existing Packmaster in motion, although there are other older examples known to exist. Here's a link to the auction page on K-Bid which has another video and some still images. The year listed is 1985, which is incorrect; it is in fact a 1995 model.



&nbsp&nbsp&nbsp While were on the topic of 1955 technology, remember the original Dempster front load system which debuted that year? Well, if you're like me and hadn't been born yet, you may have seen it in the Dempster album here at CRT. Instead of forks to couple the container, a pair of claws engaged shafts welded to the sides of the container. Dempster quickly sacked the design, and by 1957 had gone to the now-standard side fork & pocket system. However, Zachary Geroux found one city that actually still uses this system: Anchorage, Alaska.


&nbsp&nbsp&nbsp Yes, here in 2017 it's still in use up there, and only the trucks have changed, in this case a sharp-looking Wittke Starlight. However, these are The Last Days of Pompei, and the system is already in the process of being eliminated. But for now, you won't believe how well it works until you watch it in action. Some observations from Zach, who has seen the system first-hand:

" I would say the system has merit. The bin is self-leveling on the ascension until the front hooks lock into the bar, and then the gravity-assisted latches on the forks come down to lock the container bar in place so it doesn't slip out. You can potentially over-rotate the container back, but I heard it was rare for it to fall in the hopper.

Almost every container is a 3-yard...you can get bigger, but the city never went larger than that. They must have been the only ones in the country to adopt that method from Dempster, as they had thousands of containers and only started switching over in the very late 90's. They have about 500 left, one route worth, and should have everything phased out by the end of the year. Many of the dumpsters are '78 and older which is insane.

One of the advantages of this method is it's very easy to pick up containers that aren't on level ground, unlike the pocket system."

&nbsp&nbsp&nbsp It isn't entirely clear if Anchorage actually used the 1955 Dumpmaster, and just held on to the system, or adapted the idea on their own because of the difficulties handling containers in the snowy climate. Luckily Zach documented this just in time, and got some more information on Bob's Services Inc, an Alaska manufacturer that has built their own versions of California front loaders, most notably the Maxon Legal One. Here are links to more pictures at refusetruckphotography.com:


Bob's Services Inc.
City of Anchorage
---
(September 24, 2017)
&nbsp&nbsp&nbsp It was somewhat difficult writing the McNeilus album. The company has only been making refuse truck bodies since 1990, yet is today one of the leading producers in the industry. It is truly impressive how far this company has come in 25 years, from their very humble beginnings. It is unusual to go to any area of the country today and not see some type of McNeilus doing refuse collection work. With their current industry footprint, they seem like a company with a longer history.

&nbsp&nbsp&nbsp Nevertheless, the company had the wherewithal to obtain and restore one of their earliest bodies, a 1990 Pacstar-RL. This is the truck now featured on the home page here at CRT, and was photographed by Zachary Geroux at Waste Expo 2016. (You can see more images of this truck at Refuse Truck Photography). The original Pacstar was not around very long before it was replaced by the current curved-shell model, and its rare to see them in classified ads anymore. Hats off to McNeilus for making sure at least one example survives.

I will catch up on mail and continue with 'M' next week, so long until then.


---
(September 17, 2017)
&nbsp&nbsp&nbsp The McNeilus album is taking longer than expected, but should be complete by next week, my apologies for the delay. Meanwhile, I found some other interesting items, including this 1989 S-III Packmaster demonstrating the chain container lift system:


&nbsp&nbsp&nbsp The S-III was the last version of the 1955 tailgate, and its amazing how little it changed during its long life. The ribbed Push-Out body makes these look like Sanicruisers or Alphas from the front. Even after it was officially discontinued, apparently there were some leftover tailgates at Oshkosh (from an overseas order) that were mounted on bodies and sold in the 1990s. This is only the second Packmaster video I have ever found online, and although its function is identical to the Sanicruiser, those of who remember these will appreciate the familiar look of the old-style tailgate and blade.

&nbsp&nbsp&nbsp This was undoubtedly the most popular American rear loader of the 1960s and 1970s, and had a loyal following. It was not the best or most powerful by any means, but it never changed, and that kind of familiarity often breeds great appreciation from small haulers and municipal operations. And the container hoist is a great example; for the extra cost of two chains and container locks, Leach could put you in the container business. There were size limitations, but the one-and-two yard containers were more common in the old days (I guess were threw away less?). I remember fondly the time in 1973 when I rode along with H.E. Award Trash Removal on a night-time container run at Dulles International Airport in a 1966 Ford Super Duty with a 20-yard Packmaster. Then, as now, I was impressed with how well the system worked.

&nbsp&nbsp&nbsp This truck is for sale at Erickson Trucks & Parts in Minnesota. If your looking for a neuvo-classic refuse truck to use or show, this looks like a steal at $16,800.00. It has a 3208 CAT and and an Allison trans and only 124K on the clock.

Italian Gar Wood Mystery Truck
&nbsp&nbsp&nbsp Dana Gregory wrote in with some observations about the 1978 Fiat with the Gar Wood "hybrid" body featured here two weeks ago:

"I am certain that the packer blade is fed by a 90-degree pivoting drawer with a curved spill shield, similar to the Haller and Unimatic loading systems. You can see covers in the hopper protecting the pistons which would pull the drawer up to meet the packer blade. This is a continuous loading system. If you look carefully at the side of the hopper, you can see bearings for the mechanism. I find this to be an interesting adaptation of the Garwood 700-9 body."

&nbsp&nbsp&nbsp Still don't a have positive an identification of the builder, but whichever company was selling Gar Wood in Italy during those years is the most likely. It may be a Macchi, but I'm not sure how far back they go with Gar Wood. On a related subject, Martin Nilsson passed along a YouTube channel link with some good Italian refuse truck videos: TheTrash Truck

French Mystery
&nbsp&nbsp&nbsp This was sent in for identification by Matt from Germany: A Renault with an unknown-make refuse packer:


&nbsp&nbsp&nbsp The packer looks very much like the kind of stationary units found behind shops, with the "clamshell" type blade. This is the first time I've seen one in a permanent-mount mobile application. Contact CRT if you cane name it, or I'll move it over to the Unsolved Mysteries section.

Frink Canada
&nbsp&nbsp&nbsp While working on the McNeilus album, I needed to re-scan some old ads for the PacStar RL from my collection. These go back to 1990, and I have not pulled them out of storage for many years. On the back of one, I found a surprise; The Frink PRD3000, a 30-yard recycler made by Frink Canada. This was a rare treat, since I have so very little info on this make. I guess recycling bodies didn't get my attention back in 2004 when I last looked at and scanned this literature! I will add it to the Frink page as soon as possible: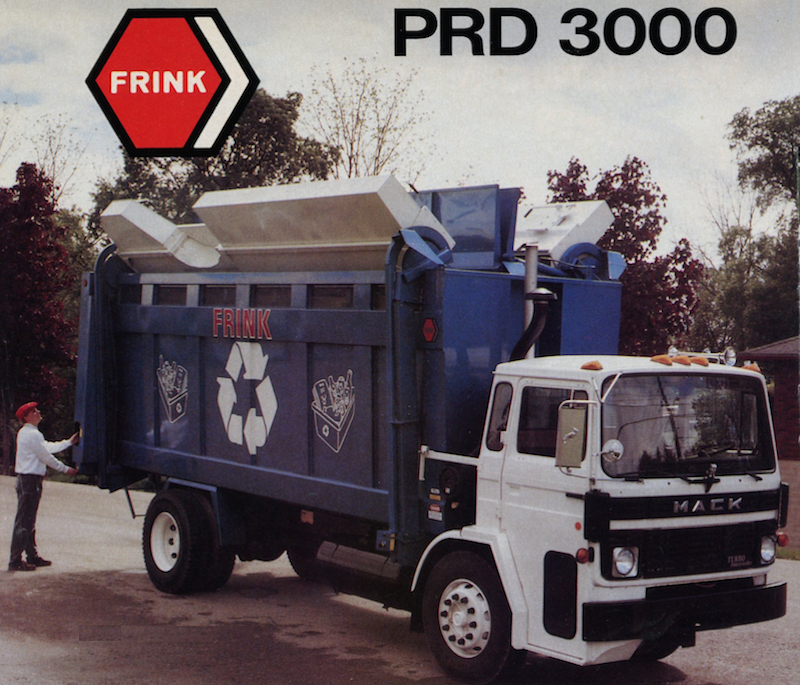 ---
(September 4, 2017)
&nbsp&nbsp&nbsp What I thought would be a very basic Mazzocchia album led to some very interesting stuff from Italy. Fratelli Mazzocchia brought out the Jolly 2 rear loader in the 1980s, an interesting design which works like a cross between the Geesink GPM and SEMAT Cargopac. This was quickly supplanted with a swing-link packer designed by Giorgio Gasparini, who also created the Bergomi Bi-Pac (also sold as the Brivio Bi-Pac and Jack Allen Swinglink). As a result, I have also done a mild re-write of the Bergomi page, with some new drawings added, as well as patent references. The Brivio and JA pages are now linked to Bergomi to ease any confusion over the design. Mazzocchia has a very nice product line, and has been family owned since its founding in 1968...no small feat for a European refuse truck manufacturer.

&nbsp&nbsp&nbsp During my hunt for Compattatores Italiano I found yet another similar design to the Bergomi Bi-Pac from AutoBren, a company that was not even on my radar, and will be added to the CRT Database as soon as possible. They are located just east of Bergomi's old home base in Milan, and may have been influenced by regional fondness for this type of packer. If all of this isn't confusing enough, let's not forget the Farid T2, another swing-link design from Italy, from the company that just so happens to own Brivio Pierino!

&nbsp&nbsp&nbsp But that's not all....I also stumbled across some interesting Italian Gar Wood LP-900s which I was unaware had existed. These are not actually Gar Woods, but are clearly licensed versions of Sargent Industries' LP-900 design that do not appear to be from FAUN or KSG, I believe them to sold by Macchi, whose name appears visible just above the hopper opening on the truck below. This picture was from a 2015 story about refuse collection in the municipality of Castellammare del Golfo, and presumably the truck was still in use. On the other hand, it may be just a "file photo" which is much older. The other Macchi LP-900 is clearly retired, and was posted at a discussion board in which Macchis were remembered with much fondness. It is amazing how many names this classic design has shown up with over the years, before production became concentrated between Heil and FAUN.



&nbsp&nbsp&nbsp Then I ran into the weirdest one yet, and on video no less. This is a 1978 Fiat which was auctioned off in 2013, and is presumably long gone now. The body is pure Gar Wood/Sargent 9-series construction with the classic slant pillars. The packer blade is pure Gar Wood LP-700, a massive pivoting slab with same reinforcement pattern. But the rest of the tailgate is something else altogether...there is no rotary sweep panel or chain drive as on the Gar Wood 700, and a whole different shape to the hopper. It almost appears as if there is a hinged or elevating hopper (Like a Heil Colectomatic or Ochsner), but the mechanism which feeds that big panel is still a mystery. I keep thinking I've seen it all when it comes to old refuse trucks, then something like this comes along!



&nbsp&nbsp&nbsp All of this would have made a terrific article for Columbus Day, but it will have to suffice for the Labor Day edition instead. But hey, you don't have refuse trucks without labor, I suppose. Onward to McNeilus next time.....


---
(August 26-27, 2017)

&nbsp&nbsp&nbsp This unusual truck is up for sale in Idaho, sent in by George Lanoszka, which is a 1990 Ford C-8000 with a Lodal front loader. It has been equipped with a Tink Claw attachment used for loading leaves and debris directly off the street. George surmises that the relocation of the lift arm cylinders is done to allow the cross shaft to drop to street level (or below), which would not be possible in the stock configuration. Also nice is the low-mileage Ford C, which could easily pass for a 1957 model since the cab never changed in over thirty years production! The 1958-60 models had quad headlamps, and there were some badge changes over the years, but otherwise this is a relatively modern chassis which would look great with on older packer on it, or just the way it is now.

&nbsp&nbsp&nbsp George sent another Craigslist classic which I failed to publish before it was sold. Fortunately, it found a good home; Amick Equipment bought it and is going to restore this 1959 Chevrolet Viking/Pak-Mor I-series (chain drive) side loader. It is reportedly identical to the first refuse truck they sold in 1959. It was a beautiful styling era for Chevrolet trucks, and this is one of the few chain-drive Pak-Mors known to be preserved. Is there a 1945 LeLaurin side loader lurking somewhere near San Antonio?
&nbsp&nbsp&nbsp Found alive and apparently well in New England recently was R.J. Souto's classic 1978 Mack DM685/Pak-Mor RL330. This truck was featured here way back in 2008, at that time still working a container route after 30 years in service. This is one of my all-time favorites, and it is rare to see a heavy-duty Pak-Mor, especially one with the first generation tailgate (the slide cylinders are mounted above the track, instead of below it). Unfortunately the video has since been removed from YouTube. Nick Sordillo (Metro Boston Trash Trucks) found the truck resting comfortably, and it is evidently now retired (no tags), but looking to be in good shape. No word on what is to become of this classic truck, but hopefully it will someday be preserved.

&nbsp&nbsp&nbsp Nick also provided a film he shot of a Manupac roll-off in the Boston area, which has been added to the Manupac page here at CRT. This short-lived Canadian company is still a bit of a mystery, and information is scarce.
---
(August 13, 2017)
&nbsp&nbsp&nbsp Added a video to the Maxon album, a nice demo of the Legal One shot by George Lanoszka. Also have embedded several more of your videos into CWS, Able Body Sales and Able Body Company (which got a minor revision). I appreciate all of the hard work in finding and filming these rare trucks, and have credited appropriately. These videos are not new, but I am adding them to their respective manufacturer albums as the Database progresses. Also, all of the CRT albums have now been converted to white backgrounds for easier reading, and I am working on eliminating the silver backgrounds on a few remaining pages on the site.

&nbsp&nbsp&nbsp Some extraordinarily nice Living Classics have been added this week. There is another Gar Wood LP-900 which was acquired by Sunrise Sanitation, joining a fleet of three other classic trucks. This one is my favorite so far, and there is lots of good action video as well. A very rare rib-bodied Leach Sanicruiser (pre-1985) was found in Colorado, on a correct and probably original IHC S1900 chassis. Lots of good video on that one too. Will a working Standard Packmaster show up next? We can only hope.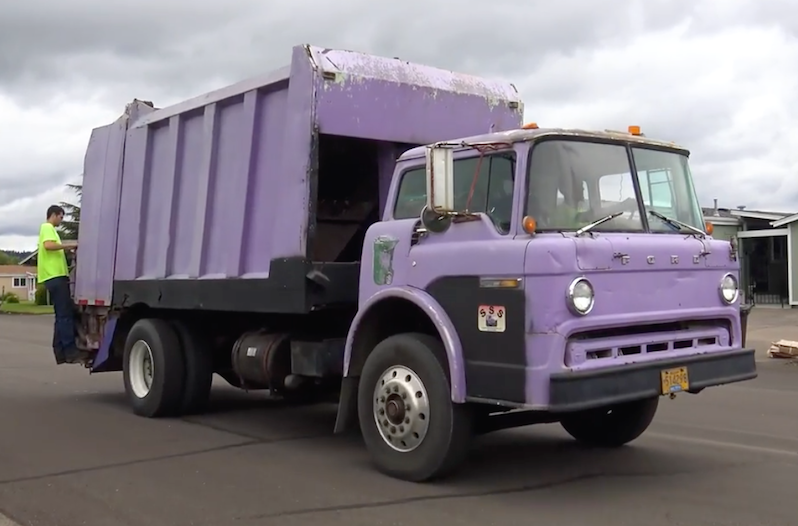 Sunrise Sanitation LP-918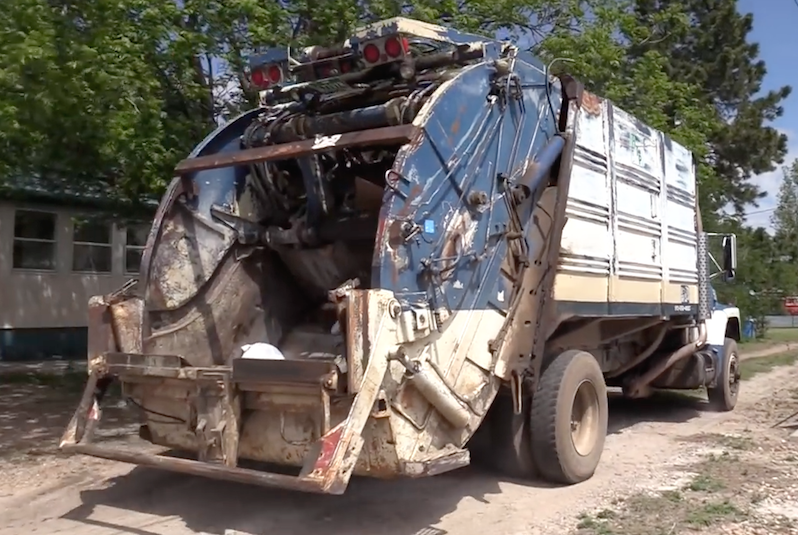 C & L Sanitation Leach Sanicruiser
---
(August 6, 2017)
&nbsp&nbsp&nbsp I had foolishly believed that the Maxon album would go quickly...that was three weeks ago! Thanks for your patience, it is now complete. An interesting company that gave us one of the wildest front loaders ever, the Legal One. Now located in the Refuse Body Database, or click here to go directly to the new album.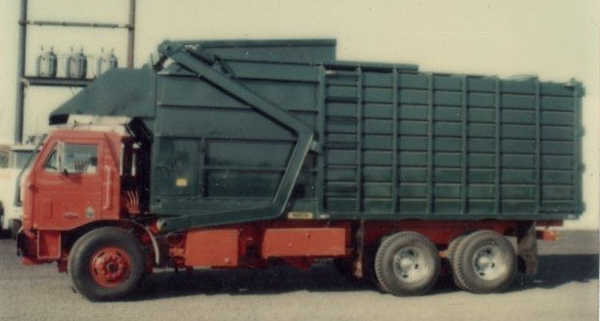 Maxon Speed-Pak front loader
---
(July 15, 2017)
New albums for Ampliroll, Manpuku, Manupac, March and Marshall Cooke.

(see BODY DATABASE on the left-hand control panel of this page)

&nbsp&nbsp&nbsp Added some new pics to existing Gar Wood, KUKA and SEMAT albums, which are shown here to keep from hunting for them. The Gar Wood LP-700/Los Angeles County FD is a better copy, scanned directly from the color slide.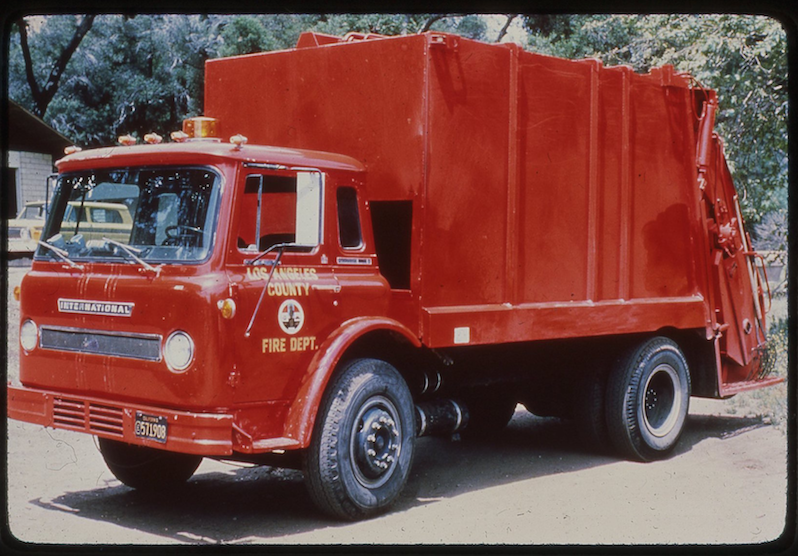 KUKA 219 Bullpress...



SEMAT SUPERPAC...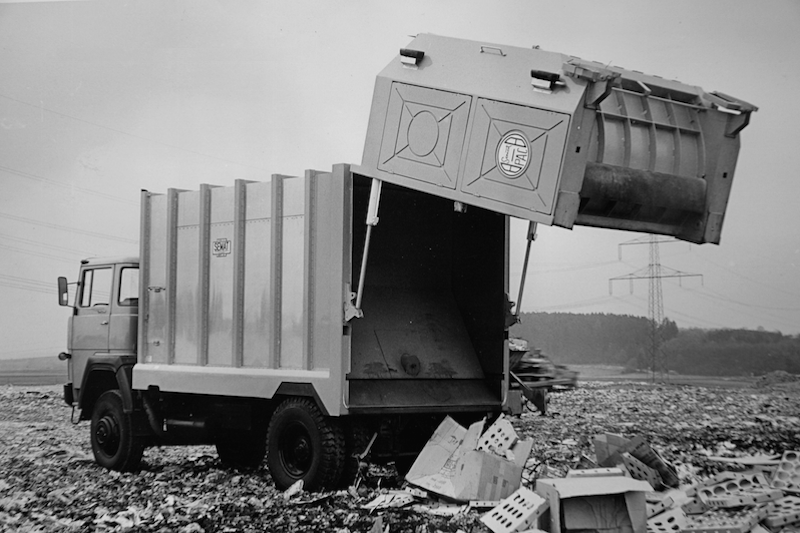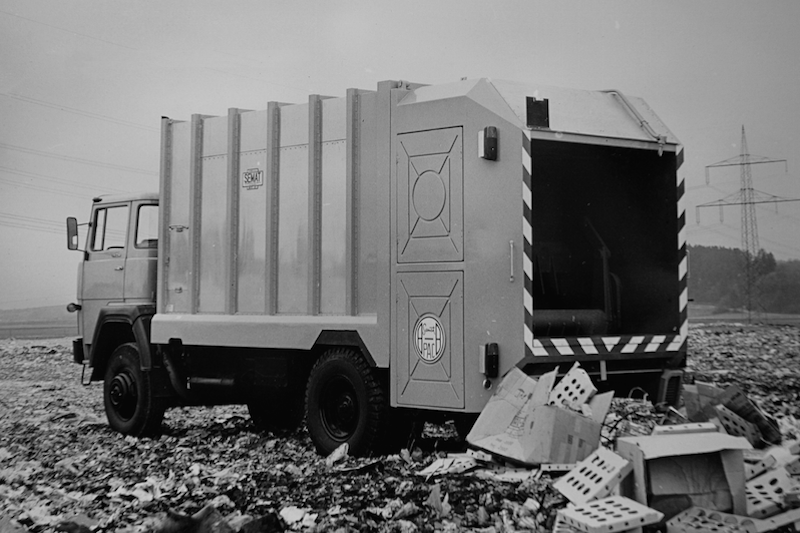 ---
(July 9, 2017)
&nbsp&nbsp&nbsp Chipping away as much as possible, but only enough time for one new entry in the "M"s this week; Manco Environmental of New Zealand. An interesting company with a really great looking product range, including the Wayne Power Lynx rear loader.

(see BODY DATABASE on the left-hand control panel of this page)


---
(July 4, 2017) MYSTERY TRUCK
&nbsp&nbsp&nbsp The place: Wellington, New Zealand. The year: 1971. A Bedford TK series truck with an unknown packer body, based loosely on the original Gar Wood Load-Packer design. Watch the film and see if you can identify it. There is a badge on the front of the body, and oval with stylized lettering that appears to read "NEWCO". There is a metal fabricator in Australia by that name, but I can't find any evidence that they ever produced truck bodies. I also did a search of "YEWCO", a British company that did import tankers down under (and made a Fore & Aft tipper in the early 1960s), but that was inconclusive as well. Thanks to George Lanoszka for forwarding this one. Packer is shown operating at approximately 10:00 into the film.
---
(July 3, 2017)
&nbsp&nbsp&nbsp New pages added for M-U-T, Macchi, MacDonald Johnston and Magirus-Deutz (see BODY DATABASE on the left-hand control panel of this page)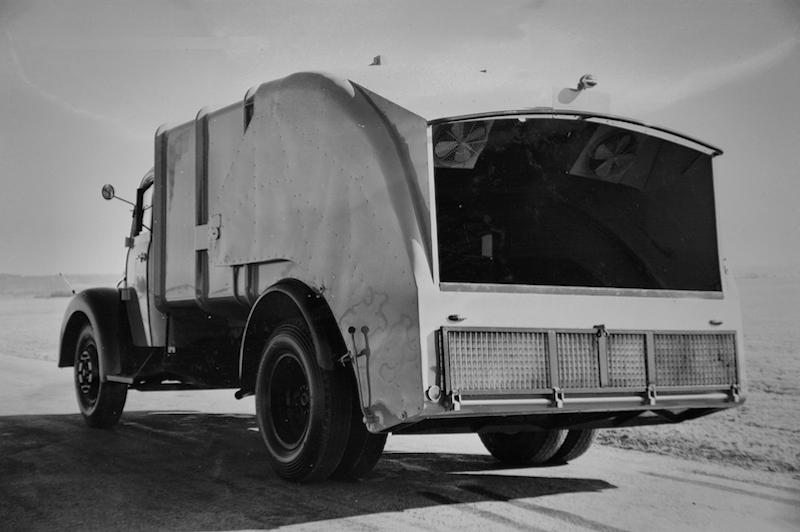 ---
(June 19, 2017)
&nbsp&nbsp&nbsp Added some new pictures to Gar Wood: Chapter 19 has a picture of "The Silencer" front mounted pump, and Chapter 15 features a new picture of a Cleveland LP-820 (shown below). Chapter 20 has several nice new images of the great LP-3000 front loader, thanks to Dana Gregory who provided an original brochure from around 1975. I had very few images of the 3000 when the article was published in 2014, but the brochure contained several beautiful illustrations which are now posted.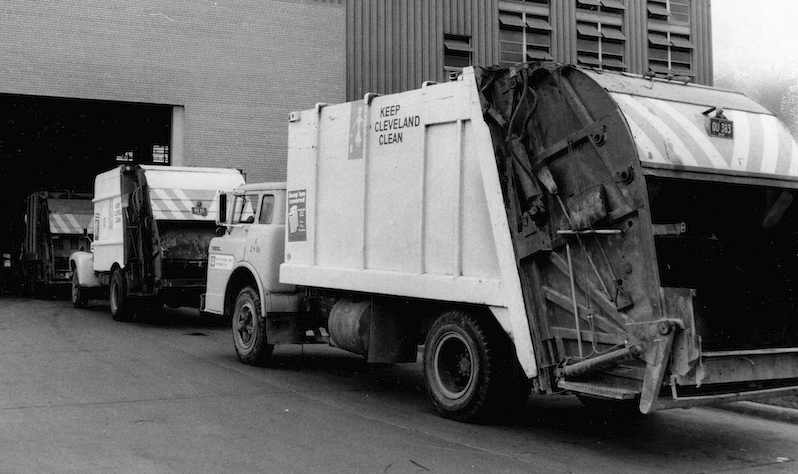 ---
(June 4, 2017)
&nbsp&nbsp&nbsp Some "catch-up" here this weekend. Added a new video to the Wayne temporary album, showing the Wayne Hypax, a rare American rear loader based on the Norba KI 11. (Thanks to George Lanoszka for tip.)


&nbsp&nbsp&nbsp Brian Carpenter noticed the lack of a CRT Database entry for Marshall SPV, a company that briefly and unsuccessfully tried their hand at refuse bodies in the 1990s. Former SD people were involved, resulting in designs similar to the Pakamatic and Route Chief. Marshall is still in business, but the their RCVs are no more. My thanks to Brian and Phil Clifford who provided a rare photo, so that we now have them cataloged here at CRT.


---
(May 29, 2017) HEIL: A FORMULA FOR SUCCESS
&nbsp&nbsp&nbsp The second part of the Heil story is now posted here at CRT. Getting this ready for Memorial Day meant there has been no activity here for the last month or so, as this has taken every bit of spare time I had. I will be catching up on some other items in the following weeks, and thank you for your patience. I believe most readers of this site will not be disappointed; there are 19 new chapters with 205 new images and 7 videos. It details Heil's history since 1961, and some of there best-known equipment. Combined with the first part (posted last summer), this is by far the largest album on the site. Heil is not a small company, and has been around for over a century, so there was a lot to tell. Rear loader fans will appreciate the story of the fabled Mark V, its demise and how Heil ultimately snatched victory from the jaws of defeat in one of the biggest gambles in refuse truck history.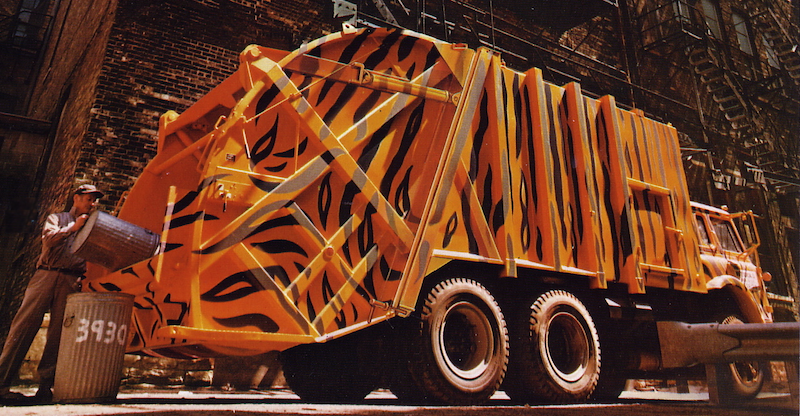 &nbsp&nbsp&nbsp My sincerest of thanks go to Dana Gregory, who came through with a cache of literature which is greatly appreciated; I could not have documented the early days of the Formula era without it. And to Scott Blake, who has also provided a wealth of literature and information to CRT over these many years. John Thomas shared his fascinating "inside information" on the company, having been with Heil during a critical moment in their history. I must also thank Zachary Geroux; if there is ever a west coast connection in a front loader, he will probably be the first to discover it. Alan Blanchard provided a nice demonstration clip for the Formula 5000. (Alan I'm sorry it took four years to get it into an album!) Last but certainly not least, I am grateful to all the dedicated "truck hunters" who document the living legends and neo-classics in pictures and video. Your efforts bring the history alive, in way words can't often describe, and preserve the memory of this equipment while it is still around.

Both sections of the two-part Heil history may be accessed from the Heil Gallery, which is now linked through the CRT Refuse Body Database.


---
For previous news items, visit the CRT Archive


© 2016 Eric Voytko
All Rights Reserved

Logos shown are the trademarks of respective manufacturers
Photos from factory brochures/trade advertisements except as noted