---
(February 19, 2017)
&nbsp&nbsp&nbsp A new municipal album is now posted for The City Of Los Angeles Bureau of Sanitation. I created this album primarily to post some recently acquired pictures of the L.A. fleet during its launch in early 1957. I've posted these 22 images in a much higher resolution than normal, owing to their exceptional quality and historic significance. Thumbnail images will link to the full size image, some of which are 3000 pixels wide. I've also added other pictures of historic LA BoS equipment, although the selection is certainly not all-inclusive. Will update this page if any new material becomes available. (Municipal albums and special articles may be found by clicking the PHOTO ALBUMS button on the left-hand tool bar)

&nbsp&nbsp&nbsp From the same set of images, there were four of a Heil Colectomatic dumping at an unknown L.A. county landfill. Since this was not a Los Angeles City truck, those images have been posted in the Heil album, chapter 8, Heil Colectomatic. The new photos are at the bottom of the page under the header "At the Landfill, 1957".
&nbsp&nbsp&nbsp Nothing should make CRT enthusiasts happier than news of a truck rescue, and a tip-of-the-hat this week to Thompson Sanitation of Clarks Grove, Minnesota for saving this 1974 International Cargostar with a 20-yard Leach 2R body. Owner Frank Thompson reports that it is in good working order, and he plans to have it restored for parades and special events. I ran short on time this weekend, but I will add it to the restored/preserved list ASAP, and will update the page as needed.


---
(February 12, 2017)
&nbsp&nbsp&nbsp Two new trucks have been added to the Restored Trucks section, both being early model Heil Formula 7000 automated side loaders owned by the City of Granger, Washington and photographed by Alan Yunt. These two trucks are in amazing condition, one on an International Cargostar, and the other on a 1982 American LaFrance CTC. The latter still has its original "Formula" deluxe paint scheme intact. Click through the video link for the 1982 truck to Alan's YouTube page, and you can read the video description for details on the trucks and the amazing people of Granger DPW who have kept them going all these years.

&nbsp&nbsp&nbsp I've upgraded my scanner to the Epson V550, which will scan slides and negatives. I don't have that many negatives, but did recently acquire a set of pictures from the Los Angeles Bureau of Sanitation taken in March of 1957, when the City had just inaugurated citywide refuse collection and was giving public relations tours of their new trucks (lots of Leach Packmasters). The picture below is a sample, scanned in 800 DPI resolution (compared with the usual 150-300 DPI range I typically use. The result is quite amazing, and if you click on the 798 pixel image, it will open it in the actual size of 2,100 pixels width. Even better, the scanner can scan up to 12,800 DPI, if you have the time!
&nbsp&nbsp&nbsp Notice the guy with the movie camera at the far right, meaning there may be a filmed record somewhere of these events! What a find that would be. Look for a LABOS album with these pics in the very near future, as well as anything else I can round up on the department. I hope to do one for the DSNY at some point as well. In the meantime, one quirk of this scanner is that it has a film scan size limit of 2.74 x 9.00 inches, but many of my negatives are 4.0 x 5.0 inches, and thus can not be scanned in their entirety (i.e. cropped). If anyone has any experience with the V550 and knows how to overcome this, please let me know. Otherwise, I will do the best I can with what I have.


---
(January 29, 2017)
&nbsp&nbsp&nbsp I'm posting links to two new albums here, Vestfold Bil & Karosseri (VBK) and Hagemann & Partner. These two are new to me, and when I have new entries to the Database such as these, I will try and get some minimal info posted as soon as possible. In the case of VBK, this is the first manufacturer in the Database from Norway, but there is little information to be found about their seemingly rare refuse bodies. Hagemann is still in business, and seems to specialize in compact side loaders.

&nbsp&nbsp&nbsp I've upgraded the picture of The Litter Gulper dhown on the CRT home page and in its album. It is identical to the one replaced, but of much higher quality. Also found a picture of an Edbro skip loader with trailer:
---
(January 21, 2017)
&nbsp&nbsp&nbsp Two interesting photos to share...first up is a rare look at a 13-yard Cleburne Ranger rear loader, nearly new, from the early 1970s. Cleburne was a Texas manufacturer which was acquired by Dempster in 1972-73, and ultimately thee small rear loaders were sold as the Dempster Route Mate. Very few images of the Cleburne-badged Ranger exist. The owner standing proudly with his new truck is Elmo Astle, a private hauler who worked the City of Afton and the Star Valley area of Wyoming.


&nbsp&nbsp&nbsp Below is what I believe to be a 15-yard Clyde Refuse Getter working in Waverley, New South Wales in the mid-1960s. Clyde produced this Leach body in Australia for many years, but this particular truck was not identified and will remain tentative for now. This is the latest model Refuse Getter that I've ever found, and the only one with a vertically ribbed body and 1.5 cubic yard loading trough, although otherwise it looks much like the Leach version on the 1950s.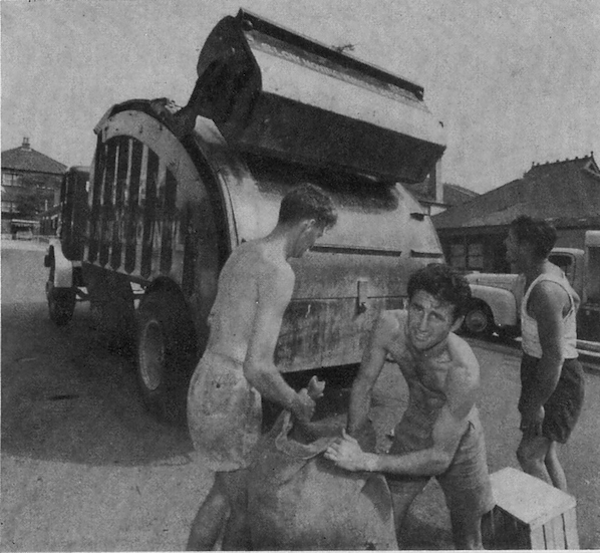 ---
(January 15, 2017)
&nbsp&nbsp&nbsp Have recently obtained a better quality image of Z301 from the UNSOLVED MYSTERIES page, and am posting here for more publicity and hopefully identification. Unfortunately, the emblem on the tailgate door is still not identifiable (to me), although I suspect it may be a "Powell Duffryn" logo. This is one of the more unusual front loaders I've ever seen, with its "pusher" lift arm cylinders and the toggle linkage built into the arm joint. Mounted on a Leyland Bison with the Ergonomic cab, I would estimate this to be no later than very early 1980s, and obviously British.


---
(January 8, 2017)
&nbsp&nbsp&nbsp CRT is back for 2017, and despite no new updates for the month of December, I was able to make a lot of progress during that time on the second half of the Heil album, which will cover the years from 1961 to the present. I hope to have everything done no later than this Spring, but will publish it earlier time permitting.



DEMPSTER TRADE SHOW MODEL
&nbsp&nbsp&nbsp I received an email recently from the owner of the Dempster Trade Show model, and hoped to have some update on its current status. I have not heard back from the owner as of this writing. If "George" is reading this post, please try and contact me again in case my message did not get through. I sure the readers of CRT would be interested to hear more about this incredible scale model.



&nbsp&nbsp&nbsp I've added a new page for the Litter Gulper, our featured truck for January. The story is shown in its entirety below, as well in an album in the CRT Refuse Body Database. I'm going to file this one under its name (Litter Gulper) since it was most likely never in regular production by the manufacturer (Pioneer Engineering). It will be cross-referenced in the Database under Pioneer and American Can Co., which was the sponsor of the prototype.

THE LITTER GULPER


The Litter Gulper Mark II attachment on EVO Lodal refuse truck


&nbsp&nbsp&nbsp The early 1970s saw an increased public awareness in ecology, which spawned a public service campaign against roadside litter in the United States. The "Pitch In" logo soon began appearing on refuse receptacles, and the memorable television PSA showing the American Indian weeping as motorists tossed trash out of their windows became emblematic of the movement. At the same time, technological developments in refuse collection equipment were just breaking out, such as the Son of Godzilla, the Gulf MBR, The Jumping Bean and the Glen Myers autoloader.

&nbsp&nbsp&nbsp Out of this came the Litter Gulper, the creation of Jerry Fleming of Oroville, Washington. This device was an attachment arm which was coupled to a conventional refuse packer, and was designed to patrol highways and automatically pick up roadside refuse without the driver ever leaving his vehicle. Fleming built his own prototype, and later a working prototype was commissioned based on his design by The American Can Company, a producer of packaging (primarily beverage containers) which made up a large part of highway litter. The finished product, dubbed the "Mark II", was built by Pioneer Engineering & Manufacturing of Warren, Michigan. Pioneer was the largest and oldest engineering firm in Detroit, and had long worked with the major auto manufacturers based there. Starting with a standard Lodal EVO unitized side loader, Pioneer added a 17-foot reach loader arm with a conveyor belt which emptied into the hopper of EVO. At the opposite end, the opening was fitted with compressed air jets and a sweeper to dislodge and lift loose rubbish (including bottles and cans) on to the conveyor, at a working height of up to 4-feet above street level. The dual steering controls of the EVO made the operation easier from the right-hand drive position, while left-hand drive could be used to-and-from the job.

&nbsp&nbsp&nbsp The Litter Gulper was a novel and timely idea, but except for this prototype, there is no evidence that any more copies were ever built. The Litter Gulper received some mainstream and trade press coverage in 1972, but ultimately was probably too expensive for most municipalities. It was a novel idea, and timely, but probably was just too cumbersome and expensive for the job it performed. It remains today as a mechanized footnote in the 1970s ecology movement, a cross between a road sweeper and a refuse truck.



Inventor Jerry Fleming demonstrates his Litter Gulper in 1972


REFERENCES: American City Magazine, September 1972, page 12 "Roadside Litter Gulper"



---
(November 20, 2016)
&nbsp&nbsp&nbsp After a short delay, the LODAL album is now complete. There are four chapters with 53 images total. I would like to thank Dana Gregory for supplying a wealth of information on the 1968 & up time period, especially since there really wasn't much history on Lodal available. At last, they now have a proper album here at CRT. Lodal is truly an innovative and interesting company; along with Dennis and Shelvoke & Drewry, they are one of a handful of companies to produce complete refuse vehicles, and would appear to be the only one still doing so. Consider that both the Lodal EVO and the Gar Wood T-100 were unibody refuse vehicles conceived in the mid 1960s. Gar Wood collapsed five years after the T-100 was introduced, while Lodal has been making the EVO for almost fifty years straight.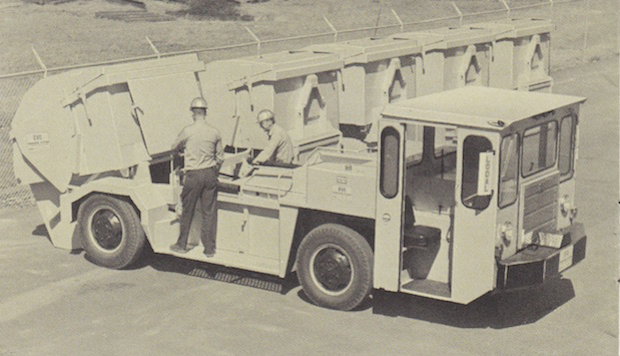 ---
(October 30, 2016)
&nbsp&nbsp&nbsp I've added the first installment of an updated LODAL album, replacing the original dating to 2004. Unfortunately, I didn't have time to finish it, but I've posted the first two chapters today. There will probably be two more, coming next week. When finished, this will complete the H-L section of the Refuse Body Database.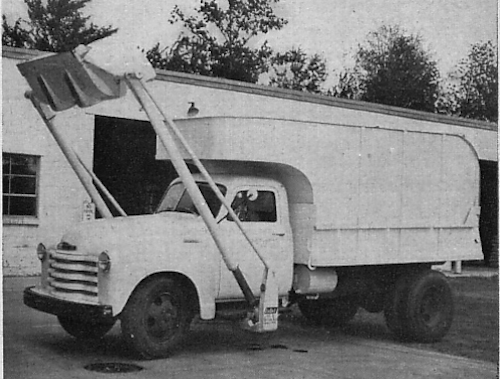 ---
(October 23, 2016)
&nbsp&nbsp&nbsp The unidentified "German Dennis Paxit" (see video below, October 9) is most likely an Ochsner from Austria, or a license-built model from a German company. Dana Gregory recognized the body panels, which are strikingly similar to Ochsner units of the period, and the fact that Dennis had always built their Paxit under license from Ochsner. Additionally, the elevating-hopper Ochsner KS-2 was known in England as the Dennis Bulkmaster.


Ochsner KS-4 Europacker
&nbsp&nbsp&nbsp The "inverted drawer" type packer used by the truck in the video (as wells the Paxit) was one of the most popular types in the Europe, both before and after World War II, and Ochsners competed with Fernand Rey's SEMAT (France) during these years. Both Rey and Ochsner licensed their patents widely, but by the 1980s, this type of packer was practically obsolete. This is what makes the truck in the video so interesting, for it is either an older unit still on the job after a long life, or a low-compaction "economy" model still being produced in small numbers. In addition to the KS-2, Ochsner also had the KS-4 Europacker at the time, which was a much more conventional slide-sweep model. Ochsner was ultimately absorbed by FAUN, and has in recent years produced a version of the LP-900/Europress/Powerpress packers.

&nbsp&nbsp&nbsp I'm sorry for the lack of new pages, but I've had to TCB recently and simply had too little time...I hope to get some new stuff up next week.


---
(October 9, 2016)
&nbsp&nbsp&nbsp Please check out this video submitted by Henning Hiestermann and see if you can identify this truck (it first appears at the 22:45 mark). Looks like a 1970s Dennis Paxit Ejector tailgate with a German-built aluminum panel body. Possibly a KuKA or Schörling model?


---
(October 2, 2016)
&nbsp&nbsp&nbsp New pages for Krupp, KSTC, Labrie, Laird, Lambretta, Lewin, Liftainer and Little Giant.

(see BODY DATABASE on the left-hand control panel of this page)

&nbsp&nbsp&nbsp From what I can gather through patent and literature, it would appear that Krupp has the distinction of fielding the world's first commercially-viable refuse packer, and I have stated this in the new Krupp page here at CRT. Self-loading vehicles without compaction are another matter, and there is still some uncertainty in that broader category. However, Krupp meets the criteria of loading refuse, and compacting it within an enclosed body. This assumes that Krupp had units on the streets in 1921, the year of the patent. I personally believe this is highly likely, if only in small numbers. It is possible that bodies were not fully enclosed at first, which would then not be true compactors. However, by 1926 they are documented as being in use in Essen, with enclosed bodies. Even if we accept this later date, this is still earlier than the designs of Rey and KUKA.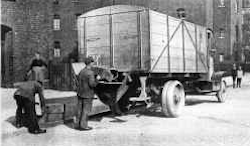 &nbsp&nbsp&nbsp The fact that Krupps were auger-screw types, and not hydraulic powered is irrelevant to history, and the concept has proven itself over decades of use in refuse collection in Europe, and occasionally the United States. As the home page photo proves, even the DSNY had at least one in 1927, a full ten years before their first escalator-loaders (which themselves were not compactors). The question becomes, why was the Krupp not fully adopted by the DSNY? They were quite popular in Germany over many decades. Perhaps service support for an imported body in the USA at that time may have been a problem. However, it is far more likely that it was simply the expense of owning mechanized refuse equipment, at time when labor was cheap and plentiful.

VIDEOS
&nbsp&nbsp&nbsp When this started in 2004, YouTube had barely begun, and I recall thither were only two or three refuse truck videos being circulated at that time! There are now so many refuse truck videos on YouTube that they are immeasurable, and I for one am grateful to all of you who have supplied us with enough footage that you can watch them like a regular TV network! Recently two videos caught my attention as particularly noteworthy.

&nbsp&nbsp&nbsp The first is this 20-yard Heil 5000 on a cardboard route. The Paint scheme on this truck is so appealing, that at first I didn't notice it was a 1st generation Formula 5000 body, made between 1980 and 1985. They can be spotted by the sweep panel, which does not open as far as the later models (just like the Gar Wood 900 on which it was based). Inexplicably, this truck has the later-style packer controls, which are still used on the current DPF-bodied 5000's (withe the chrome handle tips). The earlier models had single or dual handles with bicycle-type hand grips. In any case, this is the first time I've seen a an early Formula 5000 on video!


Video by West Coast Refuse Trucks
&nbsp&nbsp&nbsp The other video is more sentimental, and is a 1994 Mack MR with an E-Z Pack Goliath rib-side body. This truck looks exactly the like 1984 Mack/Goliath I worked on at Best Refuse many years ago. In 1986, the Goliath seemed to me like the Space Shuttle of refuse trucks, with its futuristic styling, cavernous hopper and power-lock tailgate (the first one I ever saw on a rear loader). The truck in this video was owned by Karl's Hauling, of Tiffin, Ohio, which was recently bought by Republic. These rib-side Goliaths are dwindling in numbers, so its nice to see some of them being preserved on video.


Video by rws676
---
(September 25, 2016)
&nbsp&nbsp&nbsp I am happy to report that I have added two more classic trucks to the restored preserved list. First up, Sjef van Lierop sent some pictures of a restored 1968 DAF 1900 residing in the DAF Museum, and sporting a large KUKA Shark body. There are quite a few restored Sharks in Europe, many of which can be seen in the Bremen 2001 page (also located in the restored/preserved albums gallery).


&nbsp&nbsp&nbsp Still working, but looking almost like a restored truck is the 1986 E-Z Pack FLHC owned by P.H. Waste Collection of Miami. Alan Blanchard sent along a great video, which he believes is the only one currently available anywhere showing the "Flex-Arm" system in action, and I concur; as far as I know, this is the first action shot of this lift arm system ever posted anywhere. We are indebted to Lenny at P.H. Waste, who owns this one (as well as two spares) for taking the time to give us a demo.

CORRECTION
&nbsp&nbsp&nbsp One of the nice things about online journals is the fact that errors are not permanently enshrined in print. Such was the case with my June 24, 2016 post regarding what I called "FAUN" side & aft tippers, used in Germany. While looking for information on another German brand (Krupp), I happened upon the true identity of these novel circular bodies. According to two articles published in Commercial Motor in 1928, these were in fact made by Schmidt & Melmer of Weidenau. A great many seem to have been fitted to FAUN chassis, which probably accounts for the confusion. Schmidt & Melmer was a long-time sheet steel producer, and got into making refuse cans and a "dustless" collection shutter which was evidently the most popular in Germany prior to Word War II. The rolling body (equipped with SM dustless shutters) was patented by Heinrich Neuy of Hamburg, a city which operated a large fleet of these vehicles. Schmidt had their own patent for a fore & aft tipper, which is believed to have been built also.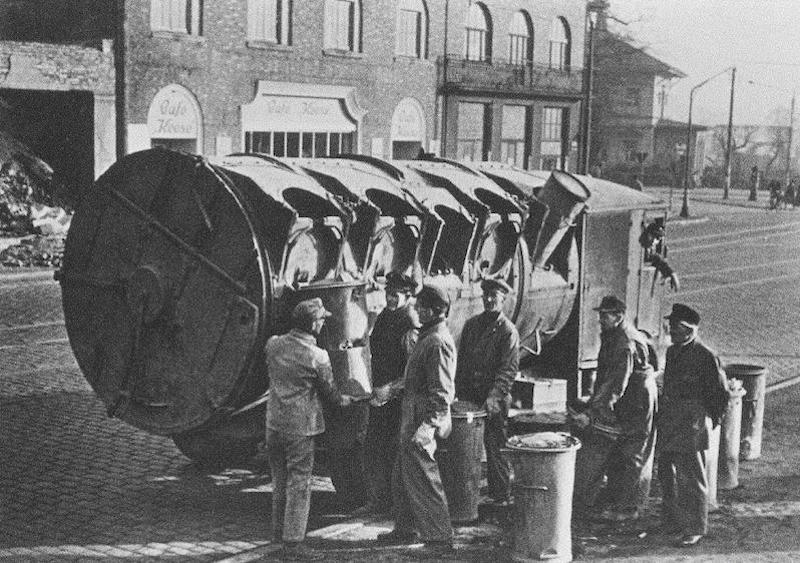 &nbsp&nbsp&nbsp As a result of this error, the June 24 post, with its FAUN references, has been completely removed from this page, so as not to cause any confusion to anyone using this site for research. All of the pictures, and the wonderful 1928 demo film, have been "rolled-in" (pun intended!) to a new Schmidt & Melmer album here at CRT. There is only one new image, but the text is completely revised, and the page includes footnotes and patent links. If anyone has any more information or photos of these, they would be most welcome. Verifying all of this information and correcting the site was time consuming, so unfortunately I have no other new pages this weekend.

---
(September 18, 2016)
&nbsp&nbsp&nbsp New pages for Lacre and Laffly. Lacre features 7 new images, and 7 previously posted here at CRT. Laffly produced an interesting but short-lived version of the Reyloader body. Hydraulic, pendulum-packer body available on a battery-electric cabover truck was pretty advanced stuff for 1948!

(see BODY DATABASE on the left-hand control panel of this page)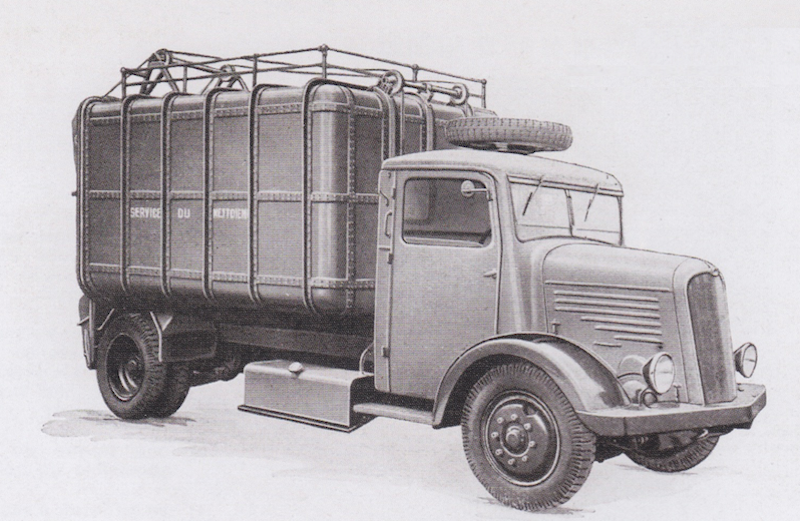 ---
(September 11, 2016)
&nbsp&nbsp&nbsp New pages for La Lilloise, Loosen, and Brown Industrial which was omitted during the B's. The latter two companies make rendering/food waste bodies.

(see BODY DATABASE on the left-hand control panel of this page)


---
(September 4, 2016)
&nbsp&nbsp&nbsp New page for Load Lugger by Brooks Equipment & Mfg. of Knoxville, Tennessee (1937-1961). This was going to go in the Heil album, but Load Lugger was a independent company for 17 years before being sold to Borg Warner, and then to Heil. Furthermore, Load Lugger is of historical significance in its own right. Click here to go directly to the album.


&nbsp&nbsp&nbsp The H-L section of the Refuse Body Database has been particularly difficult to complete. I will probably do the smaller companies this week, and try to tackle Krupp, Labrie and Lodal later.


---
(August 29, 2016)
&nbsp&nbsp&nbsp Six new entries in the Unsolved Mysteries page, photos that have been sold on Ebay.

(see UNSOLVED MYSTERIES on the left-hand control panel of this page)

---
(August 28, 2016)
&nbsp&nbsp&nbsp New pages for Kliko, Knight, Kobit, Kommash, K&oumlpf, Kraus, Kronenburg, and Kyokuto. KSG album now split from Gar Wood.

(see BODY DATABASE on the left-hand control panel of this page)


1974 Knight Red Ram refuse collector
---
(August 21, 2016)
&nbsp&nbsp&nbsp New pages for Jaeger, Jumping Bean, K-PAC, Kann and Kaoussis.

(see BODY DATABASE on the left-hand control panel of this page)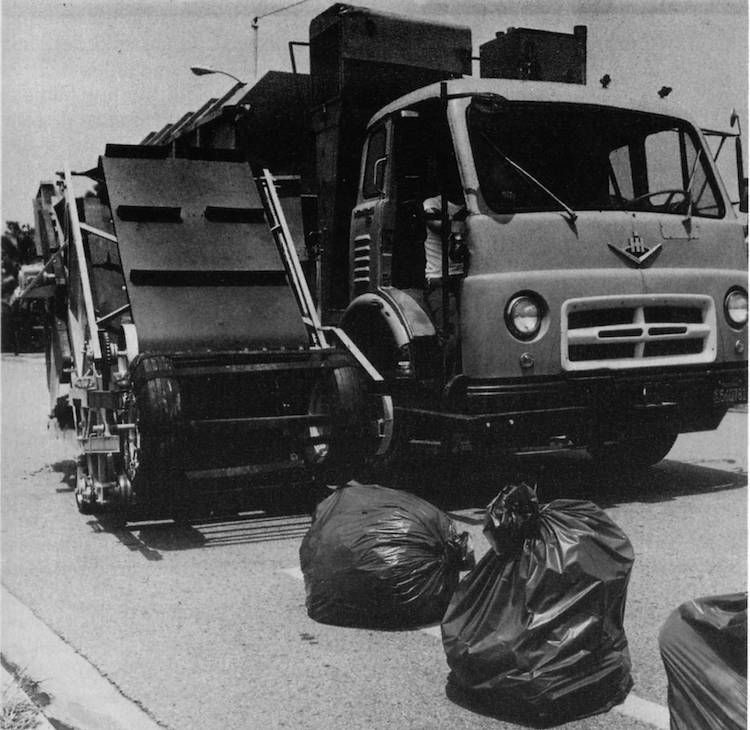 1973 Jumping Bean prototype
---
(August 7, 2016)
&nbsp&nbsp&nbsp New pages for Hykap, Industrial Tool & Die, IGSA, Inco-Mol, Inpak and Inuzuka.

(see BODY DATABASE on the left-hand control panel of this page)
---
(August 6, 2016)
&nbsp&nbsp&nbsp New pages for Hfaistos Stefanou, HKM, Holmes-Owen and Huffermann.

(see BODY DATABASE on the left-hand control panel of this page)

---
(July 16, 2016)
&nbsp&nbsp&nbsp New additions to the CRT Collectors Corner. Anthony Ricchio submitted photos of several of his scratch-built bodies, mounted on First-Gear model chassis. Featured are a Pak-Mor 200 real loader, Leach 2-R Packmaster and Sanicruiser, Palfinger loader, container carrier and a semi-trailer roll-off. A nice variety of bodies not typically seen, especially the Pak-Mor and Sanicruiser.

(click the COLLECTORS CORNER button on the left-hand control panel of this page)
---
(July 4, 2016)
&nbsp&nbsp&nbsp New pages for Hesston, Martco and Val-Jac, the three companies that built the Pak-Rat rear loader.

(see BODY DATABASE on the left-hand control panel of this page)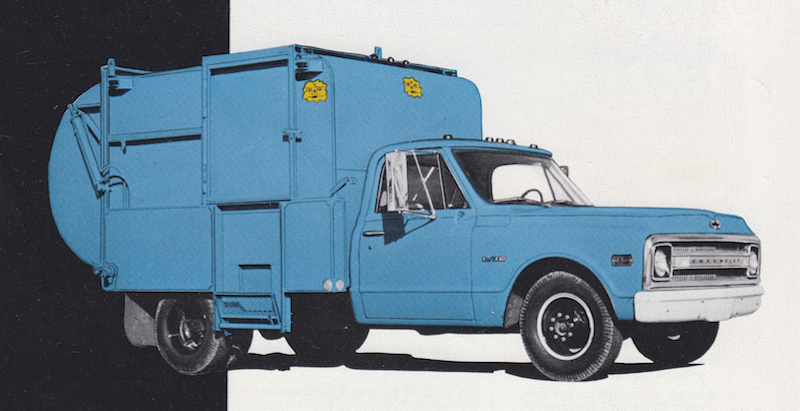 ---
(July 2, 2016)
&nbsp&nbsp&nbsp At long last, part one of an all new Heil album is now online here at CRT. Covering the founding of the company through the 1960 Mark II Colectomatic, the reader will enjoy a tour of every significant refuse truck development from Heil during these turbulent but formative years. Probably the most recognized name in refuse collection equipment around the world today, there were many twists and turns along Heil's path to success. Indeed, refuse trucks were almost a "side line" for Heil during the early years. The company became world famous for its tank bodies, added hoists and dump bodies, construction equipment and even home climate control products as it grew prior to World War II. Their acquisition of Colecto in the late 1930s helped their standing in the field, but it was the modern post-war Colectomatic rear loader that changed things for Heil, and from there the company never looked back.


&nbsp&nbsp&nbsp This history also covers the Heil Conveyor loaders, their first in-house design and a design which saw limited regional success. Of course, Heil was a major contract supplier of the DSNY-designed conveyor-loaders at the same time, which was covered previously here in the Gar Wood album. Since the two companies share this history, chapter 4 of the Heil album is merely a repeat and contains no new material. Also included is ATIA, which was not a Heil company, but was integral to the early history of the industry and their rival Colecto, which was involved with Heil. Both the ATIA and Colecto chapters will appear in identical form as "stand alone" albums in the CRT Refuse Body Database.

&nbsp&nbsp&nbsp Unfortunately, part 2 of the Heil story had to be delayed. The early part took longer than expected, and I felt it would be better to post what was completed immediately, rather waiting; there has been no proper Heil album here at CRT since 2013, which is far too long. The second part should go much quicker, having taken place in the modern era, when Heil products were better known and publicized. In the interim, I intend to continue for a while past the letter "H" in the CRT Database, posting some smaller albums to fill in where I left off last fall.

THE KELLY LOADER: AMERICA'S FIRST REFUSE TRUCK?
&nbsp&nbsp&nbsp In my quest for information about conveyor loaders, I revisited a patent filed by one John Kelly of Massachusetts in 1909. Kelly's patent was for a chain conveyor loader, designed to be mounted on a motor truck, to load dirt or refuse. If this machine was actually built (and not just patented), it would be perhaps the very first mechanized refuse collection body in the US, and maybe the world! This rear-loading conveyor was the inspiration for the Automatic Loader (1930), DSNY Conveyor (1937) and Heil Conveyor (1938), and is cited in several of those patents.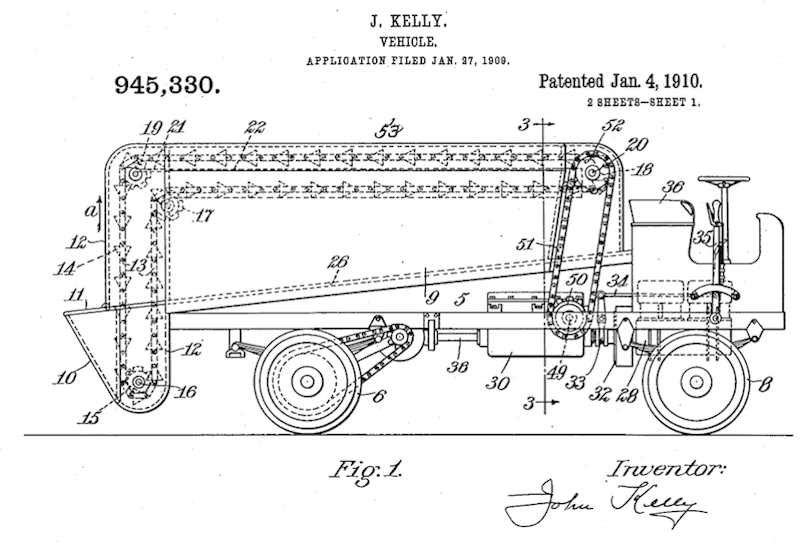 &nbsp&nbsp&nbsp As of this writing, there is no positive proof that Kelly's conveyor was anything more than an idea. The motor truck itself was in its infancy, and trade journals of that time were practically nonexistent. Tracing the life of John Kelly is not easy; he lived in Jamaica Plain, a suburb of Boston, a stronghold of Irish immigration. His family name is among the most common in that part of the country. However, if Kelly did indeed build his loader (and I believe that he must have), there is a strong possibility that it was at least tried by Boston sanitary authorities.

&nbsp&nbsp&nbsp Because of the significance of John Kelly's loader, I am going to add it to the CRT Refuse Body Database, with the provision that it is only known to be a patent at this time. Hopefully, conclusive proof of its existence will surface in the future.


---
(May 29, 2016)
&nbsp&nbsp&nbsp A cool video link sent in by Zachary Geroux. This is film made by Dempster, showing how the Dumpster box system was used in the City of Baltimore in the market districts and in housing projects. It is in amazing color, so we see these trucks in all their glory. There are a few Gar Wood Load-Packers present as well, both in the landfill scenes and during a demonstration at an elementary school.


&nbsp&nbsp&nbsp This film dates to approximately 1949, the year that Commissioner William Fannon (who appears in the film) wrote an article on the subject for American City Magazine. The Dempster Dumpster system enjoyed decades of popularity, even after the Dumpmaster front loader arrived on the scene. I can well remember them from the 1970s, being used for newspaper recycling drop-boxes, among their many uses. There remains a core market for them even today, and the Dempster family is still building them in Knoxville.

THE HEIL COMPANY


&nbsp&nbsp&nbsp The photo above shows me fact-checking with Illinois refuse collectors for the upcoming Heil article, after having travelled back through time. Seriously, the long overdue Heil album is not complete, but I have decided to release the first installment by July 4th, and possibly even much sooner. This will cover the Heil story from 1901 through the Colectmatic Mark II (roughly 1962) in ten chapters. I am sure enthusiasts will enjoy reading this one as much as I've enjoyed writing it, and there are close to 100 images, some of them rare and only recently discovered.

&nbsp&nbsp&nbsp I thank you for your patience, but this is a huge company that has been been making refuse bodies for almost a century now. Information on business actives prior to WWII is hard to come by, and a few surprises discovered along the way consumed much time. The rest of the Heil story, post-1960, should go faster, and will cover Load-Lugger through the present day. I may do some smaller albums over the summer, to continue filling in the CRT Refuse Body Database.


---
(May 16, 2016)
&nbsp&nbsp&nbsp New page for C-E Air Preheater (1 image of license-built Universal Handling FL). Updated existing pages for the following: Bynal (added Roll-Off and stationary packer), Fastpack (4 new images) and Cleburne (5 new images of a 1971 Ranger RL). The latter two entries from the Dana Gregory Collection, with many thanks!

(see BODY DATABASE on the left-hand control panel of this page)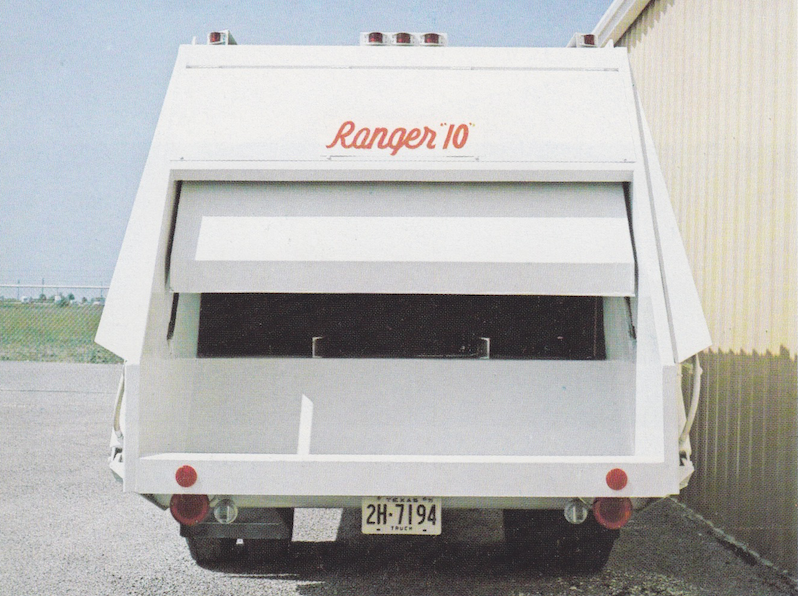 ---
(May 8, 2016)
&nbsp&nbsp&nbsp Added new pages for Howard Porter and Kaisis Motor Company, from items seen on eBay. The former was the Australian Licensee for the Kyokuto Press Pack rear loader, while KMC built a Cypriot version of the SD Revopak. By special request, I've also created a page for the Stratton Equipment Company, which made loading platform attachments for open dump trucks beginning in the 1940s. This was a novel device which took the strain out of loading 10' tall bodies, although OSHA would definitely never allow it today. There strongest market seems to have been in the Chicago area.
(see BODY DATABASE on the left-hand control panel of this page)
&nbsp&nbsp&nbsp Shown below is a nice 1971 shop photo sent in by Ronnie Keshishian. This Atlas Refuse Disposal of Harvey, Illinois. These are 20-yard 2-R Packmasters, which are kind of rare. Also unusual is seeing these big packers on the International Loadstar chassis, as they were more commonly seen on heavier IH Fleetstars, Whites or Macks.
&nbsp&nbsp&nbsp Check out the Flickr page of Giorgos Kollias who wrote in from Greece regarding and unknown Greek version of the SITA 6000 paddle packer. There does appear to be a badge visible on the back in one photo, but I can not identify it. Please write in if you know what make this is:


Giorgio's Flickr page
&nbsp&nbsp&nbsp From Dylan Baranski, a new refuse truck on film has been sighted. It is in Terminator: Genisys (2015), and is a re-creation of the front loader scene in the original 1984 movie. The International Cargostar now has a Heil body, instead of the Leach 2F unit.


---
(March 26, 2016)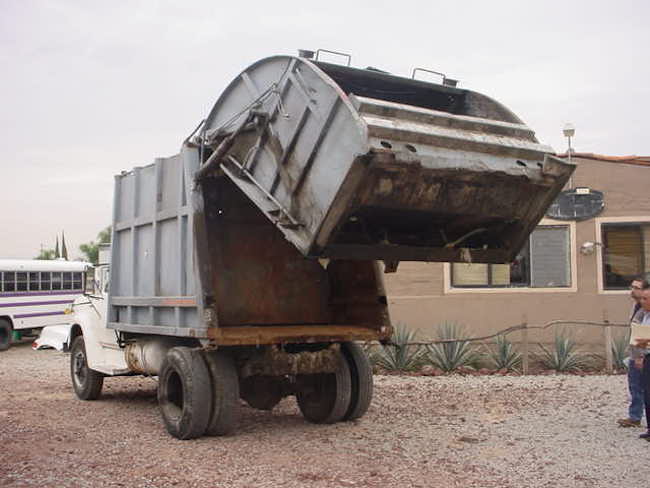 &nbsp&nbsp&nbsp An interesting update to Unsolved Mystery #5 (The Mexican Mark III), and an addition to Refuse Body Database (Frink Canada). Patrick McGee is regional sales manager for Joe Johnson Equipment in Innisfil, Ontario. He commented recently to Classic Refuse Trucks about the truck shown above, an unidentified Colectomatic Mark III copy which appeared in a classified ad in Mexico:

"This body looks like a Frink built packer body and ejector blade, with a Heil Tailgate which were produced under license for the Canadian market from the 1960s onward till the mid-80s. The founder of the company I work for, Joe Johnson, would have worked for Frink at the time. Unfortunately, the only guys that could conclusively confirm that it's a Frink have passed on, but it is strikingly like some I encountered as very elderly packers twenty years ago when I started in garbage truck sales."

&nbsp&nbsp&nbsp While this truck has not yet been positively identified, it may indeed turn out to be a license-built Frink, or perhaps a different brand that was built in Mexico under a similar arrangement. Any further information about Frink packers will be published here if and when it becomes available.

This stub article has been added to the Frink album and Unsolved Mysteries #5


---
(February 21, 2016)
&nbsp&nbsp&nbsp Nothing could be finer than finding a working classic, and Scott Watson discovered an example of my personal favorite, a first generation Gar Wood LP-700 in Colorado. This is a 20-yarder on a '72 Chevy conventional, and the box may be of the same vintage; during 1972-1973, Gar Wood replaced these with the LP-700-9 series, but there would have been a good number of the original 700's still in dealer inventories in any case. Relax and enjoy this superb Gar Wood:



This video has been added to the LP-700 page in the Gar Wood album
See the REFUSE BODY DATABASE for more information

Click here to see a vintage 1968 Chevrolet/LP-700 advertisement


---
(January 16, 2016)
&nbsp&nbsp&nbsp Three excellent new pictures have been added, courtesy of Ronnie Keshishian, which I will post here now, as well as adding them to their respective albums.


&nbsp&nbsp&nbsp The Silencer was the trade name of a quiet-running hydraulic pump developed by Fred Smith for Gar Wood. The decibel levels on an LP-720 are being tested in this 1972 photo. This truck is probably one of the last original-style LP-700s, which were replaced by the LP-700-9 series soon thereafter. Truck is an International Cargostar. I once worked on truck exactly like this, except for the container kick-bar....wishing I had one like it today!


&nbsp&nbsp&nbsp Next is a Dempster Route King II working for BFI in 1985. From what I observed here in the Washington, DC area, Dempster was indeed "king" when it came to the national accounts. WMI, BFI and AAA Disposal had large fleets of them. BFI of Northern Virginia used the RK-II in 20-yard form on Ford F-850s converted to right-hand stand-up drive.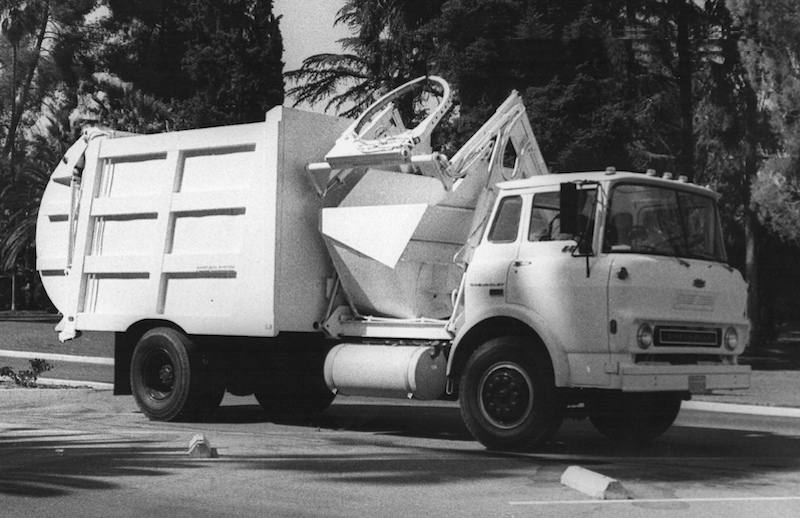 &nbsp&nbsp&nbsp This unusual-looking truck is one the earliest ASLs, a Rapid Rail Gruncher. This unit, mounted on a Chevrolet tilt-cab, was one of their first attempts at marketing a complete packer-loader assembly, and was featured in a 1978 advertisement. Rapid Rail's automated lift arm was mated to the Wayne Gruncher, which used a corkscrew compactor much like the Swedish Norba system. Wayne Engineering also sold a rear-load version of the Gruncher.

&nbsp&nbsp&nbsp Actually, there is no Rapid Rail page at CRT at this time. However, I've created a temporary "under-construction" page for this brand, so that it may be easier to reference.


---
(January 10, 2016)
&nbsp&nbsp&nbsp Still working on the Heil album, and in researching their conveyor-loader, I ran across the gem which is featured on the home page, the Automatic Truck Loader. I had been aware of the patents for this truck for some time, and while I suspected it had actually been built, no evidence had ever been found to support the hunch. These pictures definitively prove the existence of at least one example. They were digitized from photographs in the Library of the New York Academy of Medicine, which campaigned to improve public health in the 1920s and 1930s through modernizing the City's sanitation trucks. These photos show one of the earliest mechanized refuse trucks ever built in the United Sates. This truck was also the forefather of the New York City escalator-loader design which would arrive in 1937, and the similarities between the two are striking.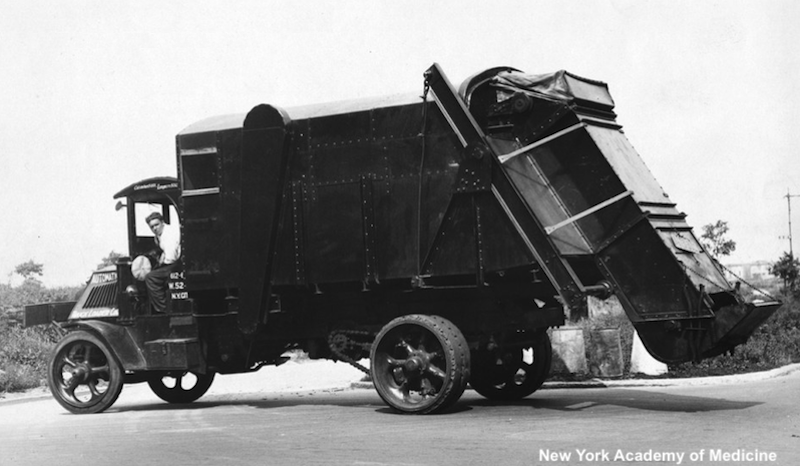 &nbsp&nbsp&nbsp This is indeed a rare treat, to uncover a refuse body design of such historical significance. Mack Truck fans will also take pride in knowing that it was a Bulldog pulling this pioneering wagon; how little some things change in the refuse industry! I won't go into more detail here, but instead refer you to a short article I have written on what is known of this truck and its inventor, one Joseph Goodman of New York. I believe the casual reader and enthusiast alike will enjoy this rare look at the "missing link" in the story of the escalator/conveyor loader, which was so pivotal in modernizing the way municipalities collected refuse.

The article has been added as an entry to the CRT Refuse Body Database


---
For previous news items, visit the CRT Archive


© 2016 Eric Voytko
All Rights Reserved

Logos shown are the trademarks of respective manufacturers
Photos from factory brochures/trade advertisements except as noted